Went to fix a friend's PC today. Problem: very slow and no windows will open. Surprise surprise, the problem is spyware!
Rishal had about sixty items of malware on his PC altogether. I wanted to reformat the whole thing and start again, but didn't have anything to back up to, so took the 'damage limitation' approach of using Spybot \ Ad-aware \ Microsoft AntiSpyware \ CCleaner \ Add-remove programs to give everything a good clean, then installed XP SP2 and all the other updates.
The PC had gotten into this state despite having a fully paid up version of McAfee Security Centre sitting happily in the corner, complete with AntiVirus, Firewall, AntiSpyware (hah!) etc etc etc. This was no help at all when a program can bypass everything by getting the user to click OK on a random ActiveX control. The next time I'm over, I'll slip on a copy of Firefox

And now, I'm delighted to present a very special item: Jason in a Bin.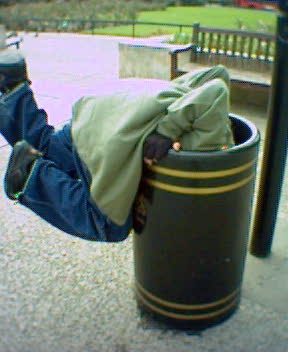 Fantastic, I think you'll agree. Bagman to the rescue?