Wow, that was so fun! Just got back from seeing The Kumars at Number 42 being filmed at Television Centre. Cast was excellent (watching Meera Syal fluff a joke by laughing too much is so cool) and the impromptu gags off screen were wonderful. Frankie Dettori and Joanna Lumley made great guests, Frankie in particular was very entertaining – when the cameras were off he seemed to relax even more and continued to chat for the audience.
And that's not forgetting the warm-up act… I still can't believe these things are free. Forget the cinema or theatre, just book some tickets for a TV show and turn up for a great night out. (And yes, it is smaller in real life, of course. Had to get the cliché in somewhere.)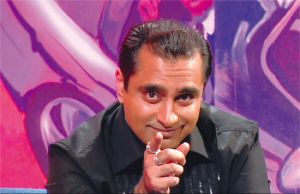 Shout out to my wonderful cousin who turned up with many, many shopping bags and was surprised to discover a cloakroom service was not provided.