Time for a double bill of Malaysian quick trips. We started with a bus from Kuala Lumpur to the town of Tanah Rata in the Cameron Highlands, an area of mostly countryside which is popular with both domestic and foreign tourists for the scenery, the wildlife and the relatively high altitude which offers a respite from the high temperatures elsewhere. Be warned, though, that the final section of the bus journey gets incredibly windy and is a big price to pay for visiting if you're susceptible to motion sickness.
We shared our AirBnb unit with a Dutch couple whom we befriended after they made us tea and showed us creepy photos of the spiders and scorpions they had spotted on their nighttime jungle walk. We did not opt for anything so adventurous; since we only had one full day here, we booked ourselves on the Eco Cameron Full Day Experience Tour which takes you around all of the tourist sites in an easy and efficient way. A disadvantage of this tour is that we didn't really do any substantial walks through the Cameron Highlands… but on the other hand, Randi's reaction to the (admittedly giant) snake we drove past on the road suggested that we made the right choice. We also shared the tour with only one other person, a Swiss woman named Tanya who was both good company and hilariously put out that Randi didn't want to haggle down the cost of some incredibly cheap market food.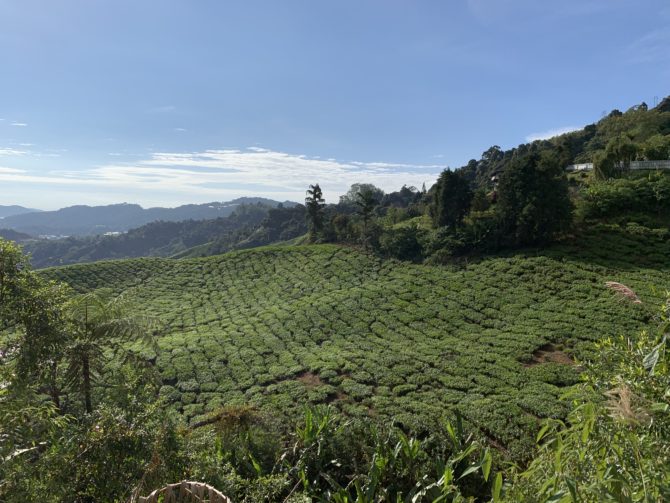 It must be said that the quality of the attractions on the tour was quite variable. The highlights were the Boh tea plantations – our guide was not enthusiastic about the quality of the tea itself, but conceded that if you're adding milk it doesn't really matter anyway – and the Mossy Forest. After a short walk to a viewing platform to look down at the rolling green forest below, our guide talked us through some of the plants which grow here. I know that sounds like the kind of thing you only pretend to find interesting because you feel like you should, but he made it all genuinely fascinating and by the end Randi was convinced we should be earning Scout badges. On the other hand, a 'strawberry farm' is not the world's most exciting type of farm, and the local museum was a somewhat bizarre mixture of local history and dad jokes.
There was also some difference between me and Randi over the quality of the butterfly farm. I was quite pleased that they had padded it out with cages of snakes and scorpions along with the immobile bullfrogs and well-camouflaged geckos – it meant I could take some photos of these animals at much less personal risk than the Dutch couple had incurred. Randi was less keen.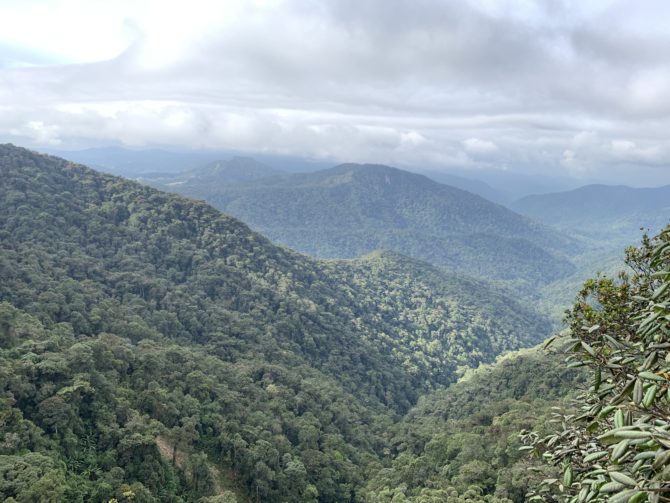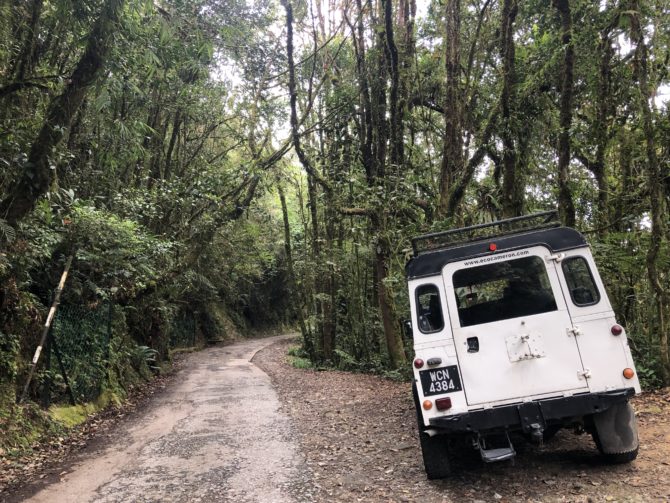 After the Cameron Highlands our next stop – for a few hours – was Ipoh, allowing us to transfer from bus to train and finally getting some railway travel into our journey. As the train company puts it, it's "the rail way to see Malaysia". Fun fact: they choose to play a selection of BBC nature documentaries for the whole journey.
The central streets of Ipoh were interesting to wander around (thankfully we were able to lock up our bags at the train station) and after a nice lunch we caught our train to Butterworth, which is a short ferry ride away from George Town. George Town is the capital of the state of Penang and is also located on Penang Island, which is not the same thing – I feel compelled to point this out because I tried googling whether it should be spelt "George Town" or "Georgetown" and instead found a lot of angry letters to the local paper about how people thoughtlessly confuse these terms and how disrespectful it is to a UNESCO World Heritage site.
I never got any firm consensus on "George Town" vs. "Georgetown", by the way. My phone uses both interchangeably within the same app and even the Malaysian government doesn't appear to care. Feel free to send me angry letters if you feel my arbitrary choice is wrong.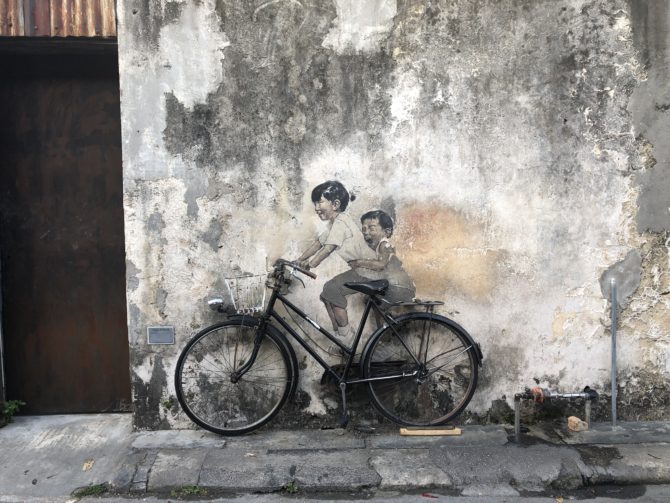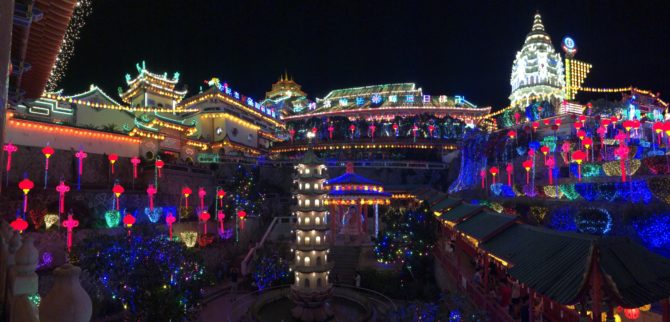 I didn't love George Town when we first arrived. The afternoons are the worst times of day with the city at peak heat and humidity and the pavement situation is worse than Kuala Lumpur. Things improved greatly in the evening after a delicious Indian meal when we decided to get a ride out to the Kek Lok Si Temple (or Temple of Supreme Bliss) to see the light display for Chinese New Year. I'm sure the enormous Buddhist complex is impressive to visit at any time of year, but we felt very lucky to see it all lit up like this. Since we were too lazy to walk up Penang Hill it also gave us our best view out over the city as a whole.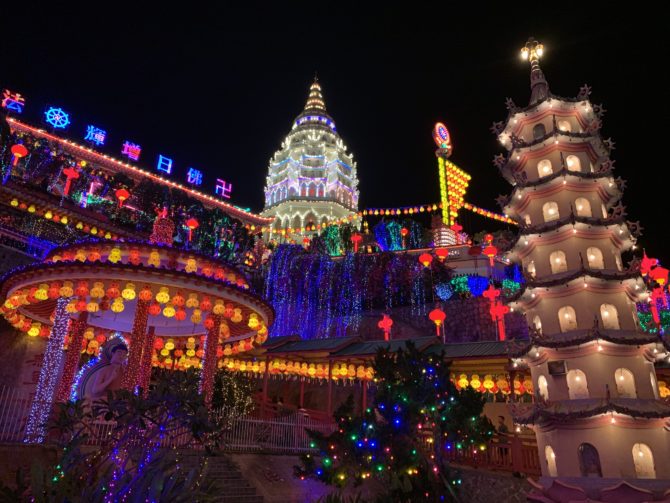 The next morning we set out to explore George Town's famous street art. There are really two different types of street art at play here: the colourful murals (such as Children on a Bicycle) and the 'Marking Georgetown' set of iron cartoons. The latter depict various aspects of local life and come with short explanations which are well worth reading and give a real flavour of the history and culture of George Town.
We also sampled some of the famous street food from hawker stalls. And yes, the food is very tasty (especially the various different incarnations of roti!) but I refuse to pretend that it's actually really charming to weave between cars and motorbikes for your food. #pedestrianisepenang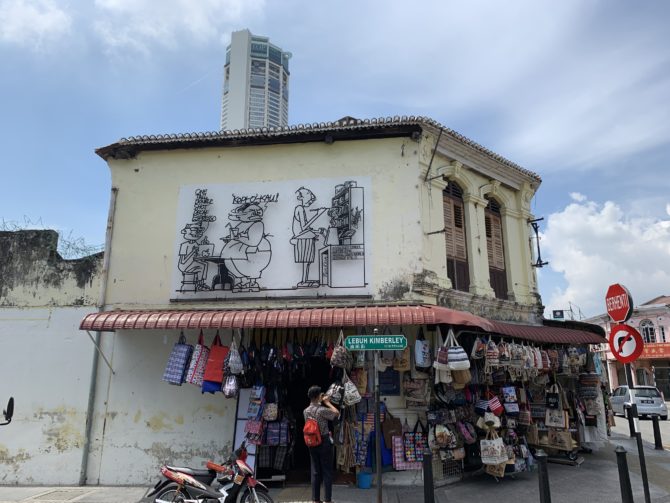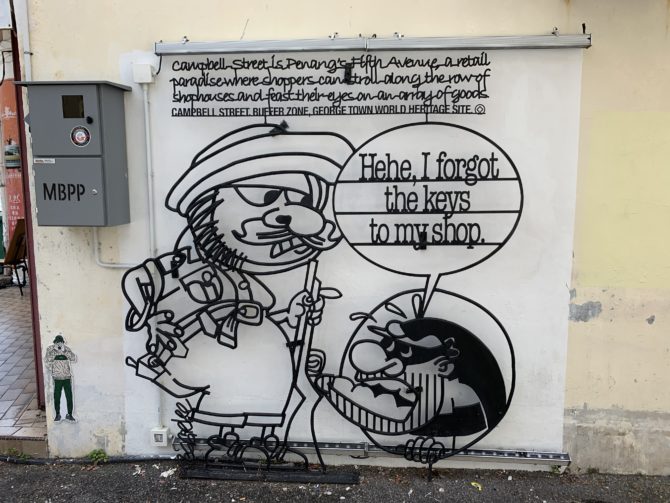 We could have spent longer exploring the rest of Penang Island, but by this point Randi and I had started dreaming of our ultimate dream island – sky blue seas, unspoilt sandy beaches – and I actually started giggling with excitement as we sat in a George Town café to finish our research and make the necessary bookings for the next stage of our adventure into Thailand. First, though, we are taking a pause from travelling for the rest of the week so that Randi can make a quick hop to the UK and complete the final final final stage of her visa process. So last night we caught the train back down to Kuala Lumpur and I have installed myself in a condo unit for a week (with a pool, naturally) to wait for her. And get a haircut. Because I really need a haircut by now.