So, wait, is it Ho Chi Minh City or Saigon? The answer, a little unsatisfyingly, is both. Obviously this is a political story, with Saigon being the capital of South Vietnam until its fall in 1975 and the reunification of the country. At that point Saigon was merged with the surrounding area and became Ho Chi Minh City for official purposes, but the name Saigon is far more commonly used around the actual city itself, including the railway station and all of the businesses. It's also very unwieldy to say 'Ho Chi Minh City' out loud, plus there is a convention that the central part is still Saigon. So take your pick.
Whatever you call it, I think it's undeniably less charming than Hanoi. The streets are wider, making the traffic that much more intense if you want to cross a road, and it's very much the country's commercial centre rather than the quieter, more government-focused capital up north. I will give it to them that bánh mì – their flagship street food – is considerably more appetising than phở. And that our hostel provided one free beer every night during happy hour – a good way to ready ourselves before heading out into the jungle of motorbikes for dinner.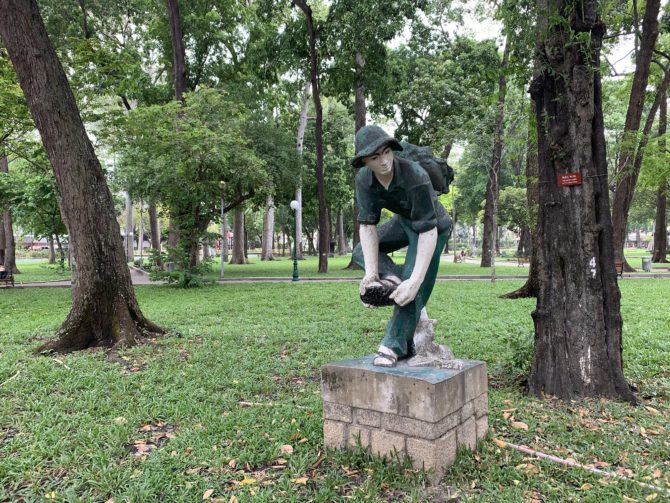 The only bona fide tourist attraction we visited in the city itself was the Independence Palace, former home to the President of South Vietnam. The explanatory text around the building was on the better side of the museums we have seen here, and relatively neutral and descriptive in its tone. Touring the rooms downstairs did feel a bit like scouting a potential conference venue, and I half-expected someone to appear to compare different seating arrangements. In the basement lies the presidential bunker, replete with lots of war maps on the walls, ancient communication technology and dark corridors from one of the N64 Goldeneye levels.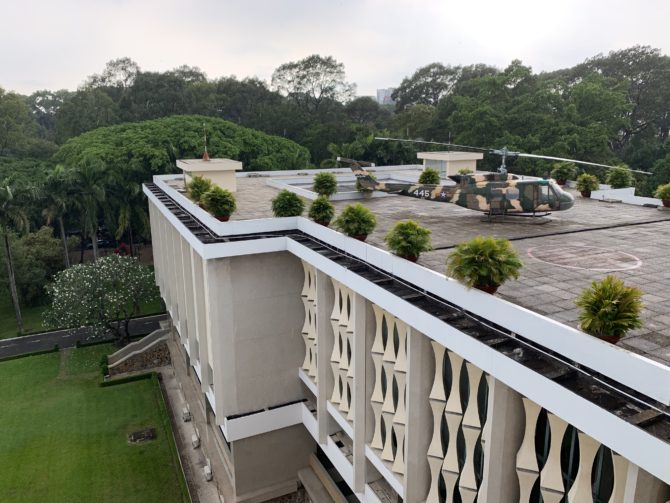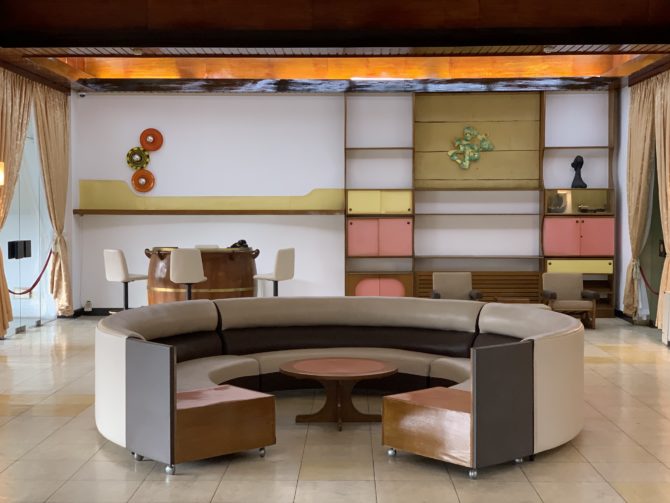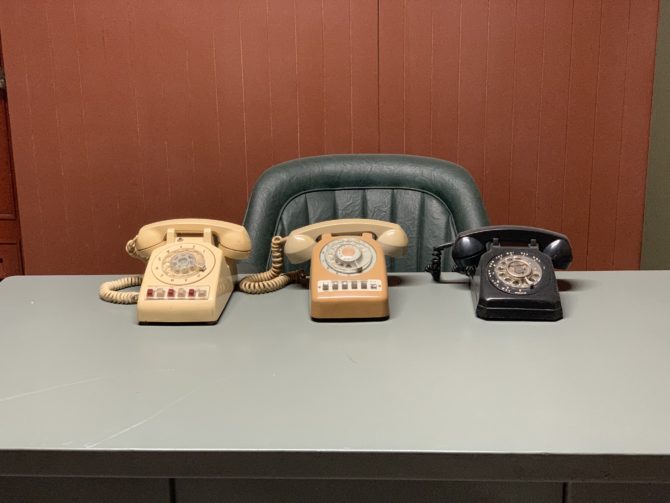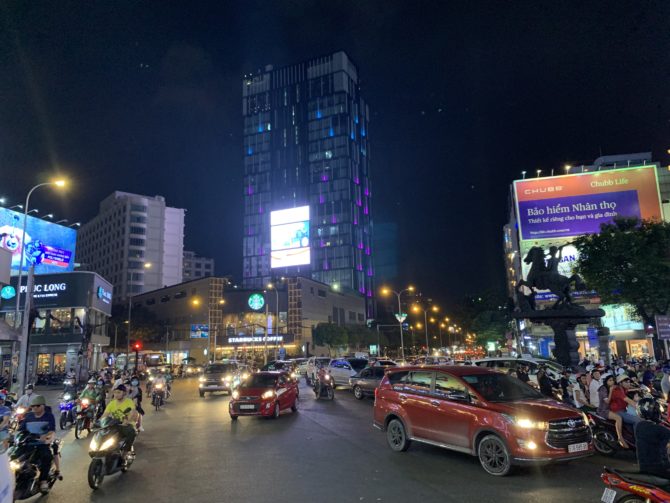 The number one thing to do here is to visit the Củ Chi tunnels, a giant underground network which lie a couple of hours' drive outside the city and were a significant operational base for the Viet Cong during the Vietnam War. I was a little nervous about seeing these, as I had read that they have become touristy to the point of being distasteful to the memory of a war in which millions of people died not so long ago. There are two sites available for visits: Ben Dinh, which is closer, and Ben Duoc. To ease my fears about the trip we booked a small tour group to Ben Duoc on the basis that it is "less touristy". I was a bit sceptical that this could really be true given that the advice to choose Ben Duoc is repeated all over the Internet, but in actual fact the blogs had it right this time and the site is still relatively quiet, uncrowded and respectful.
Our tour guide was a retired teacher who had been a reserve solider in the South Vietnamese army and was in love with English idioms, working them relentlessly into conversation ("sucker for a pretty face", "it takes two to tango", "really hard done by") before repeating them quietly to himself under his breath for practice. He was cheerfully dismissive of the North Vietnamese "exaggerations" around the exhibit and wistful about the multi-party system in Vietnam which might have been. It was good to get a different perspective on the war from someone local. For balance, we were also shown a grainy propaganda film about the "crazy bunch of devils" (i.e. the Americans) who bombed the country relentlessly before being taken to the tunnels themselves.
Before visiting, I thought it was the height of absurdity that some of the tunnels have been widened for Western tourists. Having been there, I still think it's absurd but I have accepted the fact that I would probably still be stuck in the original tunnels if they had not been. We bent over and near-crawled through several short sections of tunnels – stopping to see mannequin figures stand in for Viet Cong fighters in underground rooms – and my knees hurt even after these very brief explorations. It's crazy to imagine what this network must have been like, before any electric lighting or paths cleared through the jungle, in the middle of a brutal guerrilla war.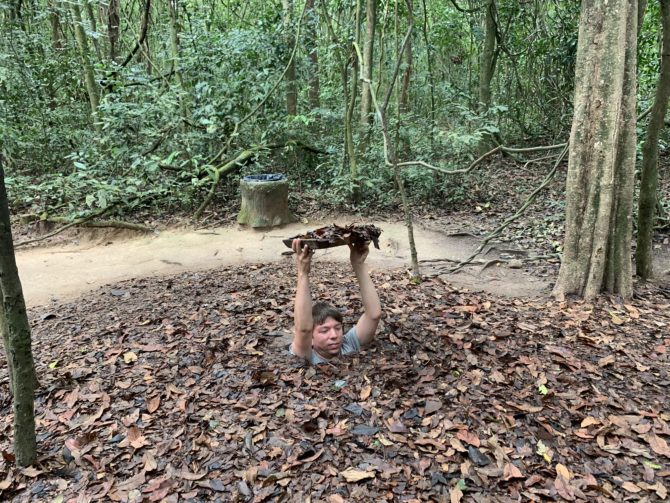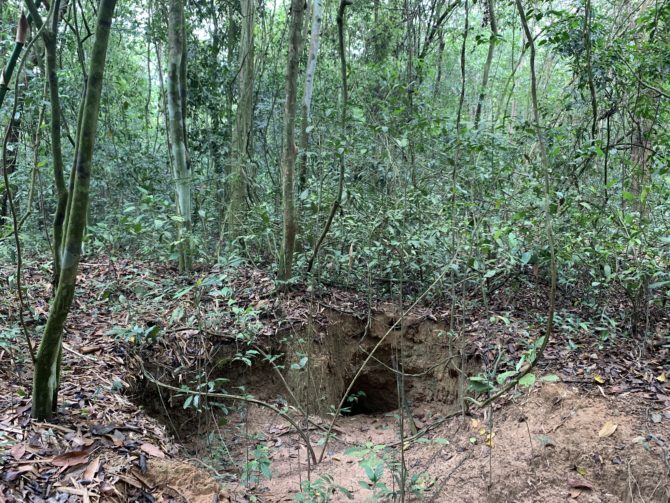 I was less keen on the gleeful presentation of various gruesome booby traps. They are morbidly fascinating to see, of course, but it brought home the arbitrary unfairness of time and place that I was here on a tour group rather than a military draft. And I was very grateful that our guide completely vetoed a trip to the shooting range on the grounds that it was a rip-off, because I really don't have any desire to fire a gun, even for fun.
Fun side-note: we smelled a little of baby food during this outing, after accidentally buying our mosquito spray from a children's shop and ending up with weird-smelling protection which is apparently "ideal for the little ones". It did seem to ward off the mosquitoes, though.
Tomorrow morning we will catch our bus out of Vietnam and into Cambodia for the last new country of our travels. Overall, Vietnam has surpassed my expectations and I really enjoyed the experience of travelling down the length of the country, although we have realised that there are plenty of other stops we could have chosen and – one day – we might repeat the route with a whole new itinerary. Ho Chi Minh City will likely not be included unless they manage to sort out their roads, though 😉