Last time I promised evidence of a fully-decorated Christmas tree and here you can see it in all its finery combined with our Hanukkah decorations and an excitingly train-themed menorah. This last item was a gift from Randi's parents who are in the middle of staying with us for a couple of weeks over the holidays, which has been really wonderful and a great excuse to eat at all of our favourite local places in addition to all of the regular seasonal festivities.
It's probably a good thing that all of this stopped me from blogging straight after the miserable election night two weeks ago, during which I felt a surge of rage flow through my bloodstream (you really spoke for me, Alan Johnson) which has now been temporarily blotted out by Christmas. Indeed, the very next day after election night was eviivo's Christmas party, and although I didn't have the energy to stay awake for the whole night I did stay long enough to collect my Secret Santa from a (somewhat martial) Father Christmas.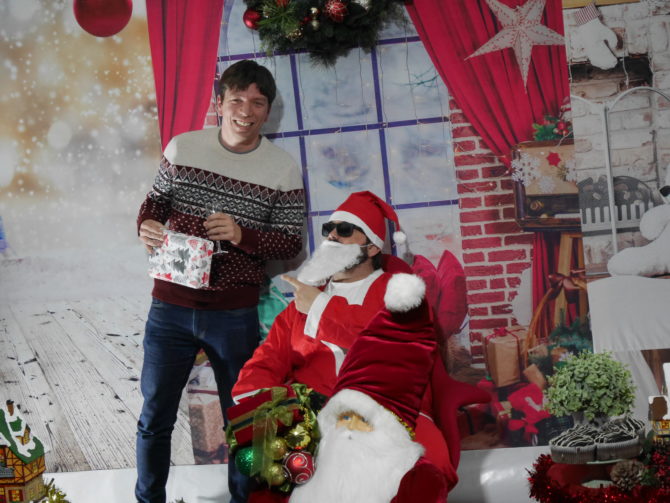 On Saturday night, Randi and I were joined by Irfan for an incredible dinner at Sophie and Naomi's astoundingly tasteful and beautiful flat. Feeling too lazy to go home in the rain aftwards, and/or just wanting more time with their adorable dog Lottie, we crashed there overnight before rousing ourselves the next morning for our final London LOOP walk of the year. By coincidence, this walk – section 24 – is technically the 'last' one if you decide to walk the route in order from the start. But as others have noted, it's not exactly the most inspiring finale. Most of the path is very industrial – exemplified by the scent of the Tilda rice factory – and there's no grand monument (or even a sign!) at the end to celebrate the whole thing. I'm glad this won't be our lasting memory of the LOOP.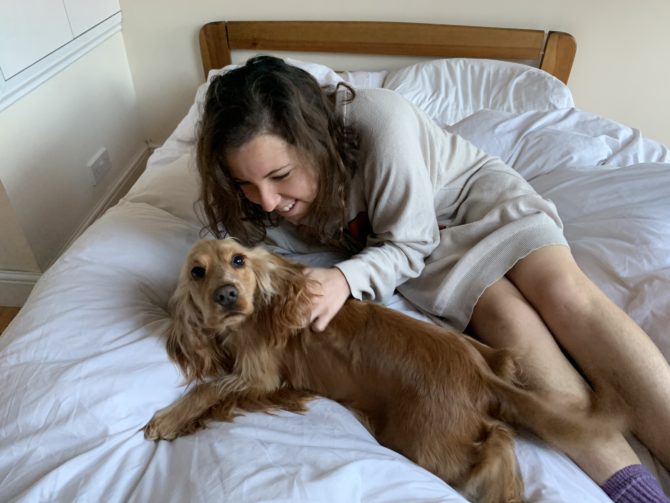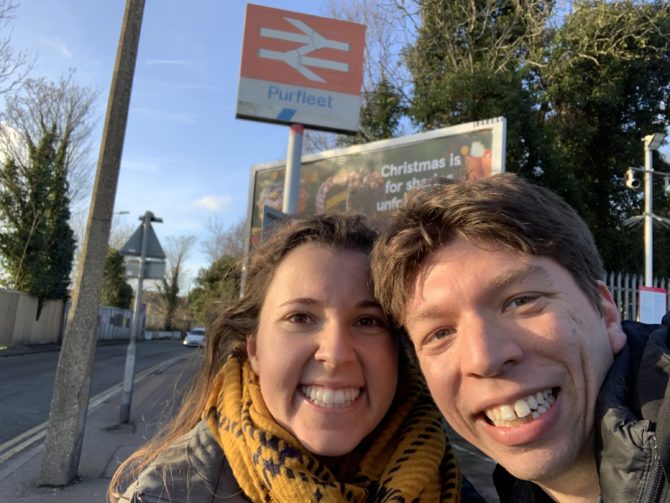 A week later, I popped down to Hassocks for Simon and Fleur's wintery wedding day. They added a few Christmassy touches which lent an extra special feel to an already special day, including a welcoming mug of hot chocolate at the start, mulled wine in the evening and a giant and beautifully decorated tree in the barn where the ceremony took place. One of the things that everybody loves about Simon is his gift for bringing people together, so it's totally unsurprising that at his wedding I had such a good time chatting with old friends and new acquaintances. My only complaint is that as I took my place at the Bakerloo line table for dinner I was confronted by a very sad-looking incarnation of me. If you look closely, you'll see he's now bringing his misery to our Christmas tree too 🙁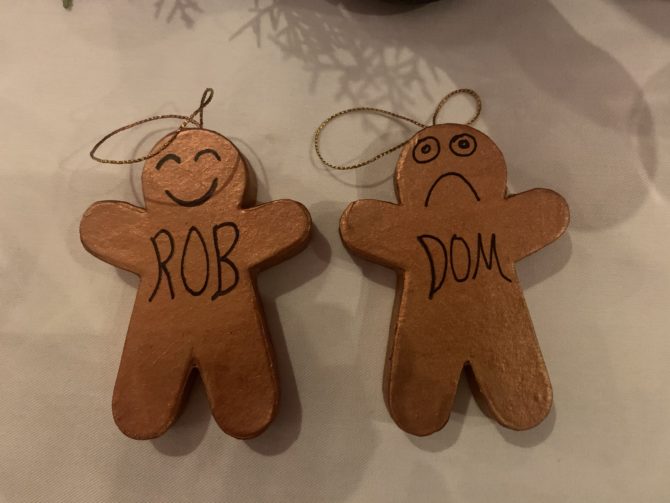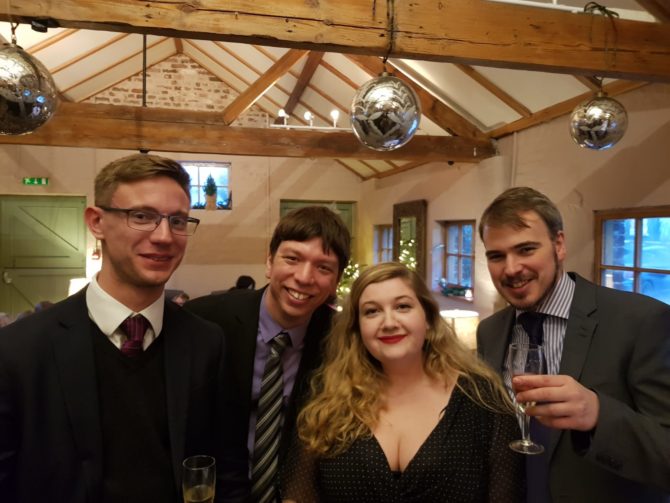 Back in London, last week we saw Come From Away with Randi's parents. This joyful and uplifting musical is based on the true story of the 38 planes which were grounded in the remote Canadian town of Gander on 9/11. I wasn't expecting anything based on 9/11 to be so enjoyable, but this was a perfect feel-good show for this time of year and I've had much of the soundtrack stuck in my head ever since. Then, on Christmas Eve Eve, we joined up with my mum for the Christmas at Kew event at Kew Gardens. Essentially, this is a very middle-class version of Winter Wonderland but thankfully the weather stayed dry for us and we enjoyed a very nice stroll around the festive lights and sounds of the gardens.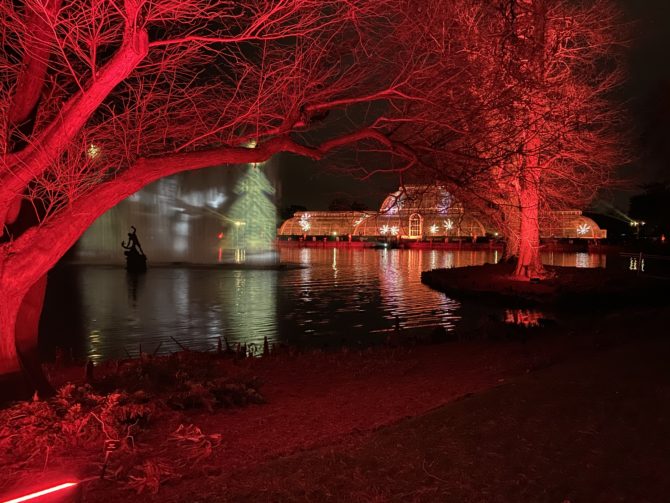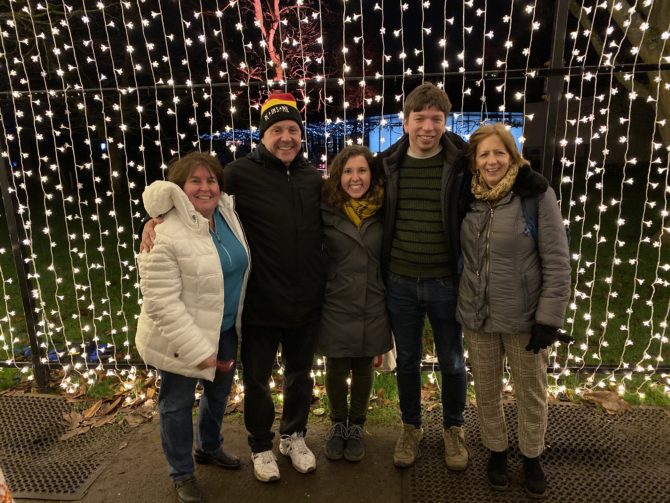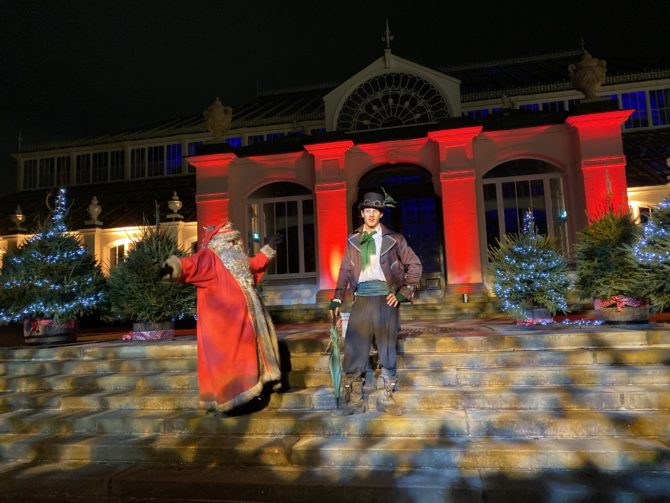 And then – finally – it was Christmas! On Christmas Eve the whole family assembled at my parents' house, guzzled down the latkes fried by Randi and her mum and played a few (generally successful) rounds of Codenames before laying out the stockings and going to bed. The extra guests obviously gave the magic a boost because it was a particularly strong haul of presents this year! On Christmas itself we enjoyed the traditional large family gathering at Carolyn's with amazing food, a tough quiz and a very violent game of mafia (or 'slaughter of the innocents'). Ah well. Merry Christmas and Happy Boxing Day!