If you think it's hard to keep writing blogs on the theme of "still at home" then spare a thought for the traditional Annual Review at the end of this year: 2020 is going to be a washout. I don't think I've mentioned the phenomenon of compulsive lockdown purchases yet, but while I have been feverishly trying to finish off my collection of classic Doctor Who DVDs (in my defence, this has been going on for two decades now and I need to complete it before DVDs become so obsolete that nobody will stock them anymore) Randi has been stocking the kitchen with ever more specialist pieces of baking equipment. I do pretty well out of this arrangement when it means waking up to the smell of fresh bread 🙂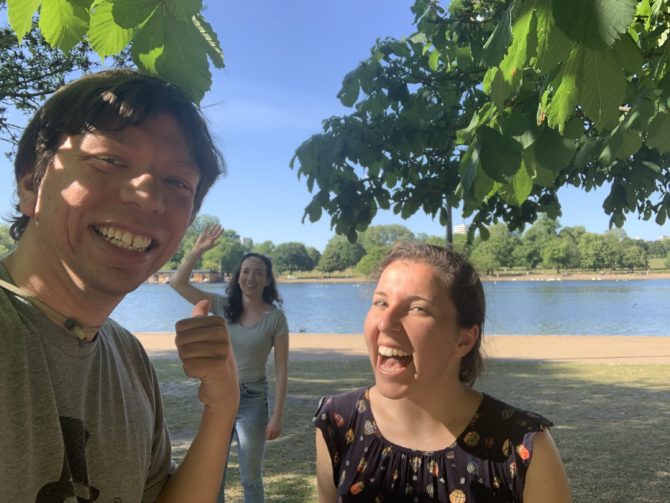 Still, little green shoots of normal life are returning, which finally means I have small pieces of government-approved outdoor socialising to blog about. Our first picnic was in Hyde Park with quizmate Erin – a trip which took a little under 2 hours each way to walk, but did start to make 'London' feel like a real cohesive place again.
Since then we've also met up outdoors with Katie and Kim*, Matt and Laura and – most recently – Randi's colleague Amy, her partner Adam and sister Zoe in their back garden on Wednesday evening. At work I've started a new (and busy!) role so I was very grateful to be able to leave the flat at the end of the day and be handed several delicious cocktails. The novelty of going round to someone else's house was intoxicating, and we had such a lovely evening by their fire chatting and eating fish and chips until it was dark and late and we could walk the 60 second journey back home and go to bed. (The best part was that Amy grew up near here, so I discovered a whole equal-but-opposite parallel universe to my own upbringing where South Londoners talk about North London with a vague and confused sense of where things are.)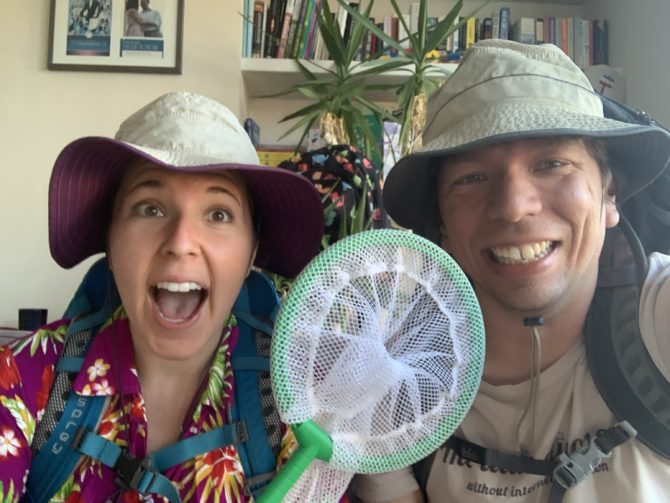 May is still the birthday blitz season and for Tash's 28th Cormac organised a virtual pub crawl with a series of themed Zooms. Randi and I were delighted with being assigned to the Jurassic Park room as it gave us a chance to break out our backpacks which have been lying sadly unused of late. (Fun fact: Randi ordered the butterfly net a few weeks back in her fight against wasps flying through the window and was a little disappointed to realise that it was sized for a young child.) Earlier this week a mass Glamily gathering was assembled across many timezones to wish Lori a happy 101st. Happy birthday Lori! I'm not sure you were able to hear very much; on a 40+ person Zoom you really need a young child to have any chance of being heard.
The timing of Tash's birthday pub segued perfectly into a live feed of the SpaceX rocket taking its crew to the International Space Station. This was obviously a rare bright spot in a week of horrific police brutality, political meltdown and – obviously – Covid-19, but it's still captivating to watch human beings physically escape from the planet we were all born on. On a less grand scale, we've also been enjoying Charlie Brooker's one-off Antiviral Wipe (more please!) plus two programmes which cater to our shared love of documentaries about supply chains: Three Years in Wuhan and Inside the Factory. It's so obvious to us that the story of toilet roll or baked bean production is inherently fascinating (did you know that baked beans are cooked with steam after being sealed in their tins?) that it's always a little surprising when other people laugh awkwardly at our viewing suggestions like this. But we love it.
Finally: we finally won the quiz! Sure, we have to share this honour as joint-winners with another team, but Mairi and Sami's guest hosting (and particularly Mairi's decision to include a lot of questions based on Jay Foreman YouTube videos) was enough to propel our team to the top of the league this week. I am not in a rush for this to end.
*I say 'we': technically, the truth is that I met up with Katie and Kim while Randi made a dramatic appearance at the urgent care department of King's College Hospital. But don't worry, she's fine!