For the past 15 years I've written my annual review in a dense month-by-month format. That's 180 individual months! But now, in a thrilling burst of innovation, I'm trying something a little different…
---
Annual Roundup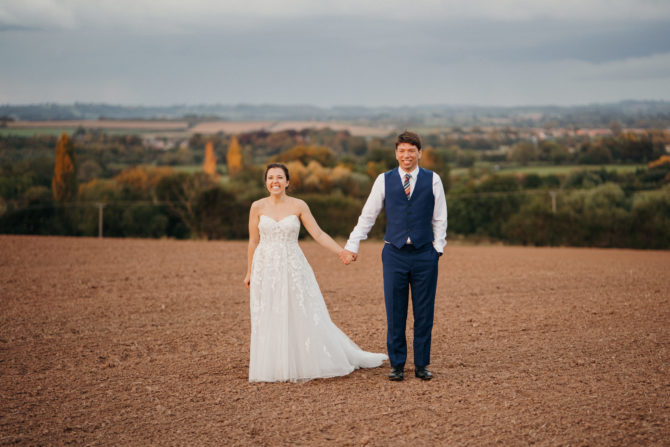 The year of the wedding! Five years after our Chicago courtroom marriage, Randi and I had our real/fake wedding (depending on how you look at it!) on a sunny September day.
It won't surprise you that Randi was also my walking partner when we completed the Capital Ring with our triumphant return to the Woolwich foot tunnel. She also packed our flat with friends for my surprise birthday party, joined me to ride the Elizabeth Line on its first day and smiled when I played the entire Welcome to Mountport soundtrack instead of letting her sleep. Domdi was going strong long before our wedding day, that's the point. But it was a wonderful way to celebrate.
An odd irony about 2022 is that it was almost entirely a resolutely post-Covid year, and yet this was also the year when we both finally caught it. The timing happened to coincide with Russia's invasion of Ukraine, an event which threw everything up in the air for some people close to me, so it was a weird and unsettling time. It's a reminder of the sharp turns life can take, as was the sudden death of my great uncle Leonard, who we lost without warning in April. We miss you.
---
Travels
Amsterdam (March) – A brief overnight trip with Lee for a work conference. We left the after-party early for the Dutchiest of tourist Dutch dinners.
Norwich (April) – Group trip to see The Lion, The Witch and the Wardrobe in which we were all kindly hosted by Jason and Helen overnight. To make sure we got to the theatre on time, I paid our restaurant bill in one go, misleading the waiter into thinking I was the team manager on a jolly work outing.
Malta (April) – Long Easter weekend with Randi and her parents. We walked all around the beautiful Valletta, rode our quad bikes on a tour of Gozo and relaxed in the rarefied atmosphere of the M Club. Also, Beth narrowly avoided murdering several high-ranking diplomats with her crutches
Tbilisi (June) – A week of wine-fuelled work with my wonderful colleagues Kira, Maria and Hanna. I loved everything about this impulsively-booked gathering, from the stunning scenery to the delicious khachapuri, but nothing could top hanging out with this gang in person after years of meetings on Zoom.
Cardiff (July) – A very cheerful and sunny weekend in Wales to see Tom, Demelza and Ralph. We still fantasise about popping back to Hard Lines for breakfast.
Hereford (July) – Pre-wedding scouting expedition with my mum, during which Randi found the perfect painting we'd been looking for.
Valencia (August) – As close to the UK as Mike was willing to come on his European trip, rudely forcing us to fly to Spain, eat a lot of tapas and swim in the thrillingly warm waters of the Balearic.
Edinburgh (August) – Or "Dom finally gets to see the Fringe" with our guides Katie and James!
Hereford (September) – The One Where We Got Married (Again)
Suffolk and Cambridge (October) – Family pilgrimage to Knettishall Heath to scatter my dad's ashes, followed by lots of fun and games in Bury St Edmunds. Cambridge was a bonus stop on the way home for me and Randi, who resisted the lure of the very expensive artwork in the gallery at the top of the Grand Arcade.
Whitstable (November) – Michelin-starred weekend at the seaside put together by Caroline and Josh.
Oxford (December) – Outrageously generous seven-course wedding gift paired with a night at St Hugh's and a Christmas market bratwurst.
---
Live!
The Book of Dust – La Belle Sauvage (February) – A lovely stage adaption of the first book in Philip Pullman's newer series, and my first post-Covid play. Randi got very angry at the League of St Alexander.
The Lion, The Witch and the Wardrobe (April) – Oliver's dad is Father Christmas!
Dear Evan Hansen (April) – A steady growth of nervous tension in the pit of your stomach as you wait for Evan Hansen's Big Lie to be punctured. With songs.
The Book of Mormon (May) – For Randi's birthday, an experiment to see if this musical would still hold up all these years later. It did! Although they definitely softened one of the worst-taste jokes.
Flightpath (May) – Surrealist stories in the perfect back-of-a-pub small theatre setting, with our neighbour Angela.
Jerusalem (May) – Probably up there as one of the best plays I've ever seen.
Ramona (June) – Georgian puppet theatre in which a lovesick train joins a travelling circus. Yes, you read that right.
Underground 2099 (June) – Escape room set in a real abandoned Tube station, featuring giant radioactive rats which I was too squeamish to touch.
Shamilton (August) – Fringe Show #1, and also the best: a glorious improvised music on Nicola Sturgeon which brought back very warm memories of Improv Shakespeare in Chicago.
Any Suggestions, Doctor? (August) – Fringe Show #2, and a Doctor Who-themed improv which was pleasantly enjoyable but no comparison with Shamilton.
10 Songs for Geeks (August) – Fringe Show #3 – Silly songs from Jolly Boat playing to an enthusiastic 'Last Night' crowd.
Chris McCausland (November) – Stand-up comedy. One part gentle, one part serious exploration of blindness.
Monopoly Lifesized (November) – Everything you need to know is right there in the title.
Ingrid Michaelson (November) – Could there be any better start to the festive season than Ingrid Michaelson singing a mix of Christmas songs and her biggest hits?
Six (December) – Divorced. Beheaded. Live!
A Sherlock Christmas Carol (December) – A concept so good that I had very high expectations, and was not disappointed.
The Wife of Willesden (December) – Post-Christmas update of Chaucer's 'Wife of Bath' from Zadie Smith. Superb performances.
---
On Screen
Doctor Who – A trilogy of specials for Jodie's final year, featuring an entertaining performance from Aisling Bea in Eve of the Daleks at New Year, Easter's disappointing Legend of the Sea Devils and the blowout celebration of The Power of the Doctor which was, well, ace. Katie and I also had several classic Doctor Who Nights in 2022 as well, but only one of them attempted to pull off a musical western. So come, you coyotes / And howl at the moon / Till there's blood upon the sawdust / In The Last Chance Saloon…
The West Wing – We did it! We finished! American democracy secured, and it only took us four and a half years.
The Green Planet – I seem to remember at the time we poked fun at David Attenborough running out of animals to film, but some of these plants have really stuck in my head. Especially those intelligent tree roots.
F@ck This Job – The inside story of what it takes to run an independent TV station in Russia, until it gets shut down.
Succession – Recommended by Tash, we managed to complete the first two seasons this year. Great fun in itself, but also good because it set me up to chuckle when someone set Rishi Sunak's leadership video to the theme tune.
Oxide Ghosts – "Hiya did I remember correctly that you really liked Brass Eye? Did you hear about the outtakes screenings?" (thanks mum!)
Eurovision – Joined by Cat for the final to enjoy the UK's shocking reversal of fortunes.
Football Dreams: The Academy – Unexpectedly moving series about Crystal Palace's youth academy.
Our Friends in the North – Started this year after a gift from Randi's former boss – but we haven't yet reached the 80s, so I fear the worst may be yet to come.
Glass Onion – Our only actual-proper-film-in-a-cinema outing this year… and if you're only going to have one, you really should make sure it's a great one. Fortunately I loved this Knives Out sequel featuring Detective Benoit Blanc and a murder mystery party on a billionaire's private island.
---
That Moment When…
…in the wave of Wordle clones which sprang up this year, the one Randi and I spent many nights puzzling over together was Redactle
…you sit for ages through a virtual Labour Party re-selection meeting for the results of the secret ballot to be revealed, only to find out that everyone's voted the same way. Like playing Mafia without any mafia
…Randi freezes her hands playtesting Tash's scavenger hunt birthday gift in the pouring rain
…you become intensely paranoid during a tense cat-and-mouse hunt around Bury St Edmunds after rashly promising to Katie that she can't poke you without you spotting her first
…you arrive too early, leave half the cork marooned in the wine bottle, break the fairy lights in the garden and seriously consider faking a sudden illness
---
Wishing everyone a very happy and healthy 2023!
And remember, no home run is worth it if you can't run home to a home you love…