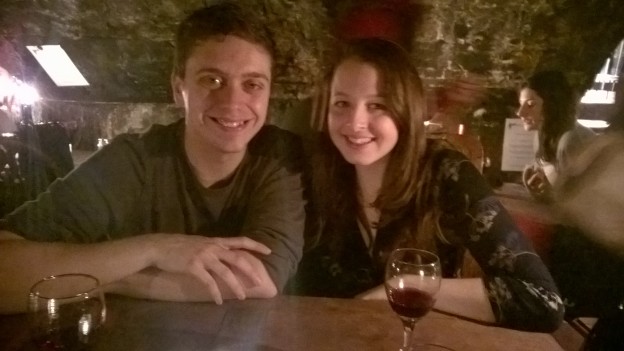 The other week our flat saw Jeeves and Wooster in Perfect Nonsense (Stephen Mangan, Matthew Macfadyen, Mark Hadfield), as part of my continuing mission to buy theatre-based Christmas presents which are also strongly to my own benefit 😉 I was the only existing fan of P.G. Wodehouse of the group, which made me slightly nervous, but the others enjoyed it well enough. Possibly more, in fact, as they weren't scanning through the novel in their head to work out the differences on stage, or wishing for large chunks of Bertie's missing inner monologues which make the books so good. Still, it was an enjoyable Englishy night-at-the-theatre, and confirms my desire to visit the 1920s for a few days (as a rich toff, but one cool enough to visit jazz clubs) on my long-awaited time-travelling tour of the world.
For lazy Sunday decadence that doesn't require the use of a flux capacitor, Gordon's Wine Bar is a good shout. The prime advantage of sitting in a darkened cave – other than the easy availability of wine and cheese and good company – is that you don't really know what time it is outside. Or whether it's raining.
Oh, and last night I drunk out of a boot at Alix's birthday (happy birthday!) at Steam and Rye, which is all 1920s Americana. (I don't know whether the boot part was specifically part of the scene back then, but I'm happy to add the US onto my 1920s tour.)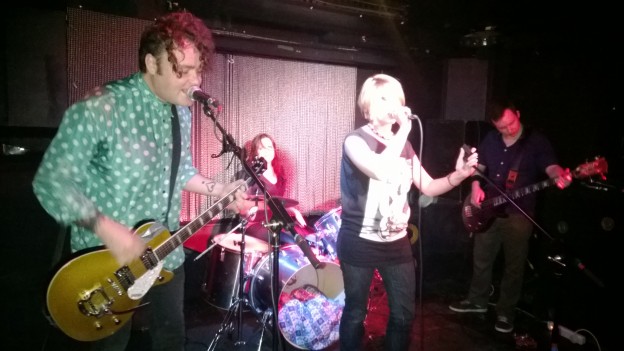 There was a very nice gathering on Wednesday night to see Cat, Paul, Liz and Steven's band Recklings (who I just realised are on Spotify!) sandwiched inbetween two other, rather different acts. The first was a sort-of male Kate Nash whose every song contained the line "young and dumb and [something about fun]" which was swiftly upgraded to a bawdier version by Abbi, greatly enhancing the experience. The last were techno-electronic-something, which I appreciated mostly as a prompt for drunken robot dancing. But Recklings, yes, they were good! And I also saw Jen before she leaves, which was an unexpected bonus.
Work's New Year party followed on Friday night, but as I have few photos or stories I'll move on swiftly to Mandela: Long Walk to Freedom at the Lexi, which I saw with the family and our cousin Nancy. (I've been taught that 'cousin' is vague enough to cover most complicated family ties.) Agreed with Tash that it tries to pack an awful lot in early on, but improved as it went, and Idris Elba was excellent. It's hard to know what to say about Nelson Mandela's life story, given the unusual feeling that mass adoration is basically deserved this time. I mean, turning anyone into a saint is usually a bad idea, but if you're going to have one you'll struggle to find a better man than Mandela.
Which just leaves Sherlock – the final episode of which, at least for now, is on tonight. I was reading an interview with Ted Sarando of Netflix recently, who claimed television was all about the 'managed dissatisfaction' of waiting for the next instalment, when instead you could get it all in one go. I believe this is popularly known as 'anticipation' and, actually, is part of the pleasure 😉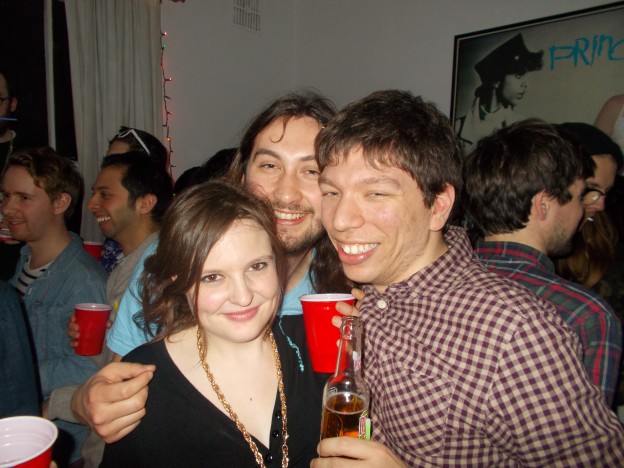 For the second year running, we celebrated New Year with a densely packed throng in the living room of the Mile End sister flat. Apparently I had my eyes closed for 99% of the time, if these photos are anything to go by. And happy new year to the accommodating bus driver of the packed 277 home, who allowed me and Anna onto the front as long as we crouched down on the floor and held on tightly 😀