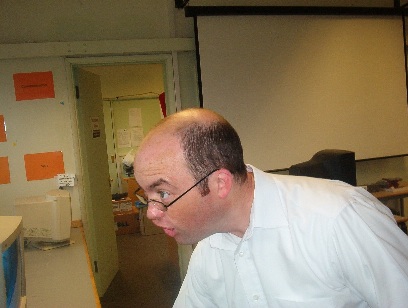 Not the most flattering pose either! But haha, meet Mr. Cooper, the systems admin at school. He's nicer than he looks

What happened today? Oh, how could I forget. THE TORIES CAME FOURTH! Oh, I was laughing heartily for a loooong time after I heard that. That's right, the 'official opposition' came in fourth place in the Hartlepool by-election, despite a government that is in deep shit over Iraq. Serves you right, bunch of Thatcher's loonies you. Shame.
"There is no point pretending otherwise. It is a blow," said Shadow Work and Pensions Secretary David Willetts.
Nicholas Soames, the shadow defence secretary, was more honest.
"A fucking awful result."