Well, tonight was the last in the series (I presume) – it's back 'in the new year'.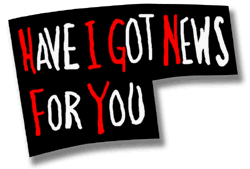 We'll see, of course, but it looks like the BBC have made the guest presenter arrangement permanent. It keeps the programme very fresh in my opinion. A new host would always appeal to some of the audience more than others, so why not have a mixture?
Why, by the way, are there so few sites dedicated to HIGNFY? I mean, look at the Yahoo Directory listing, it's pathetic. Martyn Alner is about the only guy to have made anything. Sigh, I might have to do it myself sometime.
I suppose everyone has their own dream candidate to host a show. Personally, I'd love to see Jon Stewart, who seems to work his way into a scarily large number of my blog posts at the moment. Angus Deayton also needs a come back, maybe as a guest? In fantasy land now, but imagine Blair? Maybe when he resigns over Iraq he'll consider it… (Told you I was in fantasy land.)
Christmas TV looks especially dire this year to be honest. At least we got The Office Christmas Specials last time, although Dead Ringers has been on a real high recently and so their show should be worth watching at least.