Cult sci-fi hero Doctor Who won the battle of prime time as 10 million viewers tuned in to watch the series return after a 16-year absence, figures revealed today.
The much-loved time traveller beat off competition from ITV's Ant and Dec – and their guest David Beckham – to claim an average audience of 9.9 million on Saturday night.
Salford-born Christopher Eccleston became the ninth small screen Doctor in a special effects-packed comeback, with former pop star Billie Piper starring as his new sidekick.
The series, which was screened at 7pm, had an average audience share of 43.2% and hit a peak of 10.6 million viewers.
Ant & Dec's Saturday Night Takeaway, which ran against Doctor Who, had an average of 7.2 million viewers, taking a 31.4% share.
The Geordie duo peaked with an 8.5 million audience, 37.5% of the viewing public.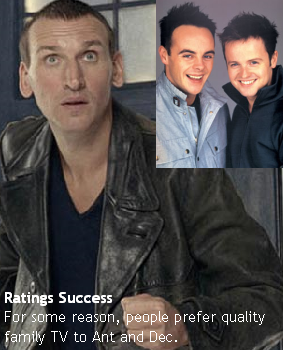 Plea to Babbleblog members – use your Photoshop skills against the grinning twosome?