Sorry. I've had a cold, and I didn't think anyone would be interested in reading that. [sneezes]
I did manage to finally hand in my very last piece of coursework on Thursday, so am now officially coursework-free. Just got homework, exam revision and yearbook editing left. Oh, and talking of yearbooks – here's an embarrassing picture from Year 8 that's just turned up: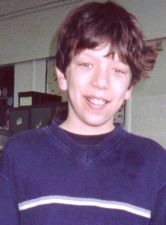 The hair! The smile! The braces! The slightly autistic stare!
Oh, and I never got a chance to register my disapproval at Alan Sugar's decision last Wednesday in The Apprentice. I've agreed with him up to now, but firing Miriam – especially that week – was just wrong. My current favourite is still James, as it has been ever since Paul started showing his talents were quite limited. All IMHO, of course. As this blog generally is.
Well – if anybody's going to shout out it'll be Red Dalek. Hi Chloe, who was surprised to find I had a website because "I kept that quiet." Say whaaat?