Thursday at Eton began with another set of double lessons – starting with History which was my favourite of the week. We looked at Kennan's "long telegram", Novikov's report and some lovely Pravda articles about Stalin ("strong, beautiful, wise and marvellous") and I concluded that, basically, the Cold War happened because everyone was being a bunch of babies and if they had just sat down and agreed to be social democrats the whole thing would never have happened.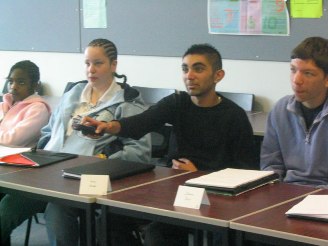 Then we had double Maths consisting of centroids and circumcircles and what-not. And look – there's Hiten again!

The rest of the day was absolutely packed. We had lunch, followed by sporting activities in which I chose 'Pirates' over basketball, and then 'Ultimate Frisbee' over rounders. Notice the shunning of real sport in place of games? Bingo – you've discovered Dominic's attitude to the whole thing. And much fun was had too.
We then had a talk primary about HIV and AIDS in Africa (the topics seemed to get more serious by the day) in which someone "who will remain nameless" was forced to leave the room while answering her mobile phone. Didn't help that she was sitting right in the middle of the row of seats either…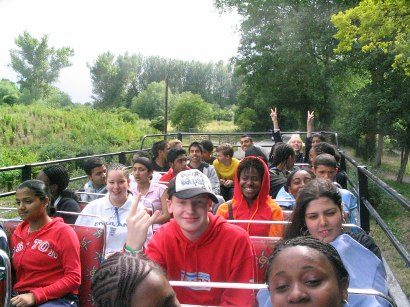 Then – an open topped bus tour of Windsor! Not very interesting at all, unless you spent most of it chatting to a Daily Telegraph journalist about the week. And managed to get into my secret (?) ambition to rid the world of private schools (Sssh!), as well as talking up Rubery Village. All publicity = good publicity!
In the dragon boating that followed, I got absolutely soaked, but hey. We narrowly won our first race and completely lost our second, partly because we kept hitting each other's paddles.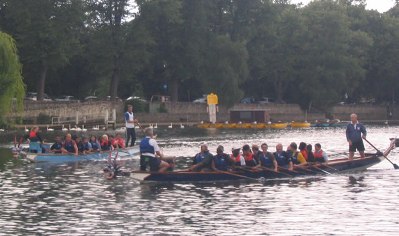 No time to change out of wet clothes (boo!) for evening meal, we then began to rehearsal our presentation for Saturday. Matthew and I got our script written (of which more details later), and then tried to practice it in the dorms, but I was very tired and gave up after giggling too much. Never fear though, cause the next day I somehow knew it off by heart…