Basically, I've been busy reading through Checkmate, Malorie Blackman's last book in the 'Noughts and Crosses' series. Is it a children's book? I don't care! Children's books rock anyway… especially since I'll be glued to Harry Potter 6 on Saturday.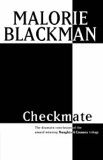 For those of you familiar with Noughts and Crosses – Checkmate follows Callie Rose, Sephy and Callum's daughter, through a series of flashbacks during which she learns the truth about her past.
For those of you who have no idea what I just said – Noughts and Crosses is basically a original look at racism through a society of rich, ruling 'Crosses', who are black, and minority 'Noughts' who are white. And then the human story of teenagers who fall in love, blah blah, read it and find out!
In other news – it's Katie's birthday on Monday and I need to get her a present sooner rather than later!