Now for a little jump forward in time. After leaving Ushuaia we spent the rest of last week in Buenos Aires, but I thought I would save all of my Buenos Aires material for one post and write first about our side-quest to Puerto Iguazú and the Iguazú Falls. This was a wonderful diversion but not a place gifted with excellent WiFi – or at least we ran out of things to order in different cafés to keep testing the connection speeds – so now there is some blogging catch-up to do.
Ethical note: this post was made possible courtesy of my mother who generously provided our flights to Iguazú. All opinions about my mother are my own.
OK, so we hadn't originally planned to visit Iguazú since it wasn't really on our path – in fact, it's possible we explicitly told our vaccination nurse that we weren't coming here to get out of something or other – but we kept picking up the recommendation that it would be worth the detour. The area around the falls is shared by Brazil (Iguaçu National Park) and Argentina (Iguazú National Park) although the general consensus online is that the Argentinian side has the edge. Either way, we weren't about to pay $160 to get Randi into Brazil (equivalent cost for a British citizen: £0) so we spent two days in Argentina's National Park.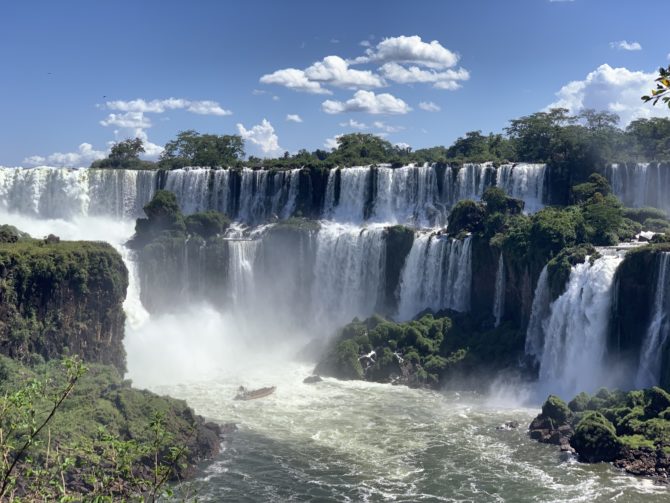 The park is extremely well sign-posted and organised with almost a theme-park vibe (in a good way… such as having a brightly colour-coded map) although it does get rather crowded at the most popular points. On our first day we had planned to walk the Garganta del Diablo Trail – the famous 'Devil's Throat' – and the Upper Circuit, because this is what various blogs told us we could comfortably manage in a day. The blogs are wrong. All of the trails are very easy to walk and despite not arriving particularly early we still had plenty of time and energy left to walk the Lower Circuit before the park closed. Don't believe anything you read on the internet.
The Upper Circuit was probably our favourite, but the Devil's Throat is certainly spectacular and (whisper it) maybe more impressive than Niagara Falls. I mean, I haven't seen Niagara in the summer and I don't want to hurt its feelings, so let's just agree that they are both great and you should definitely visit. We also had a magical burst of fake-rain water spray while we stood at the top which was cool and refreshing.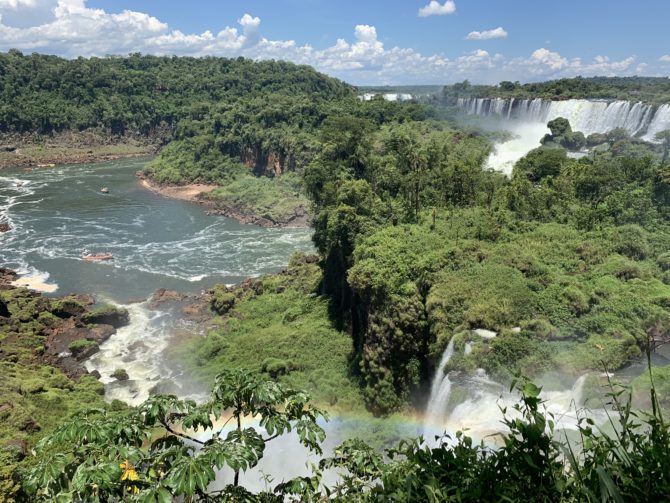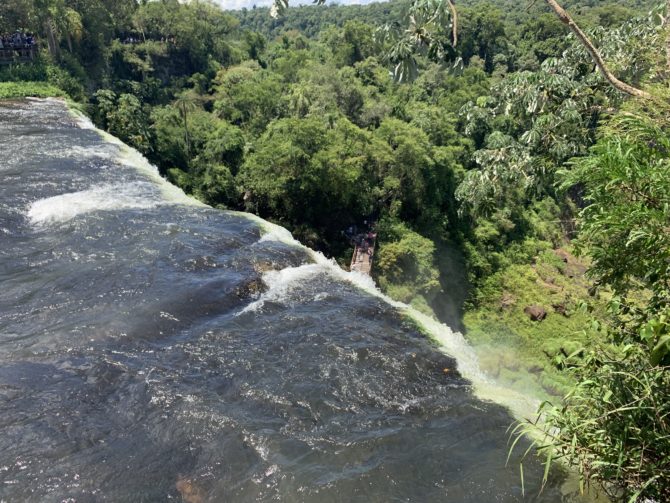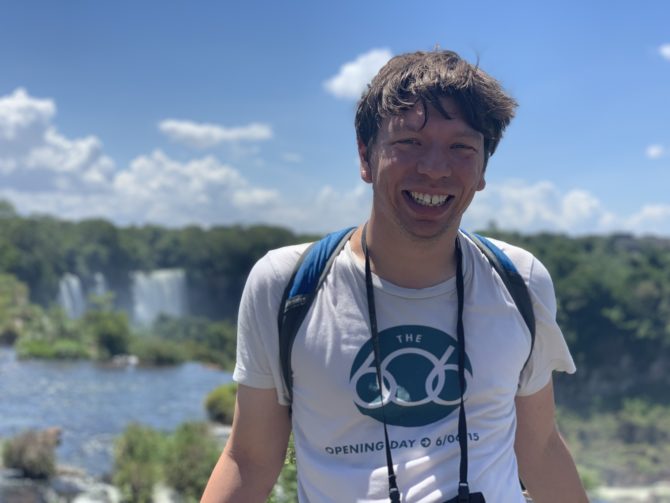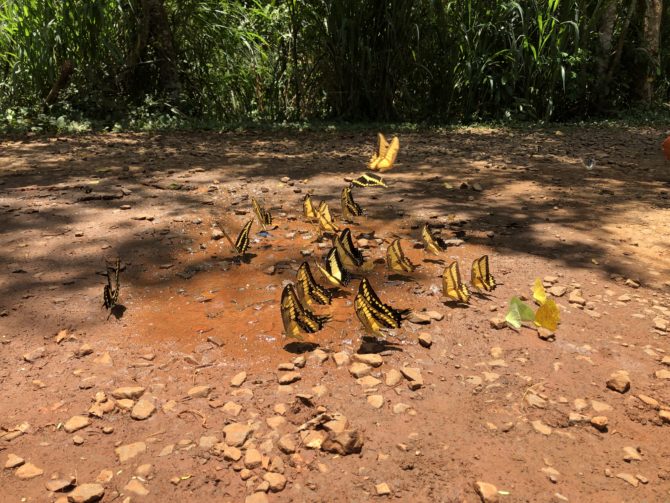 On the second day (for which you get a 50% discount to re-enter the park) we used gift money from Randi's aunt to take the Great Adventure tour through a jungle path and then up to the falls in a boat. The highlight of the jungle was seeing a mother and baby bird cunningly disguised as the top of a tree stump – so cunning, in fact, that I almost missed it. We were less smitten with all of the giant spiders who hung above the jeep as we stopped to talk about how impressive their webs were. And Randi was not thrilled to learn that the area is home to 50 species of snake, of which only a mere 10 are venomous. I thought those were good odds.
But no one pays for this tour to marvel at the Earth's precious and endangered species, obviously. They do it to be taken under the waterfalls at high speed and get completely drenched, which was a lot of fun.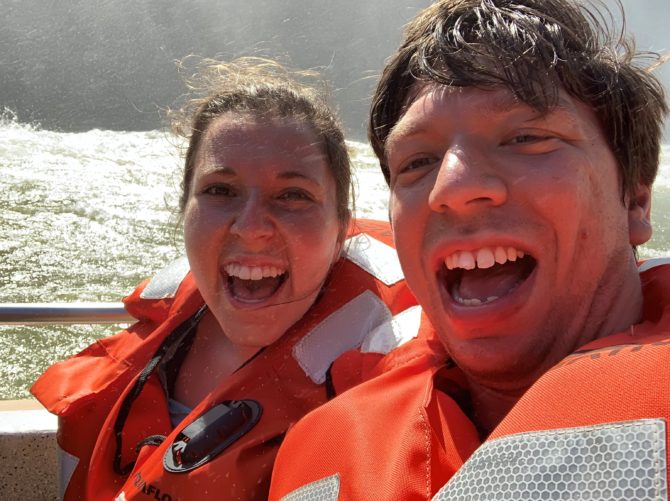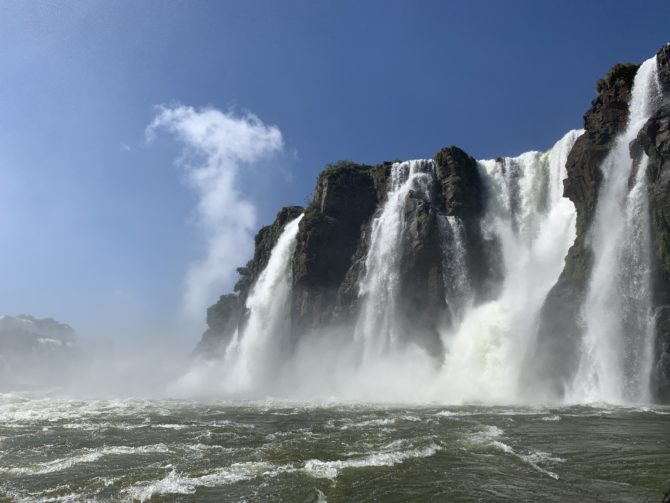 To dry off we walked the markedly less popular Macuco Trail where we saw our first monkeys of the trip. From what I remember of Asia they will become much less of a novelty, but we enjoyed seeing them in the trees. I have more mixed feelings about the coati which run amok in some areas of the park and particularly where innocent humans are trying to eat lunch. These raccoon-like animals are cute…ish, but they do have sharp teeth and claws and when they think a sandwich might be worth a-stealing they go crazy. I even had one poking around my legs as we set off on one of the little internal trains which take you between various points in the park.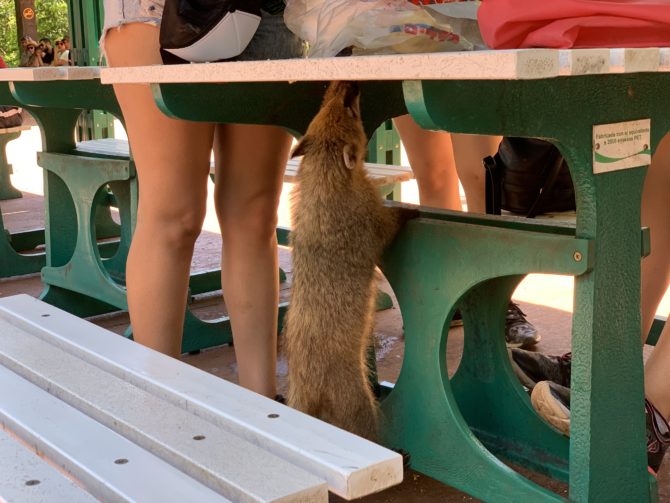 Other than the Falls the other big tourist attraction in Iguazú is the Triple Frontera between Argentina, Brazil and Paraguay. Each country is represented by an obelisk which looks out at the others across the Iguazú and Paraná rivers and it's an interesting test of how much effort each country is willing to put into its respective side, like neighbours who share a hedge. The Argentinian area is pretty nice – busy but relaxed, with great-smelling sausages being cooked. Brazil have built a big Ferris wheel in their area but have also gone and grown a big tree which obscures half of their obelisk so I'm deducting points for that. Paraguay… didn't seem to have anyone at their station. (Maybe they were there and I just couldn't see them!)
One problem with this whole arrangement: my phone kept thinking it was in Brazil and jumping one hour ahead to their timezone. This feels like a whole new category of first-world problems but it wasn't something I ever thought about, and I bet the product managers who built the 'Set Automatically' toggle didn't think about it either.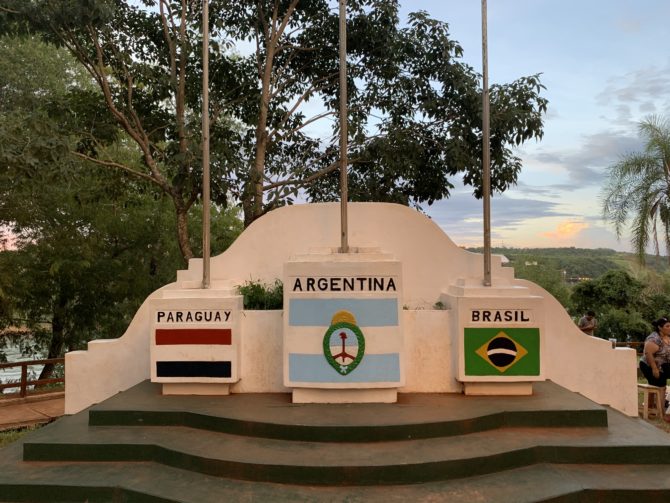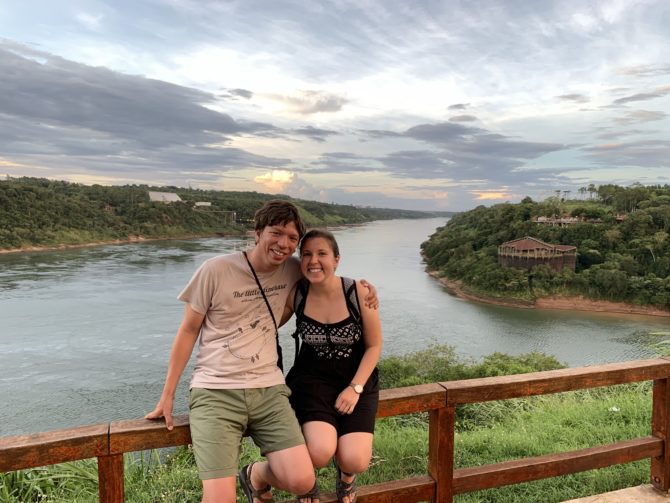 One final note about Puerto Iguazú itself: the area around our Airbnb has gone completely overboard in naming streets after significant dates. It is genuinely possible to walk up 17th October, turn right onto 25th May, make a left onto the main street of 9th July before turning again onto 1st May. This is silly. Then again, the town is home to numerous buffet-type restaurants where you can load up a plate for very little money, so I won't hold it against them too much.