Welcome to another episode of "blogging from cafés in remote places with decent WiFi". Today's edition is from Ushuaia on the southern tip of Argentina, where the city's motto is "end of the world, beginning of everything" and the claim is to be the southernmost city in the world. This is apparently somewhat contested by a Chilean town further south, but the marketing ploy has clearly worked because we're here and not there.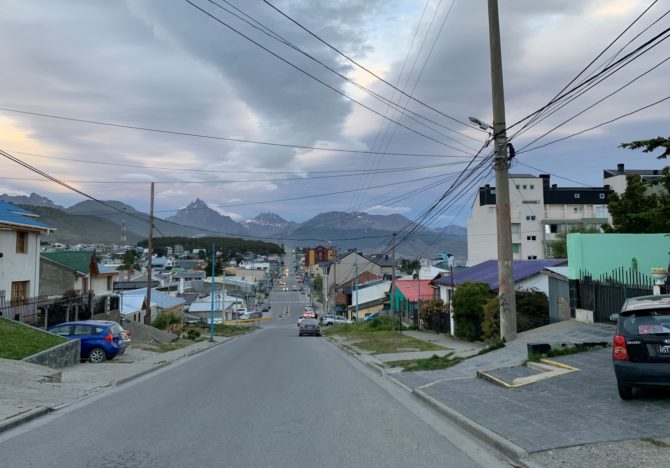 We have mostly laid low during our couple of days here, relaxing and reading at our comfy AirBnb and petting its resident dog Kobe (at least, I think that's his name) whose lack of barking and jumping puts him in the highest echelon of dogs on this trip so far. The most popular thing for tourists to do here is to see the penguins on Martillo Island, but we decided to leave the penguin-watching to David Attenborough and opted for a cheaper (i.e. free, excluding the lift there and back from our AirBnb host) hike to Laguna Esmeralda instead.
Fun fact: on the drive out of Ushuaia we went through a police checkpoint where – in an excellent use of public resources – they asked our host where we were going and then sped us on our way. The hike itself was a very gentle stroll through the countryside compared to anything on Torres del Paine, although we did encounter more mud before we arrived at our picnic destination: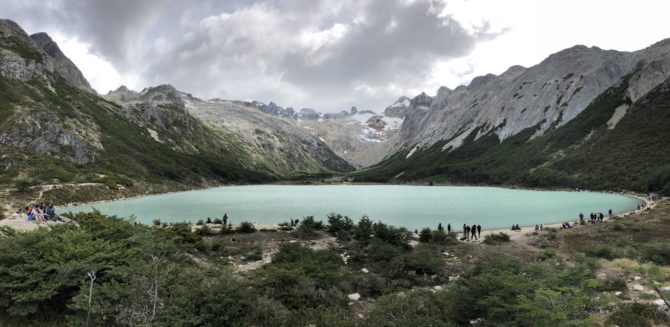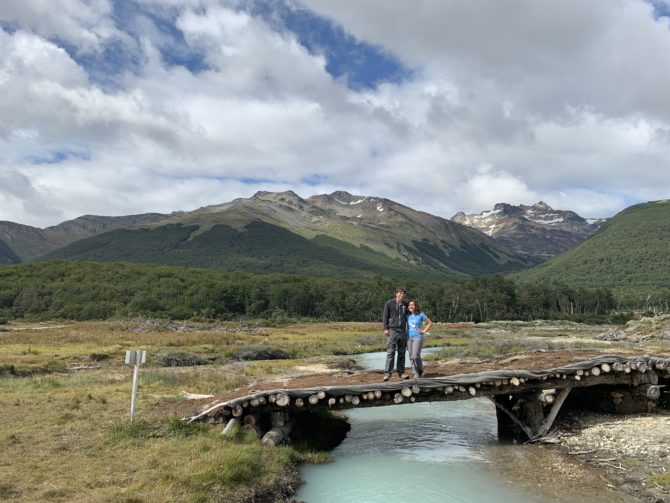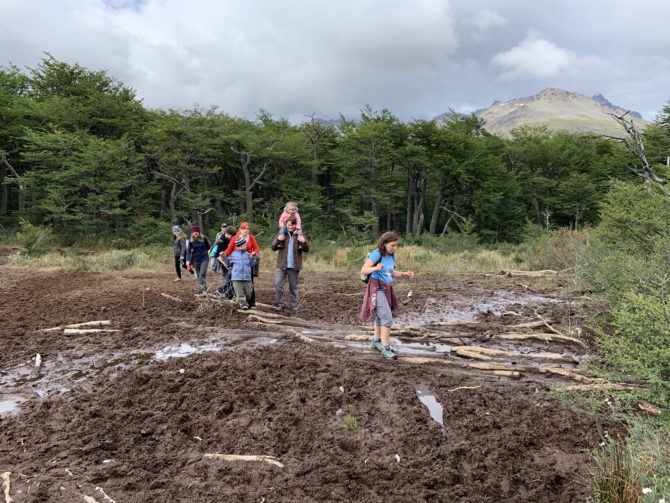 In town we also made ourselves at home at a local pizza/empanada/ 'all-round good food served cheaply and cheerfully over a counter' kinda place. I think we went there three times in total, to the extent that they had to warn us that they close on Tuesdays. I also thought it was interesting that our host had Argentina's civil code as a book on her shelf (is that a common thing to have lying around, like a dictionary?) but unfortunately my Spanish wasn't really good enough to go into the difference between civil and common law systems and so I just flicked through.
Oh, and one of Ushuaia's public parks is also home to the worst wooden slats in the entire world. It made the sort of haunted house creaking noises you usually only find in a horror film and we are quite convinced that it is supposed to be closed but someone has run off with the sign.
The last thing I really do have to mention is the Falklands, not out of any particular desire to bring it up but in Ushuaia the dispute is everywhere. Along with memorials and murals (fair enough) the slogan "Las Malvinas son argentinas" is also printed on random road-signs and even on the side of public buses. I know people on the left in Britain have a bit of a hangup about the Falklands War as the jingoism it riled up was undoubtedly a major factor in Thatcher's re-election. That said, it's pretty hard to argue that an independent community which has been living there for over a century and near-unanimously voted to continue living that way should be taken over by Argentina (which at the time of invasion, incidentally, was run by a military junta) on the basis of geographical neatness. The slogans in Ushuaia remind me a little of all the English monarchs who claimed to be King of France even though France was quite obviously doing its own thing. 🤷‍♂️