Fair warning: this post is going to be overloaded with elephant photos. If you really hate elephants, skip this one.
We only had two days to spare in Chiang Mai, so soon after arriving at our hostel we moved quickly to book the tours we wanted while we were here. This left us with a couple of hours to conduct an improvised whistle-stop tour of the old town by ourselves, which is quite walkable and surrounded by remnants of old city walls, but – like the rest of Chiang Mai – suffers from a perpetual haze of pollution at this time of year (caused by agricultural land burning) which greys out the sky. Thankfully neither of us started coughing up blood but we were happier to skimp on the city than we might otherwise have been. Well, that and there's a limit to the number of temples which can hold your interest.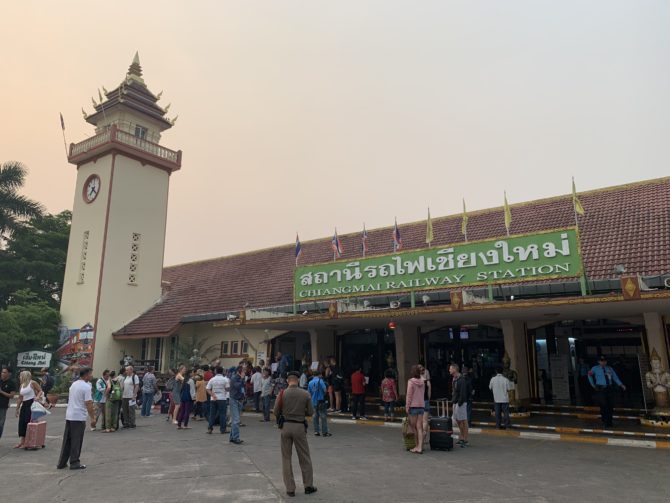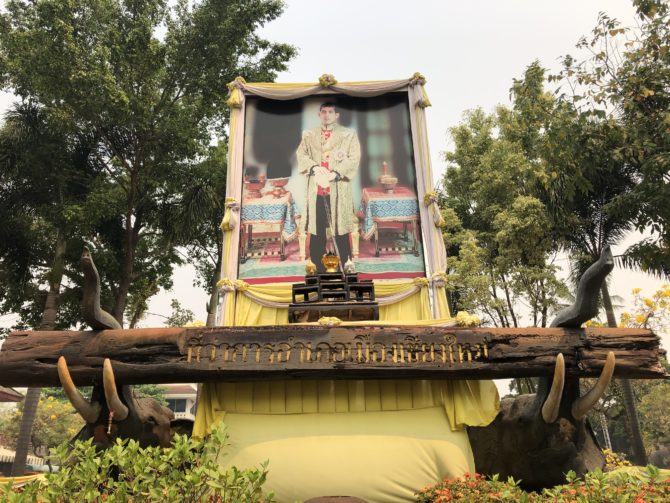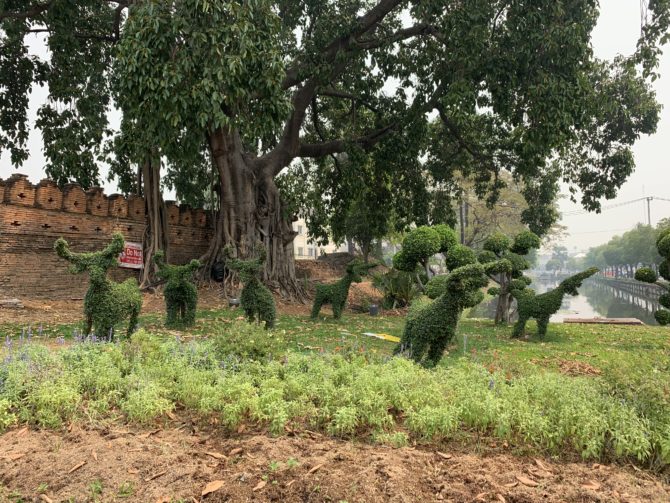 Less time for the city meant more time for elephants! We went on a half-day visit to Toto's Elephant Sanctuary and when I compare it to the last time I saw elephants, in Sri Lanka, the difference is profound. Our tour group consisted of one minivan's worth of people (side note: I was childishly proud of drawing little flags in the 'Nationality' column of the visitor form we had to fill in, because the next person from China felt compelled to continue the pattern) and the atmosphere at the sanctuary was incredibly relaxed and chilled. We did not 'take the elephants for a walk', we followed the elephants as they wandered into the jungle at their own pace. Unlike Sri Lanka there were no chains or hooks in use, just a handful of cheerful elephants including one bounding eight-month old who kept charging about and occasionally slipping over.
The photos speak for themselves, but it was wonderful to spend time with these improbable creatures. At one point Randi was concerned that we might be feeding them too many bananas and asked if it was possible to overfeed them, but was reassured that they consume 300kg a day and are basically always eating.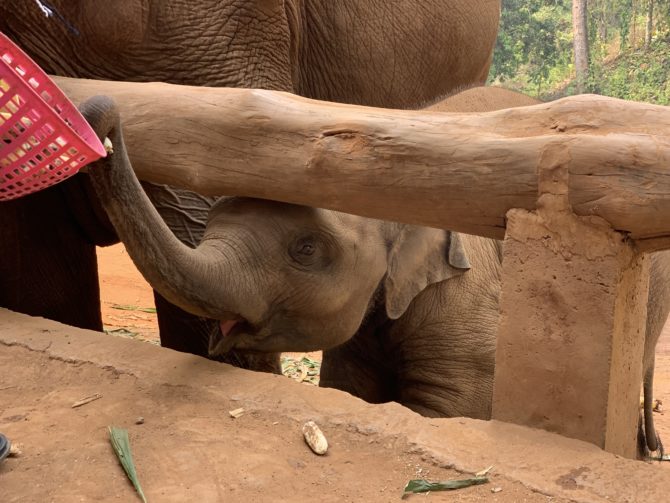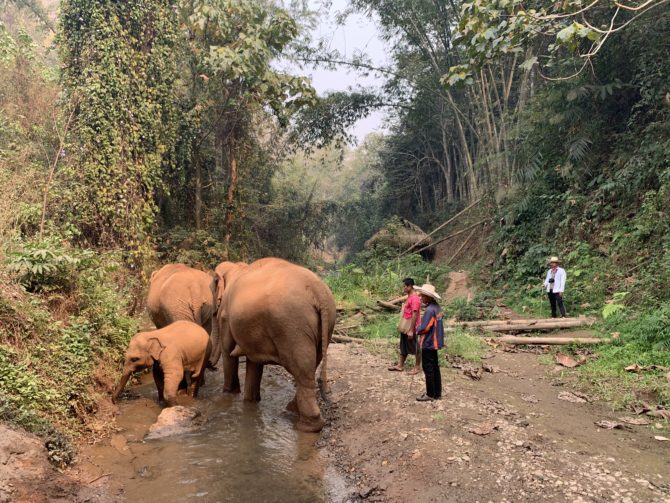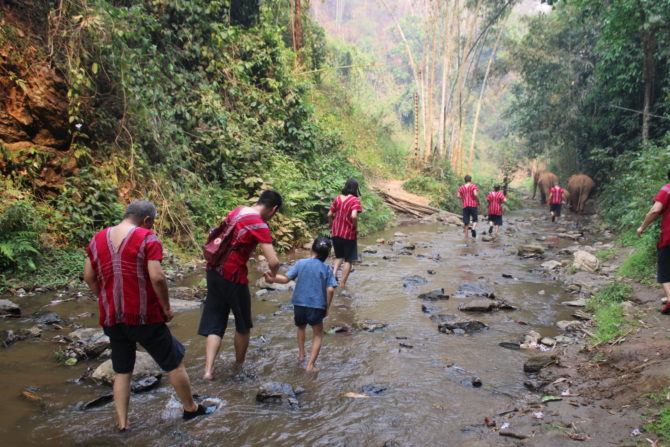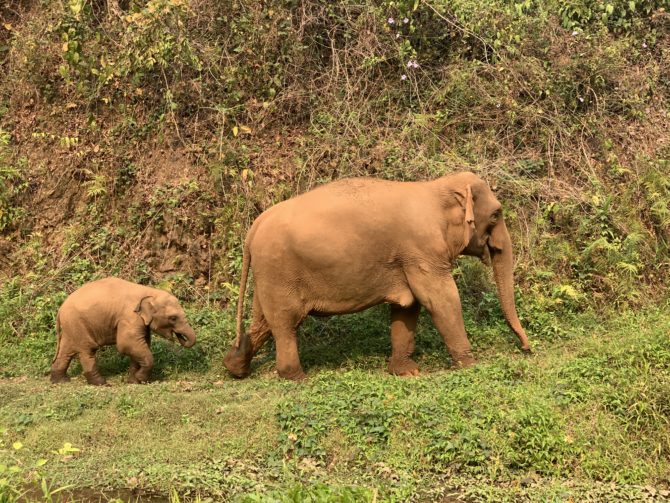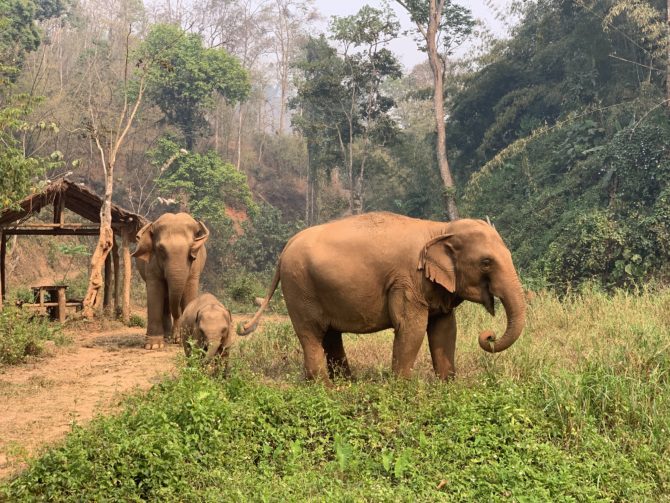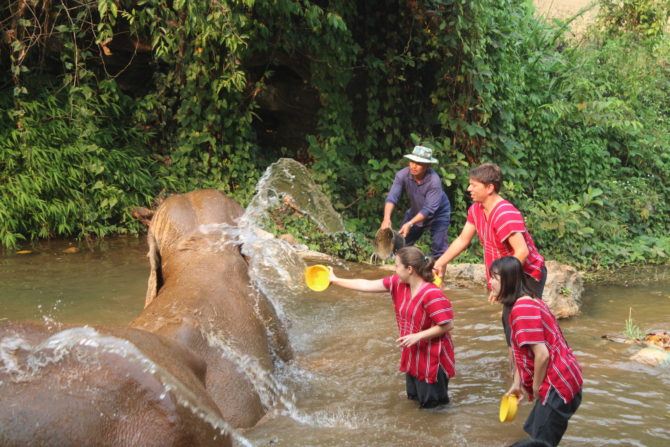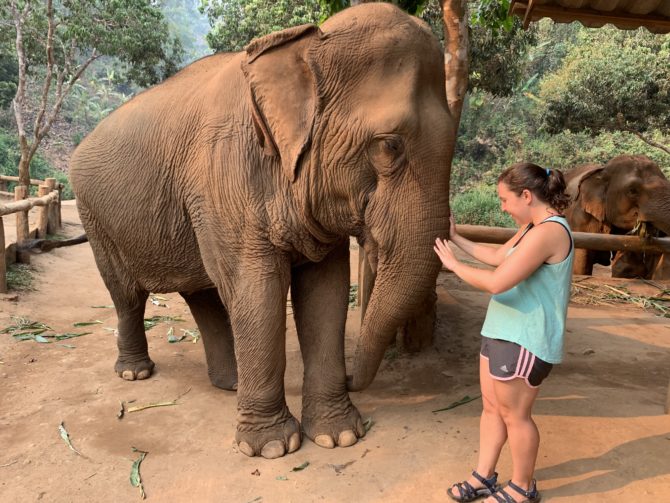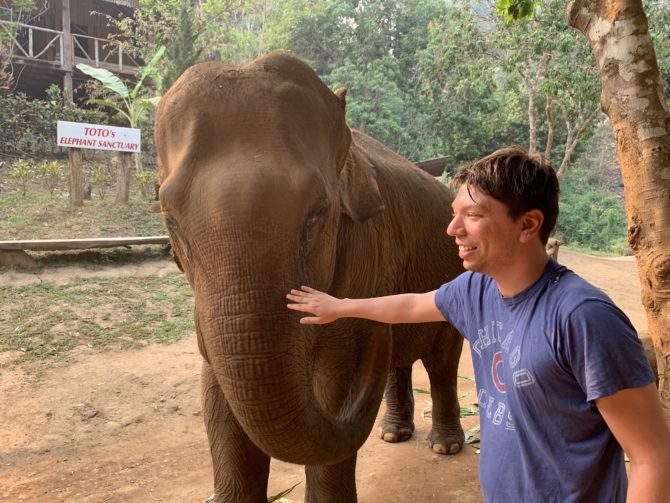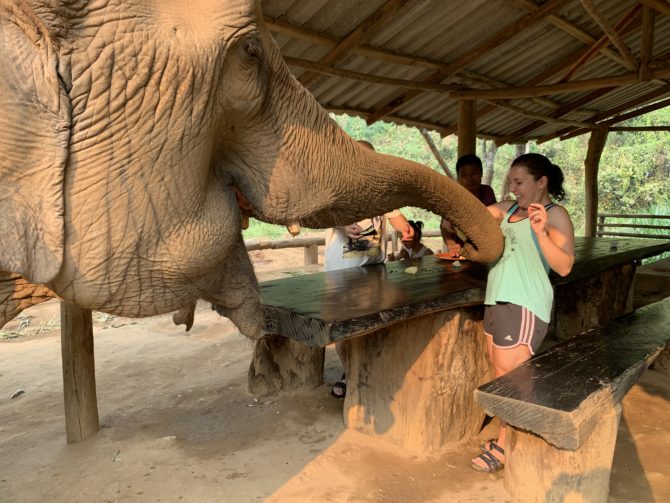 Our tour the next day was a jungle trek just outside the Doi Inthanon National Park. Aside from the very windy drive to the starting point this was a really, really lovely tour thanks to our amazing guide, who took the two of us from his village through the most jungley environment I've ever been in. The 'path' was tentative at best, covered in slippery leaves which our guide kept brushing out of our way, and he led us along armed with a large knife put to a great many uses including cutting back plants growing over the route, fashioning us impromptu walking sticks and slicing through the branch of one particular tree to show how we could drink the water inside.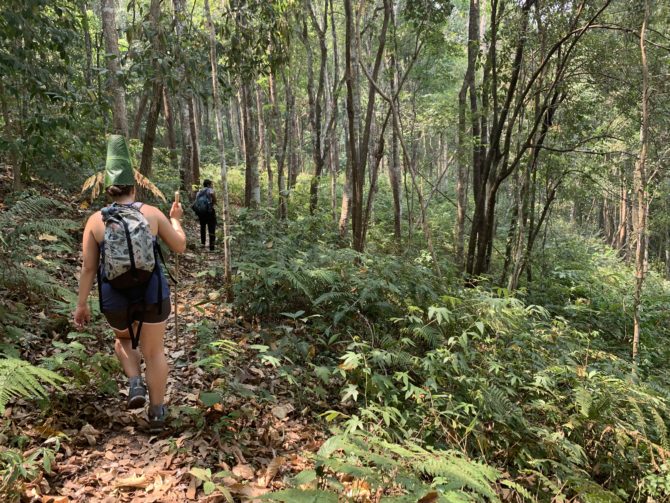 We also really enjoyed our conversations together. His English was halting (entirely self-taught over the last couple of years of doing tours) but we learnt of his desire to visit Europe one day if he ever saved up enough money to take his first plane. There was also a tragic moment where he asked Randi if Barack Obama was still President, and even though it's now 2019 she had to break the news to one more person in the world about Trump. (He had never heard of him, which was rather refreshing.)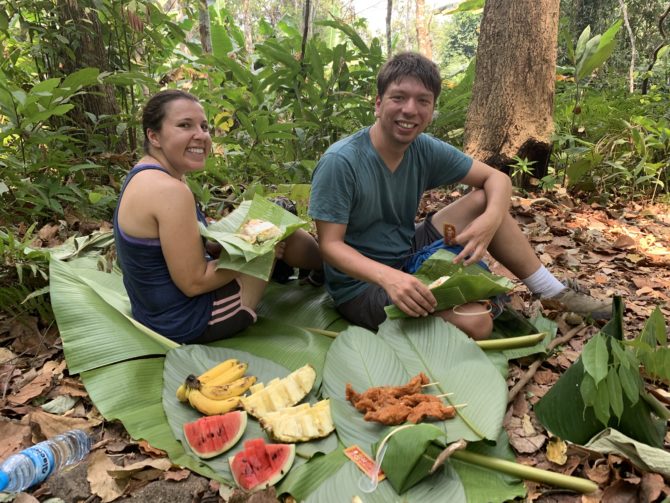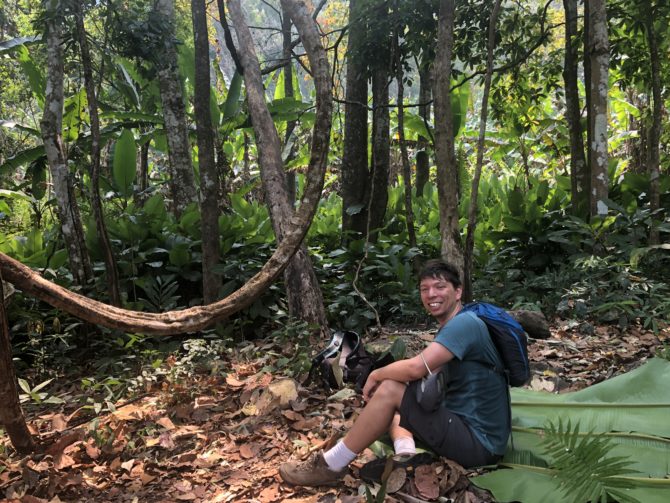 The tour ended at another elephant sanctuary and freezing cold waterfall which I begrudgingly took a quick shower in, and have to admit was somewhat refreshing. Back at the hostel, we took advantage of the free hour-long massages which the hostel offer in return for booking tours through them. Having worked at Groupon for many years I was well aware that there are both 'nice soothing massages' and 'fearsome stretchy massages' in the world but have never actually paid for one before and certainly didn't remember which was which. Well, it turns out that the 'Thai massage' is the scary one… although I did enjoy the experience. I imagine it's like being tortured by a professional torturer (wait, this isn't going to be as bad as it sounds) only working to a much lower threshold of pain. Controlled and purposeful, in other words, and not just being beaten up by a masseuse.
Other than a brief visit to the extremely crowded Saturday night market along Wualai Walking Street (and our quick escape to an Indian restaurant) that pretty much sums it up for Chiang Mai. The next day we spent most of the day being driven to the Thai border town of Chiang Khong ready for our slow boat into Laos tomorrow, but we did stop briefly at the White Temple (Wat Rong Khun) in the province of Chiang Rai. We didn't actually go in, but even from the outside this still ranks pretty high in the temple index, probably because it turns out to have been repurposed as an art exhibit.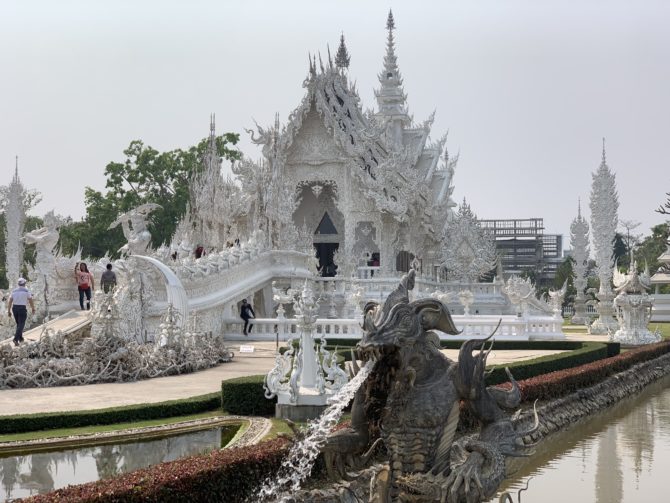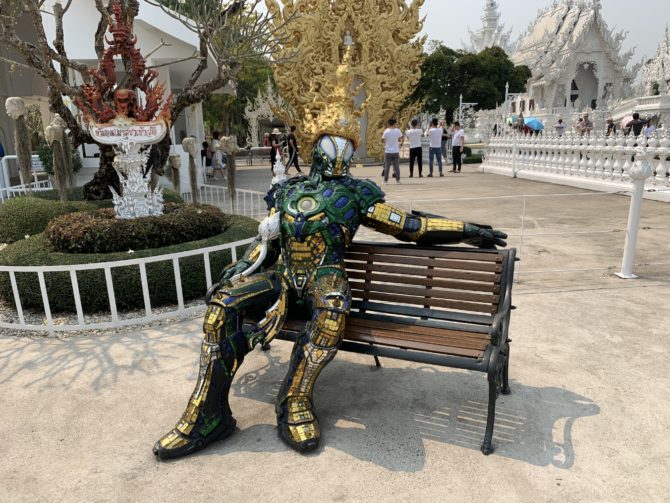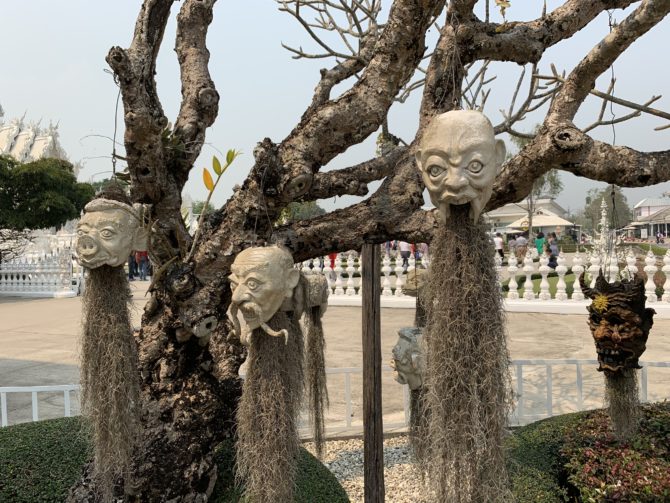 We've seen a real variety of places within Thailand, but after Koh Lipe I think this was the stop I most enjoyed thanks to the elephants and the jungle. I am really not sure what to expect of Laos, but armed with the US dollars required for the entry visa I am ready for the next stage of our journey.