We're back! And in the style of previous travels we've brought back from our honeymoon plenty of stories, photos and bug bites 😀
Medellín
Although Medellín is only Colombia's second-largest city, after Bogotá, it manages to one-up the capital by being the only Colombian city with a metro system. Given this, there are two distinct areas which tourists tend to stay – El Poblado and Laureles – which are both easily accessible via metro but otherwise pretty self-contained. Fortunately, Randi's colleague Daniela had already steered us towards Laureles which is the more residential and quieter option, although reading beforehand that it was 'less touristy' didn't quite capture the vibe. Laureles has everything a tourist might want – the main strip is filled with bars, restaurants and pandebono – it's just beautifully green, too, with trees and plants lining every street. The nearest station (Estadio) is more conveniently located than its equivalent in Poblado, being built to serve a large sports complex which hosted the 2010 South American Games. Point being: if you're trying to decide between staying in Poblado vs. Laureles for a first-time visit to Medellín, we're officially #teamLaureles.
Wherever you stay, the taxi from the airport will take you through the Túnel de Oriente which is worth calling out in its own right. It's an 8km road tunnel dug through the mountains, which only opened in 2019, and if you grew up playing the "try to hold your breath until the car leaves the tunnel" game as a child you're going to be sorely challenged by this one.
After checking-in and doing some light exploring/relaxing we decided to rouse ourselves for an evening trip to Poblado for dinner. This turned out to be an excellent decision – partly because of Randi's tasty pisco sour with red wine, but also because it helped to shift us onto the right timezone and make the most of our limited nights in Medellín. And the metro itself, you ask? Why, the metro is excellent. It's easy to use, fast and frequent… but my favourite feature is its impatient opening of the doors to the train before it has fully come to a stop at the station. It's very efficient!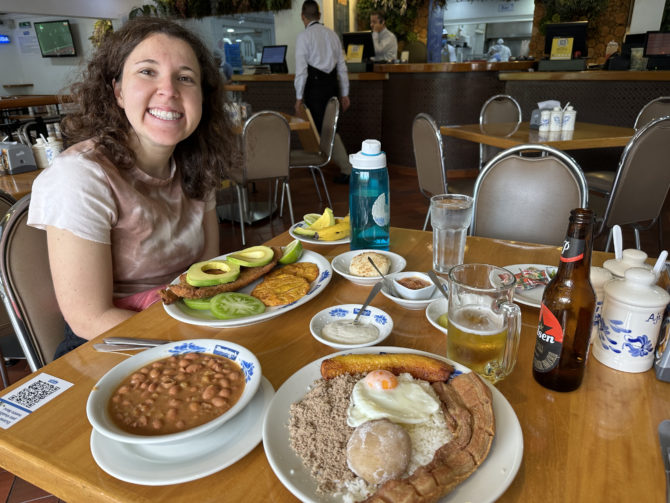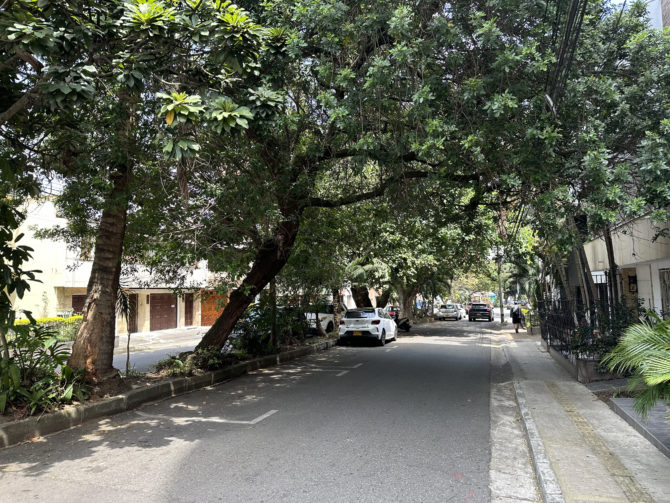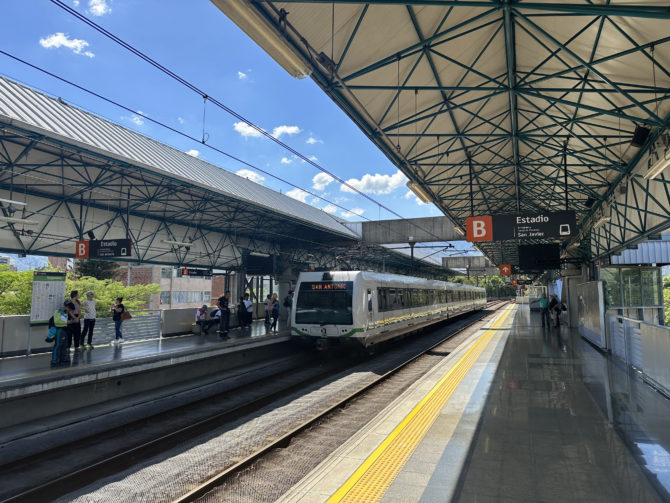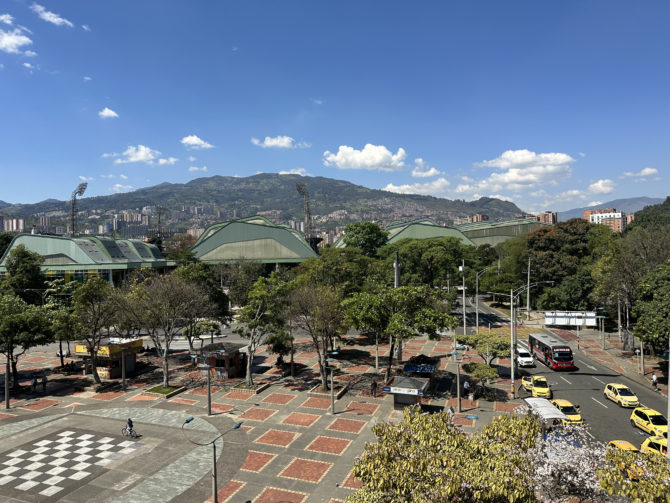 The next day we rode the other direction for a walking tour of 'comuna 13' to the west of the city. Whenever a tour is themed around street art you can be sure it belongs to the "this area used to be very poor and dangerous" genre, although this is a relatively extreme case given that the neighbourhood, also known as San Javier, was one of the most violent areas in Colombia during the 80s and 90s thanks to its unenviable position at the centre of the narcotics trade. The turning point came in 2002 with a massive government military operation (Operation Orion) against the guerrilla groups, although the narrative gets a little murky here since the armed helicopters, troops and paramilitary-backed 'disappearances' also resulted in hundreds of casualties for local people.
For our tour guide Lara, who was born and raised in the district, you could sense some tension between her intense pride in the area's subsequent transformation with the ongoing lack of truth and reconciliation following the conflict. There's a reason why civil wars are the worst. And so, the spirit of hope and optimism is channeled into street art and – quite wonderfully – escalators. As it turns out, one of the major regeneration projects in this (very hilly!) neighbourhood has been the installation of six outdoor escalators, and people absolutely love them. We did too.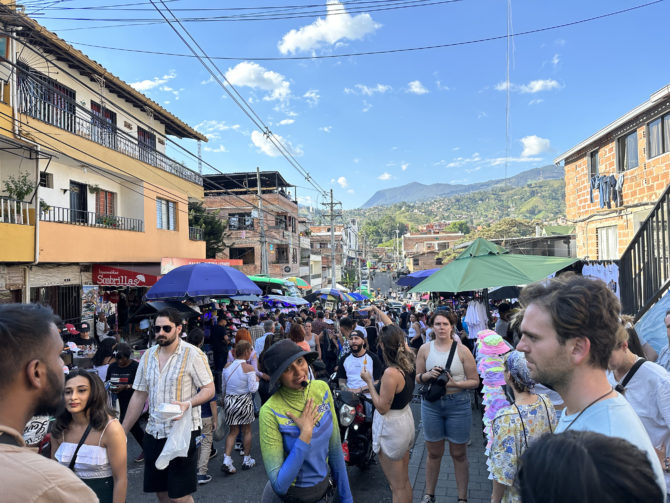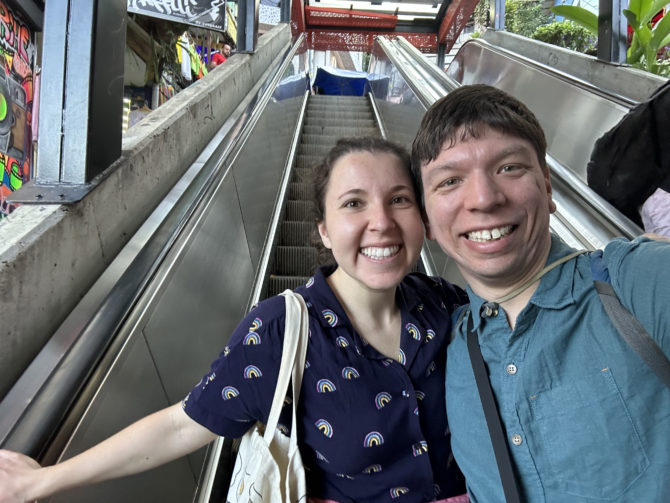 Although we didn't have time for Medellín's largest park, we did also visit the smaller Cerro Nutibara Pueblito Paisa (complete with a replica Antioquian village at the top) and make a very brief journey into the historic centre to see Plaza Botero (the one with the cheerful statues). We also really enjoyed walking around the sports complex by Estadio – places really do feel different when the climate doesn't require buildings to have walls – and, on a more prosaic note, walking about our local supermarket thanks to the high-energy Colombian dance music playing in the background. I am not sure this would work in Forest Hill Sainsbury's, but it's worth a try.
I did attempt to assemble the necessary ingredients to make tea here, but with all the elements against me – unpleasant tea bags, liquid milk only sold in bags – I just gave up and switched to delicious Colombian coffee instead. At least, I thought it was delicious. Apparently a common tourist complaint is that the coffee in Colombia is not actually that good since all the best stuff is grown for export, but since I'm not normally a coffee drinker I didn't have much basis for comparison and I enjoyed it.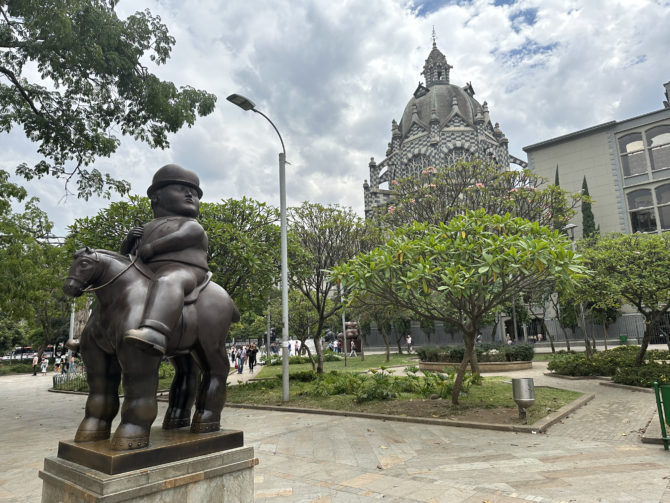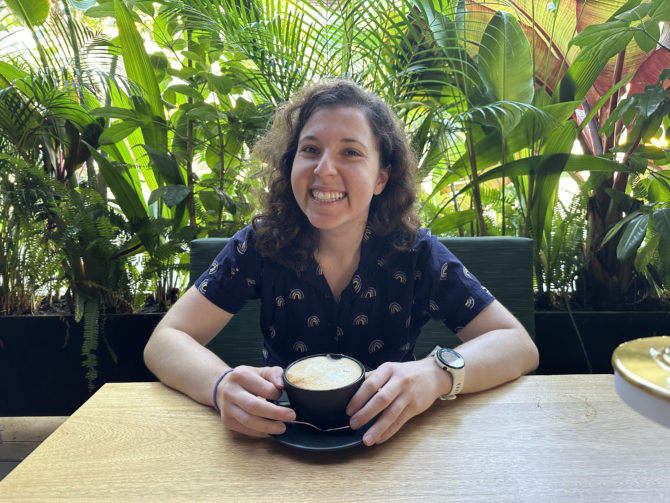 Hiking & Rafting
The next few days were the most active and energetic part of our trip, starting with a two day there-and-back hike through the countryside around Medellín with Expedition Colombia. Our guide, Juan, was fantastic and very tolerant when we became obsessed with trying to take photos of ant trails in an Attenborough style. The walking was satisfying but not especially demanding, alternating between jungle sections and hilly fields where the trees had been cleared for small-scale subsistence farming. We also passed plenty of gold mining in the river (allegedly not the most poisonous kind) and had a couple of breaks each day for swimming, delicious lunches which came wrapped in banana leaves and a trip to the base of a waterfall.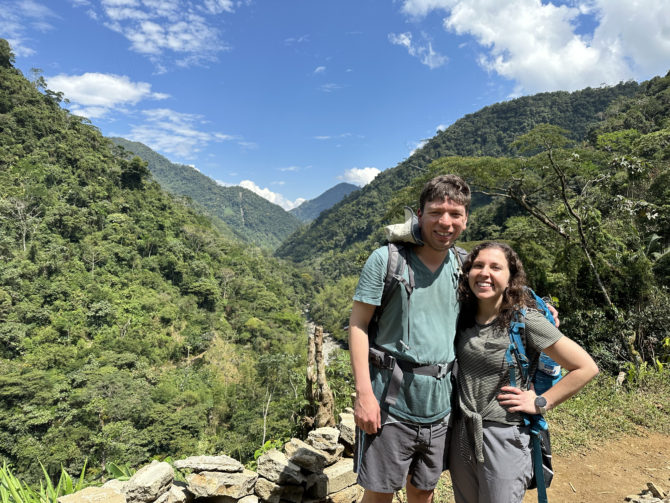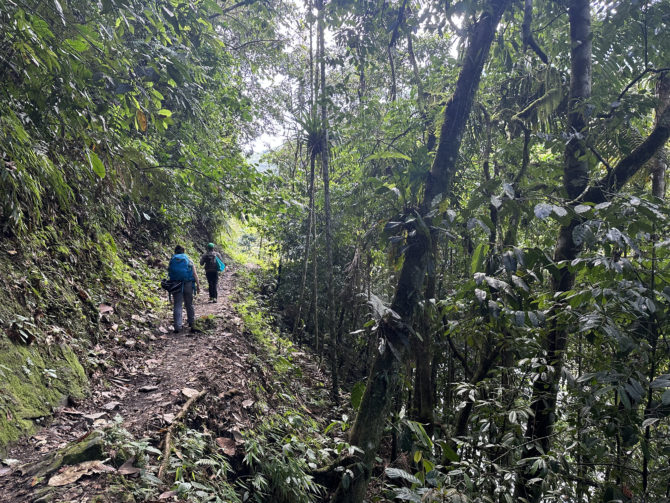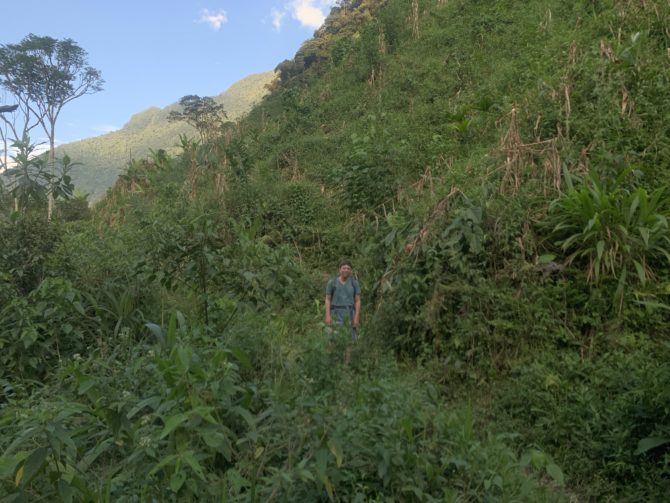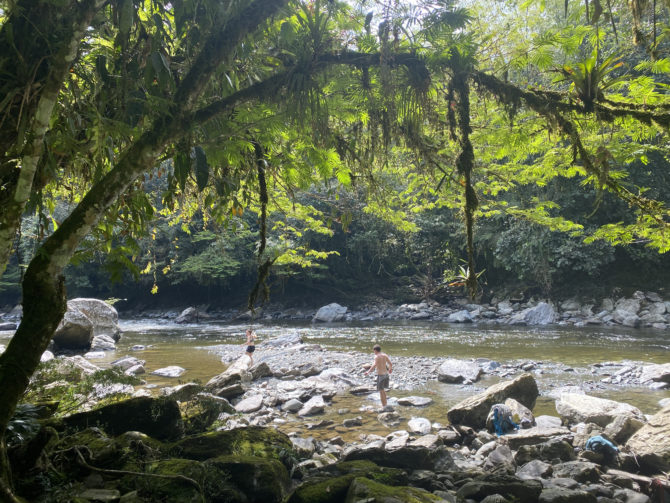 On the journey back we were also joined by a Canadian traveller, Shane, whose enthusiasm for a dead snake was commendable. The previous night we had all debated politics over dinner at our homestay – genuinely one of the tastiest dinners we had over our entire trip, by the way, and that's a high bar – but amusingly the thud of the rain hitting the metal roof during the thunderstorm meant that we were all effectively shouting at each other despite the discussion not actually being that contentious. Shane's guide also accompanied us back, together with his latest mule. Having grown up in the same hills we were walking through (he pointed us to his childhood home in the distance) with very little money, it was a truly great day when he earned enough to afford his family's first mule and no longer had to carry everything through the mountains on foot.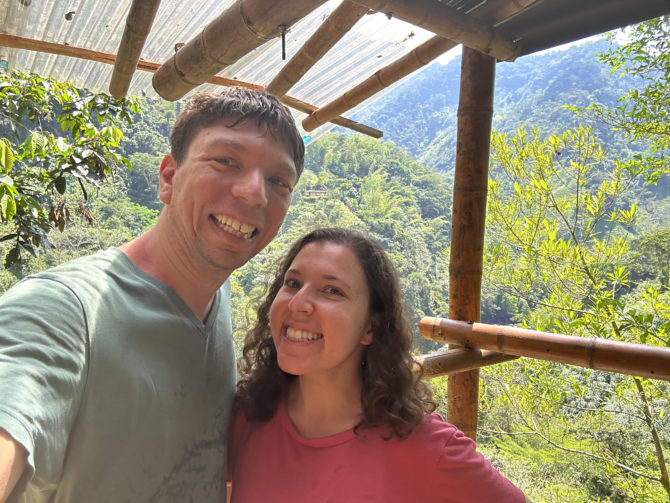 Our next night's stay was in a truly breathtaking lodge nestled right in the hills and overlooking the river, which also came with its very own pet cat. Again, living in a climate where you don't have to bother with walls completely changes the type of spaces which become possible, and it was a magical place to sit and read until the sun went down. For the onslaught of winged creatures which made their appearance after the sun went down, the bed also came equipped with a decent mosquito net.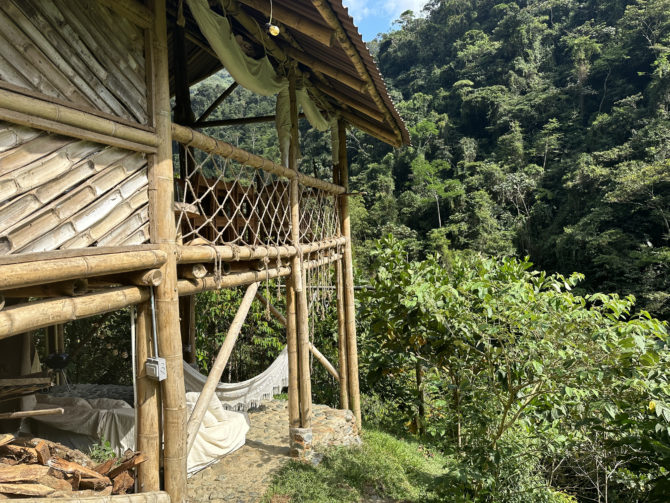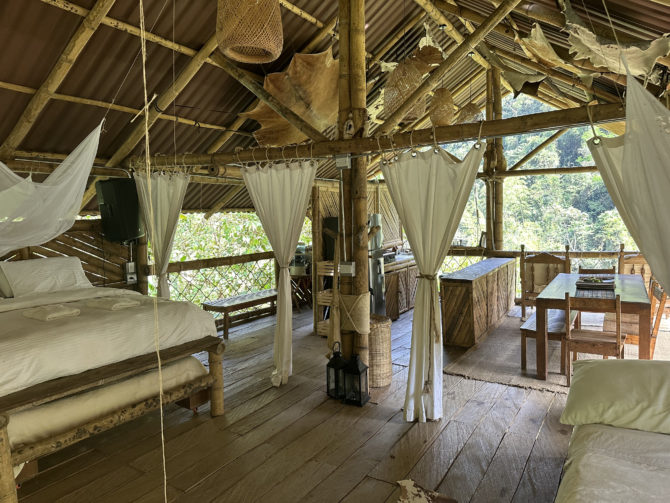 The final day of the action-adventure phase of our honeymoon was rafting down the river rapids, which was incredibly fun. I'm glad that we've done rafting before, and hence Randi's translation of the Spanish safety briefing wasn't the first time anyone had ever told me what to do if I fell out of a raft. Especially since, later on, I did indeed manage to fall out of the raft! Fortunately Randi impressed everyone else on the boat with her quick reflexes to pull me out again.
To be honest, the experience of being swept along the river was equally enjoyable as rafting down it and during some quieter moments many of us chose to jump in and float anyway. At one point we also stopped to explore a waterfall tucked alongside the riverbank. Our fellow rafters were lovely, including the guys from Aruba who taught us about their home country. I also want to thank Francisco's relative who gifted me with a waterproof bag a couple of years ago during our Secret Santa in Santiago which proved incredibly useful to hold the hiking boots we needed for the very steep, hour-long descent to the starting point in the first place. During this hike someone else managed to drop their helmet over the cliff which is actually worse than falling out of a raft, right?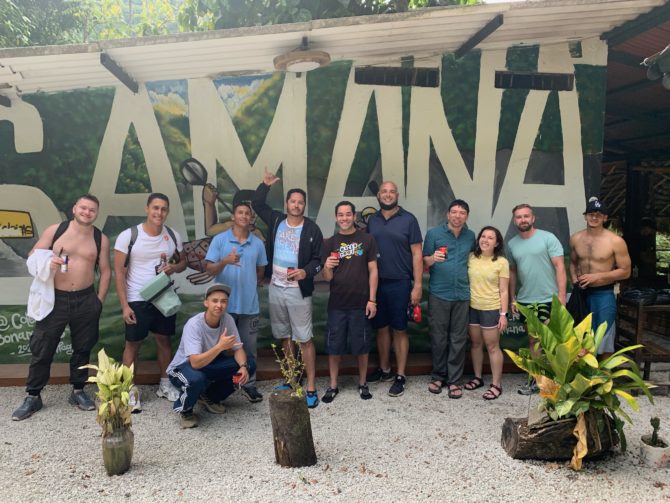 Guatapé
After the rafting, we were driven back to the Expedition Colombia offices – where we briefly became impromptu guests at an English lesson for staff and local teenagers – before a further two-hour drive to our next destination, Guatapé. Although our driver was great, Randi's baseline assumption when being driven along mountain roads at night is that we're all going to die, so when we successfully arrived at Bosko both (a) alive and (b) just in time to order dinner before the kitchen closed, it was in a mood of wild exhilaration.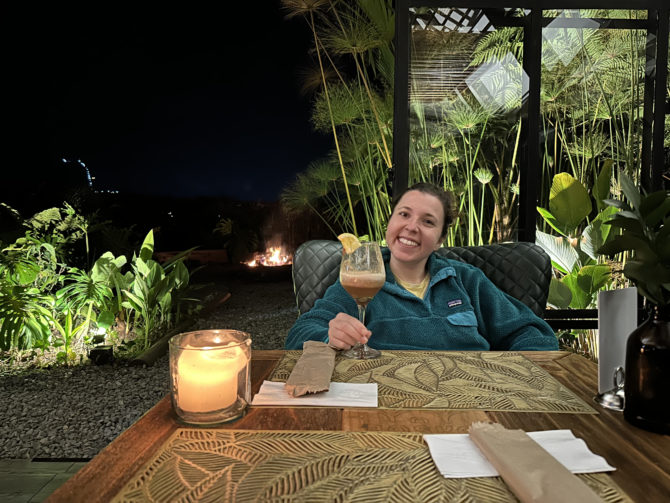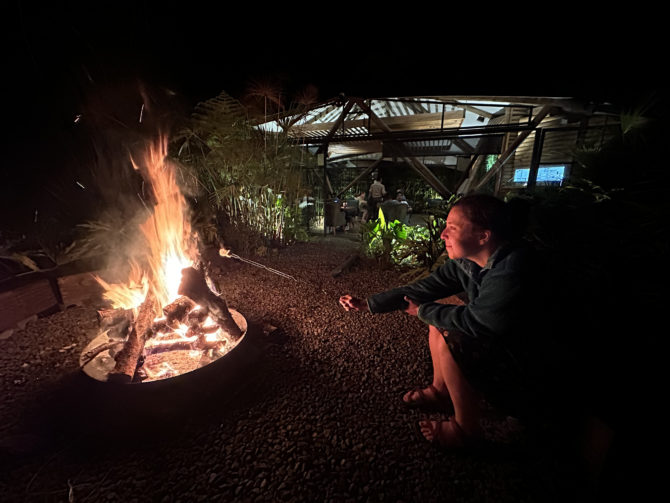 Bosko describes itself as a "luxury glamping hotel" and, for someone who was really looking forward to several days of uninterrupted holiday reading, the set-up was absolutely perfect. Everyone has their own private dome located off a little private path. (Our dome was a crystal dome, giving us amazing views from our heated bed plus a very confused bird who arrived every morning to peck at the glass.) There were also Sky Pools (great for reading), an outdoor seating area where truly exceptional meals are served (also great for reading) and private terraces if you prefer room service instead (even more reading). The centre of Guatapé is easily within reach – just a 20 minute stroll – without impinging on the luxury of Bosko's aura of calm. I loved this place. A fair chunk of my 2023 annual review of books will be thanks to Bosko.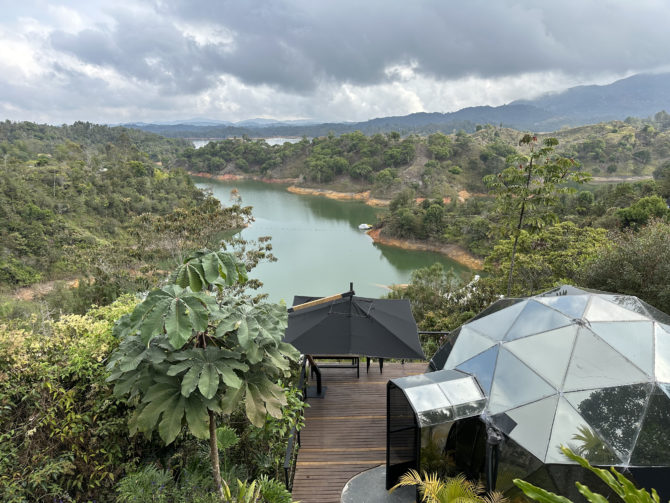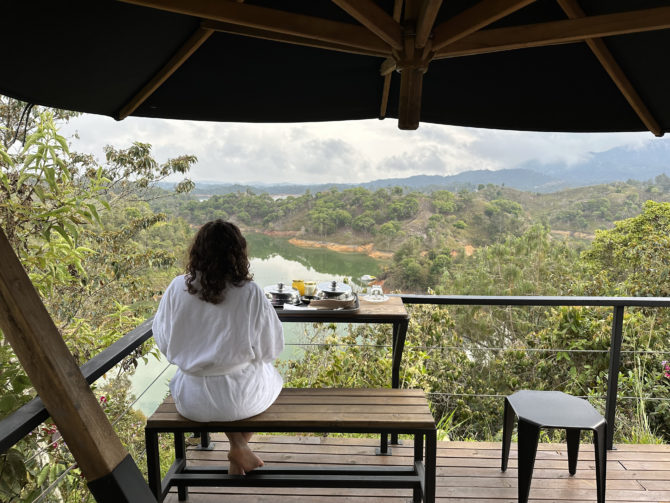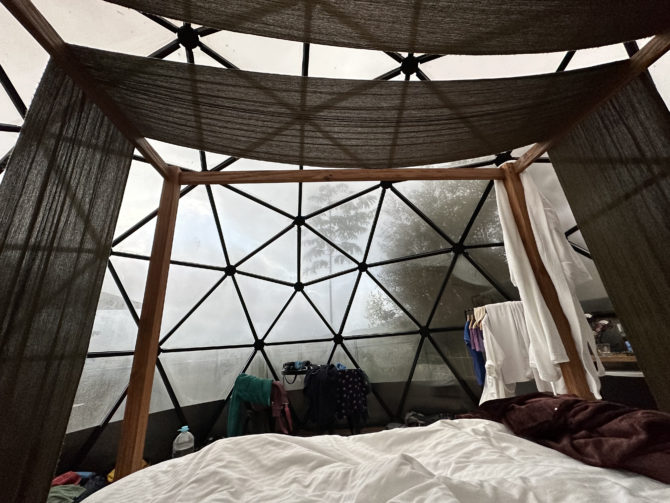 Guatapé itself is a very pretty town and major tourist destination thanks in part to its colourful street art and decorated buildings. We enjoyed some excellent lunches here! The other thing you're meant to do is climb the steps of El Peñón de Guatapé which we tackled earlyish one morning before it got hot. I have to say, this is probably the best-run "climb to the top of something tall" tourist attraction I've ever seen in my life. There are first aid stations at the top, bottom and halfway up – with defibrillators! – plus segregated up and down routes so you don't have to negotiate a crowd in both directions. Waiting at the top is not merely a nice view but also multiple shops, stalls and seats. It all tricked me into thinking that this must be more of a challenge than it actually is, but we're actually only talking about 659 steps here. Good job, whoever is in charge.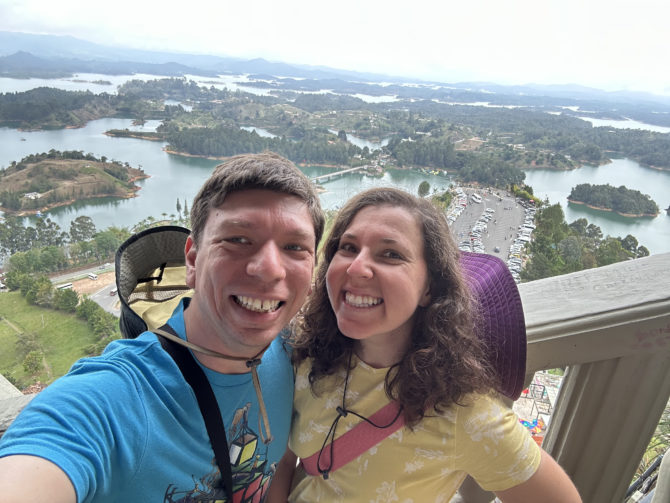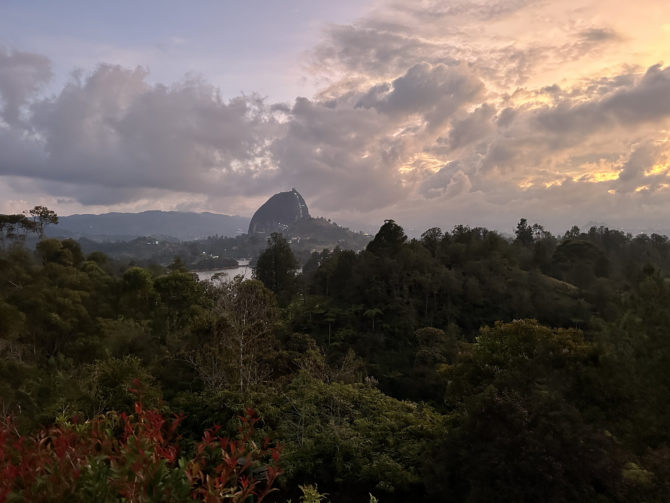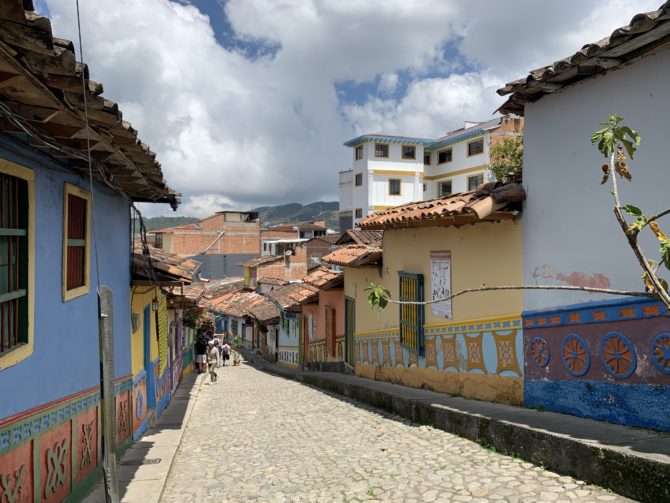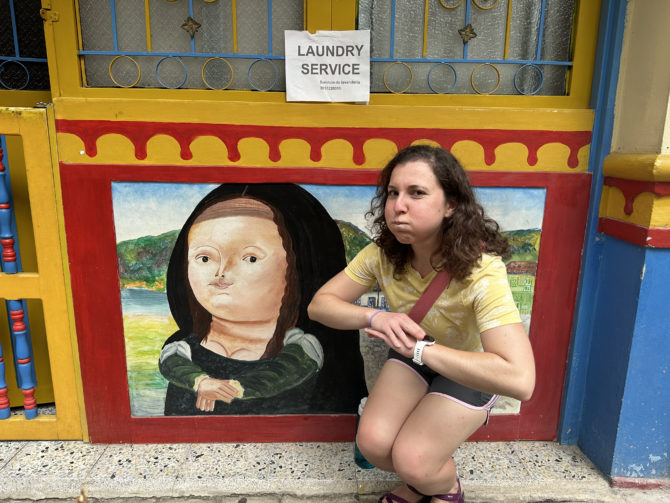 Finally, a stay at Bosko also comes with use of their kayak, so Randi and I took this for a spin one morning and ended up challenging each other to a couple of timed buoy-to-buoy races. So, for posterity, here is where I will record that Randi won the first slalom 1:36.42 to 2:13.72 (that's what happens if you keep overshooting the final buoy) but I clawed back a victory 44.90 to 52.40 on the second sprint. And we left it at that, because "best of three" is not a good approach for a honeymoon. (Very happy to go back for another stay and rematch, though.)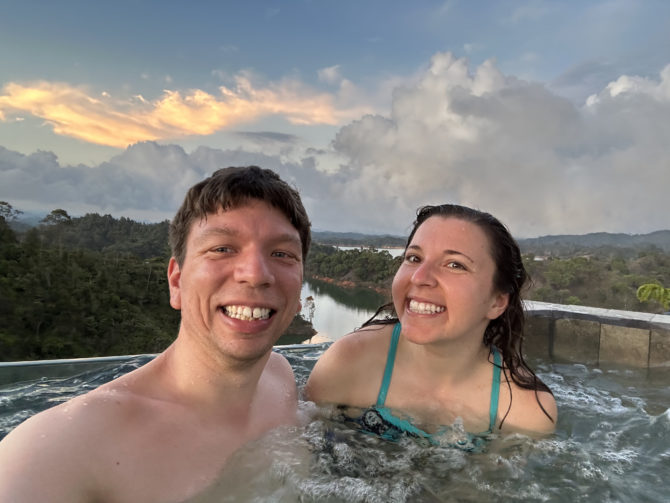 Cartagena
For the next stage of our holiday we flew to Cartagena, a walled city on the Caribbean coast with a very different vibe to the other parts of Colombia we'd seen. I roll my eyes when tourists start critiquing areas for being "too touristy" (as if their own tourism doesn't count) but the the tourism in Cartagena certainly has a very different feel to Medellín or Guatapé. In part, that's just because there's significantly more English-speaking as opposed to Spanish. Elsewhere we got the sense that most people were coming from other parts of Colombia or South America, whereas Cartagena is – in part – catering for cruise ships of (predominantly American) visitors. As such, there's also more pushy street selling of drinks, hats or horse-drawn carriage rides – those rides often being accompanied by groups of men running alongside and offering their services to rap at you.
It's not the worst place for this stuff by a long way – it was just noticeably less chill, and I was frankly relieved to discover that the hats were a front for drugs because I was finding it difficult to believe that there were any uncovered heads left in the city to market to. All in all, I'm glad we went here – and the colonial-era streets are indeed lovely to walk around! – but I'm also glad this wasn't our introduction to Colombia.
The best part about our visit to Cartagena was the discovery that Randi's family friends Brianna and Drew happened to be in town at the very same time. We joined forces on a walking tour (appreciating our guide's patriotic support for Miss Colombia – apparently not a niche thing, as we also found a photo of each year's winner on careful display in one of the central plazas) and later reunited for dinner together that evening which was super fun. The second best thing in Cartagena was the pandebono shop just down the street from our wonderfully located Airbnb. Here we found not just savoury but sweet pastry options, with 'pastel chocolate' and 'pastel arequipe' (dulche de leche) quickly becoming my favourite things.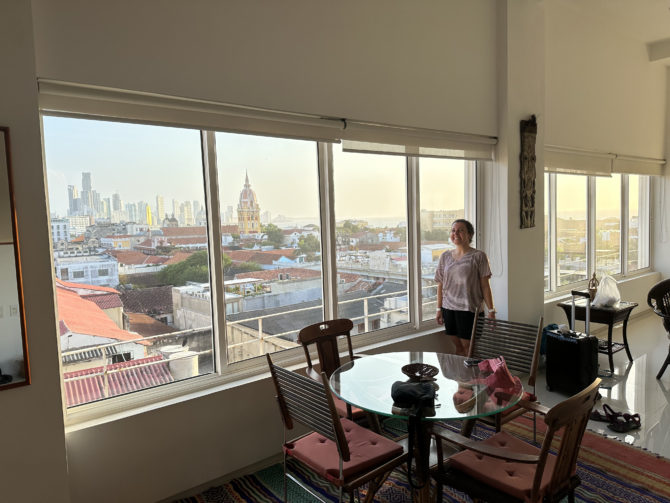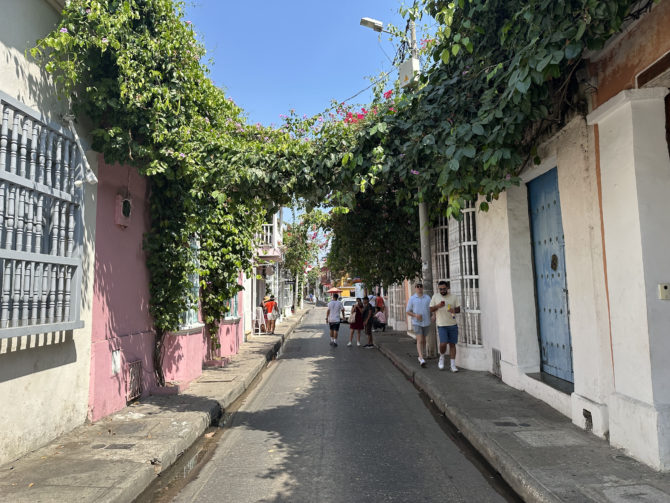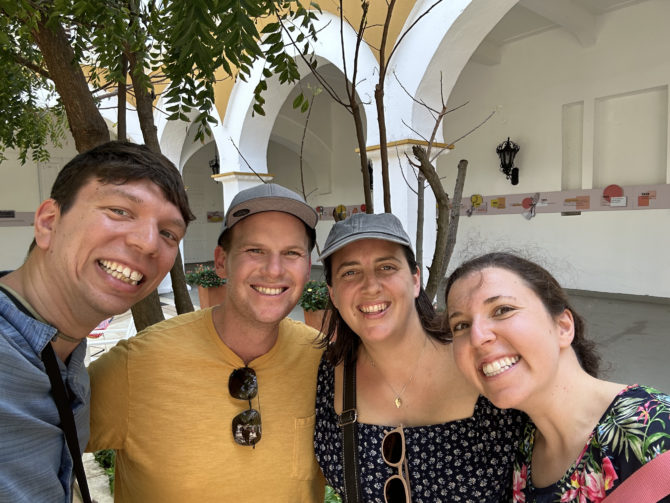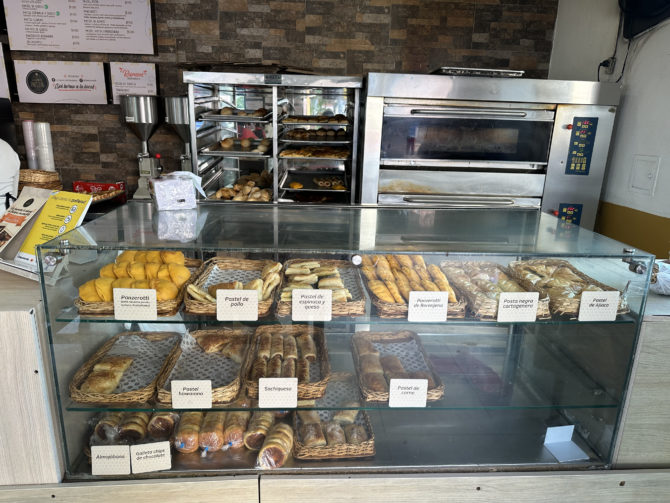 But rather than spending the rest of our trip within the walled city, we decided to pack our small backpacks and take a holiday-within-a-holiday for two nights on the largest of Colombia's Rosario Islands, Isla Grande…
Isla Grande
The boat ride to the island takes about an hour, and we stepped straight off the dock into our home for the next few days: Hotel Isla del Sol. This is a totally self-contained little world with its own beach area and swimming pool, catering to day-trippers as well as those staying overnight, and we really enjoyed the daily rhythm by which a new crowd of people would arrive mid-morning, fill up the place with activity for a few hours and then depart on the afternoon boat back to Cartagena, leaving the relatively small number of us with overnight rooms to enjoy a peaceful, "summer camp after summer is over" vibe. We swam, lounged in our hammocks and enjoyed our all-inclusive dinners sheltered from the evening winds.
Oh, and Randi and I also got an hour-long massage. This is only the second professional massage I've ever had, and the first which didn't turn out to be the rather more brutal Thai variety. So, at the risk of sounding too obvious, it was incredibly relaxing and wonderful and I did not want it to end.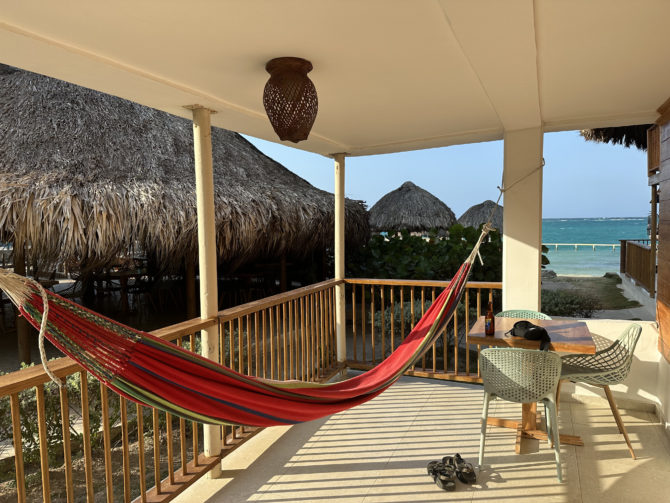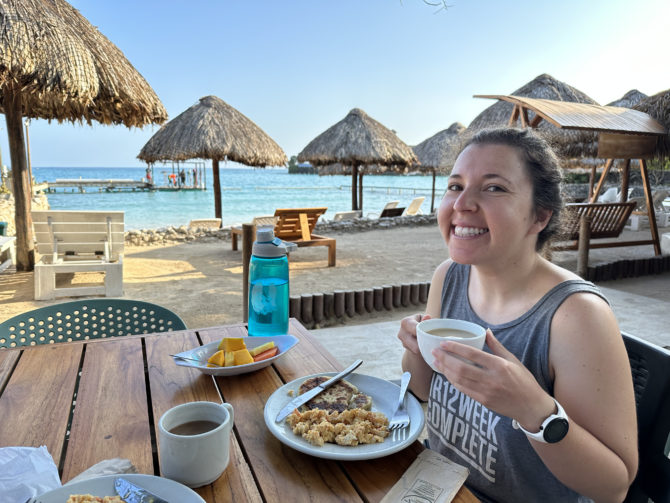 Talking of Thailand: for no particularly good reason we expected Isla Grande itself to be similar to the island of Koh Lipe, but there's actually a lot less development. We did wander out from our resort a few times to explore (and find a larger beach) but aside from the other hotels scattered along the seafront the rest of the island seemed to be pretty rural, with homes and villages connected by quiet, sandy paths and routes through the forest which we hoped were largely snake-free. This isn't a complaint – in fact, some quiet beach time was the whole attraction of Isla Grande over Cartagena. Just picture it as a simple place within a National Park, not a resort with bars and restaurants.
And bonus points for our boat ride home, which detoured through more of the archipelago so we could see some of the mangrove forests before speeding back to Cartagena!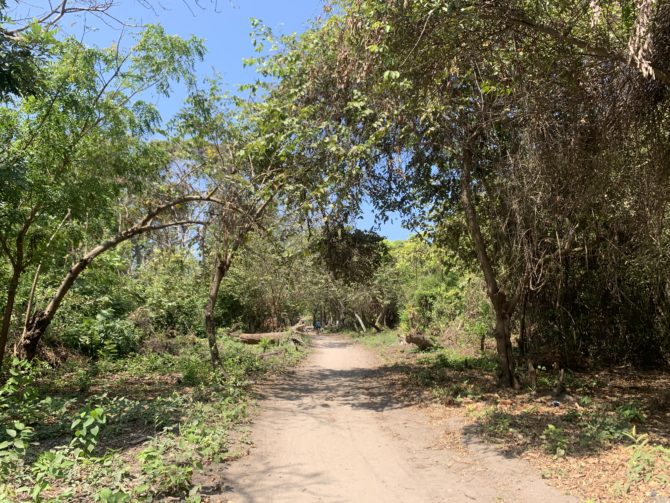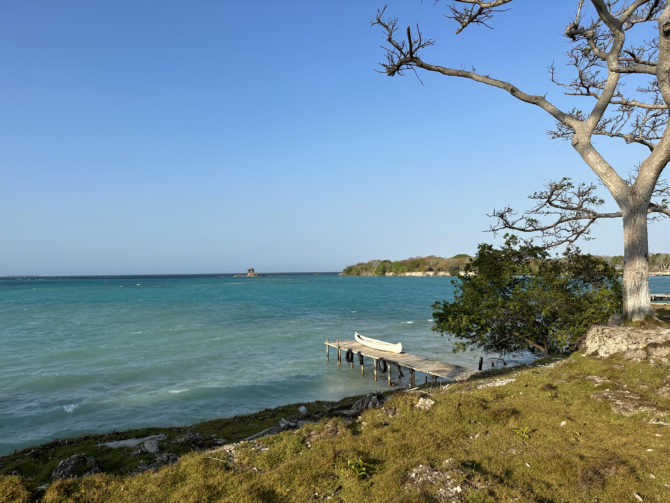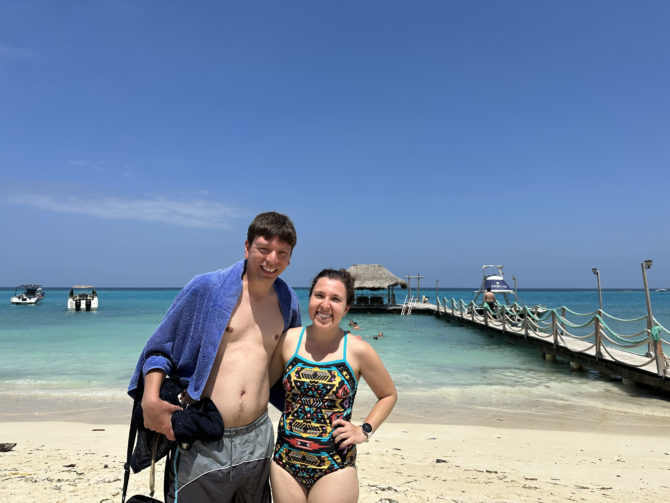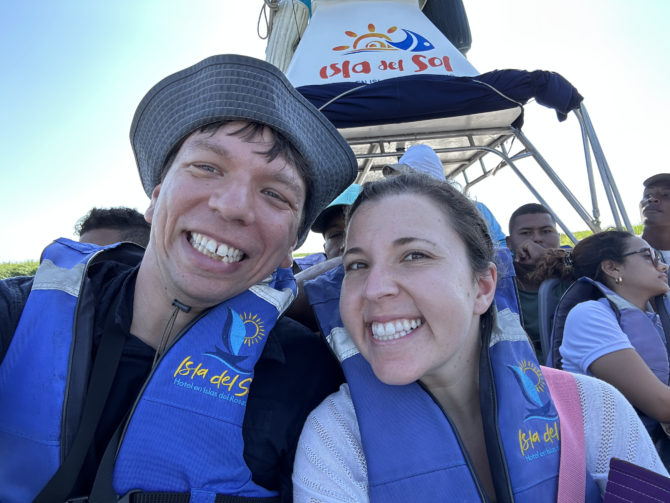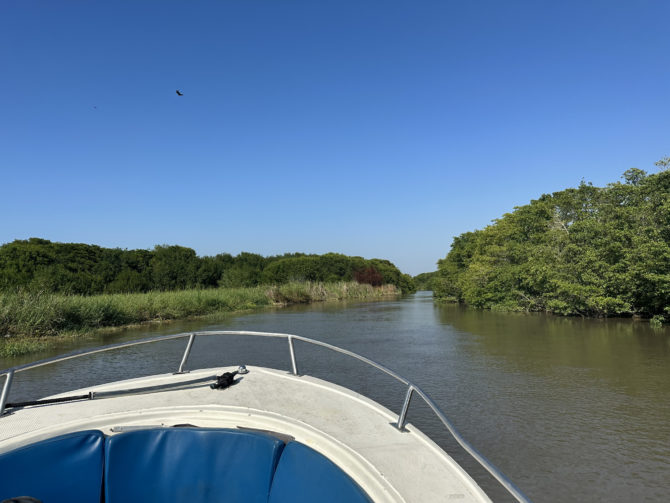 Summing Up
Why did we pick Colombia for our honeymoon in the first place? Partly it was inspired by our previous travels elsewhere in South America. It's a continent we both love and is particularly special to Randi as a place where she can practise Spanish. But we also wanted to explore somewhere new, and Colombia seemed to have a little bit of everything we collectively wanted: cool cities, hiking trails, mountains for Randi and beaches for me. After booking our flights we mostly forgot about doing much planning in the hectic pre-wedding phase, but everyone who'd already been to Colombia was so positive about the country ("the best place I've ever visited") and helped us out with a ton of great recommendations and suggestions. Thank you!
Basically, I'm just here to tell you that people are right about Colombia. We had such a wonderful time and – as you can hopefully see from the abundance of photos – a decent variety of exploration and relaxation. I am curious to see Bogotá, although I'm holding out for their own metro system to open (projected date at time of writing: 2028).
For our final night back in Cartagena we did go out for a moderately-expensive fancy meal, which had cool vibes and decor but food-wise was actually nowhere near as enjoyable as our final lunch in town the next day at a small Peruvian place. ("When ordering this drink, comment that you want to live your sensory experience" it noted on the English-side of the menu beneath the chicha morada. I have no idea what this means. But the sensory experience of our lunch was top notch.) And then we reluctantly flew home, with the disappointment at being back in the real world leavened a little by being able to take the Elizabeth Line home from Heathrow. We will miss you, Colombia.
Postscript
I love my laptop. I deliberately splashed out on something expensive back in 2018 and it has served me well ever since, even travelling all over South America and South East Asia with us so that I could blog as we went. The only compromise I made at the time was not paying for as much storage as I could, which finally came to a head when I got back from Colombia with a bunch more photos and videos plus – very excitingly! – the professional video footage from our wedding ready to download. So I was very proud of myself when I realised that for less than £100 I could acquire both a bigger SSD and the right size of fiddly screwdriver to upgrade it myself. Thank you, instructional YouTube videos! Now my trusty companion has space for many, many more adventures to come…