As we waited for the bus home last night at 1am on Christmas morning, we got chatting to a woman from Bosnia and Herzegovina who has lived in Santiago for many years. She was pleased to hear that we really liked the city as apparently many foreign visitors find it "boring" compared to the party town of Buenos Aires. Well, maybe this just shows that we're boring people (after all, we were catching the bus home rather than out) but Santiago definitely suits us. As Randi pointed out, it is harder to blog about a free-roaming city break compared to a series of tours with set destinations. So apologies (but not really) if this post unduly focuses on transport, but that is the first way that Santiago captured our hearts.
I knew it was a good omen when the guy sat behind us on the bus into town had the Doctor Who theme set as his ringtone.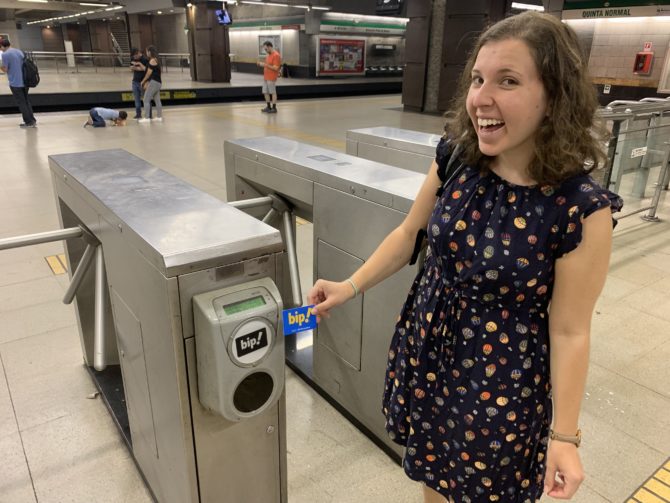 Let's start with the Metro! Ah, you know you're in a proper grown-up city when there's a real metro system. The Santiago Metro is fast and frequent, with a train arriving every few minutes, and we loved it and used it a lot to get around.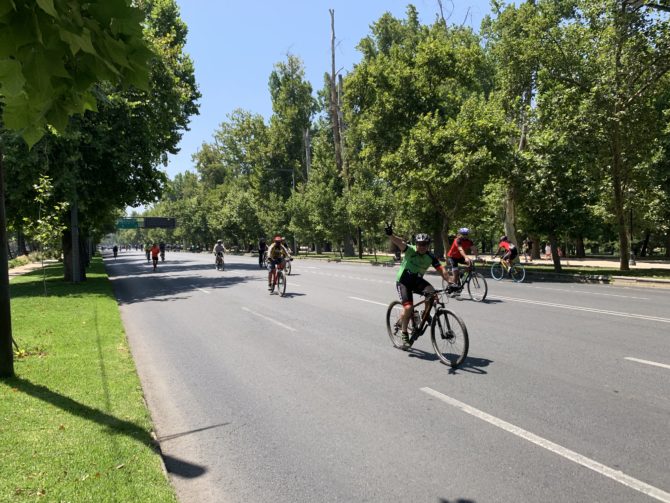 This is closely followed by Randi's discovery that one of the major roads in the city is closed to all car traffic between 9am-2pm every Sunday for pedestrians, skaters and cyclists (#CompartamosLasVías). This is the icing on the cake for what is already a very walkable and pleasant city centre, and with the cars banished you can actually hear the sound of the River Mapocho flowing by. In the interests of balance, I should say that the River Mapocho is one of the brownest rivers I've ever seen. I hoped it might have been mud, but Francisco denies this.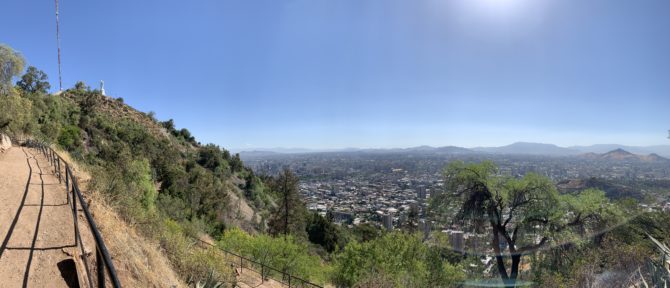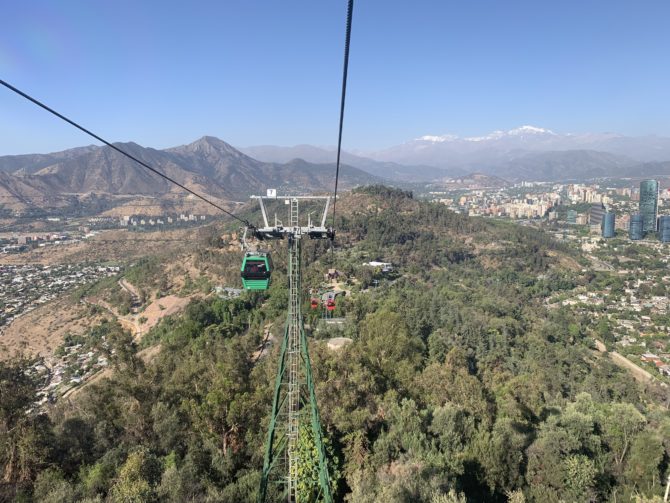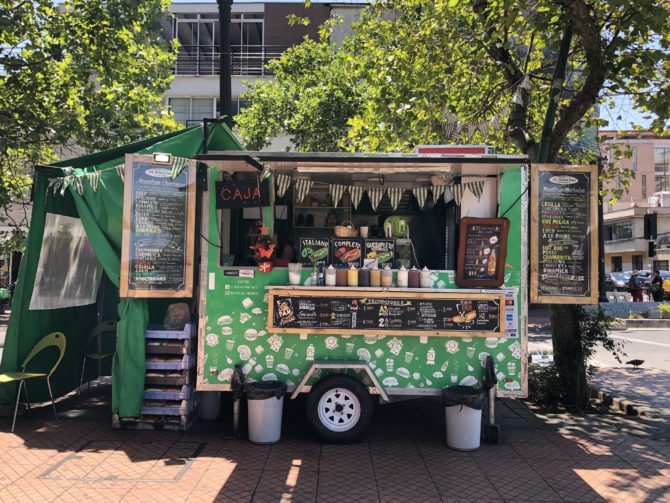 Other than admire the transport infrastructure, on our first day we walked up the summit of San Cristóbal Hill – at which there is a statue of the Virgin Mary and great views of the city below – and then teleférico-ed down again. The next day we took another walking tour, of which one of the highlights was standing in the Plaza de Armas playing the "legal or not" guessing game for issues such as abortion and gay marriage. (Tour guides are young and liberal and they know their audience.)
That night we met up with Francisco for a tour of his old local neighbourhood and favourite restaurant. What he didn't know was that we would see him again the very next day for his surprise homecoming party in the Parque Padre Hurtado. A word about this park. It is very nice inside, but for some reason they have decided to charge an entrance fee of 500 pesos, which means that most of the entrances are locked shut and you have to walk all around the park to get in. Amusingly, it's another 500 pesos if you want to bring your dog in with you.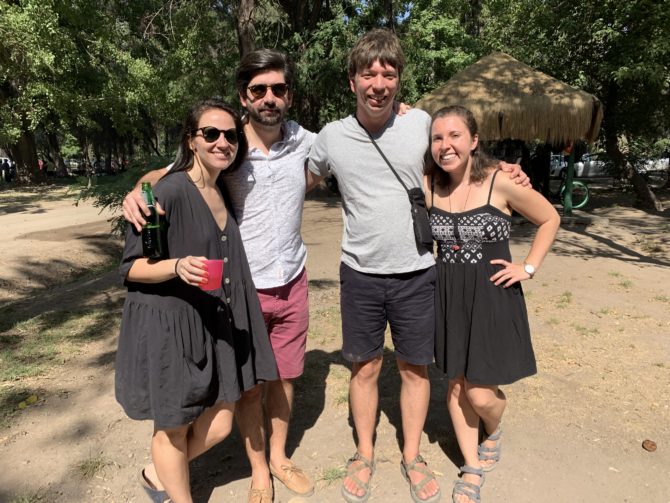 On Francisco's recommendation, we also visited the Museum of Memory and Human Rights which covers the period of dictatorship in Chile. Although it is largely about those who were tortured, killed and 'disappeared' during the rule of the military junta, one of the most striking exhibitions for me was about the 1988 referendum which (narrowly) ended Pinochet's rule. It's just so odd, because half of the exhibition looks like any normal election campaign (TV spots, badges, slogans) but alongside are the stories of the parallel vote-counting operation mounted by the opposition and the CIA reports on Pinochet's preparations for violence if it looked like he was losing. Still, despite everything, it is incredible that the dictatorship ended and democracy was restored through this vote.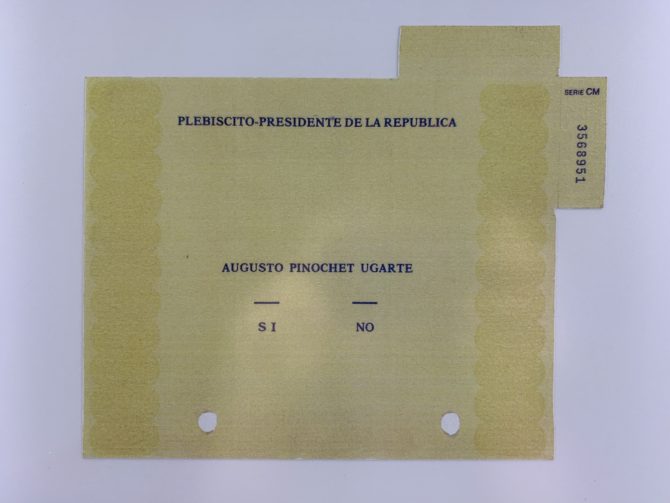 We were very honoured to be invited by Francisco and Carolina to join their family for Christmas, which in Chile (as in lots of places) really means 'Christmas Eve'. (Yes, this means that children wake up on 24th December and have to wait all the way until midnight for Santa to bring their presents, which seems like it would require incredible patience.) At Francisco's uncle's house in the suburbs we took our seats in the garden and feasted on a traditional Christmas dinner of turkey, potatoes and ceviche, while asking all the questions about Chilean society which you can't quite go into on a walking tour. For example, the rather long-winded and euphemistic English phrase "trying for a baby" is known here as being "in campaign", which has slightly disturbingly violent connotations but I admire for being much snappier.
After dinner we gathered around the tree for Secret Santa. You think you know how Secret Santa works, right? Well, Francisco's family have added a terrifying twist that if you can't guess who your present came from in two guesses, your present is confiscated and held in 'penitentiary' until the end when you might be allowed to tango for its release. This is all accompanied by a lot of chanting in Spanish, which is all the more frightening if you don't really understand what's being said. Fortunately Randi and I were given strong hints about the identities of our gifters, along with incredibly generous (and useful!) travel-related gifts themselves.
It was really lovely to be allowed to gatecrash a family Christmas here, even if it winds up making Christmas Day itself feel more like Boxing Day. Tomorrow morning we leave Santiago and fly further south down this excessively long country, but we have really enjoyed our stay here, especially since we've had our own place for six nights with our own little balcony to sit, read, eat, drink and blog in the sun.
Feliz Navidad!