I've never been so sad to leave anywhere as Koh Lipe. Rather than hopping between lots of different Thai islands – which would have been fun in its own right – we opted to plop ourselves down on this one very small island, splurge on staying at its nicest resort and just totally relax for five glorious days. I really did not want to leave.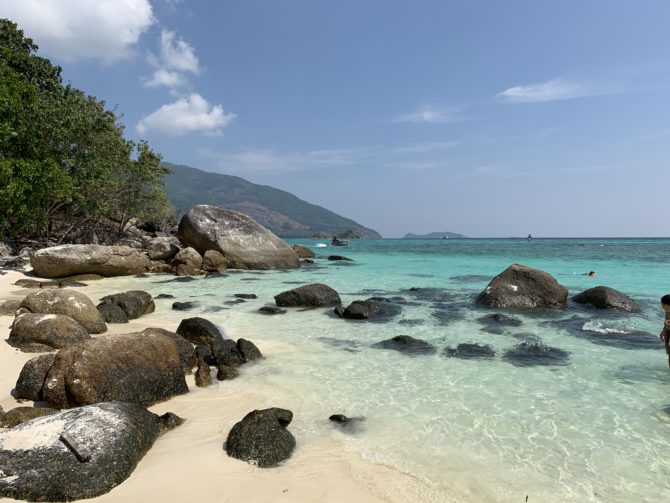 After getting our Malaysian exit stamps at the harbour in Langkawi (it always feels good to get the right stamps now) we surrendered our passports to the ferry company before our uneventful ride to Koh Lipe. The reason for this is that you disembark directly onto the beach at Koh Lipe so they need an incentive for you to stick around and clear immigration instead of just running off giddily. The guy coordinating immigration on the Thai side had clear ambitions to become a gameshow host, riling up the crowd with some classic call-and-response ("It's that way to Sunrise Beach, OK?" "OK!") before holding up each of our passports in turn and calling out the name and nationality ("USA… Randi!) of the next contestant to approach the window for an entry stamp.
Once we were all done, the guy meeting us from Ten Moons Resort whisked us and our bags into a small, private boat and sped us around the corner of the island to our resort where we could check-in to our room immediately. Bliss.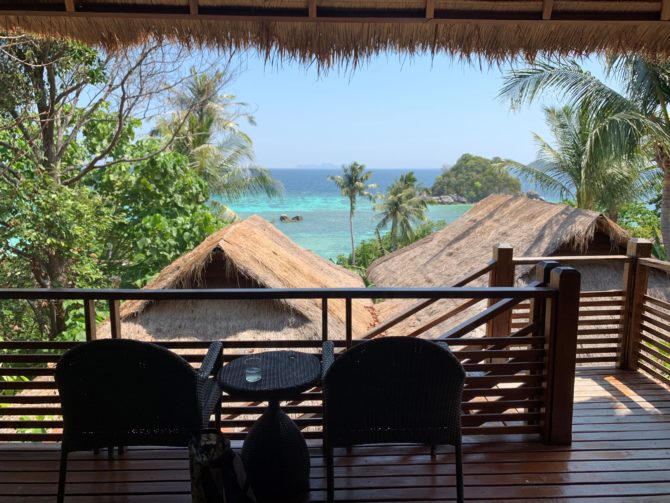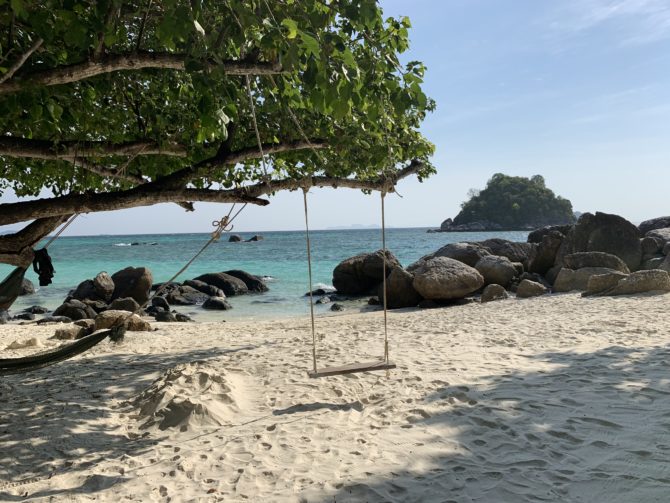 Ten Moons really is… perfect. The whole place is serenely calm and luxurious without being overly swanky or pretentious. For example, I really liked that they had a big box of beach toys and sandcastle-building equipment for kids to play with in addition to snorkelling goggles and flippers being available. Koh Lipe is home to three main beaches: Sunrise, Sunset and Pattaya. While technically not a 'private' beach (as, nicely, you can always walk down the full length of any beach unimpeded) the beach at Ten Moons is tucked away discreetly behind some rocks at the end of Sunrise Beach and was never crowded. You can also tell it's a special place because the sand switches to the ultra-fine variety as soon as you reach it 😉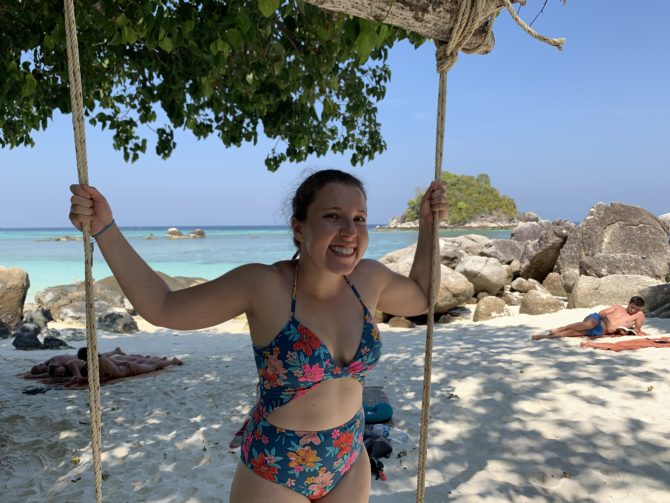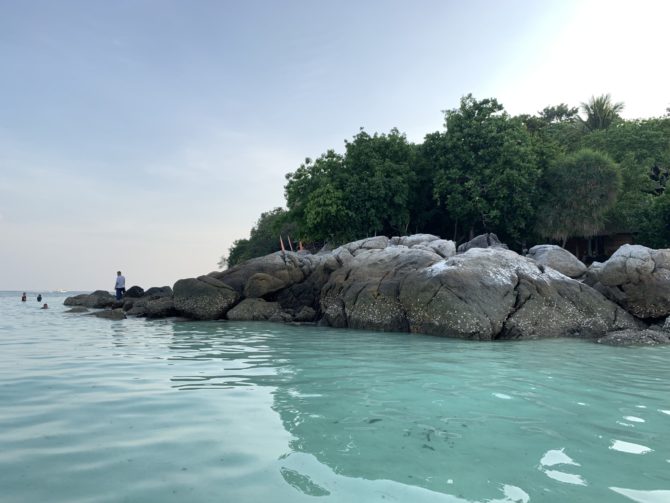 Usually shallow water is a negative at beaches, since you have to wade out a long way before being able to fully immerse in the water. But here, the water was so warm you could just sit back on the sandy seafloor – without ever getting cold – and watch the fish swim by. (Award for most interesting-looking fish goes to the swordfish, or at least what I assume was a swordfish, although honourable mention for the many, many crabs scuttling around purposefully on the rocks.) Best of all, I made use of the flippers to swim across to the tiny island opposite and found myself on a beach of one.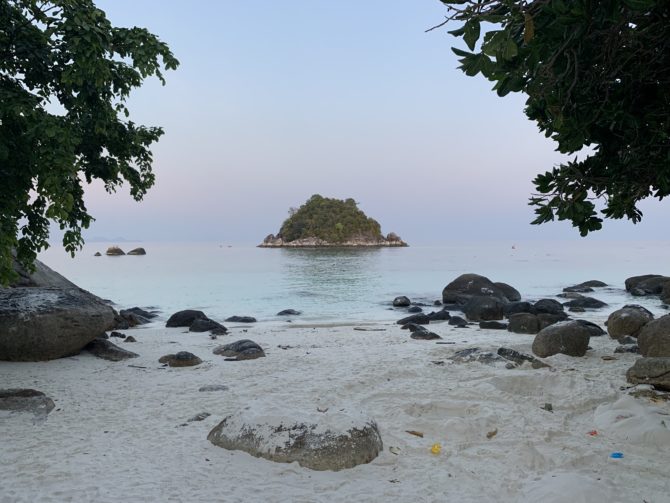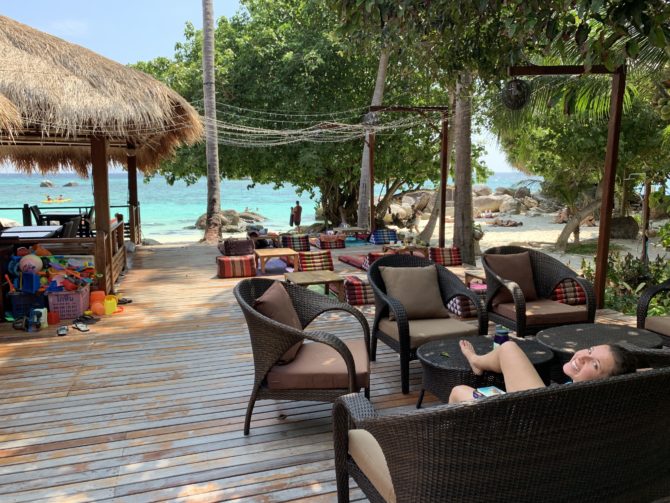 Our bungalow was a short walk up some wooden staircases with its own little secluded balcony, so when we weren't down at the beach we were usually sitting up here in towels reading or playing Coloretto. That said, it really does only take half an hour or so to walk across the whole island so we did occasionally venture out to watch the beautiful sunsets from Sunset Beach or find food to eat. While I did have some great Thai meals, I'd be lying if I said my favourites weren't the two amazing Indian dinners we had… although Thai iced tea was a great discovery and the perfect thing to cool down with over lunch.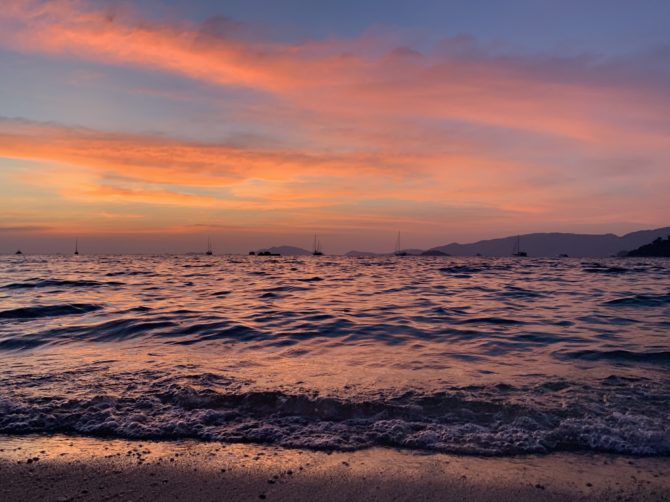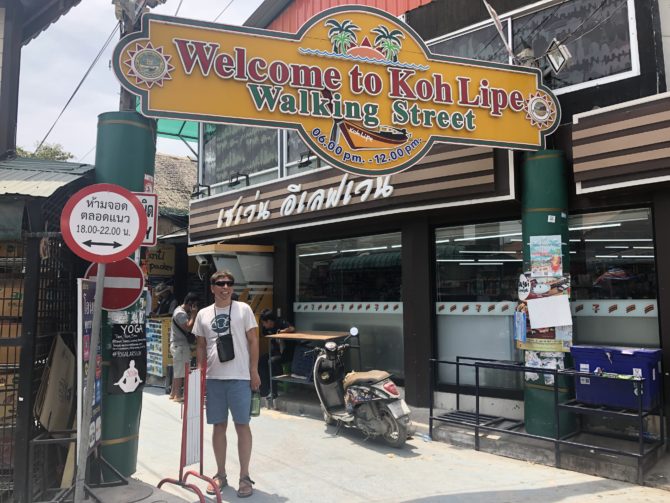 I owe Randi for reminding me that it was Pancake Day this morning and we were able to keep the tradition alive by choosing pancakes for breakfast at Ten Moons before checking out and catching our ferry (more of a speedboat) on to the next destination: Phuket. The journey here came with an unexpected bonus hour on Koh Lanta so we can now say that we did (very briefly!) see another of the small Thai islands. But really, I don't need anywhere else but Koh Lipe.