Phuket is another instance of an island – Thailand's largest – unimaginatively sharing its name with the surrounding province. Usually visitors here stay at one of the many beach resorts, but we didn't think anything could compare favourably to Koh Lipe so opted for a nicer AirBnb further inland, halfway between the busy Patong Beach and Old Phuket Town. A disadvantage of this scheme is that transport around the island is terrible, so we were a bit restricted in our roaming. On the other hand, there was a large Tesco up the road… though sadly without the meal deals.
Fortunately, location wasn't an issue for the most important thing we came here for: a full-day tour of Phang Nga Bay in the Ao Phang Nga National Park. After being collected and then dropped off at Ao Por Pier (home to the world's most persistent and effective salesperson for waterproof mobile phone pouches… we bought two) we were given the world's silliest ticket for the journey "from the start to the end of the pier" before finally making it onto the boat which would take us around Phang Nga Bay.
From the boat we had two opportunities to jump into kayaks and explore the sea caves themselves, only with someone else doing all the hard work of paddling. They were beautiful: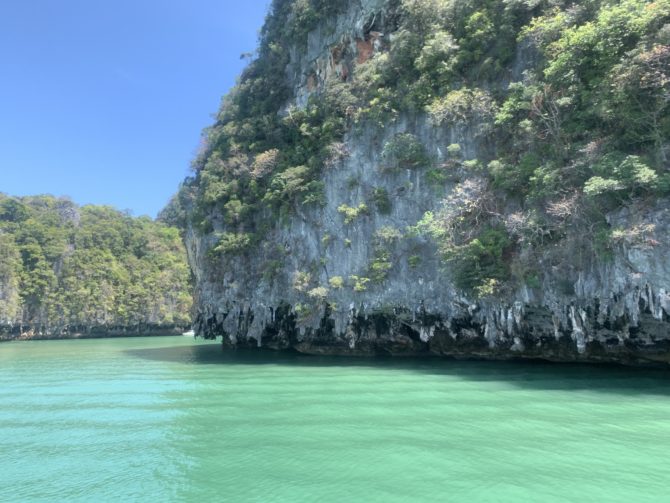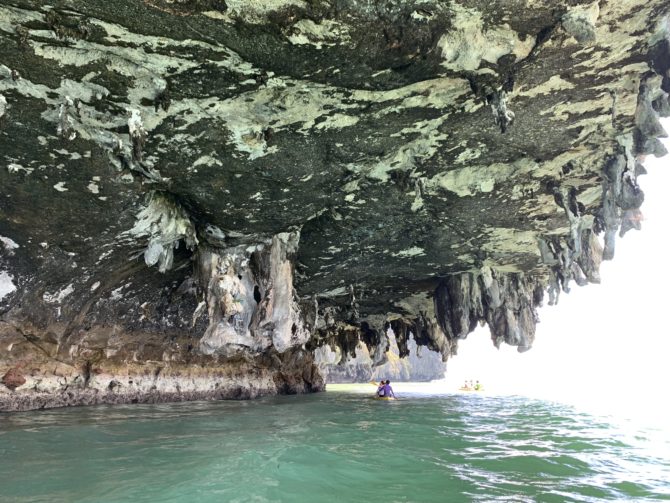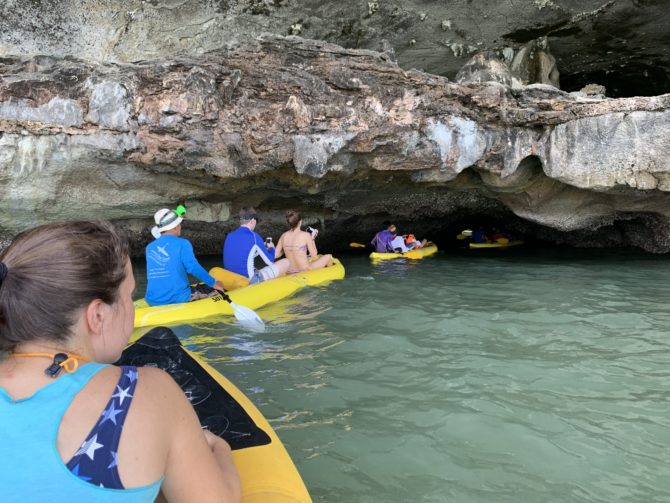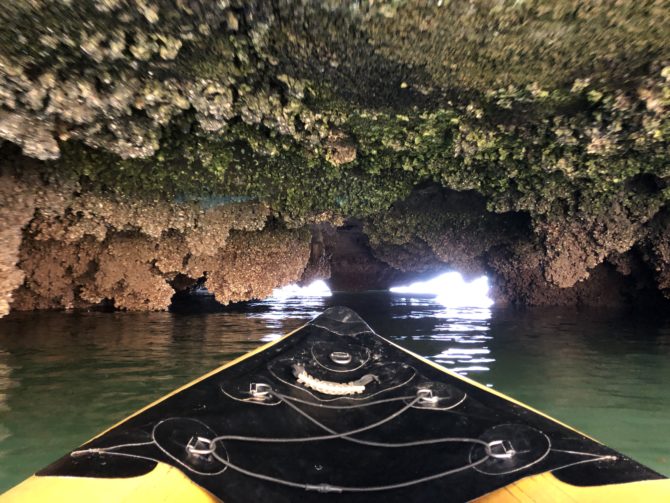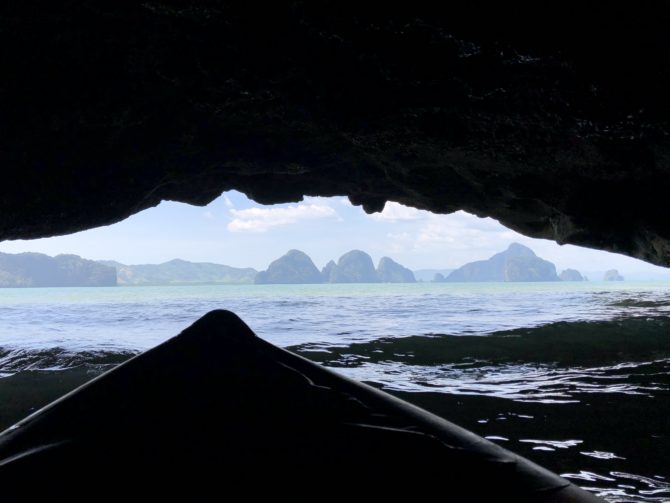 Aside from the expeditions to the caves we were very well taken care of on the boat itself, with snacks and drinks (I'm very grateful for that cup of tea) in addition to lunch and dinner. I'm normally a bit sceptical of boat meals but the buffet spread for dinner was amazing, especially the Massaman curry. During 'free time' we could either take the kayaks out ourselves or swim in the surrounding waters, assured that there were "not too many" jellyfish and that the staff would be keeping an eye out for them just in case. Obviously the water was just too tempting to say no.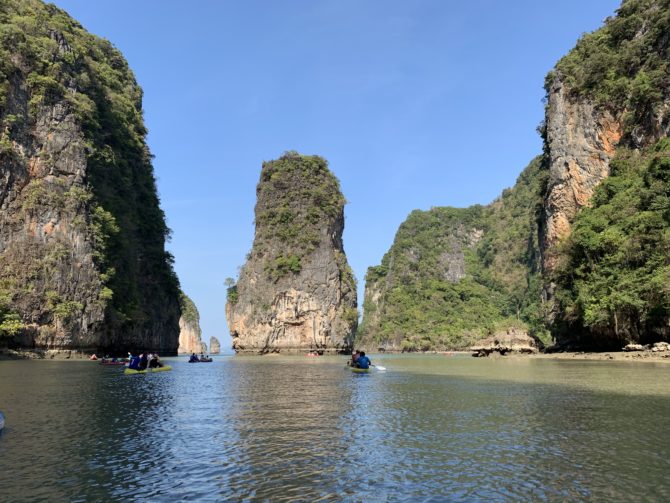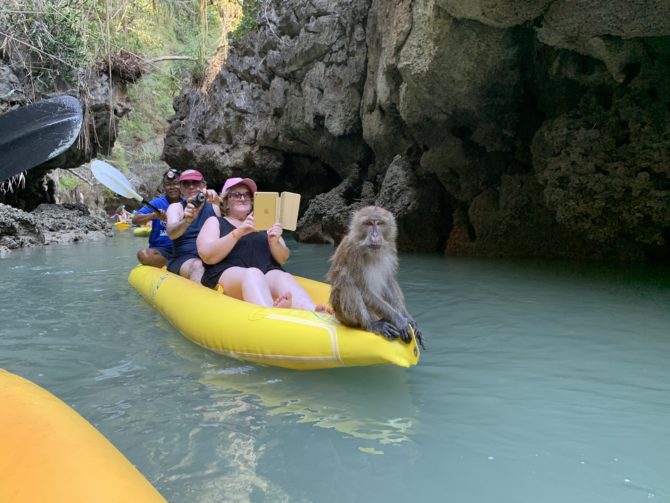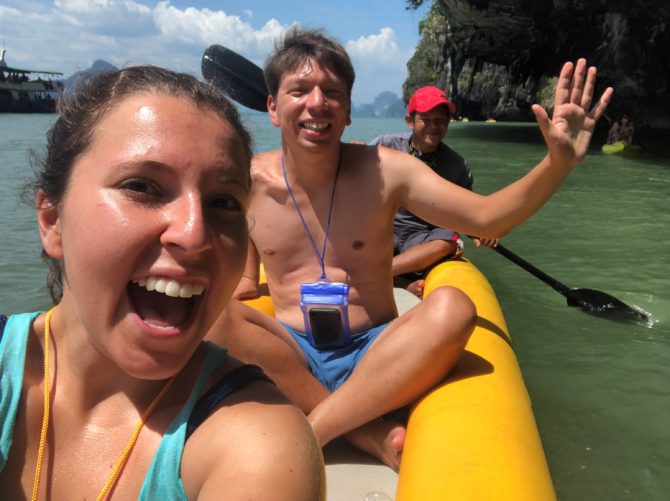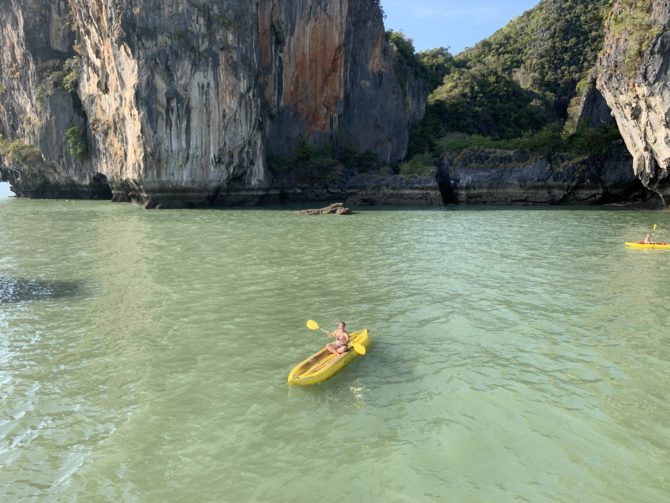 The final activity of the day was to make krathongs – decorated flower basket thingies which float down rivers during the Thai Buddhist festival of Loi Krathong. Side-note: this review was incredibly helpful to us when choosing a tour, but I am kinda amused by the tension between being sad that the krathongs are collected up again afterwards – going against local traditions – versus the environmental cost of dumping all of these tourist products into the sea every day. And unlike the author of that blog, arts and crafts is really not either of our jams so we were delighted when our appointed helper (the same guy who paddled our kayak) confessed that as a Muslim this whole tradition was a bit alien to him and he had had to learn it on the job.
All in all, I don't think our team's krathong is winning any awards, but once the candles were lit it did look rather nice floating on the water. Before we collected it back, of course.
For the rest of our time in Phuket we didn't do anything incredibly amazing – unless you count laundry – but we did take the opportunity to plan out the rest of our travels across South East Asia and take some tentative steps towards our new lives in London. First steps like switching our Kindle accounts over to the UK 😉 and discovering – quite shockingly – that Kindle books are generally a fair bit cheaper in the UK versus the US, even though they include 20% VAT. It's very curious.
We did go out to three destinations: Old Phuket Town, Patong Beach and the Big Buddha statue. Where possible we used the local bus – which usually takes the form of a converted pick-up truck – because the prices of taxis (including Grabs) are absurdly inflated and very obviously subject to a taxi mafia which really did hold back our casual tourist spending. It's a bit of a miracle that the bus service exists at all, and is sorta charming once you get onto it, but service is skimpy and stops completely around 5-6pm in the evening. I've also never been less confident that we'd make it up a hill. Excitingly, there is a light rail scheme coming to the island but not until 2023-24 (in theory) so getting around will be frustrating for a while yet.
Incidentally, many of the guides and reviews advise you to hire a motorbike to get around the island more easily. You certainly could do that… or you could read the WHO's 2015 Road Safety Institutional and Legal Assessment for Thailand, a country with the second-highest road fatality rate in the world of which over 70% were motorcycle drivers.
However you choose to visit Old Phuket Town, you won't find somewhere very buzzing – at least during the middle of the hot day – although of course there is delicious and cheap Thai food available. Patong Beach, meanwhile, was a perfectly nice beach to wander up and down, but the vibe is much more "party town" than "relaxing beach paradise" and this only accelerates after the sun goes down and the ping pong sex shows begin. (Feel free to Google this if you feel the need, but I think my audience prefers WHO reports.) We spent a token amount of time on the main drag before Randi checked off the life goal of eating Burger King's veggie burger and we got our extortionate taxi out of there.
Finally, the Big Buddha is moderately interesting to walk around and comes with a great view overlooking the island. Again, we would have enjoyed it more if the transport costs were not so high… although this was the one occasion where we bothered to haggle a taxi price down from "absurd" to only "quite ridiculous".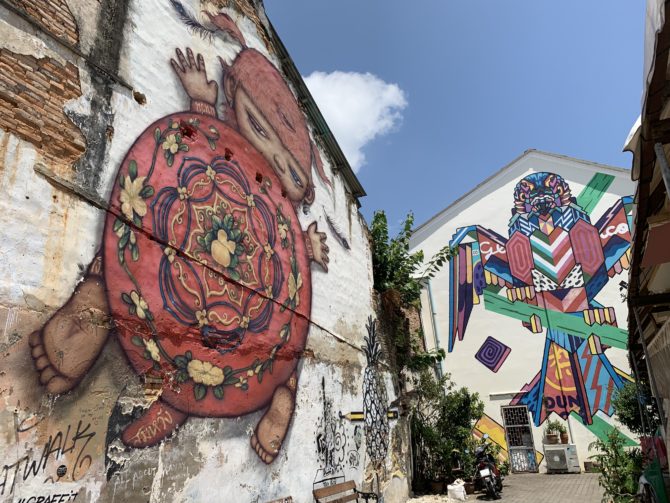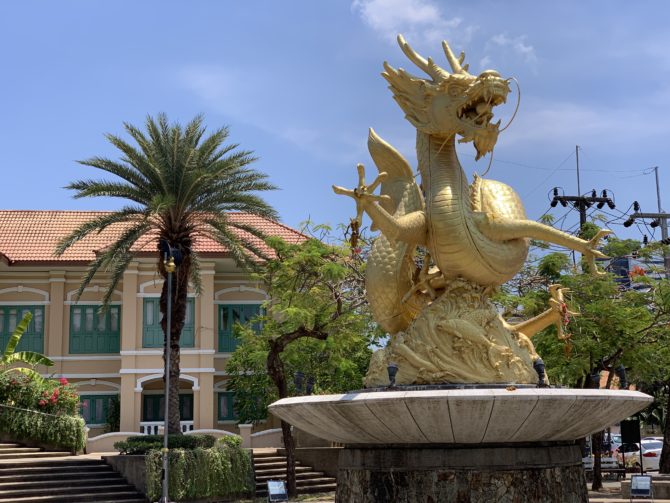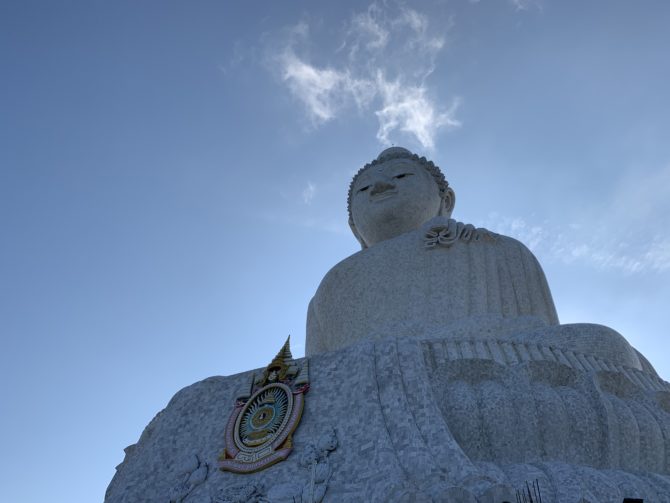 One last random snippet which I think is worth sharing: at Ao Por Pier, a selfie stick is not a selfie stick but instead a "Self Picture Monopod for Mobile Phones". Well, I liked it.
As you can probably tell, we did not really fall in love with Phuket other than as a base for Phang Nga Bay which justified the whole stop. We are now finishing off our blogs in a café opposite the railway station in Surat Thani, which is a four hour drive from Phuket and the closest station available for an overnight train to Bangkok. I am not expecting the world's most comfortable sleep, but I am excited for the first sleeper train of our travels!