When humanity really comes together to solve a problem, don't bet against us. For decades, we've struggled against the idea that the only way to attend a 1977 ABBA concert in-person was either (a) to be alive in 1977, or (b) to travel back to 1977 using a time machine. Option A is, of course, deeply exclusionary to anyone born after 1977. Option B, on the other hand, is fraught with risk. What if your time machine breaks down and you become stuck in the late 70s? What if you accidentally kill your grandfather? What if you're so focused on trying to keep your grandfather alive that you fail to live in the moment and don't properly enjoy the moment?
Fortunately, technology has solved this highly specific problem with ABBA Voyage, a 'virtual concert residency' held in a purpose-built stadium next to Pudding Mill Lane DLR. (I can't stress how incongruous this station is. There seems so little reason for it to exist other than ABBA Voyage that the merchandise store is built into the entrance.) After Randi's parents bought themselves tickets to the show ahead of their upcoming London visit, we might have made our envy a little too obvious because they then generously gifted us a pair of our own – thank you! – which is how Randi and I ended up rocking up to experience this marvel for ourselves.
I loved it on three levels:
Because who wouldn't enjoy an ABBA concert?
Because some people in the audience are more exuberant and/or wearing fancy dress, and from our seats we had a perfect view for people watching. Special love to the four friends sitting in front of us in matching outfits.
Because the technology is very impressive. There's a lot of well choreographed light and video, and while the enlarged versions of the ABBA avatars ('ABBAtars') on the giant screens just look like a decent video game, the actual-size 'holograms' themselves are utterly indistinguishable on stage from the real thing. By the end I was starting to fall into wild conspiracy theories that they were actually animatronic or projections onto real people or some other ruse.
Pedants' corner: no, they aren't actually holograms; it's an updated version of the Victorian Pepper's ghost theatre trick from 1862 involving laser projections, mirrors and mylar. Weirdly, when I got home and started hunting through YouTube for a satisfying explanation of how this works, most people seemed more interested in explaining "how do you recreate 1977 ABBA with computers in the first place?" rather than "how do you take your recreation and make it look real on a stage?". If you're wondering, the way you recreate 1977 ABBA is by making 2021 ABBA wear motion capture suits and dance for five weeks. But that bit seemed obvious.
Back in 2023, Randi and I also received a mysterious box from Toggolyn which turned out to contain – amongst other things – EL: The Chicago Transit Adventure board game. Thank you two, too! We also journeyed up the Bakerloo line for brunch with my mum and then Austin's 2nd birthday party, which was lots of fun. Last weekend, though, we escaped London entirely for a trip to Oswestry…
At least, that was the plan, until we woke up on Friday to discover that the taxi companies of Oswestry had pulled their cars off the road thanks to all the snow and ice. Not to be defeated, we decided to take the train as far as Wolverhampton and stay overnight in (another) emergency Premier Inn before making the final connection to Gobowen station the next morning and walking the final few miles to Oswestry once the temperatures had risen and the sun was out.
(Yes, it is stupid that Gobowen – population: 3270 – has a railway station while Oswestry – population: 17,105 – does not. Of course, as is usually the case, Oswestry did once have a station of its own but this was closed in 1966 as part of the "let's be wrong about basically every aspect of town planning" trend which was in vogue at the time. Once I get my time machine up and running, I will attempt to address this once I make sure my grandfather is out of harm's way.)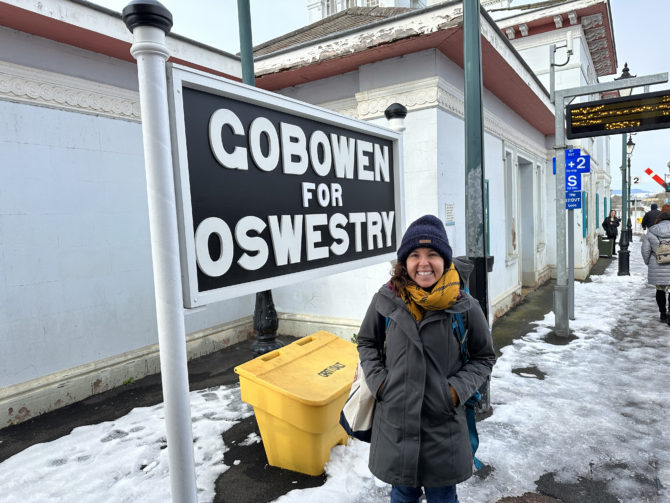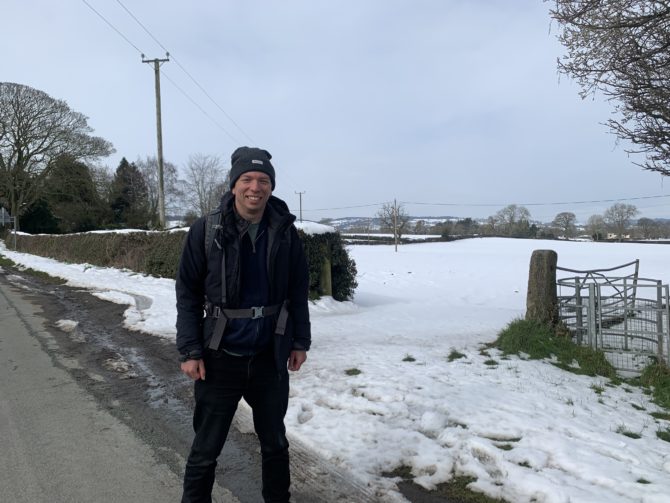 After checking in to our amazing B&B we met up with Lucy, whom – it was frightening to realise – I haven't seen in person for nine whole years. But putting this scary thought aside, it was really lovely to catch-up while she led us on a beautifully snowy trek along the Shropshire Way. Later that evening, suitably warmed-up again, we all had dinner together in a cosy village pub (you know, the type with a fireplace) and argued about whether London really needed a purpose-built venue for virtual ABBA concerts. (I still vote yes.)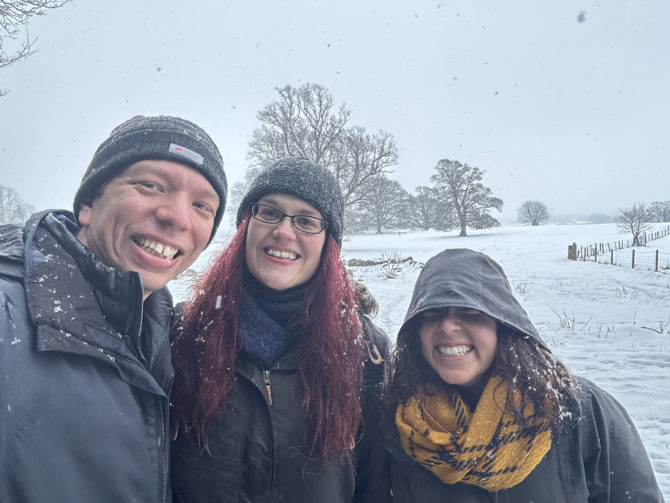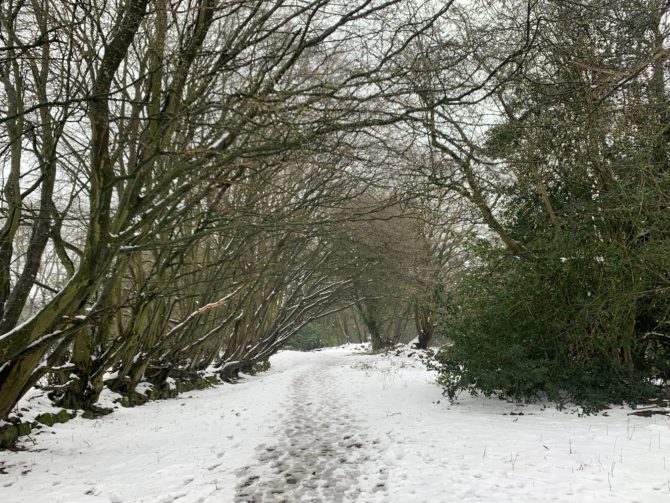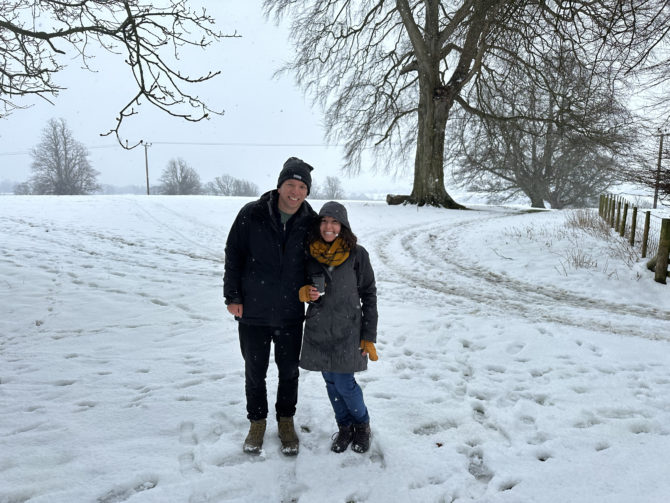 On the way home we passed on seeing any more of Wolverhampton (sorry, Wolverhampton) in favour of getting the tram to Birmingham and hanging out there for a few hours before our final train home. (If the closure of Oswestry's railway station upset you earlier, take some comfort that the modern West Midlands Metro mostly runs over the old path of another closed line, so there's always hope.) The past may be a foreign country, but that doesn't mean you can't visit.