Circular London walking routes: we're back! After finishing the 24-section London Loop, which roughly tracks the border of Greater London, in October we started this month on the Capital Ring, its little sibling. This route is about halfway into London, so is only 15 sections and (so far) mostly a park-to-park affair, which (a) makes for an easier challenge, and (b) massively increases the chances of stumbling across a café or two along the way. So I'm very optimistic that our hallway which proudly boasts a London Loop certificate (printed, framed and signed) will be gaining another one before too long.
A special shout out to the Oxleas Wood Café in the meantime, which sits near the end of Section 1 and so makes a great choice to enjoy English breakfasts and stunning views before Section 2.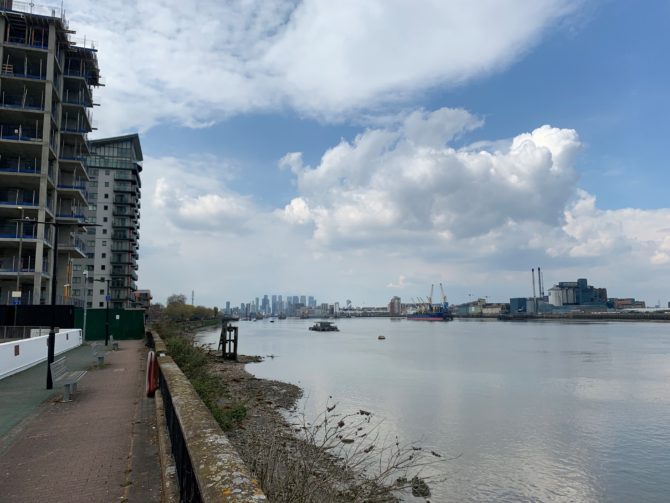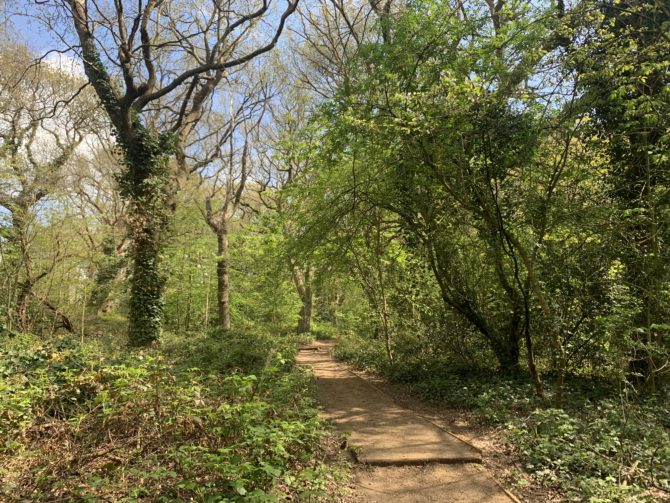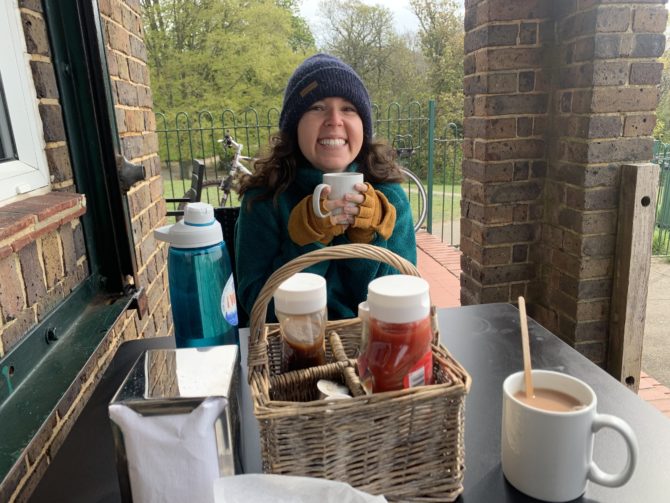 I hadn't seen Steve, my boss, in person for over a year so it was a delight to finally be able to go to the pub with him and his partner one Wednesday night this month. Less delightfully, I allowed all ordering decisions to be made by these hardcore craft beer aficionados and consequently felt more fragile the next morning than I've felt in a long, long time.
You could tell it was serious because instead of going to the polling station bright and early – as I'd usually do on any election day! – it was lunchtime before I ventured out with Randi to the primary school down the road to cast my vote for Sadiq. (I wish there had been a supplemental box to tick, for information only, with the words "….and I actually like Low Traffic Neighbourhoods too".) Anyway, I was a chastened and reformed character a week later during outdoor work drinks #2 with Lee, Jill and Sally. Hangover or no hangover, it's such a pleasure to see people again.
Randi and I have also been on another countryside walk in the Chilterns with Erin, this time enjoying the (very nicely signposted) Ivinghoe Beacon Ridgeway Circular Walk which starts and ends at Tring railway station. Highlights: magnificent views from the Beacon, sure, but also magnificent sandwiches from Pret for lunch. There's a lot of food in this post.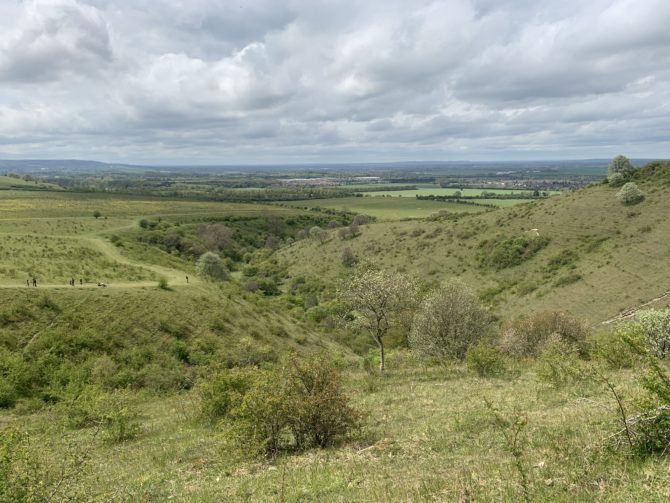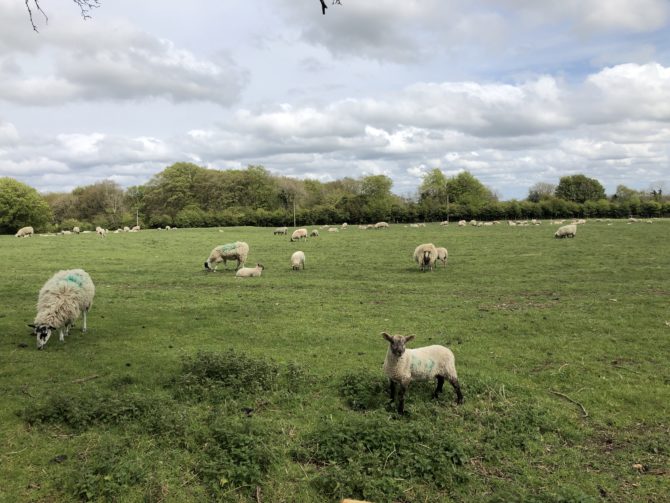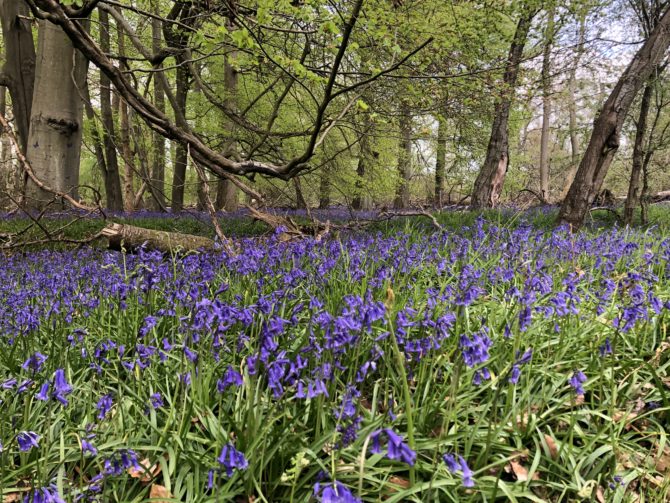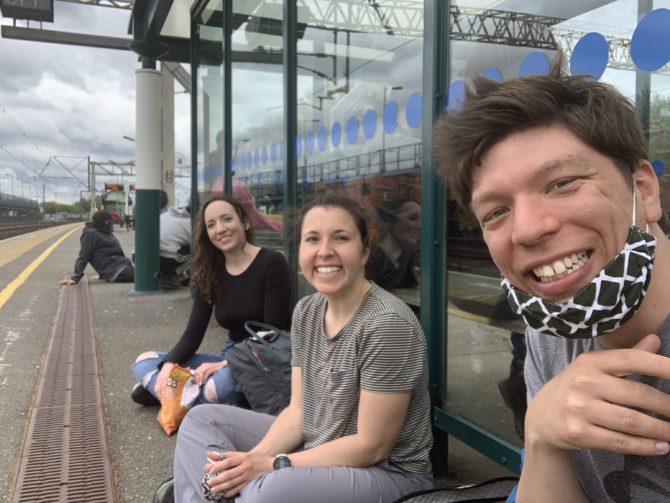 One event which was still virtual – at least for us – was Jason and Carrie's wedding in Chicago. As much as we wished we could have been there in person, we were still excited to fire up Zoom at 11.30pm on a Saturday evening to watch what we assumed would be a livestream-style broadcast… only to discover that, no, this was actually a full two-way Zoom and we had just catapulted ourselves into the front-row of a wedding ceremony in our pyjamas. Sorry! Still, it was really lovely to be there and have some time to chat to Jason and Carrie afterwards on our 'table' of fellow virtuals, the rest of whom were all fully dressed.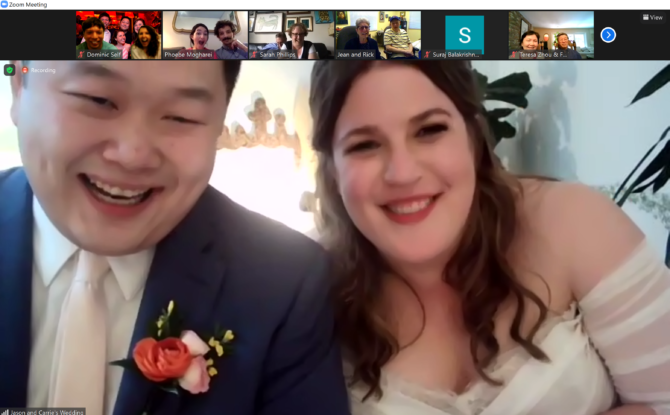 In the past week we've also been celebrating Randi's birthday, which has helpfully coincided with the return of indoor dining, socialising and activities! Following a pre-birthday kickoff dinner at Hattush Mediterranean restaurant, we hosted Randi's colleagues Reema, Sam and Esther at our place for a generous helping of Honest Burger and cake. For Randi's birthday itself we were lucky enough to have brunch at Dishoom in Covent Garden for their very first day of reopening. Apparently we were there at exactly the same time as the (thankfully re-elected) Mayor, although we were too focused on our food to notice.
Afterwards we sauntered through the centre of London to Primrose Hill for a good view of a city returning to life. But for an even better view, you need to go higher…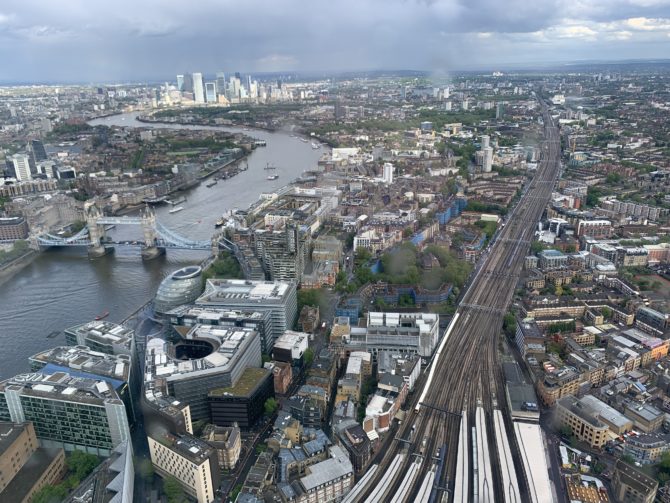 …so yesterday, we took the frighteningly fast lifts up to the top of the Shard for its incredible view of London in every direction. I've been before, but Randi hadn't, and to be honest I'm already looking for an excuse to go again. After over a year of lockdowns and spending most of our time in our local area, it's especially satisfying to be able to get up there and take in so much at once.
Plus, watching the tiny little model trains run along the many train paths is always cool too 😉
Before our time slot, we were also delighted to be joined by Very Special Guest Matt Hull to mooch around Borough Market ("keep flowing, keep flowing!") and eat doughnuts by the river. And if all that wasn't enough, that evening we enjoyed the triumphant return of Eurovision! It was, by general consensus, an exceptionally strong final. I had many favourites (Greece, Malta, Iceland to name a few) and a lot more which I would have cheered for (France, Portugal, Bulgaria) and of course one of the very few countries which left me cold – Italy – which won by a landslide. Sigh.
When it comes to the UK in Eurovision, though, I've become strongly influenced by Randi's outsider view and now present my highly controversial and socially unacceptable three-point plan:
UK viewers should actually watch the semi-finals. I know, I know, you think you want to "come to the songs fresh". That's what I thought too. But now we've gotten into the habit of acclimatising with the semis it allows me to appreciate the final itself much more. Which brings me to…
The UK should give up its guaranteed slot in the final and actually compete in the semi-finals. Yes, this would probably mean a long, sad stretch of failing to qualify. Yes, that would mean pressure to cut Eurovision funding, which is why this might be a terrible idea and you shouldn't listen to me. But in the long-term it would surely give the country valuable practice on entering performers who can actually win votes. And this is important because…
The UK should actually enter a potential winner. Sure, it almost certainly won't win. But right now we're trapped in a cycle of entering songs which "deserve to be mid-table" and then being disappointed when they come last. I'd rather we entered something which actually deserves to come top and then falls short. Everyone always says this is completely impossible because of the fragile egos in the music industry. But I bet France doesn't regret coming 2nd vs. our 26th place.
There you go: my Eurovision soft power initiative begins here.
Finally, there were a few other things which made this weekend feel totally packed but in a very satisfying way. Firstly – and then I'll stop talking about eating, I promise – Randi made a surprise booking for us on Friday night at The Garden, an amazing Italian restaurant (the kind staffed by actual exuberant Italians, so maybe I should give their Eurovision winner another chance) which we discovered shortly before the pandemic and have been crossing our fingers would make it through ever since. They have, and their pizza is as delicious as ever.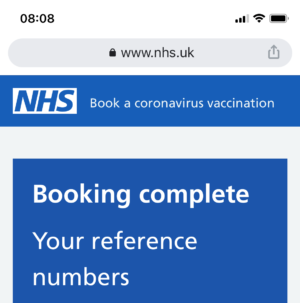 Secondly, today we travelled to Andrew and Bonnie's for a proper family meetup, including with my young cousin Lena and totally-hot-off-the-press new cousin Austin, which was wonderful.
And thirdly, on Saturday morning I woke up to discover that the ever-falling age eligibility for vaccination had now dropped below that magic threshold where it was now my turn to make an appointment. So, next weekend, fingers crossed, another pandemic milestone approaches… 💉