Let's start with the thing I have a lot of photos for: on Friday night, we excitedly joined Tash and Cormac for an evening kayak down the Thames! Technically this was a joint birthday gift to the two of them, but it was also the type of gift where you can't resist inviting yourself along too. So, all together on the 'Night Bus' we paddled our way along as the sun went down, starting at Battersea – then past Westminster, the City of London and Canary Wharf – before rocking up at a Greenwich beach by the Cutty Sark.
We loved it, although the experience felt strikingly different to our kayaking adventures in Chicago. Over there, being on the river really feels like being in the very heart of the city, and you're often surrounded by people and skyscrapers on either side. In London, the Thames may be the spiritual heart of the city but the city does not really 'live on' the river in the same way (to steal my mum's language). The river is wider, the banks are higher and for most of the time the journey felt surprisingly quiet and peaceful. Highly recommended, unless you're not happy with the sight of the odd dead rat, washed in by flooding and now bobbing along with impressive buoyancy. (No pictures of the rats follow.)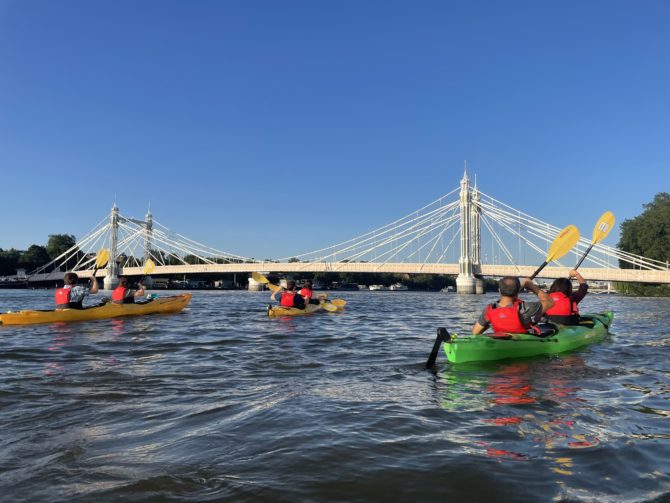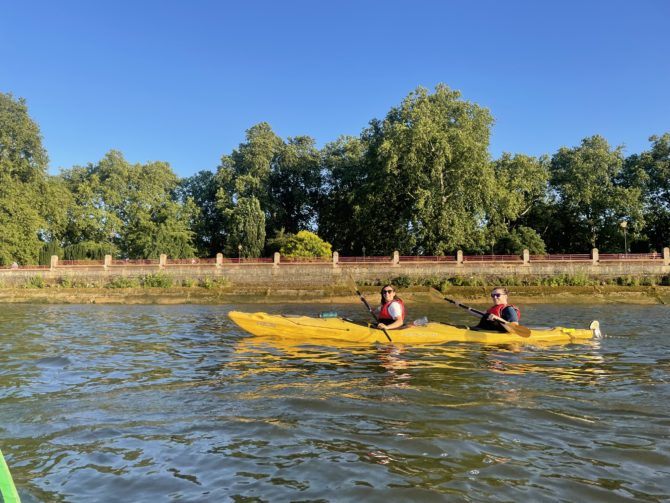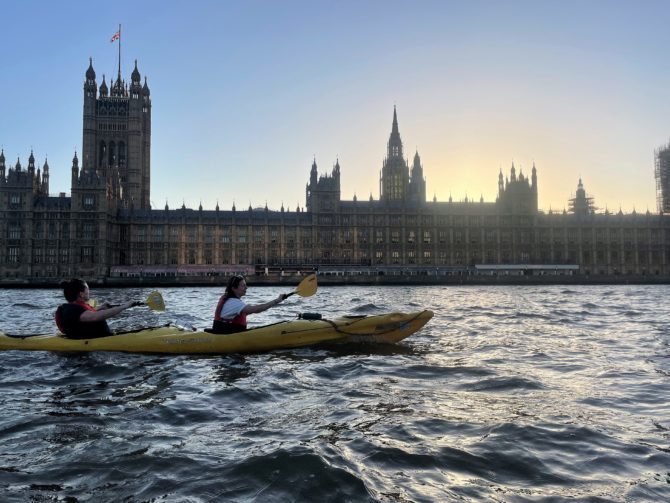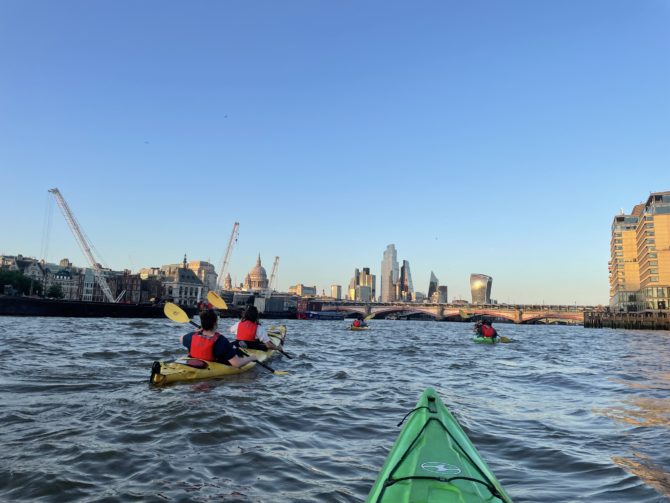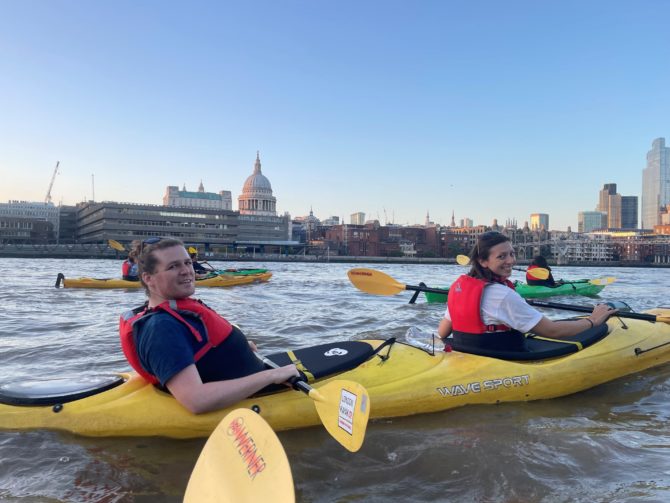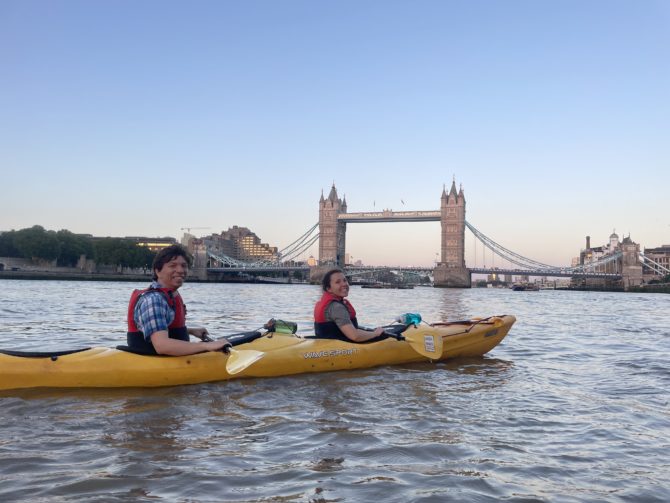 The Euros now feel like an age ago, but two weeks ago England were only at the quarter final stage when Randi and I travelled up to my mum's to watch the team's triumph over Ukraine. (It is always lovely when my mum cooks dinner for us, but sitting outside in the garden with smoked haddock crepes was especially lovely, and this is before she had a chance to demonstrate the full force of technological achievement which fancy ice cream scoops have now achieved.) The next morning, suitably refreshed, we walked over to Alix and Adam's 'new' house – not really new, but this was our first chance to admire it! – and spend more time with my smiley baby cousin Austin.
Then, after I managed to fall out of a bathroom with the slapstick setting turned on, we moved on to Bob's Cafe in Queen's Park for a long-overdue catch-up / setting-the-world-to-rights lunch with Promise. Despite going to both QPCS and Cambridge together, I had no idea – until now – that Promise is a seasoned regular of the Minnesota State Fair, and shares exactly the same overseas longing for Sweet Martha's cookies which assails Randi. It's a small world, and to be honest a lot of it seems to converge on that fair.
In the last few weeks we've also been out drinking in Streatham with Reema and John, taken Carolyn and Maria on a dinosaur-packed tour of Crystal Palace Park and taken part in the innovative online Jury Duty game which was my birthday present from Katie (thank you!). Obviously I don't want to give away any of the plot, but the format is that a group of strangers form a jury over Zoom to investigate a case and decide a verdict. This was a lot of fun, and we felt very lucky to find ourselves in a group which gelled together, collaborated and seemed to do pretty well at the game!
Also, whether for the benefit of the actors or participants, they very sweetly contacted everyone beforehand to reschedule to a time which wouldn't clash with England's semi-final kickoff. And – speaking of the Euros again – while the final on Sunday may not have ended happily for England fans, I did enjoy the ups and downs of having another temporary, big-tournament-induced interest in football. (Obviously I apologise to Josh for texting him questions throughout the matches like "what prevents a goalkeeper from just holding the ball and walking down to the other goal to score?")
This weekend, as the sun finally started to provide some real summer weather again, Randi and I joined Catherine and Hitesh at the aching cool Limin' Beach Club on the south bank. It genuinely felt like being on holiday. This Catherine, incidentally, is someone I haven't seen in a decade but the bonds of the 2005 Brent-Eton summer school go deep (along with the kayaking training, come to think of it) and we had a great time together. Afterwards, I made an emergency parasol purchase, accidentally took a train to Croydon and back after becoming too engrossed in emergency parasol research to get off at the right stop, and finally had everything assembled in time for us to host Caroline and Josh in our garden the next day with some much-needed shade along with a ridiculously good Randi brunch special and plenty of Pimm's.
Finally, and apropos nothing at all, I've had "Put Pret Orders on a Graph" on my to-do list for so long that I've lost all context for how/why I ever thought this might be a necessary thing to do. But I was having a productive weekend, so I trusted my past self and did it, and having done so it would be a shame not to share…