Hello, blog! It's been almost a month since my last post, but I have a decent excuse as for most of that time – and after a really lovely evening at the pub with Clark in Leytonstone which just missed the last blogging window but deserves a mention – Randi's parents have been visiting us from California.
For obvious reasons it's been over a year and a half since we were all together in person, so Randi and I organised a trio of small trips around the UK to catch them up with our exciting plans for 2022. More on that shortly! First, though, when they arrived they had to consent to six days of quarantining in our flat – punctuated only by persistent calls from Test & Trace and bittersweet glimpses of freedom whilst shuttling to and from the PCR testing centre in glamorous West Croydon. (To be honest, I think we're all quite fond of West Croydon now. It treated us well.)
Fortunately, some of this period coincided with the Tokyo Olympics, and despite the awkward scheduling and lack of spectators we still really enjoyed watching the huge variety of sport on show. Special shout-outs for Stu's newfound love of Rugby Sevens and the usual awesomeness of the canoe/kayak slaloms, but I think my favourite thing to watch was the new rock climbing format with its crazy, escape-room-esque bouldering puzzles and slightly wacky scoring system. Looking forward to seeing more in 2024!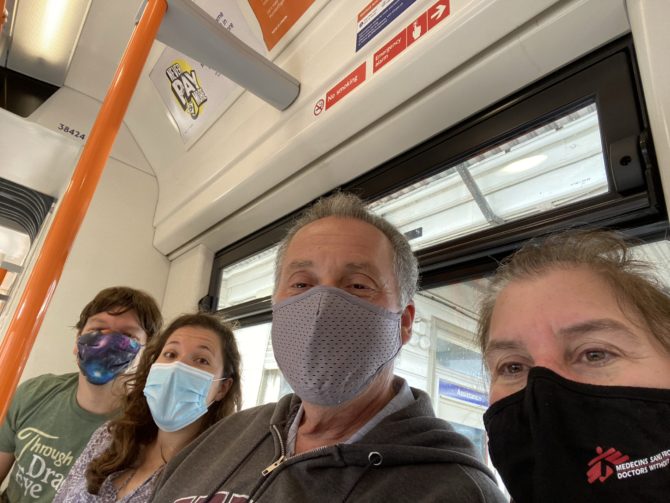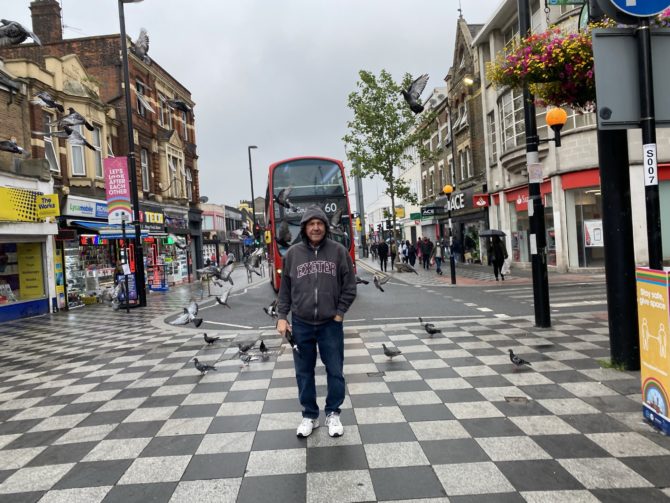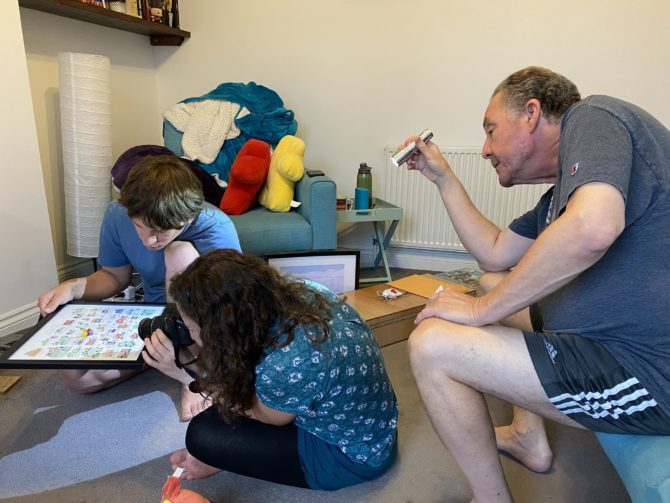 Not wanting to let a good quarantine go to waste, we also put Randi's parents to work on our long list of house and garden tasks which we had neglected since moving in. So now, a drill has been purchased! A mirror has been hung! We have a coat rack! And, after an awful lot of parental hard labour in the garden, the lawn has now been reclaimed from weeds in preparation for grass yet-to-come, we've planted our first flowers and even managed to excavate a number of giant concrete slabs lying under the surface. (As we levered up the first one with a garden fork, it looking and sounding remarkably like the lid of a coffin, I think we had all prepared ourselves for pet graves… or worse.)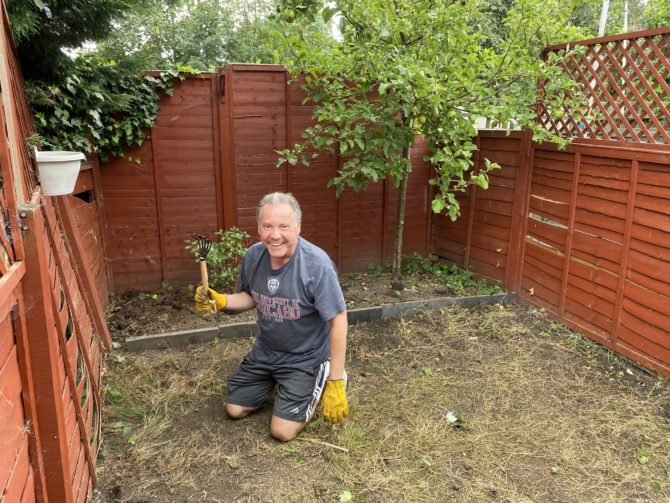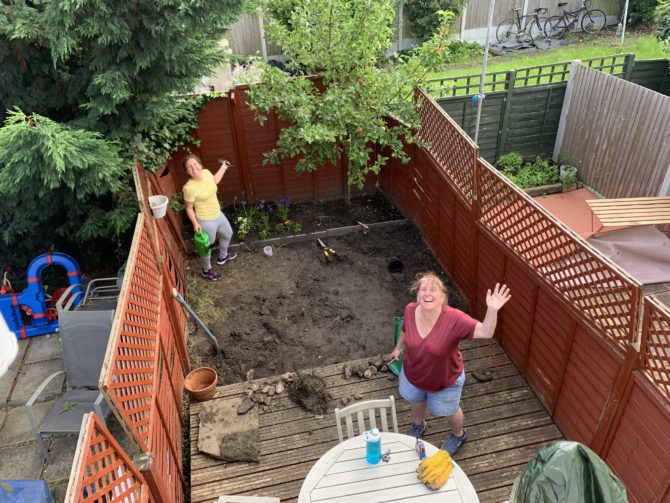 Once Beth and Stu had cleared their 'Test to Release' Covid test we were free to venture a little more widely, and in addition to our out-of-London trips we packed in a lot of capital adventures too. As you'd expect we took Randi's parents to all of our favourite parks, cafés, restaurants and Waterlink Ways – other highlights included Pimms and delicious Indian food with Josh, Anna and Cora in their always-beautiful garden, a long-awaited dinner with my mum at Sanzio in Willesden Green, another trip up the Shard and an incredible meal at The Mayflower with Tash and Cormac (who I now feel empowered to start calling Tarmac).
Katie has also been visiting from Glasgow at the same time, and although sometimes it started to feel like every plan we made was doomed to be scuppered by a combination of flash flooding, Covid isolations and non-Covid medical emergencies (don't worry, everyone's fine) we did finally manage to all have dinner together at Cubana near Waterloo. Katie and I also managed to sneak in another Doctor Who night last night with 1971's The Dæmons.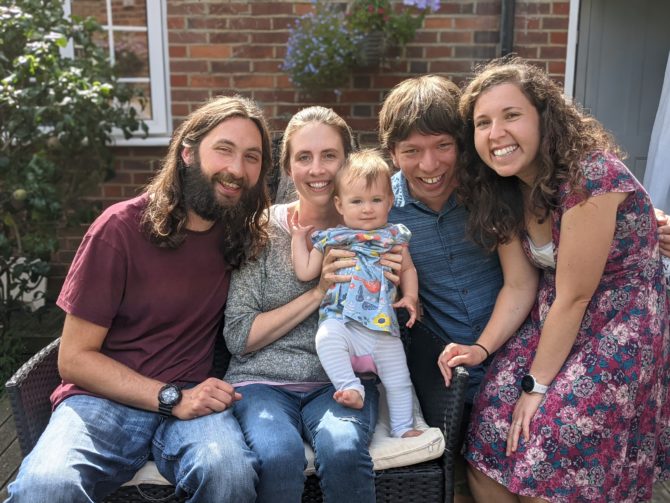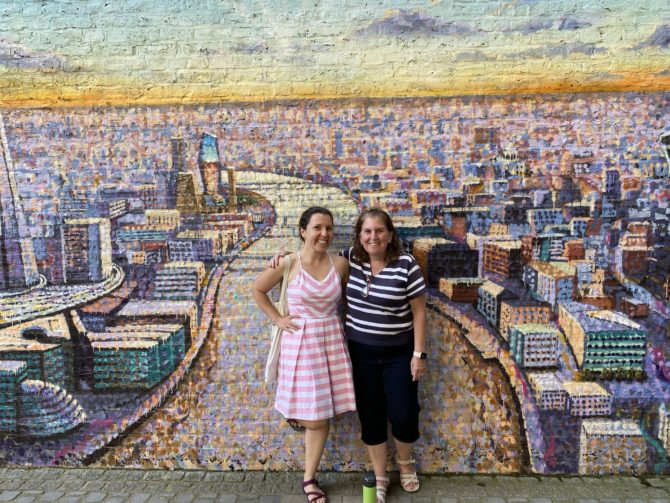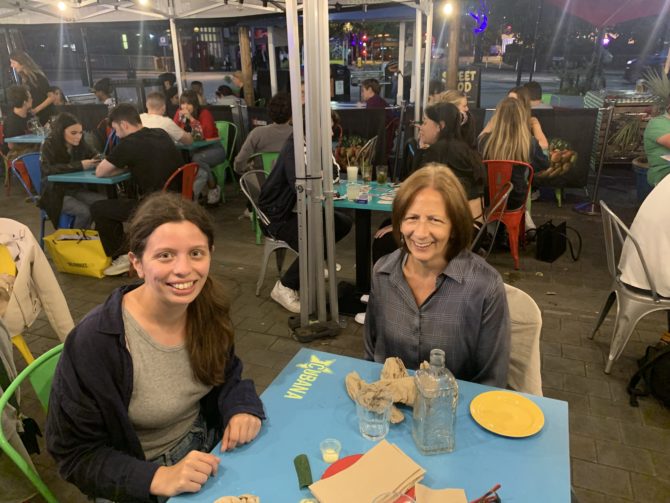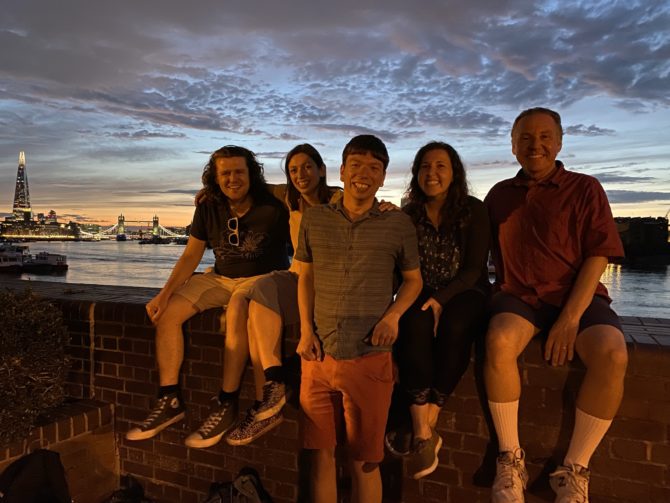 Trip #1: Brighton
Our first trip was a day trip to the seaside, principally to pick up Randi's ring which we ordered after a whimsical adventure deep in The Lanes back in June.
A ring? OK, let's back up. In 2017, wearing matching Settlers of Catan t-shirts, Randi and I got married in a Chicago courtroom and celebrated with Catherine and AJ over a lovely brunch and gorgeous gifts of giant meeple which now adorn our living room. But neither of us wanted to try and stage a wedding yet – not until we had the time, space and money for a wedding we'd both be really excited to have. Fast-forward to now, and it's finally on the cards for (fingers crossed) September 2022 in Hereford. Many more details to come, obviously, although we've already started posting out some very attractive Save The Date fridge magnets emblazoned with our faces – you lucky things – to select countries.
Anyway – back to Brighton – where we collected Randi's ring (which, very fittingly, includes all the colours of the sea) and then hung out in Brighton's Pavilion Gardens, the beach and the pier.
The pier, incidentally, was the scene of the crime wherein a mercenary seagull swooped down behind me and stole a full two scoops of ice cream directly from the cone in its claws. Never trust a seagull.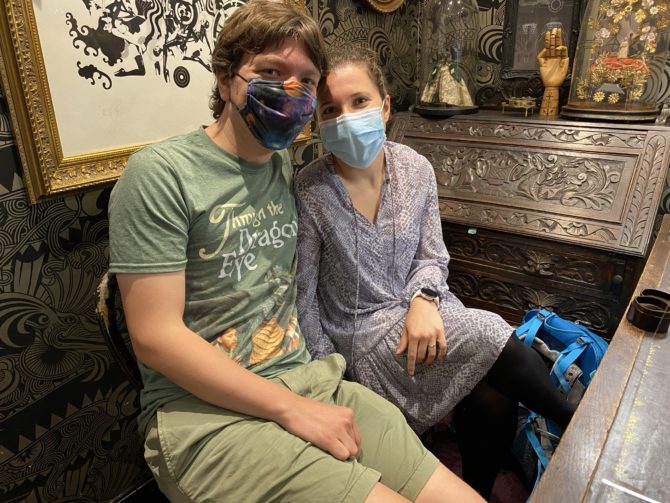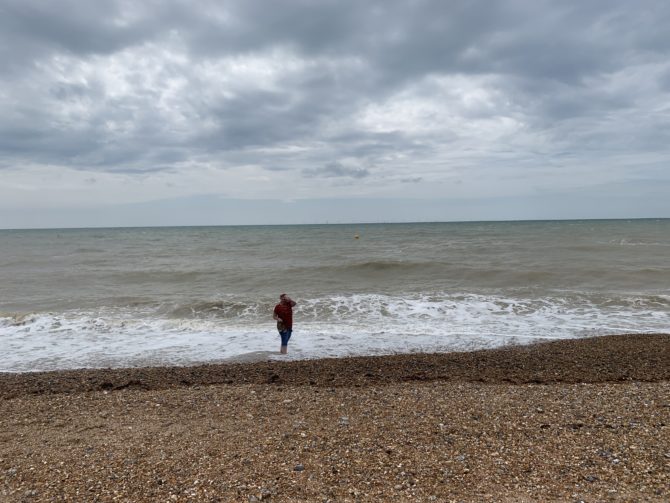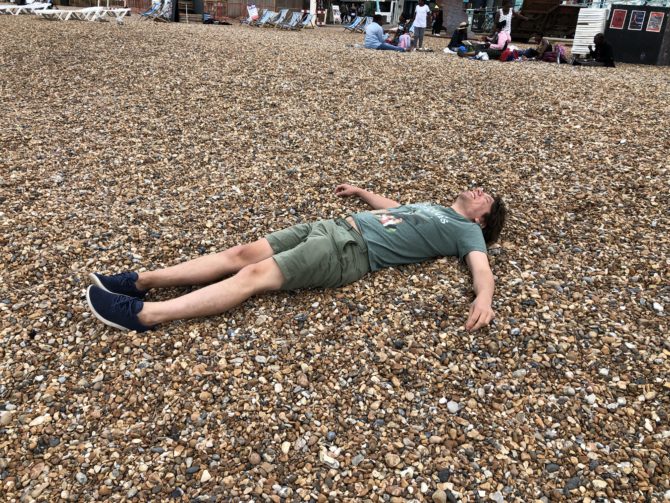 Trip #2: Hereford & Church Stretton
Trip two, as should now make sense, was to Hereford to give Randi's parents a peek at the wedding venue itself. Also notable on this trip was Beth's enthusiastic, whole-hearted embrace of rhubarb and apple flavoured gin at an excellent tapas restaurant – I think we're now on first-name terms with the owners – plus a day trip-within-a-trip down the Welsh Marches line to Church Stretton.
If that name sounds familiar, it's because Church Stretton was the location of our first escape from London after Covid back in August 2020, and for that I think it will always have a special place in our hearts. It also helps that The King's Arms has an amazing beer garden and pots of irresistible blue cheese sauce.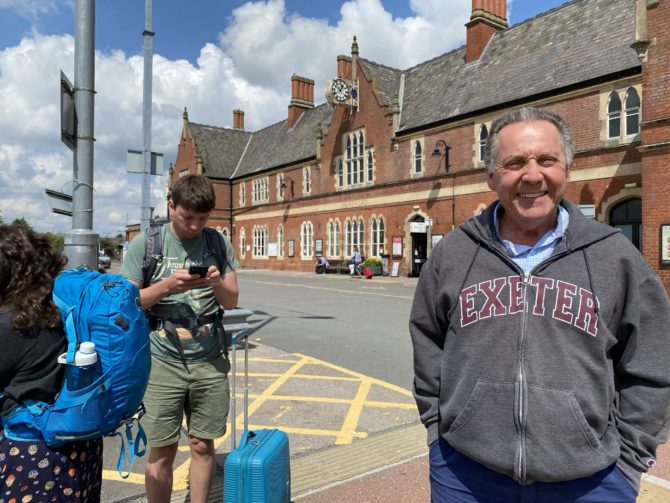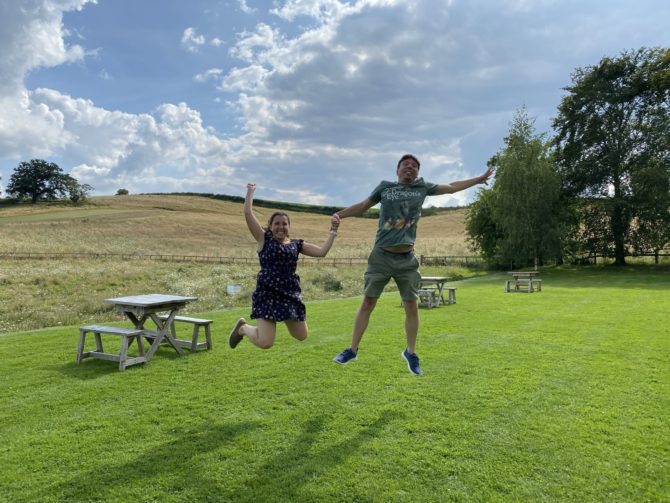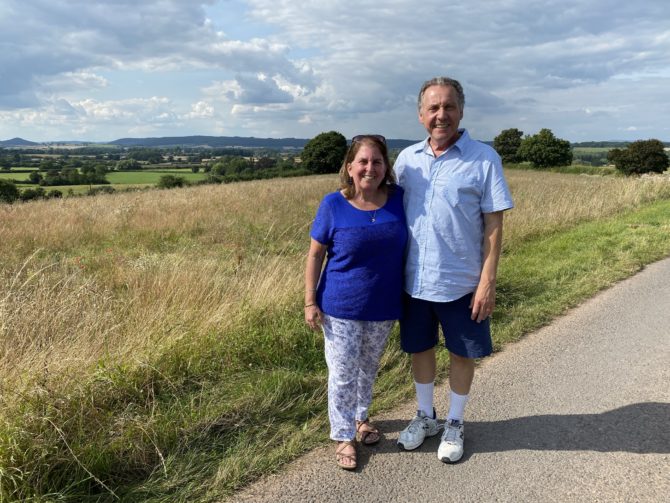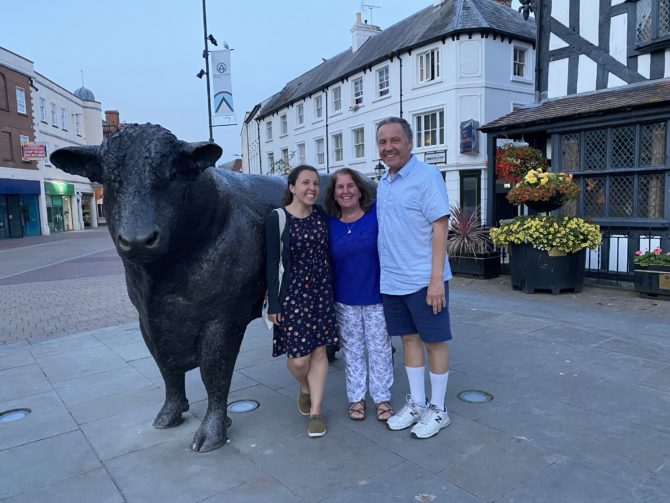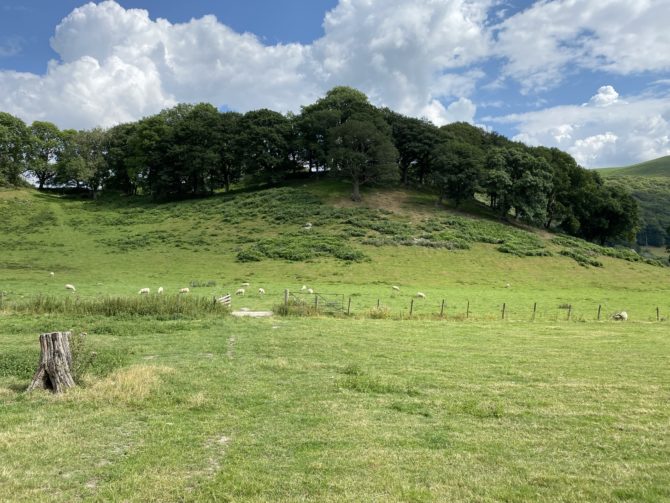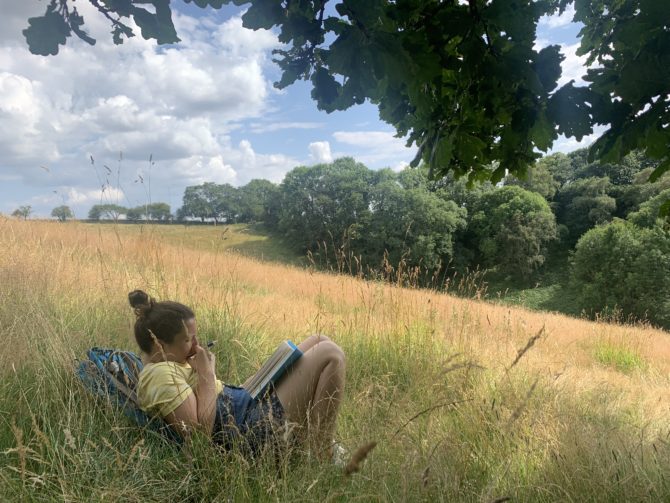 Trip #3: Cambridge
Last but definitely not least, this summer was a golden opportunity for me to correct the poor impression of Cambridge which Randi was left with back in 2015 when we shuffled about in the rain with ponchos and heavy backpacks. This time the sun shone, our backpacks were safely stowed away in a fancy hotel overlooking Parker's Piece (very weird) and we could properly enjoy this indisputably lovely city. (I knew my work was done when Randi suggested it was prettier than Oxford.)
The highlight, of course, was hiring a punt and heading out towards Grantchester Meadows (which we very nearly made it to). As a group, I would say we had the perfect blend of hilarious ineptitude with enough determination and fast learning to actually make it somewhere.
I was also very happy, despite my last-minute organisation, to be able to grab a coffee with Peter Mandler the next morning before we headed home. As always, I learnt a lot, especially about some of the positive and long-overdue updates to the Cambridge experience which are coming out of the pandemic.