Like many others this month I've enjoyed playing with ChatGPT, burning vast computational resources in order to simulate an argument between my sisters over the last roast potato (pretty good), write poetry about the long-standing family in-joke The Curse of the Blue Farmer (very bad) and have weird self-referential arguments where it tried to lie about its own word count. Despite all this, I am still hopeful that this friendly chat bot could soon take over my job, so here's a first step:
In terms of tone and style I'd say it's basically there.
Content-wise, however, this human still has a bit to add, starting with the extraordinarily generous wedding present we received of an overnight stay (and seven-course dinner!) at Le Manoir aux Quat'Saisons in Oxfordshire. A surprising number of people seem to be familiar with this luxury boutique hotel, and even I had heard of Raymond Blanc. Suffice to say, it's not the sort of place that Randi or I would ever dream of eating or sleeping at, so having received this gift we decided to make the most of the weekend by travelling up to Oxford on Friday night and exploring a little more of the city first before our check-in to Le Manoir on Saturday afternoon.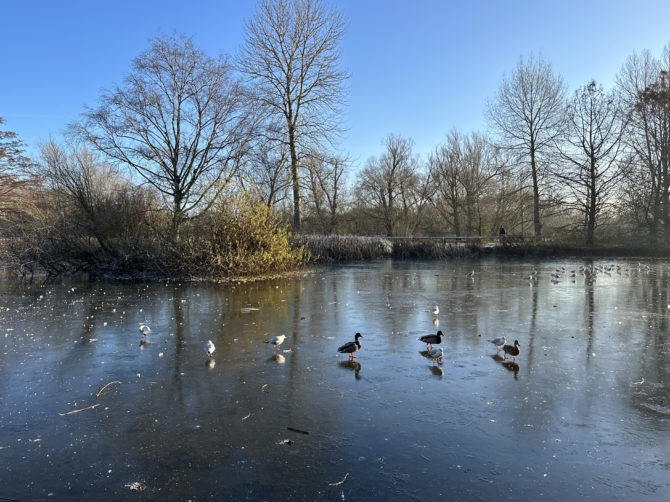 I've been to Oxford a few times on short visits, but this time we roamed slightly further than the "picturesque streets" and "historical landmarks" (thanks, GPT3) of the city centre. In particular, we loved the picturesque winter vibes of University Parks, which were further enhanced by staying within the expansive grounds of St Hugh's College, which Randi discovered offers its student accommodation as a relatively cheap bed for the night (at least during the holidays) and also throws in a hot breakfast in the dining hall the next morning. Would recommend.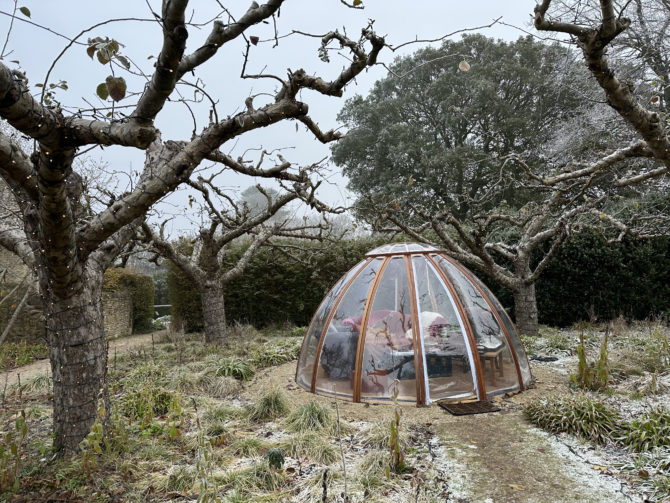 Anyway – if you have infinite money, I'd also recommend Le Manoir because it was rather nice. The dinner itself was incredible, as you'd expect, but – just as importantly – our waiter made us both feel relaxed and was happy to chat about his experiences working there. My only regret was that by the end I was too full for the optional bonus cheese course. Fortunately we could opt for room service breakfast the next morning (plus the FT), which was carried in on an enormous tray and contained a number of bonus items which its bearer (correctly) judged would make "nice additions" to the meal. We agreed.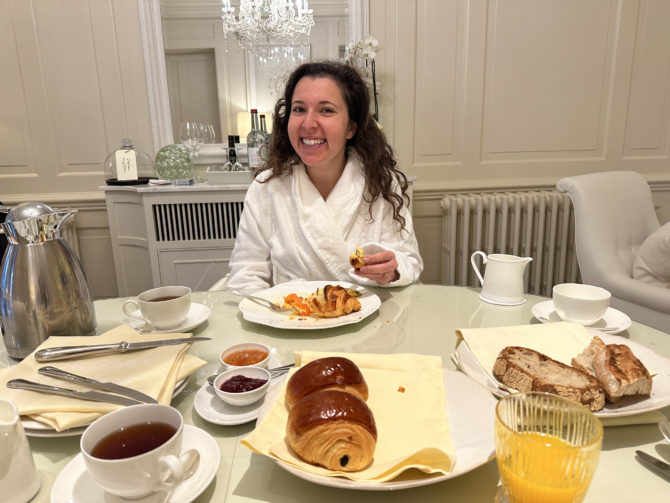 I do realise that you're supposed to expect an ultra-luxury hotel to be nice but we still felt very grateful for everything we received there, including the warmth and friendliness of the staff. And I was also pleased that they weren't so fancy to not stock a selection of nearby walks for us to pick from on Sunday morning, allowing us to walk off some of Raymond Blanc's cooking by meandering along snowy country roads through various pretty villages before making our way back home again, 'bon voyage' bag in tow. (If this all feels a bit like an influencer post, I apologise. Standard disclaimer: we enjoyed a free stay at Le Manoir, but all thoughts, opinions and greedy bites of their complimentary lemon cake are my own.)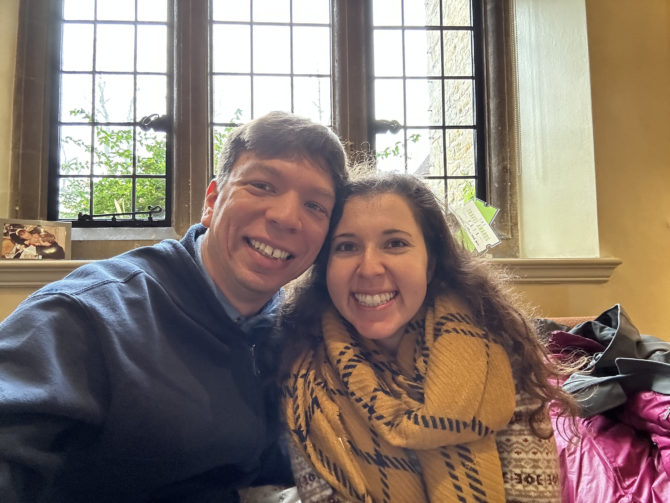 Back in the real world, December has been packed with fun stuff. While Randi was gallivanting in Edinburgh I went along to our neighbour's primary school Christmas fair with Angela and her family, which was delightful (a) because I'd heard a lot about them already, and (b) because it's hilarious how immediately recognisable any primary school hall is, from the climbing frame to the little red handheld beanbags.
I also spent a lovely morning in West Hampstead with Josh, Anna and Cora, attended a high-spirited work dinner (in which I learnt everything there is to know about Rutland) and chatted away merrily at the office Christmas party. Since my team is mostly outside the UK, we also enjoyed another virtual board game night to celebrate a productive and successful year (7 Wonders: Architects was particularly fun!) although, as usual, the only way to beat Kira is to choose a game like Ticket to Ride which she's never played before… and even then, it was too close for comfort.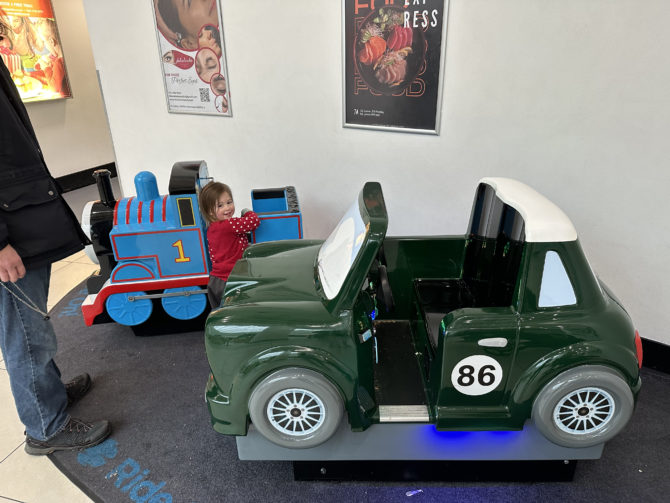 Meanwhile, Randi and I briefly hosted Esther on the first snowy night of December, who rather magnificently managed to arrive on the last train before they all stopped. One Sunday afternoon we also played at being proper grown-ups and went along to one of our neighbour's Christmas gatherings for mulled wine, cheese and controversial cocktails. The couple who hosted have a good neighbourly track record, having successfully organised the installation of some bike storage along with the planting of some street trees earlier this year, and I'm really excited to see the latter grow next year.
But on top of all that, two huge pre-Christmas highlights of December were going to a couple of live shows! You've almost certainly heard of the first one, Six, in which the six wives of Henry VIII reclaim their narratives through an 80-minute musical/pop concert of catchy songs, historical revisionism and dirty jokes. I've wanted to see this for ages, ever since Spotify snuck one of the tracks into my Discover Weekly playlist, and it didn't disappoint. The tone is fun and light-hearted – Hamilton this ain't – but it really works, especially if you grew up in the British school system. And of course I've had the album on replay for the last week.
Even better, though, was A Sherlock Christmas Carol on Christmas Eve Eve. This is, as the name suggests, a mashup of Dickens and Sherlock Holmes, which is a sentence so laser-targeted at me that I bought tickets as soon as I read it without reading anything else. Everything is woven together perfectly, with some lovely touches to knit the universes together (the boy Ebenezer Scrooge pays at the end of A Christmas Carol to fetch the turkey for Bob Cratchit turns out to be a young Watson) and excellent performances from the cast throughout.
With the Christmas spirit well and truly unleashed, everything was set for our family's annual gathering at my mum's. As usual, we played games (Shout Out, Balderdash & Sushi Go Party) and continued our new morning tradition of Secret Santa on the big day itself (many thanks to Cormac for my gifts this year!), followed by a stupendous lunch at Carolyn's, a format-bending edition of the infamous Christmas Quiz and a closing party game of Empires which Tash introduced us all to. The next day, my mum was inspired to make tacos for a Boxing Day brunch – if this turns out to be a new tradition, I'm definitely not complaining – before we set off for Hampstead Heath.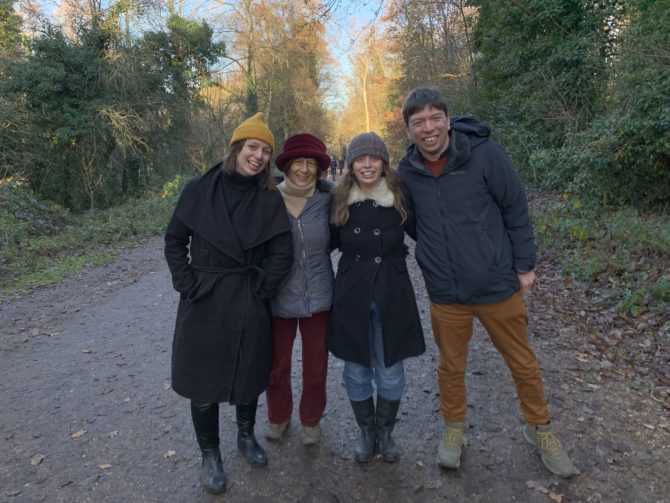 If you're a regular reader – and let's be honest, I don't think anyone is picking up at this point – you'll know that this is usually the week that I churn out my annual reviews and roundup of the year's books. Everything was all planned out for a mammoth blog-writing session yesterday, with Randi having safely departed in an early morning cab for a solo trip to New York and Chicago to see friends. And then, in a single gatecrashing text, came some very exciting news: Nolan and Rebecca had just flown into town that very morning, and did I fancy a pint? Hell yes.
A few hours later we were gathered around a pub table in Camden with their wonderful friends Celia and Parrus, swapping life updates and lots of laughter after a multi-year gap. It may have cost me my blog writing timetable (and therefore some spillover into 2023 – sorry!) but it was worth it for such an unexpected and delightful reunion. I hope that you've all had a chance to spend some time with people you love over the holidays, and I hope you've enjoyed "our December update" for 2022.