I realise these blog posts have fallen into a monthly cycle, which was never the intention! Last time I included a photo of us all at my mum's house enjoying a farewell meal before she packed up and left for Exmouth… but as it turns out, there have been quite a few bonus farewells at my mum's since then too. So, a roll call: The One With Beth & Stewart (plus Tash & Cormac as they were just about ready to leave on their amazing world travels), The Brunch One With Sharon (my beloved American adopted-godmother who was treated to lots of arguments over the US constitution plus a trip to the dump Brent Re-Use & Recycling Centre, which are two things everyone wants from their holiday) and last night's The One With The Neighbours, at which we learnt simultaneously terrifying yet impressive things about how one of us (not me) once caught a rat using a safety pin and some blu tack.
Back in early October, Randi and I were also very excited to celebrate Cora's third birthday at a rainbow/unicorn/cat-themed party, at which at one point I became the object of a hunt across the garden by an ever-increasing band of young children. That afternoon, Randi and I meandered back home via Brockwell Park (we miss you, Brockwell Park) in order to go back to the Turkish restaurant Saray (we miss you too, Saray) for dinner with Randi's parents.
A weekend later, after Beth and Stu had jetted off to Spain and Portugal, I spent the Saturday visiting Exmouth with my mum to see her fancy new seaside home with my own eyes. Not only is it a lovely place – with amazing views! – but I also got a chance to chat to the current owner about the oh-so-casual fact that she was part of a world-record beating rowing team which rowed across the Atlantic.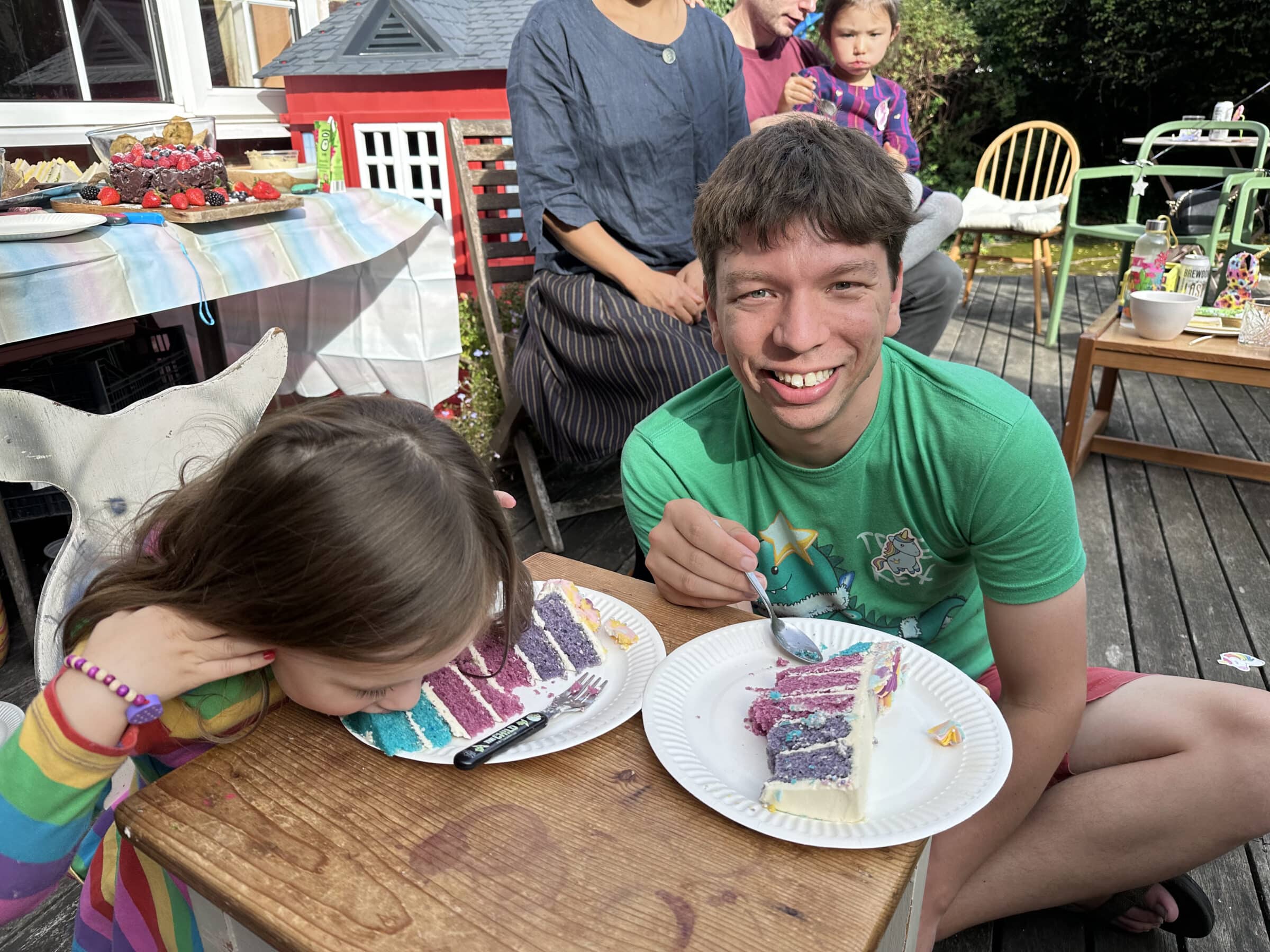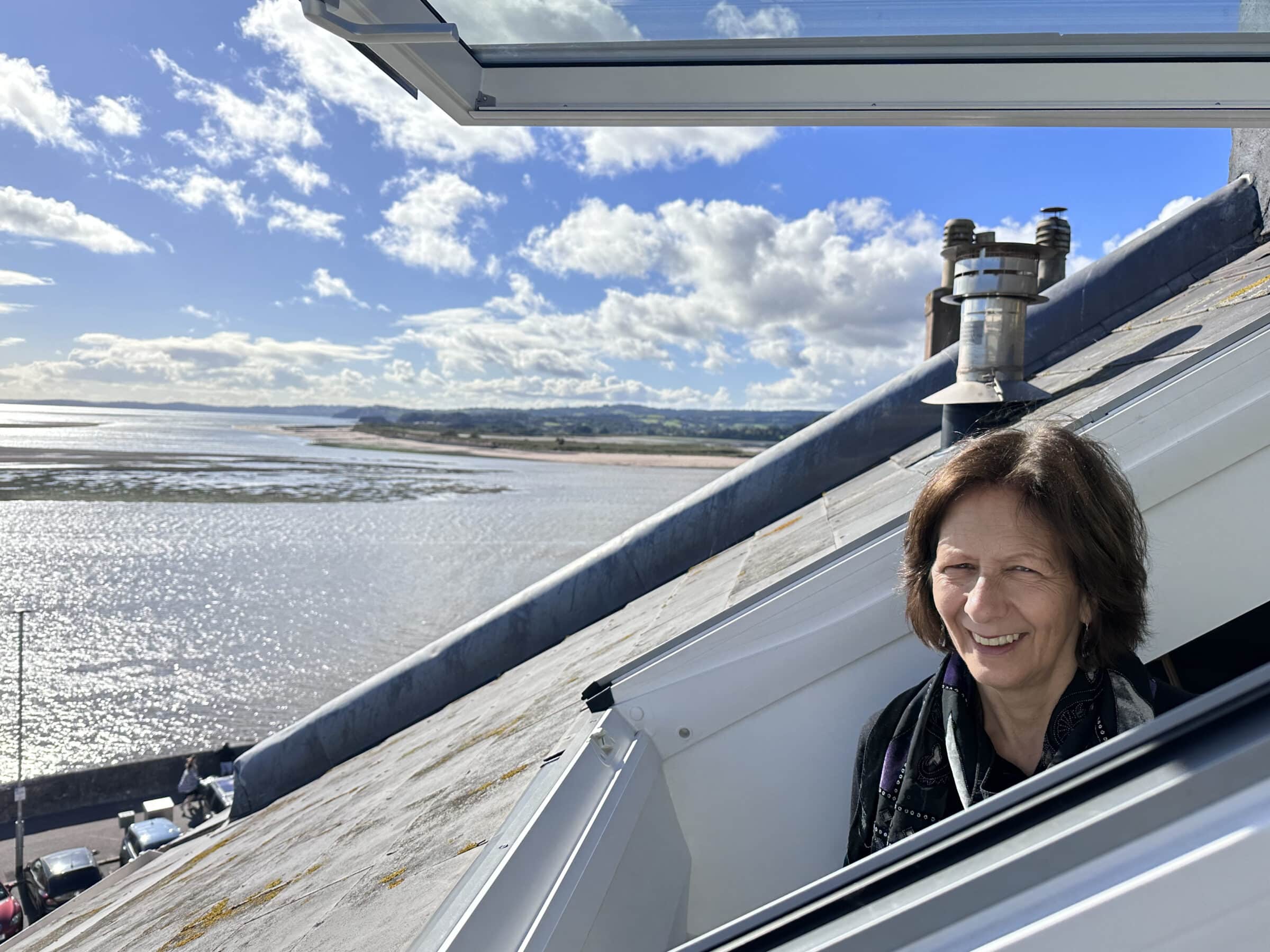 Last month I also caught up with Matt and Clark at a pub in Hackney, where together we solved all manner of global problems before I managed to catapult a halloumi wrap into myself. I was also very excited to stay overnight in Chelmsford with Abbi (with whom I will always share wine and product manager woes), Rob (who cooked us all a delicious curry dinner and then breakfast the next morning) and Jack (who was super-fun to be around as well as patiently answering all of my Pokémon-related questions).
As a surprise one evening, Randi also took me to Immersive 1984, an immersive theatre experience based (obviously) on Orwell's novel. There are many, many things to say about this. Firstly: it's set in Hackney Town Hall and a large chunk of the performance took place with us sitting inside the actual council chamber itself, which was a great deal more majestic and impressive than I typically picture English local government to be. Secondly, it really sharpened my concerns that in a totalitarian state Randi is going to get us both killed with her stubborn truth-telling tendencies. And thirdly – without being too spoilery – there was an incredible moment of accidental hilarity near the end where the audience were all asked to volunteer to carry out a brutal and obviously immoral act. Most people sat uncomfortably, looking around at each other, but one guy stuck his hand high in the air with a self-knowing grin, prompting the woman he was with to put her head in her hands with embarrassed mirth. Thanks for taking one for the team!
But the highlight of October was definitely last weekend's three day triathlon (© Robyn) of family events, kicking off with a big celebratory lunch for my aunt Carolyn's very well-deserved CBE. It was especially wonderful to see the Canadian branch of the family (Josh, Cindy and Isaac) in town again, plus I enjoyed some great conversations over lunch with Advia, Tessa, Jackie, Sharon and others. Afterwards, Katie joined me and Randi's family for an elongated wander around Kensal Green Cemetery (elongated only because one of the gates was unexpectedly locked!) before the four of us walked down to Shepherd's Bush to see Elephant. This is a semi-autobiographical one-woman show about race, class and Empire, written and performed by an extraordinarily talented Anoushka Lucas who sings, plays the piano and gives a powerfully physical performance throughout.
Then it was back home to rest in preparation for the big event on Saturday: Alix and Adam's long-awaited wedding! All of the people above – plus many more – were there in Hammersmith to cheer and dance and celebrate together – so hats-off to Alix and Adam for providing a 'menu of people' cheat sheet over dinner as a quick-reference to everyone else in the room. Everyone had so much fun together, and many of the people who couldn't make this last-minute wedding (12 years in the making but only 12 weeks in the planning!) were represented in spirit in a big-screen video montage. Particular highlights for me included: the spectacular brass brand, the beautiful speeches, the saxophonist accompanying the DJ on the dancefloor and the very tasty Victoria sponge wedding cake.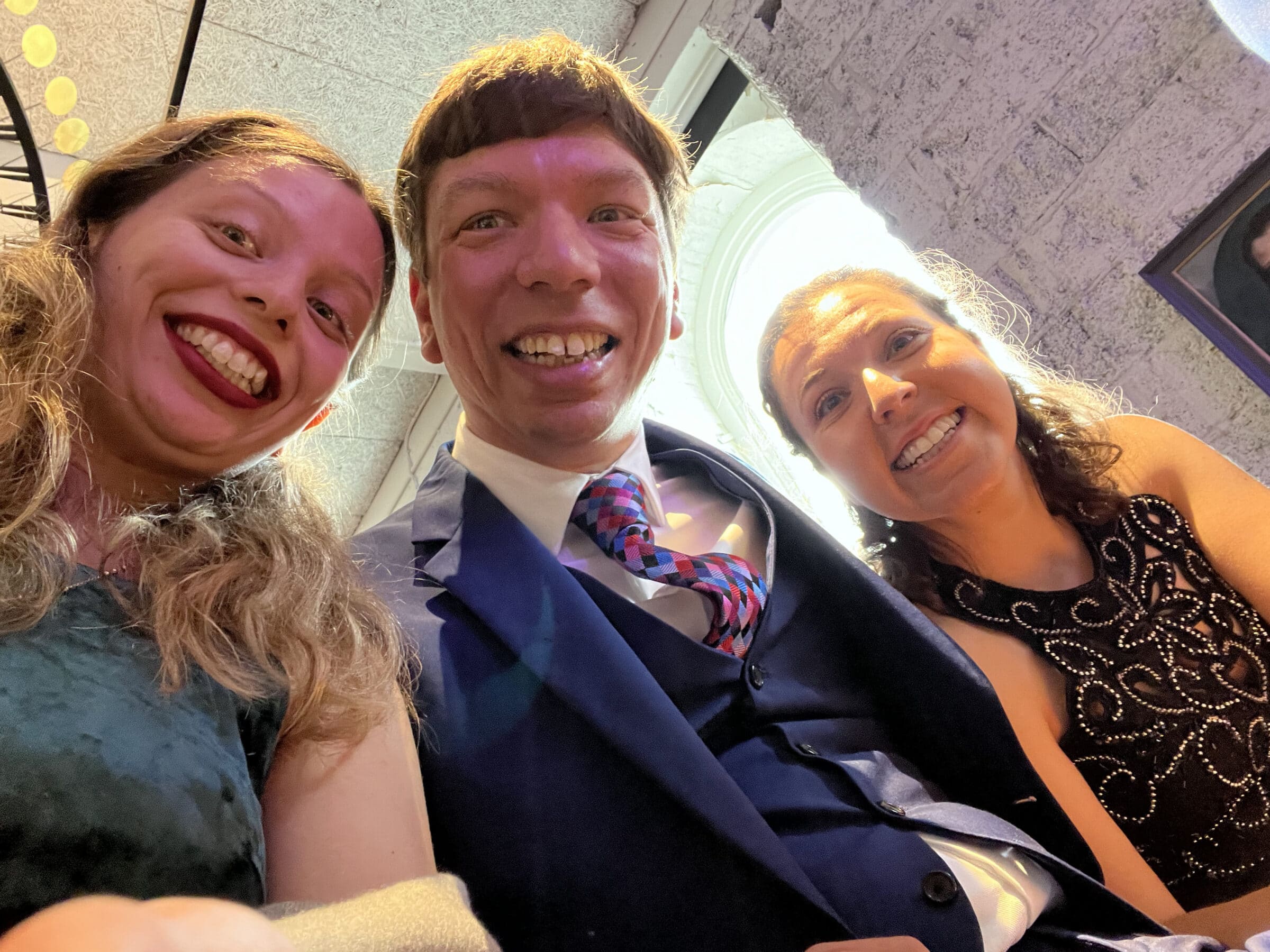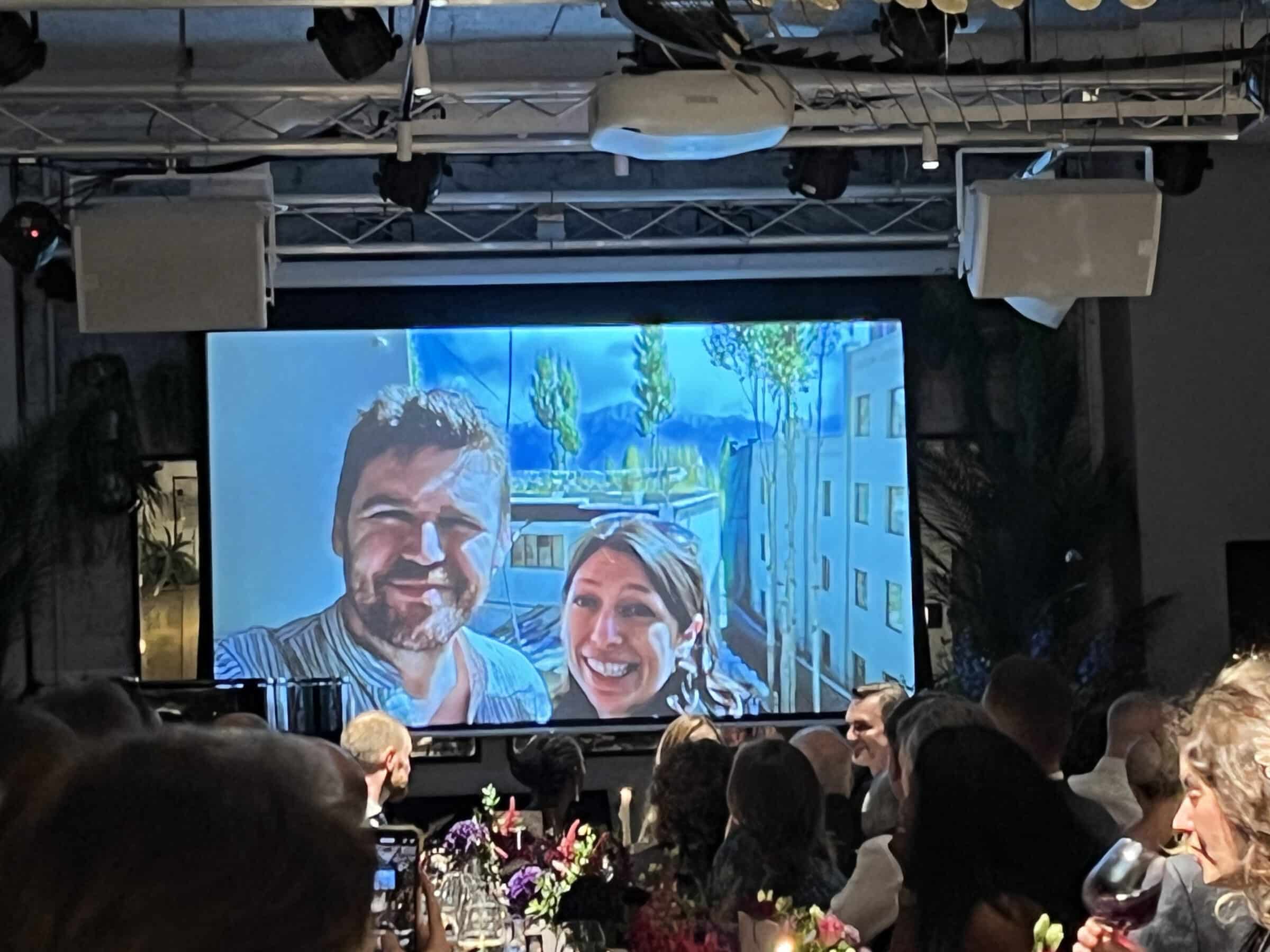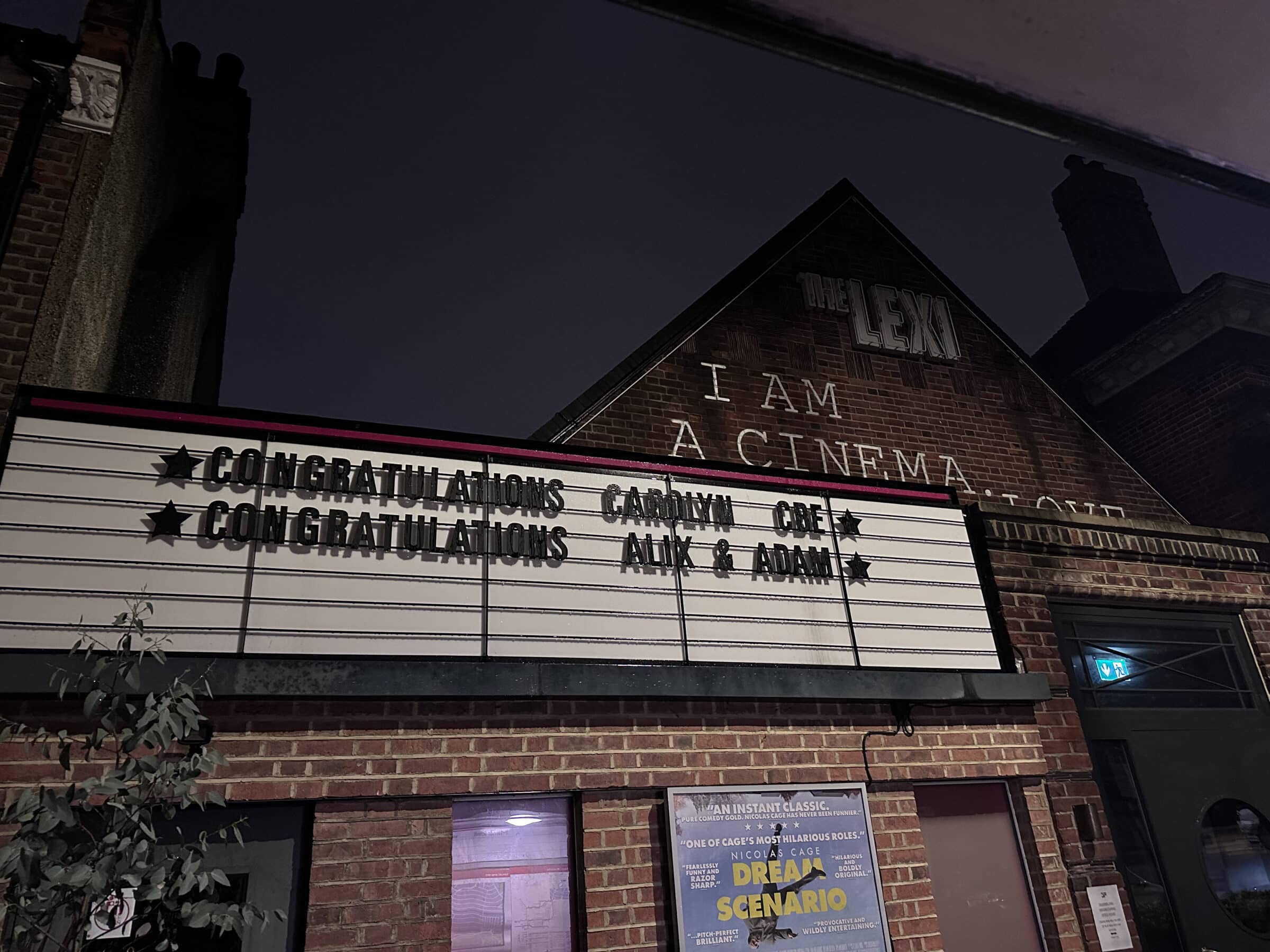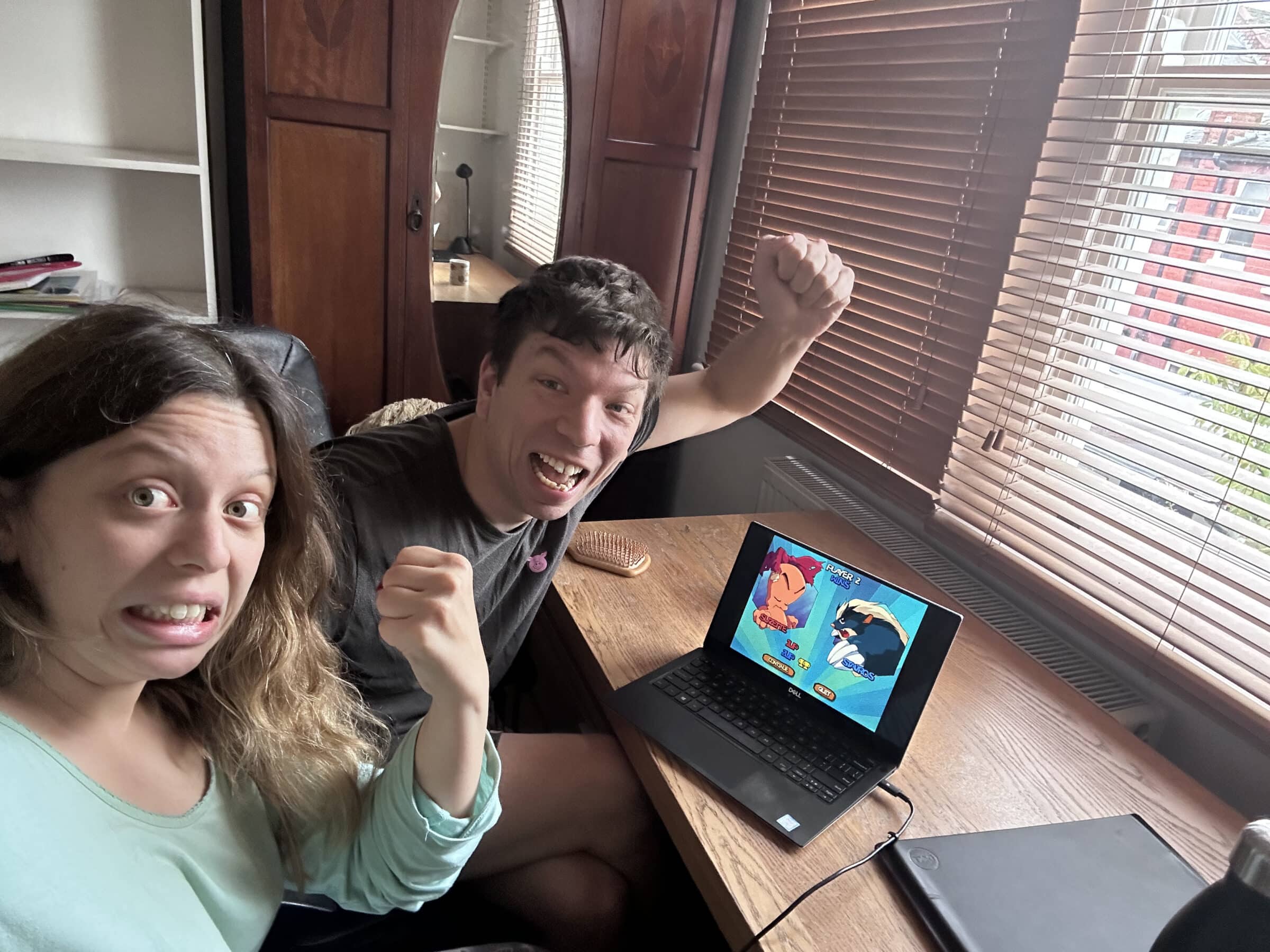 As you can see, I hung around in North London for a bit after the wedding, staying overnight at my mum's (really making good use out of it while I still can) along with Katie and our American cousin Sharon (but not the American adopted-godmother Sharon from earlier). This meant that Katie and I got to engage in some classic Worms Blast action in the morning – which I miraculously got running again on my laptop – before heading over to Carolyn's official post-wedding Sunday lunch, where there was quite some variation in hangoverness.
I wasn't hungover, but I was tired – and yet it was important to muster some energy for the afternoon because Randi, Beth and I had an important date in the diary: The Gunpowder Plot. This is another immersive experience running in London, which was a birthday gift from Tash & Cormac and takes place in the vaults beneath the Tower of London. I was both excited and a little nervous (there is such a thing as too immersive) so was relieved when our group included a boisterous set of kids who could take the lead on deciding whether or not to assist Guy Fawkes with his treasonous plot. Quite a lot of the script – which takes place across a mixture of VR and real-world actors while moving from room to room – aims to ignite an ethnical debate about 'terrorism vs. freedom fighting'. Rest assured that none of the 8-year old boys with us had even a glancing interest in this question, and just wanted to blow stuff up as quickly as possible. Fair enough!
The VR stuff was fine – especially at the end, when there was a brief amount of full 360° immersion – but the in-person interaction with the actors was better. Also, I was very amused at the mum who suddenly realised during the 'intermission' at a seventeenth century tavern (contactless cards still accepted) that there probably wasn't any minimum drinking age in 1605, but sensibly resisted trying to put this to the test. For me, the most daring piece of immersion was being forced to hide in a priest hole at a Catholic safe house – alone, and in the dark – while the King's agents raided the place. For a piece of touristy entertainment with lots of families involved, they didn't pull their punches.
Finally – this week, Randi and I enjoyed a celebratory Georgian dinner at Kartuli, while the night afterwards Randi cooked up a batch of cheesy pasta for Reema and Sam while we all drank wine and argued about the 'right' way to do trick or treating. (This year, as every year, I refused to give out treats until at least one child in the group was brave enough to ring the spooky doorbell with the dropdown spider and deep bellowing laugh. Those are just the rules.)
See you next month…? [Editor's Note: Yes, of course there are more photos from the wedding. But if I waited to get my hands on them it'd be 2024 before I could post anything.]