Hello from the 17.34 service from Glasgow Central to London Euston. It's a long journey, but I'm taking advantage of my seat with an odd little work table (room for a laptop, but slotted in snugly behind the luggage rack) to try and clear out my extensive backlog of September blogging material.
From our long list of possible anniversary dates, Randi and I have two to choose from this month. Early on in September we celebrated the anniversary of our very first date by going to Babur, while 24th September marked one whole year since we dragged everyone up to Hereford for our big, beautifully sunny (second) wedding day.
The weather was similarly sunny when we journeyed up to Josh and Anna's one Saturday for a back garden brunch, followed by a lot of playtime in the paddling pool and (most importantly) a chance to teach Cora to chant "Naughty Aunty Randi!" whenever she did anything objectionable and/or I needed to deflect blame from the consequences of my own actions. So, to summarise for anyone who has (presumably jokingly?) asked how married life is going… it's going great 😀
As my mum will soon be moving out of London, we hung around North West London for the rest of that weekend to spend time with her, help a little with the clearout and do some panicking at the lack of spare storage space in our own flat to house the things I now needed to bring back from my childhood bedroom. On Sunday we were joined by Tash, Cormac, Katie and James for a 'farewell to the house' Sunday lunch, with chicken pie and mash to honour one of the staple weekend lunches of our childhoods.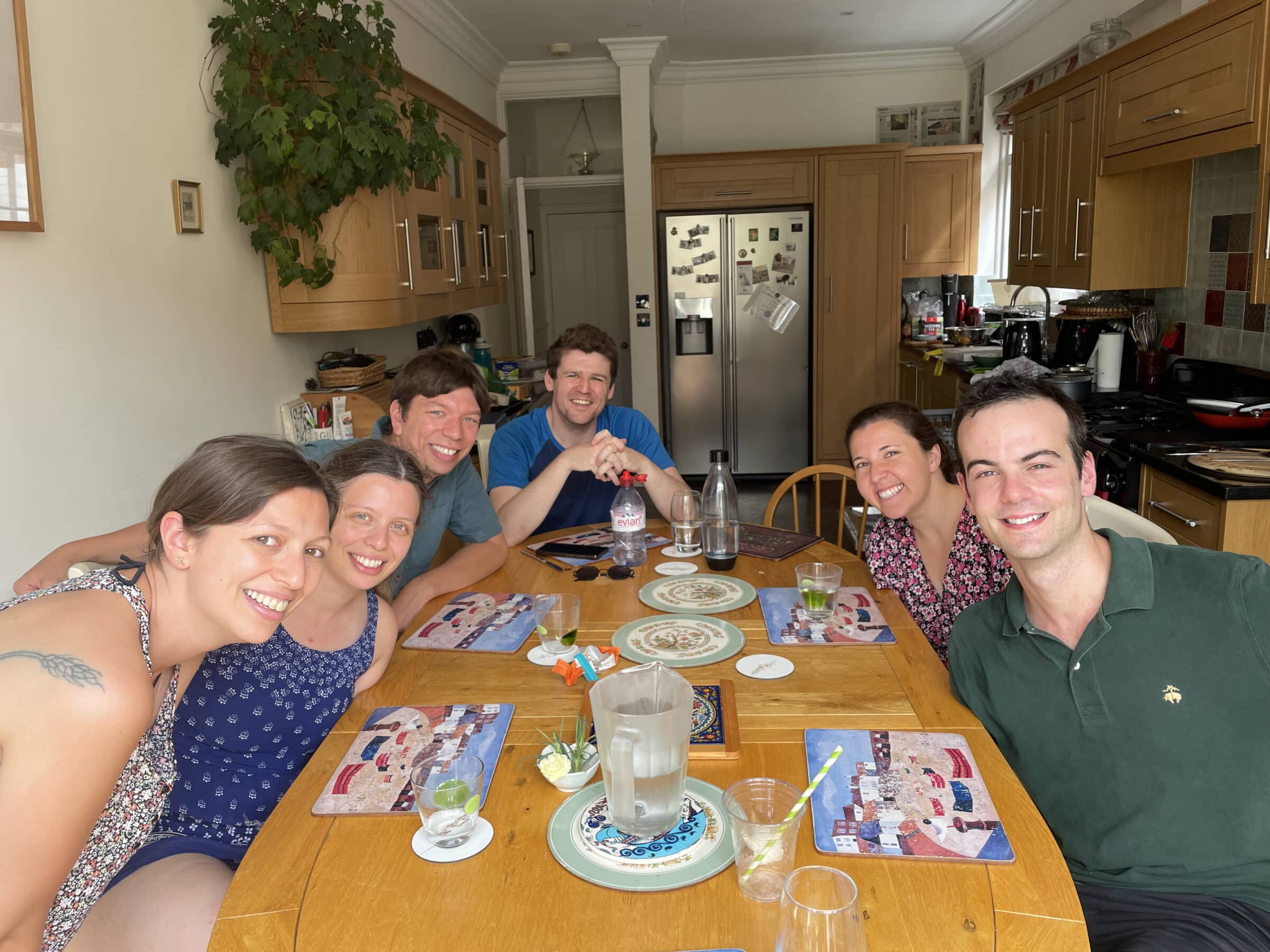 To be clear, I wasn't joking when I said that this weekend had thrown me into a furniture-related panic. Fortunately, Randi and I had already been planning to do something to turn our joint office into a real guest bedroom, so this gave us the impetus we needed to start ordering more furniture. As a result the following weekend, while Randi was safely away in Edinburgh, turned into a madly productive spree of furniture assembly… most of which was done relatively correctly, even though there was a moment around 1am when I was trying to manoeuvre a giant bookcase into place and wondered if I would get crushed in the process. Sam, who has been staying with us off-and-on this month, graciously became the first guest to try sleeping in the guest bedroom and check whether the bed would collapse overnight or not. It did not. Hurray!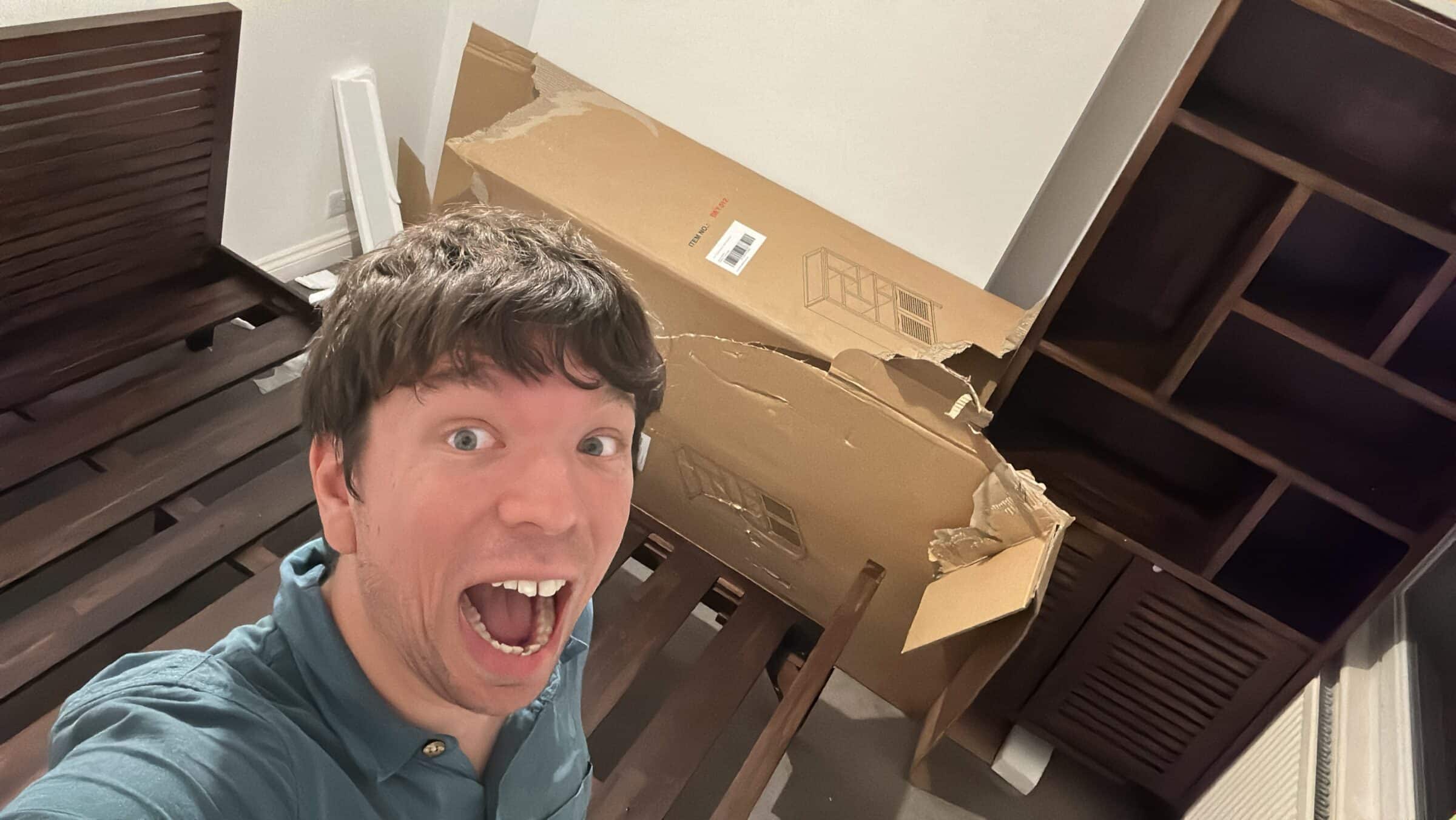 This month I also visited my Grandma, started watching State of Chaos with Randi (a recap of the last seven years of disaster and disarray in British politics, in which the relatively recent past feels like a lifetime ago), bade a very sad farewell to Jill at work and enjoyed a wonderful dinner with my mum, Randi and Melissa at a delicious Malaysian restaurant in Queen's Park which is apparently run by a former QPCS student.
Last week, Randi's parents also arrived in London. Sadly they picked the worst possible moment to attempt the 10 minute walk from Forest Hill station to our house, and so were welcomed back to the city with a hailstorm, but once they dried they were cheerful once more. On Friday night the three of us met up with Andrew and Bonnie for some excellent tapas, while on Sunday we met up with the rest of the family for an afternoon of tea and cakes hosted by Alix and Adam.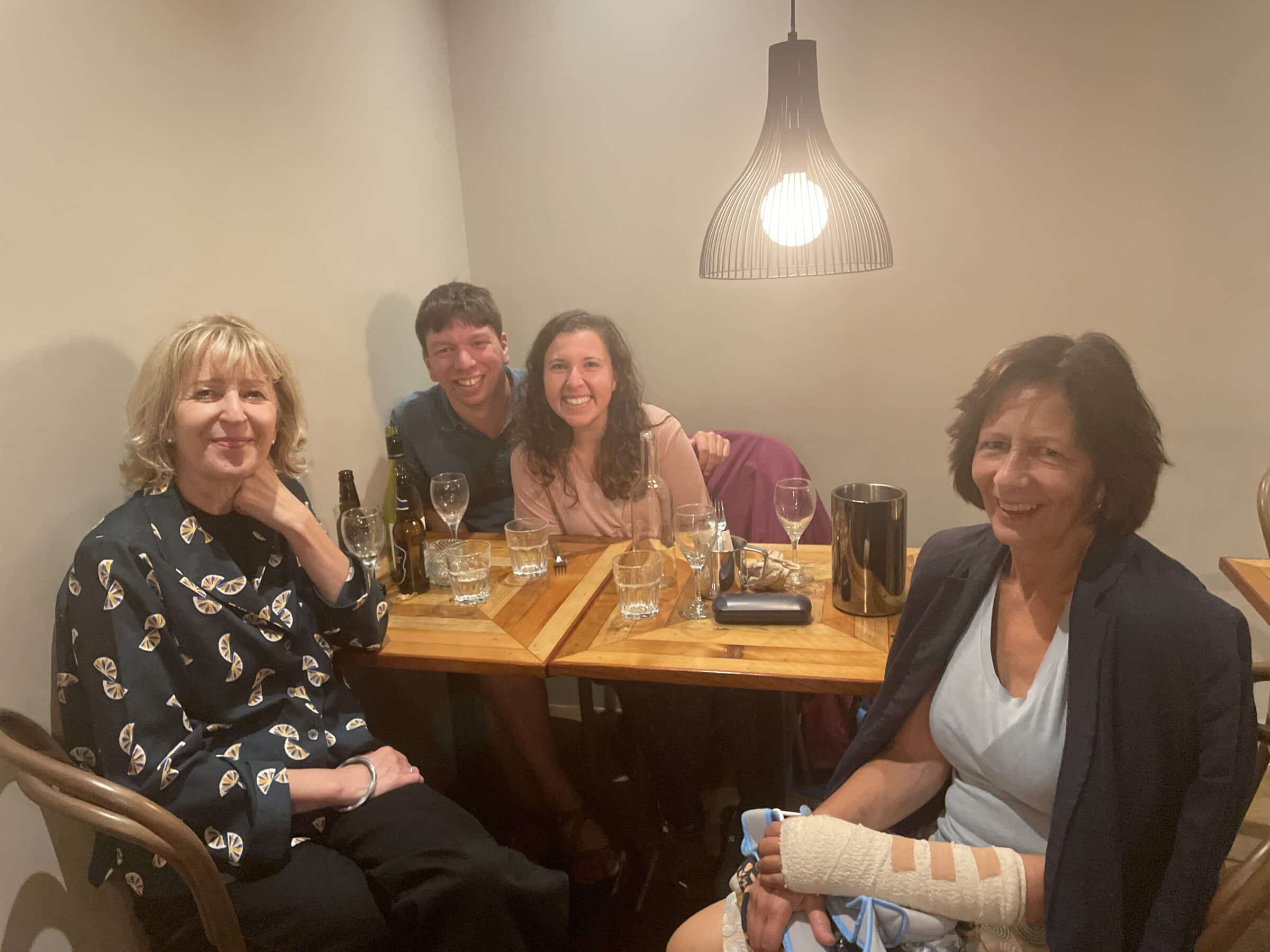 We've reached Penrith and I'm close to wrapping up the London section of this post, but first I also need to summarise the rather eclectic collection of shows I've seen in the last month:
Guys & Dolls at the Bridge theatre. This was a last-minute invite from mum to see a new production of the classic Broadway musical, of which I knew literally nothing about a vivid memory of that scene in The Simpsons about a song which (spoiler alert) "isn't even in the show!". Anyway, the Bridge Theatre version featured an immersive central stage in which all of the audiencegoers with standing tickets stood and mingled with the cast in a replica New York. I loved this, albeit I loved this from the comfort of our front-row seated tickets which I would not have wanted to sacrifice to contribute to the immersive effect in any way. The musical itself was an entertaining curiosity. Clearly it's from a very different time and place, with joyously unbelievable characters and a strange ending which seems to skip a couple of crucial scenes in the interests of time… but a good night out nonetheless. Even if they didn't sing that song from The Simpsons.
Unbelievable, a new magic show created by Derren Brown for which – in order to buy tickets – you must tick multiple boxes to reaffirm your understanding and agreement that Derren Brown himself does not actually appear onstage in the show. We get it! Who does appear is a troupe of actor-musician-magicians with a series of tricks and illusions. Some are definitely more successful than others but the overall evening is quirky and fun, with lots of audience participation, a Prohibition-era musical routine and a go-for-the-heart ending. I saw this with Tash and Cormac (after some great pizza sharing at Pizza Pilgrims) as a London farewell before they go travelling, and it was a really lovely night – even if we were all slightly paranoid that our every move was being monitored by the theatre for pseudo mind-control routines.
Finally, we saw Red Pitch at the Bush with Randi's parents after lunching at Shepherd's Bush Market. This is the story of three teenage boys whose friendship has been forged on their local football pitch in South London, and is remarkable for the fact that the actors are also kicking the ball basically nonstop throughout the entire 90 minute performance. It's also super naturalistic – probably too naturalistic, in fact, for my personal preference as, just like in real life, you only get hints about wider themes and character arcs. On the other hand, after the play I described it as "the boy version of Sleepova" (the first thing we ever saw at the Bush) and, just like that show, the acting is perfect.
OK, onto Scotland where I joined Randi and her parents this weekend for a day in Edinburgh and my long-awaited first visit to Glasgow. Originally I was supposed to get the train up on Friday evening, but thanks to my stubborn determination to see a work thing through I made an impulsive last-minute switch to (gulp) a nine hour overnight coach to Edinburgh, leaving at midnight from Victoria Coach Station.
The journey was… fine, I guess? It's true that I barely slept, arriving the next morning in Edinburgh looking like a zombie, barely coherent and in desperate need of a nap. But on the other hand, it was kinda reassuring to know that I'm not so old to have lost the ability to do this yet.
It was also well worth the sacrifice because we all had a great weekend together. Saturday in Edinburgh was a more relaxed rest/walk/recover/eat/sleep kinda day, but having come all this way I did want to experience a decent chunk of Glasgow before my train home on Sunday, and I wasn't disappointed. We arrived out of the station into George Square on the day of the city's half-marathon, which immediately gave everything a buzzy, lively air. From there, Randi had wisely booked us on a walking tour so we could quickly cover some ground, and our guide did a great job in orientating us with some of the basic history and culture of a place which prior to now I've known basically nothing about.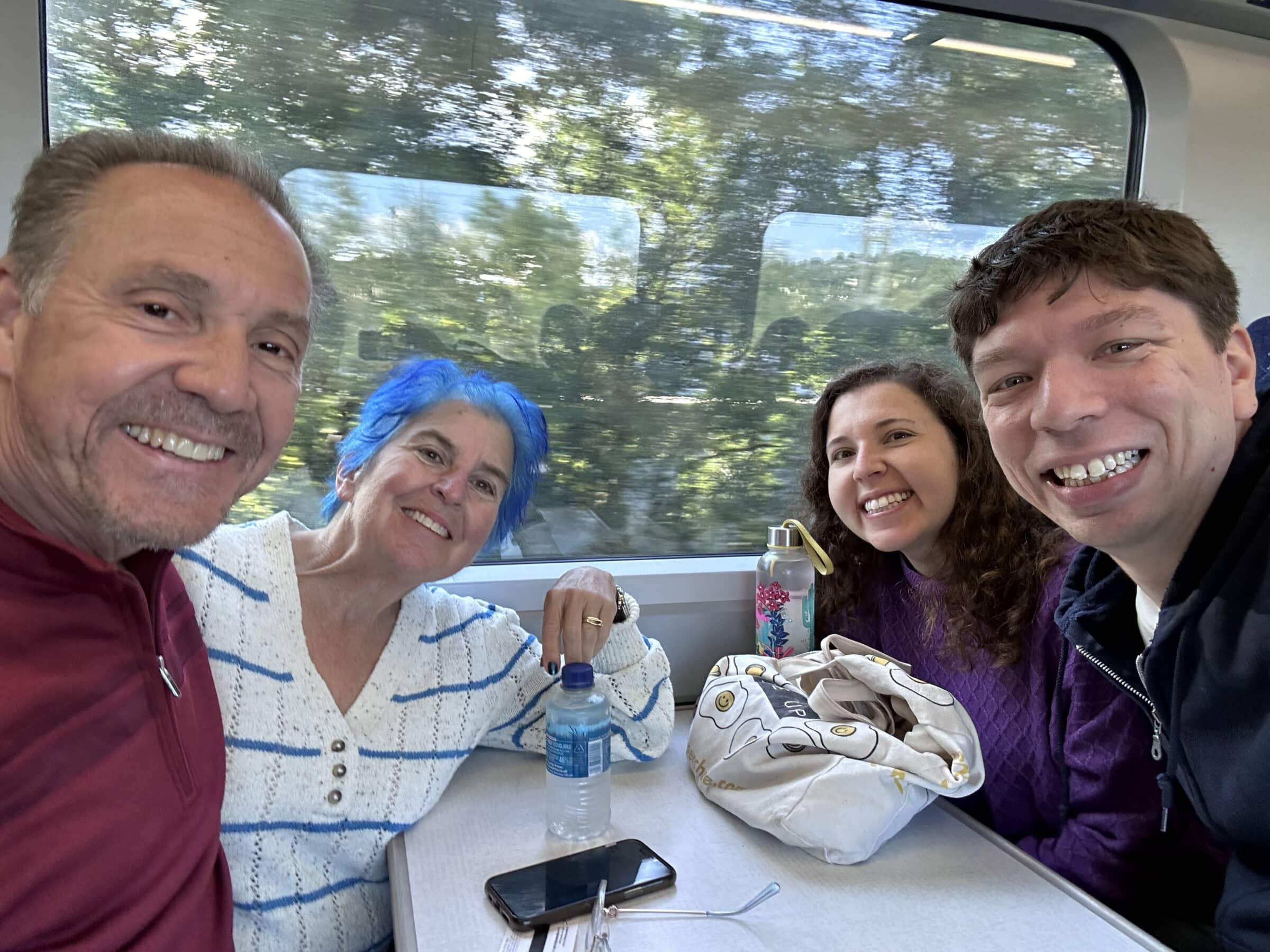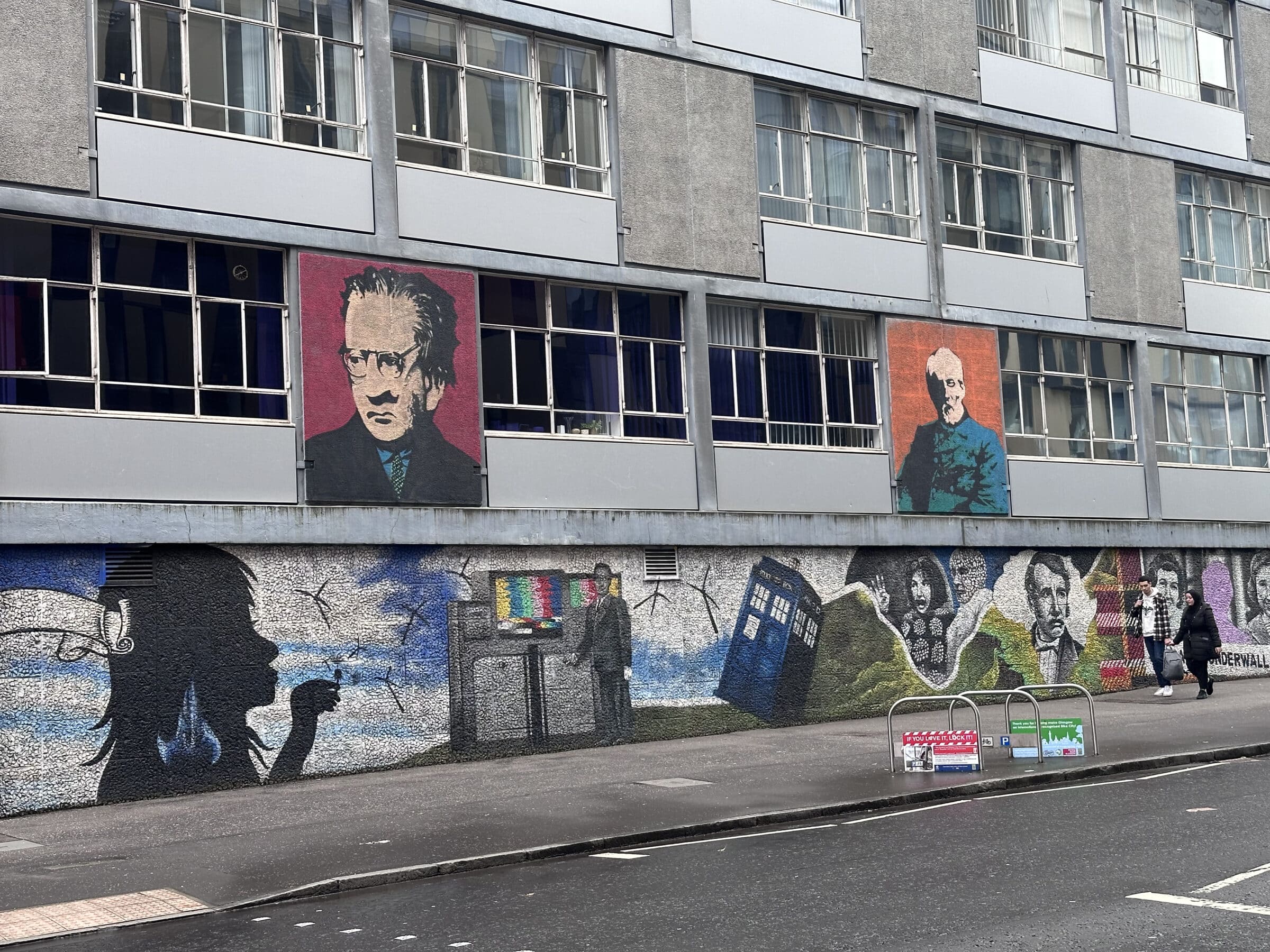 Of course, one thing I did know about Glasgow is that it's one of the three cities in the UK with a subway. So, naturally we had to make a point of riding it. The Glasgow Subway consists of a single circular loop around the inner city, which Glaswegians will try to tell you is "two lines" (one in each direction) even though, obviously, any subway line in the world can be ridden in either direction and by this logic London has 22 lines on the Underground. Nit-picking aside, the subway is delightful. It's actually the most Tube-like thing I've ever ridden (other than the Tube, of course) with small, tube-shaped carriages shuttling along. It's just a shame there isn't more of it!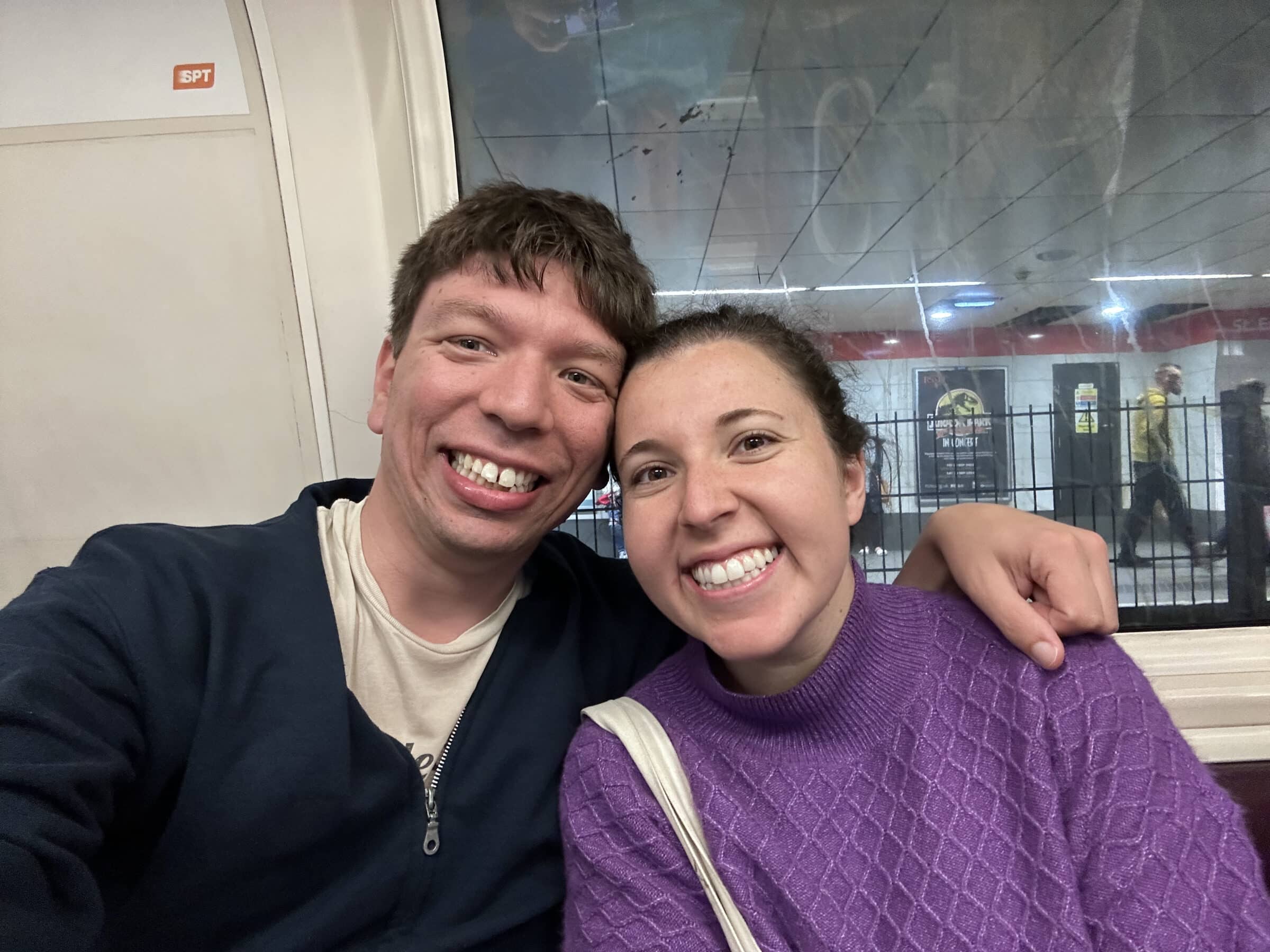 We got off near Kelvingrove Park and walked around the park and the area by the University of Glasgow, admiring the beautiful views on this surprisingly sunny day (given it's now October) and retrospectively approving of where Katie used to live before she left Glasgow. We also took Katie's recommendation to share a box of doughnuts from Tantrum Doughnuts before heading back into the city centre and going our separate ways. While it was only a brief visit, I was very impressed by Glasgow overall and would definitely be up for a return trip. But, for now, I will sign off with (*checks timetable*) a dispiriting 100 minutes left to go on this train. Next week, I will try and get more sleep…