We're back from our summer Chicago trip! The last time Randi and I visited the Windy City together was just after Thanksgiving 2021, so this was the first time since leaving in 2018 that I've experienced the city in its sunny, joyful, everybody-doing-things-outside mode.
Digression: on the flight there I took Kira's recommendation and watched Groundhog Day from 1993. I've used the term 'groundhog day' as a synonym for 'ugh, here we are again, stuck in this never-ending loop' for as long as I can remember, so it was weird to realise that this meaning (rather than the actual groundhog day tradition to predict the first day of spring) originated with this film and is younger than I am! Overall, it's a really fun movie about a conceited and curmudgeonly weatherman who inexplicably finds himself repeating the same day over and over again, and it makes me somewhat nostalgic and sad to live in a world where it feels like these mid-budget films no longer get made. To somewhat balance this feeling out, it should be noted that the 'sexual entrapment' angle of this already quite sexist film gets creepier and creepier as you go along, and so I am glad that this mid-budget film would no longer get made today in this particular way.
Also, hats-off to the hilarious moment where the mere knowledge of what an 'espresso' or 'cappuccino' might be is used to contrast bougie, urban culture with small town, down-to-earth America. The hipster frontier is always moving!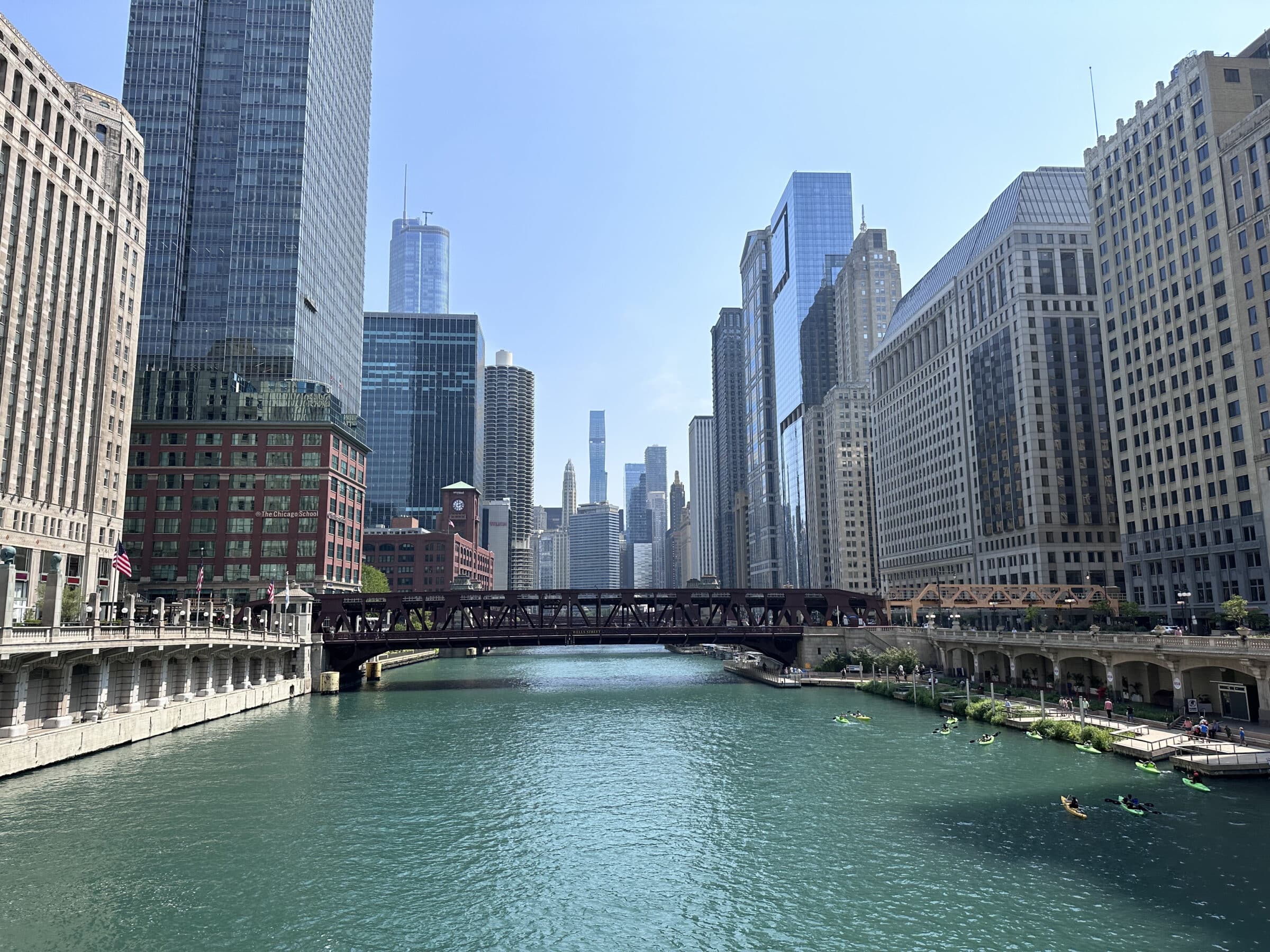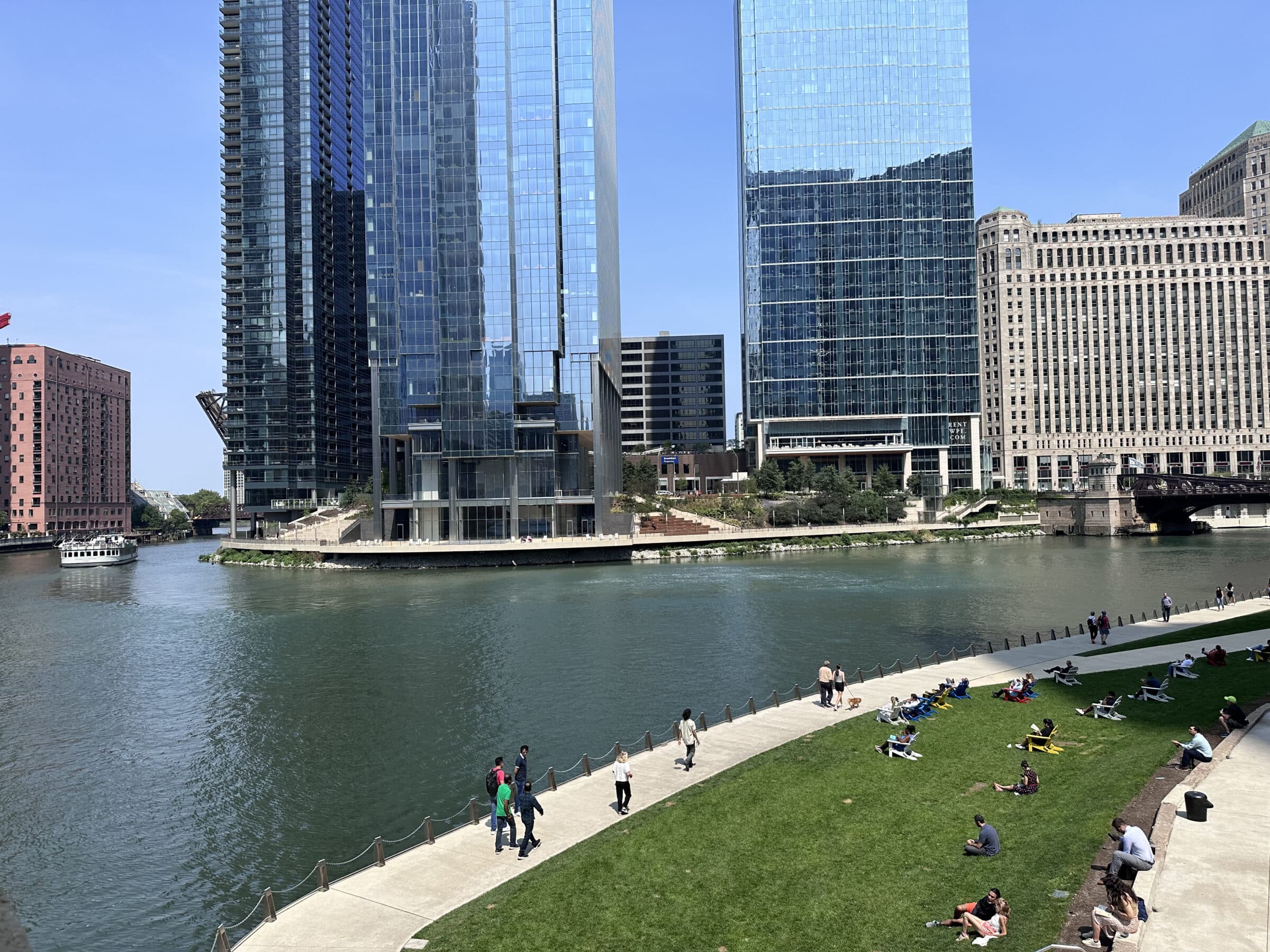 Anyhow, back to the epitomie of boughie, urban culture that is 'staying with Catherine & AJ and their toddler'. It's always so much fun to be with these three, and this time we really got to appreciate their local park – Winnemac Park – as well as our traditional Channel 4 documentary viewing; this time we binged through Sixteen, a series about Year 11s in Dudley sitting GCSEs (kinda) in the middle of 2021's Covid-era lockdowns. We also watched the first Republican debate, which was notable mostly for kicking off with a confusing and unnecessary indoor drone sequence.
Aside from an exciting tour of Jason and Carrie's new home, followed by a very fancy dinner at Parachute (Korean-American, sharing plates, controversial cocktails), we left our other Chicago reunions for the second week because we had a very, very exciting long weekend planned: a return to the Minnesota State Fair!
Catherine has been to every State Fair that she's been alive for, and surely a lot of this credit must go to her mum Juli (or mom, I guess) who very generously hosted us all in the suburbs of Minneapolis. (I'm not entirely sure how workable this is, but I think forming a book club with Juli is now a life ambition of mine.) While Catherine flew, AJ drove me and Randi up there in order that we could (a) revisit the authentic American roadtrip experience, (b) listen to some extremely violent conservative talk radio in the forlorn hope of hearing some Republican debate analysis (it was all about cultural Marxism instead) and – most importantly – (c) make a mandatory stop for burgers at Culver's. Yay for Culver's!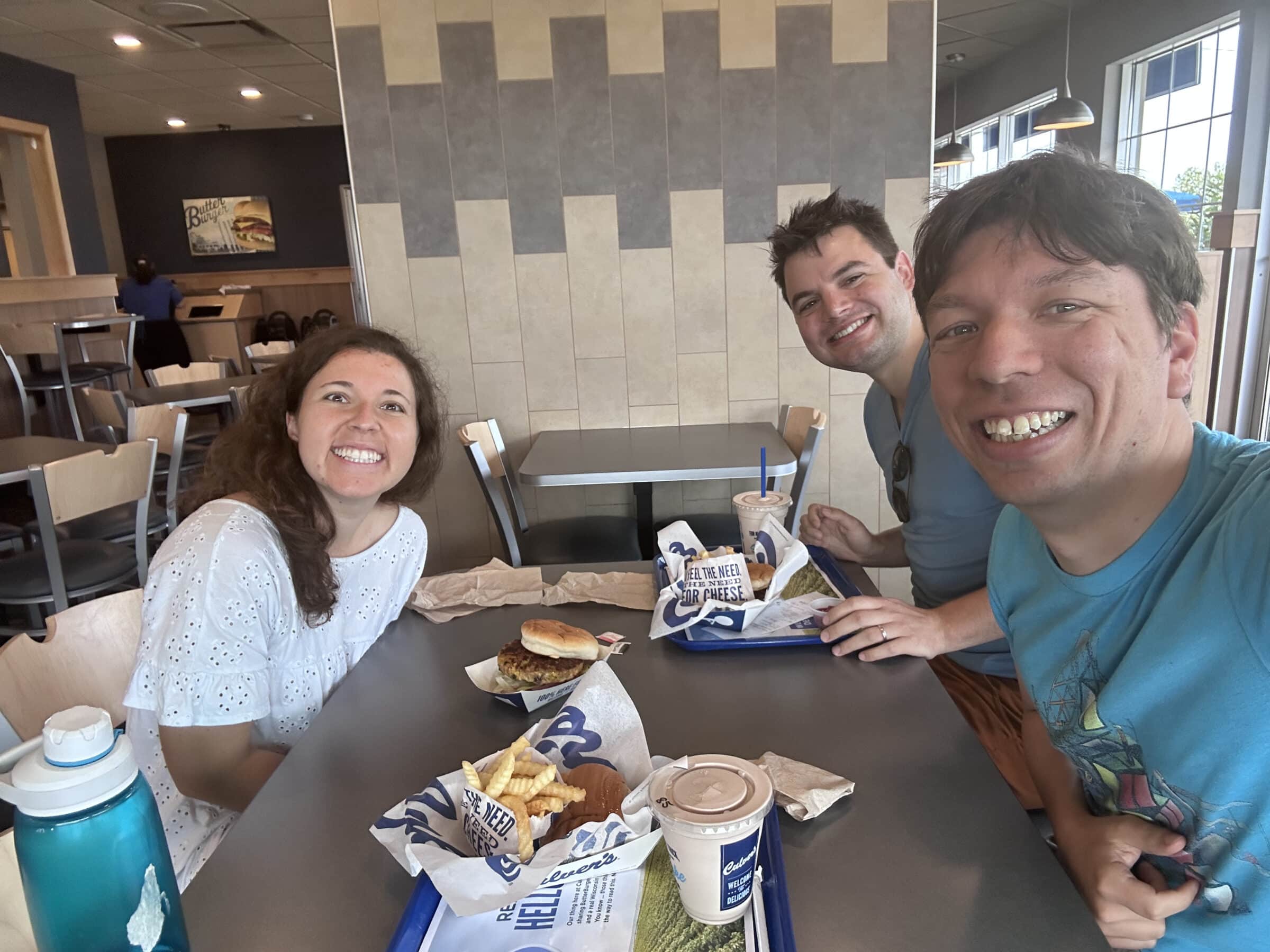 Anyway, when I wasn't staying up until 1am discussing books, we spent a solid majority of our two days at the fair. I've evangelised about the Minnesota State Fair to so many people in the UK, but mostly to bemused faces. So, to repeat, you should go. The food is incredible, and the best things – the cheese curds, doughnuts and cookies – really do come in buckets. On top of that, we tried a bunch of the 'new for 2023' offerings, including the bagel/croissant 'basant' hybrid and some delicious crab fritters. But we also enjoyed the craft beer, seed art, prize vegetable displays, lumberjack & lumberjill competitions, high school marching bands and overall intensely friendly and welcoming fair atmosphere.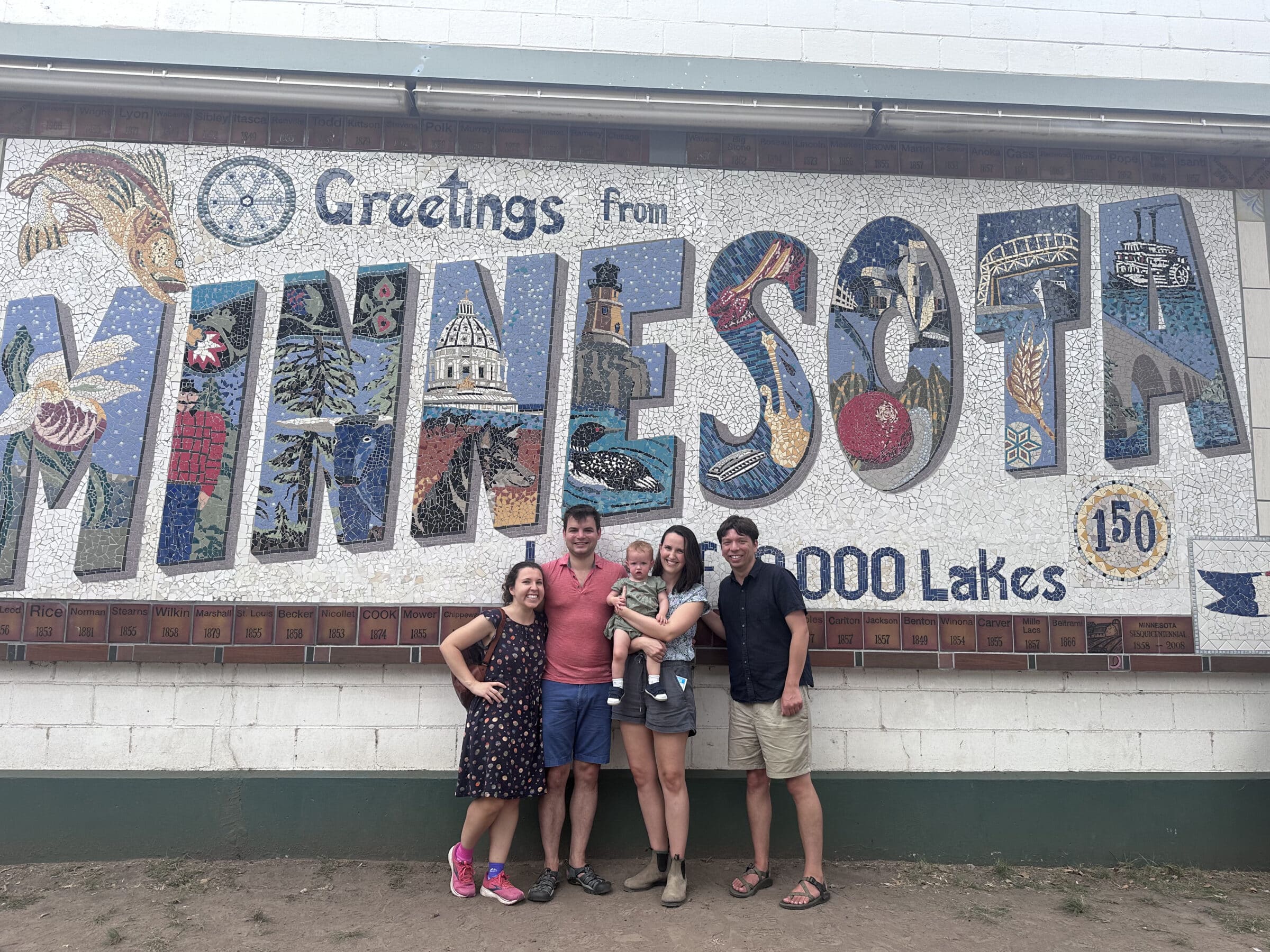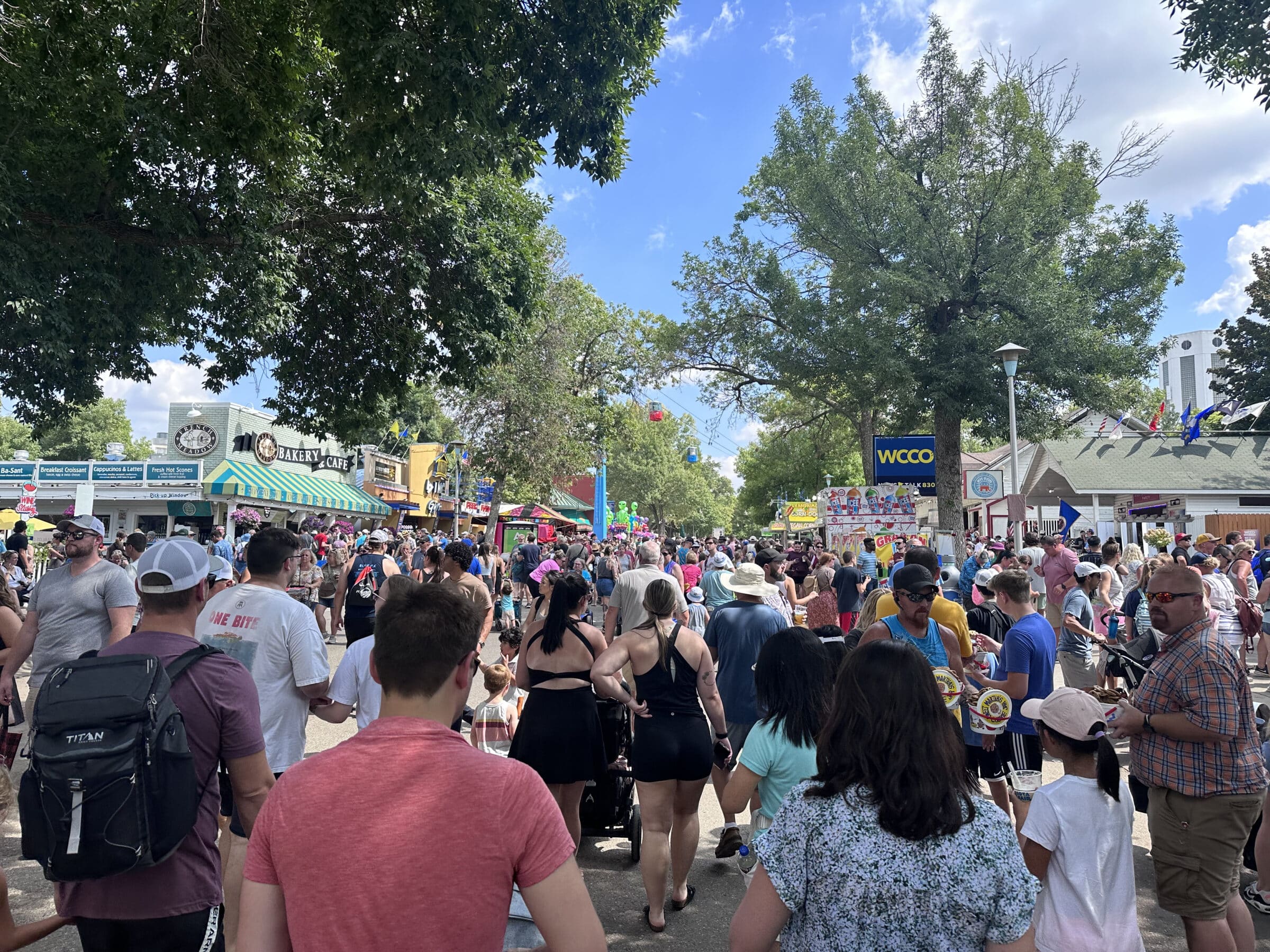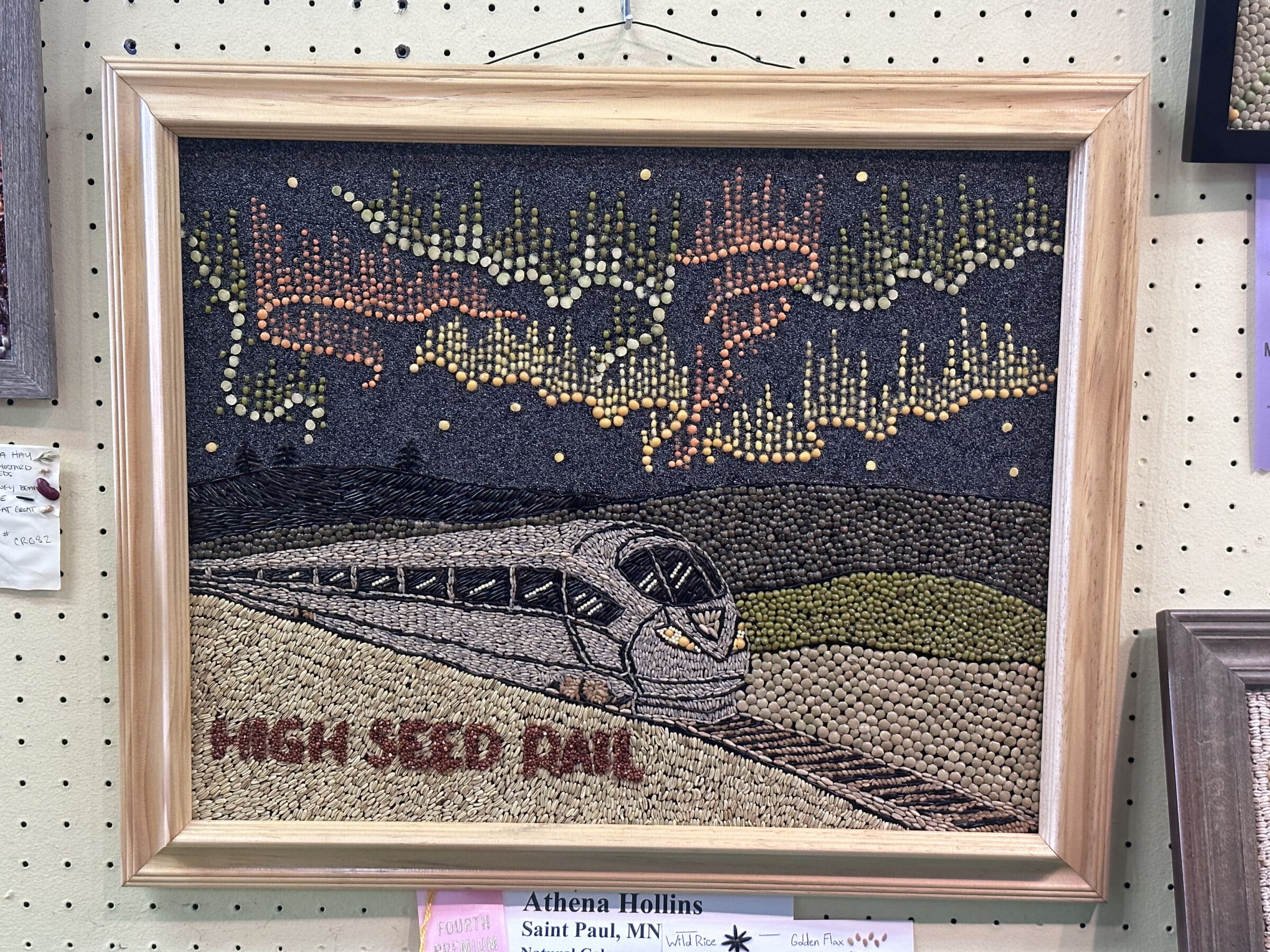 The other thing which really stands out to me about the Minnesota State Fair is the politics. As you can see, we had fun in the Democratic booth voting for our favourite Democratic Minnesotan policies with pieces of corn, but over at an entrepreneurial 'Dump Biden' stand other fairgoers were casting their own corn votes for their favourite Republican challenger to take on Biden in 2024. (Spoiler alert: the polls you read are all correct. They want Trump, again, and overwhelmingly so. I've seen the corn jars with my own eyes.) It's not all happy-go-lucky; in fact, even wandering into the official Republican booth now feels physically intimidating, especially when it's packed with t-shirts glorifying guns. But it's precisely because the cultural divide is so stark that at least seeing Americans enjoy a fair together is so lovely.
Talking of cultural divides: on Friday night, the four of us celebrated the end of our first day at the fair by going to see Barbie together. This had been planned for a while and I'd deliberately avoided a bunch of spoilers, which was great because I really enjoyed seeing the film's counterintuitive twists and turns through fresh eyes. This included the refreshing discovery that Will Ferrell's Mattel boss character wasn't just a straight rehash of Lego Movie boss, as well as the surprising unfolding of what the tagline ("She's everything. He's just Ken.) was actually all about.
It's all very good, very funny and very meta, and the only thing which gives me pause (aside from a general observation that audience applause in a cinema is always cringe) is that Barbie, unlike the Minnesota State Fair, will never reach across the US political chasm. And I'm not saying that because I think conservatives should watch it "to learn something" (although perhaps they should). Barbie is at its best when its skewering itself, and in a better world Republicans who can't stand American corporate culture would find a lot to love there! But in all likelihood they won't, because either they won't see it or they'll only hate-watch in a way which strips out all of the movie's nuance and humanity. (And let's face it, nuance and humanity are not really in vogue with that crowd right now.) This isn't Barbie's fault. But it still makes me a little sad.
Back to the fair and my final story from day two: I had expressed some prior interest in riding the super-cool giant spinny thing (the 'Skyscraper', if you want the technical name) but these hints generated zero uptake from anyone else in our group. Nonetheless, Catherine in particular decided that she was keen to see me ride the super-cool giant spinny thing (which, in her words, might also have included the word "horrific") so I paid for my ride tokens and joined the queue in the hopes that I would find another solo traveller. Happily, a young woman from Texas was also the only person in her group with an interest in flying through the air, and I was very, very grateful to be able to have someone to talk to during my least favourite part of the ride: the "be suspended very high in the air for an indeterminate length of time while new riders are loaded at the other end" phase. She also said she was pleased to have someone else to ride with, but had trusted that God would be looking out for her. Ah, America.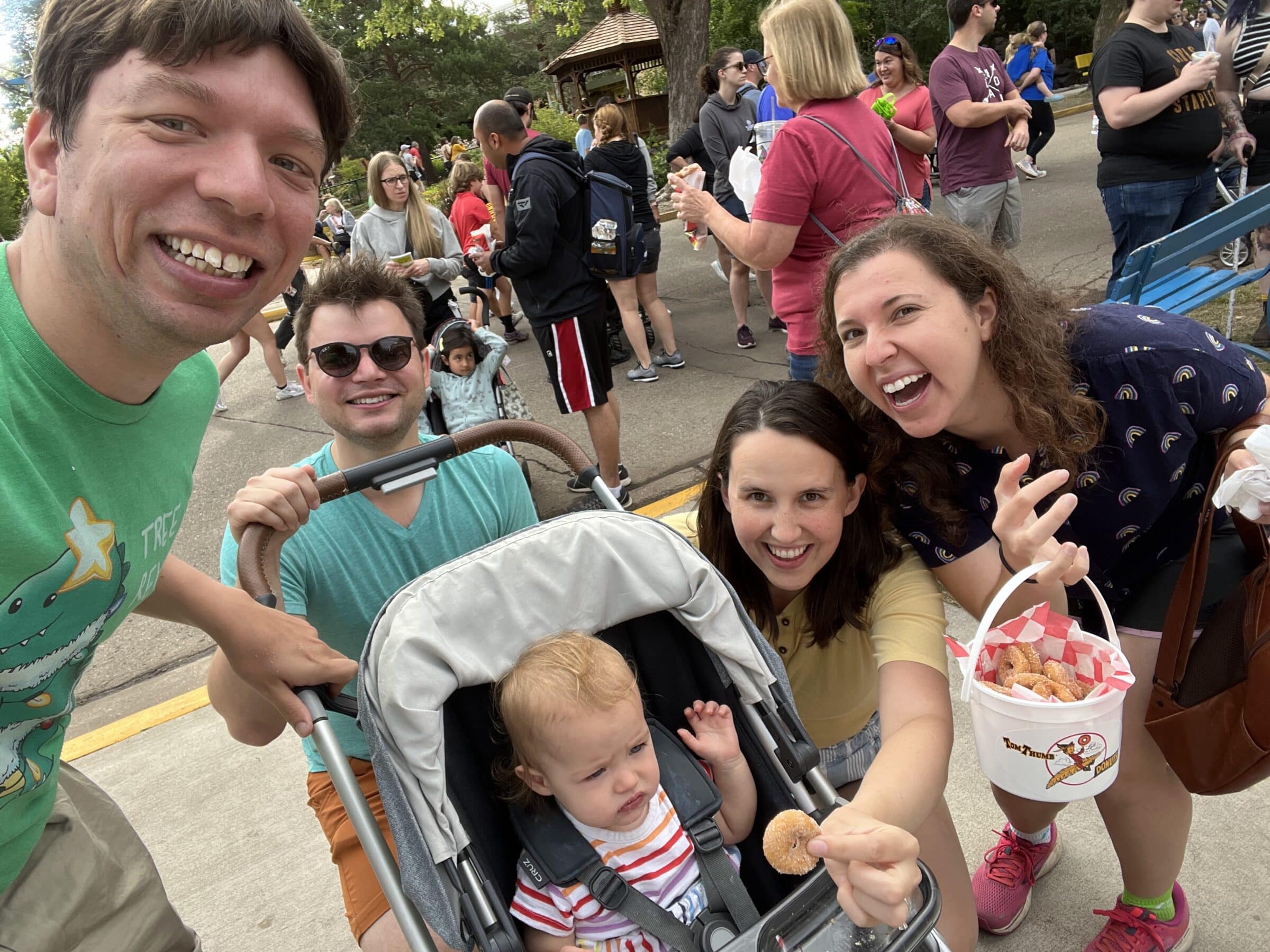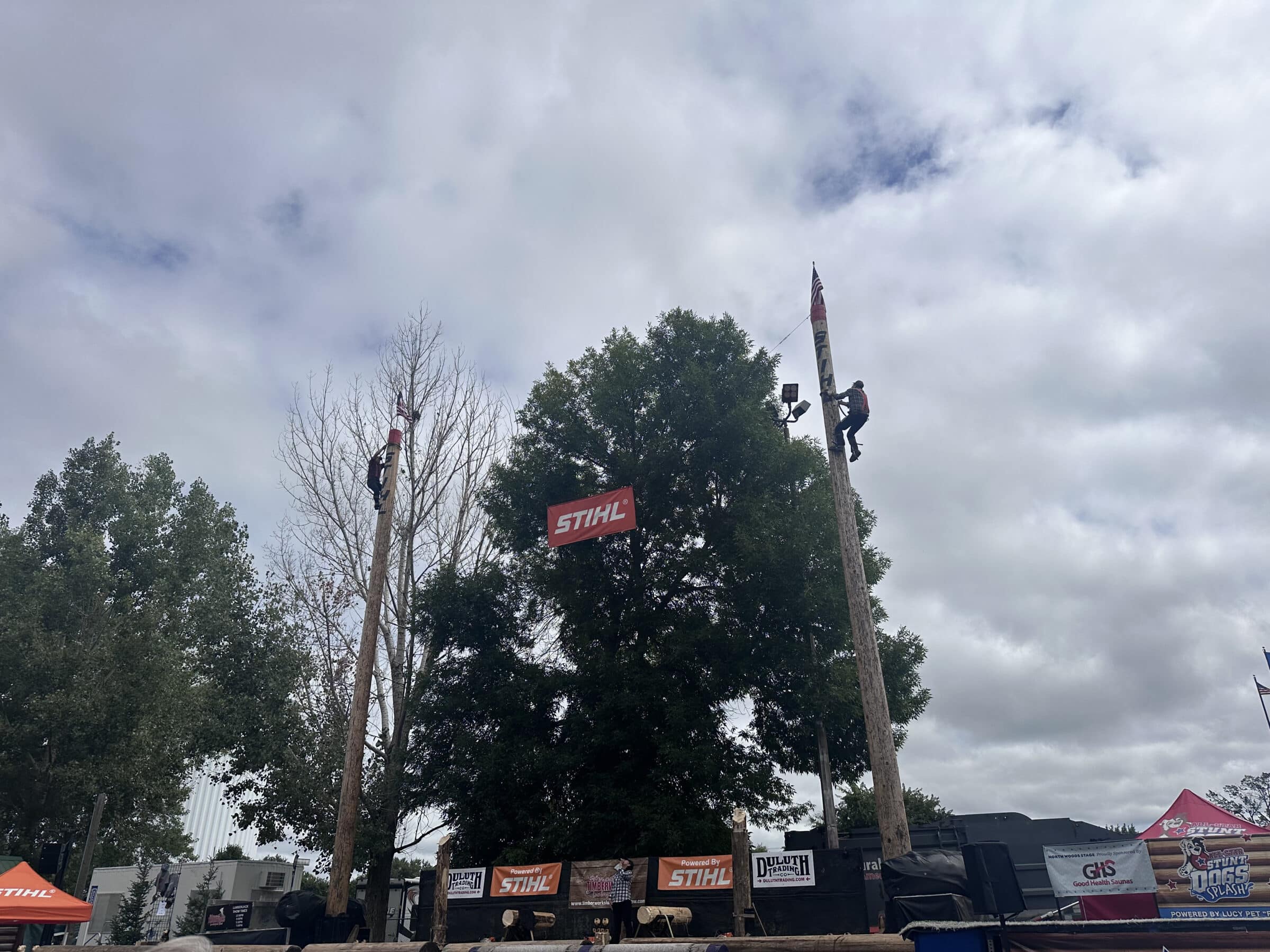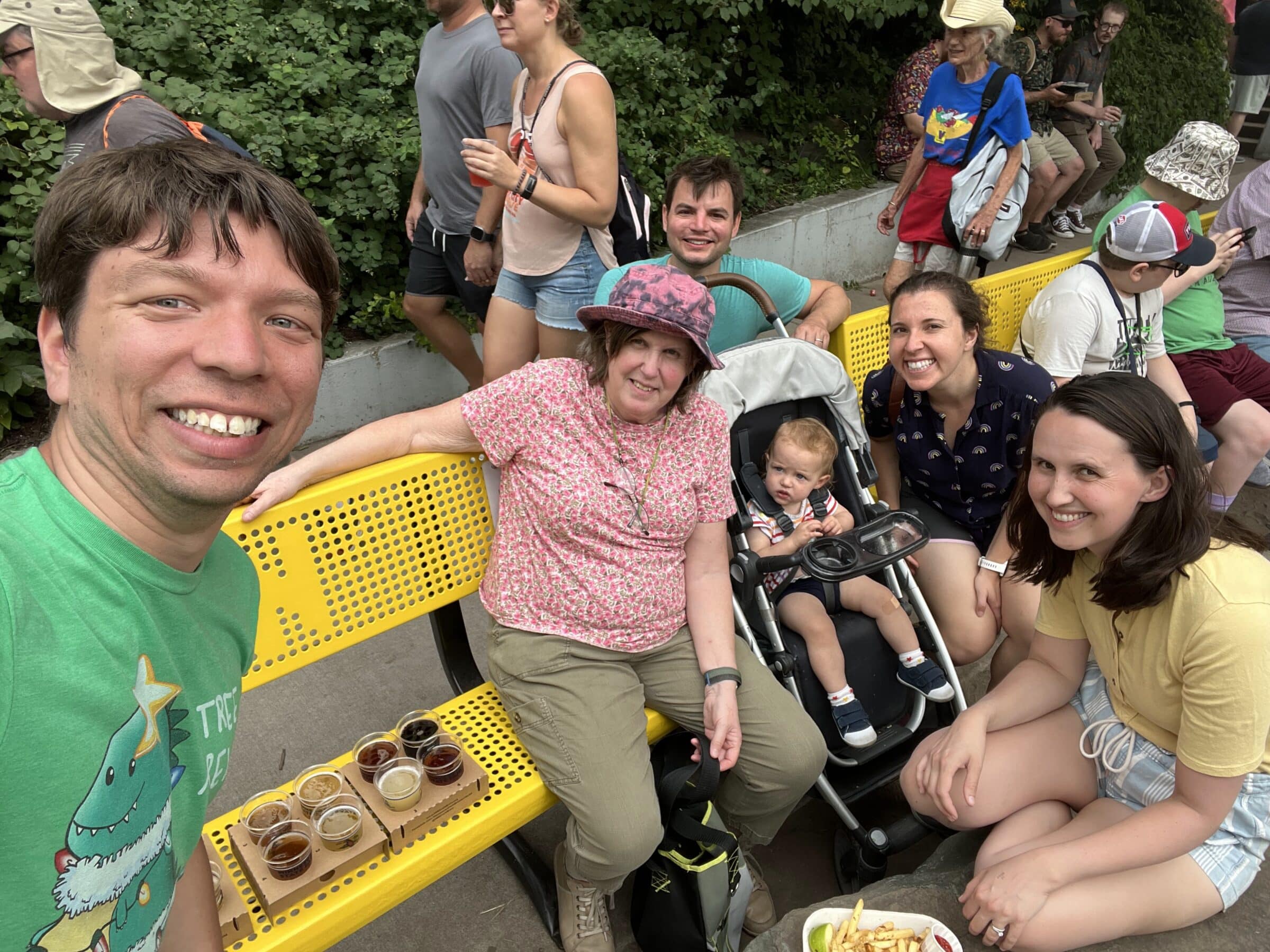 On our last night in Minneapolis I broke away from the others to spend the night with Jill, Nate and their three wonderful kids. Jill was a colleague of mine at Groupon back when I first moved to Chicago in 2014, and the person who I had some of the loveliest, most interesting philosophical conversations with in my life over Gchat (remember Gchat?) when we were supposed to be working. She's also absurdly talented and a massive Sate Fair fan, not only winning the grand champion prize this year for her seed art but also a bevy of ribbons for her jams. I had the blackberry jam on toast at breakfast the next morning, and I can confirm it's delicious.
It was so, so wonderful to be able to catch-up with her and Nate after all these years, and I was very pleased that my Cadbury Heroes and Jelly Babies made it over the Atlantic in one piece so that I could try and sell the family on British confectionary. (There weren't many left the next morning, that's all I'll say.)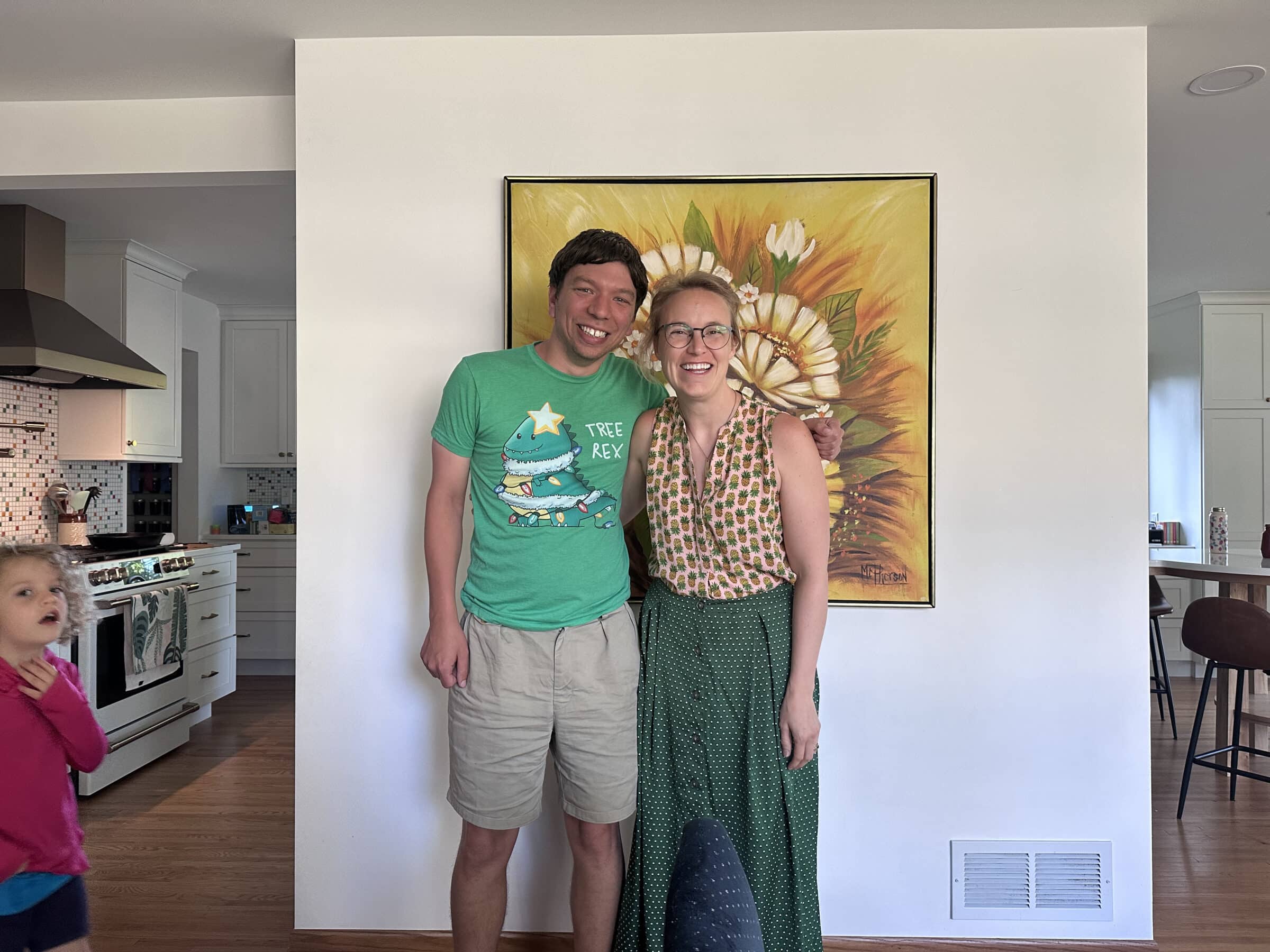 As a bonus treat, our drive home through Wisconsin gave me and Randi the chance to stop by Cat and Brian's new home just outside of Madison. By this point we were yearning for a meal with some fresh vegetables, and Cat responded to our prayers with an amazing spread – combined with Brian's homemade bread! – which we were very grateful for. We also got a tour of their home, which included the most adorable couple's jigsaw set-up I've ever seen. Aside from the awkward moment when I almost drank out of Cat's fox mug (and risked ruining our friendship forever) this was a wonderful playdate for me and Randi, and we were fully refreshed for the rest of the journey back to Chicago when our pseudo-dad AJ swung by to pick us up again.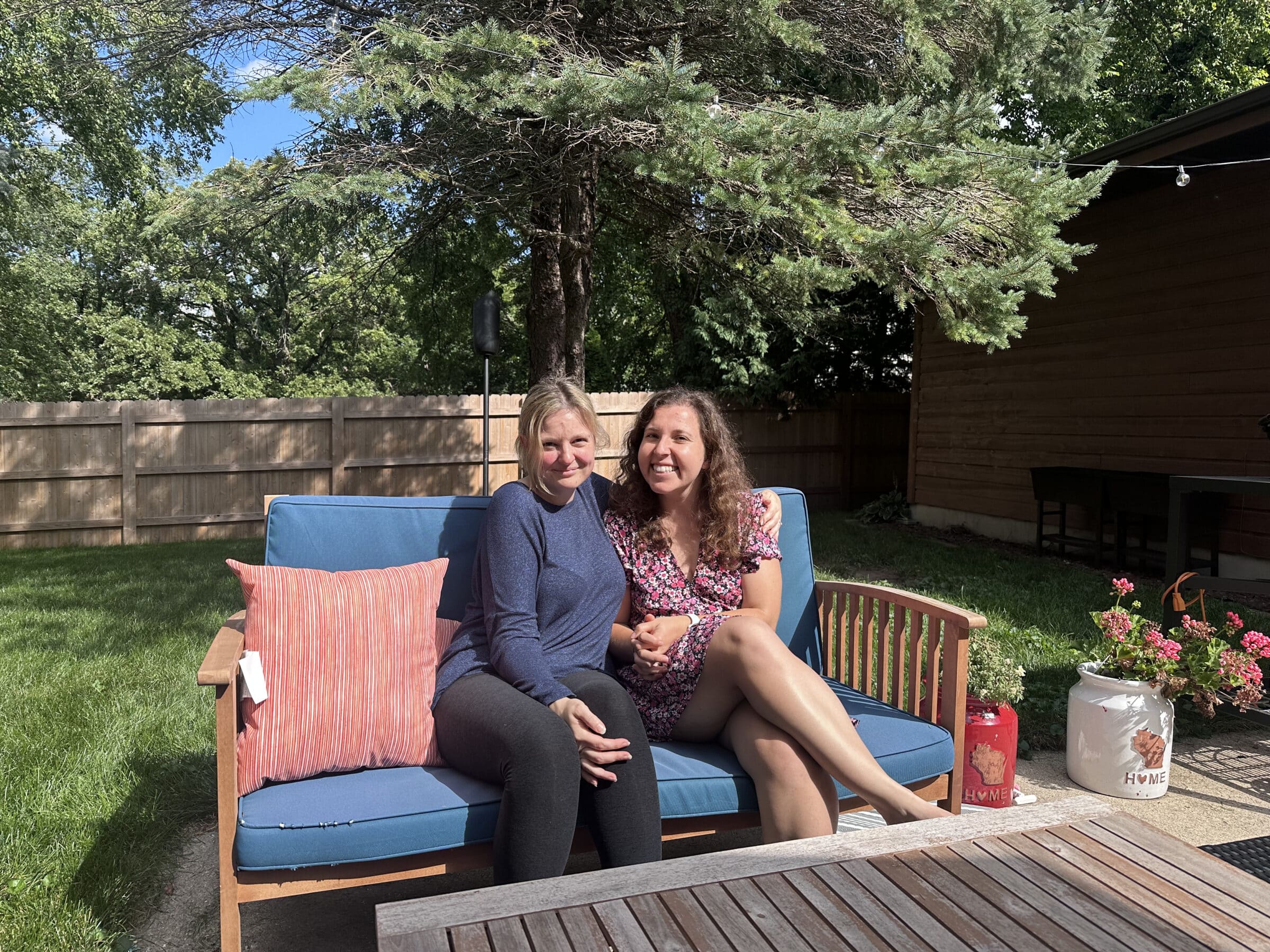 Last year, after we got married for the second time, Todd and Carolyn sent us an outrageously generous quantity of gift cards for our favourite Chicago spots. So, for our second week, Randi and I spent our days making excellent use of them: Antique Taco, Open Books (one of those old-fashioned bookshops where you're still allowed on the sliding ladders!) and Janik's, one of two brunch places which will always be very dear to our hearts. The other one is Windy City Café, which – don't worry – we also made it to. There I got my usual order of corned beef hash with added blue cheese: an underrated combination. Huge thanks to Toggolyn for our amazing gift card guided tour around the city!
During our second week here we also found time to walk around areas of the city where we each used to live, enjoy an impromptu beer flight at the bar where we had our very first date and cheer on the Cubs at a Cubs vs. Brewers game at Wrigley Field. Much to AJ's consternation the Cubs won, but the rest of us were delighted. In the evenings we were so lucky to be able to schedule time with so many people we wanted to see, culminating in a big group outing on our final night to Improv Shakespeare. Long-time blog readers will know that this is our favourite thing to do in Chicago, and we were very excited to learn (via a chance conversation with the cast of Shamilton in Edinburgh!) that it was back in the city. This time the audience prompt was Sarah's Wedding – presumably as part of an inspired bachelorette party – which resulted in a stirring tale of suitors competing for Sarah's hand via the noble sport of jousting chess. Afterwards we sat outside drinking craft beer in the warm summer air with Todd, Carolyn, Jason, Carrie, Melissa and Rob… a perfect Friday night.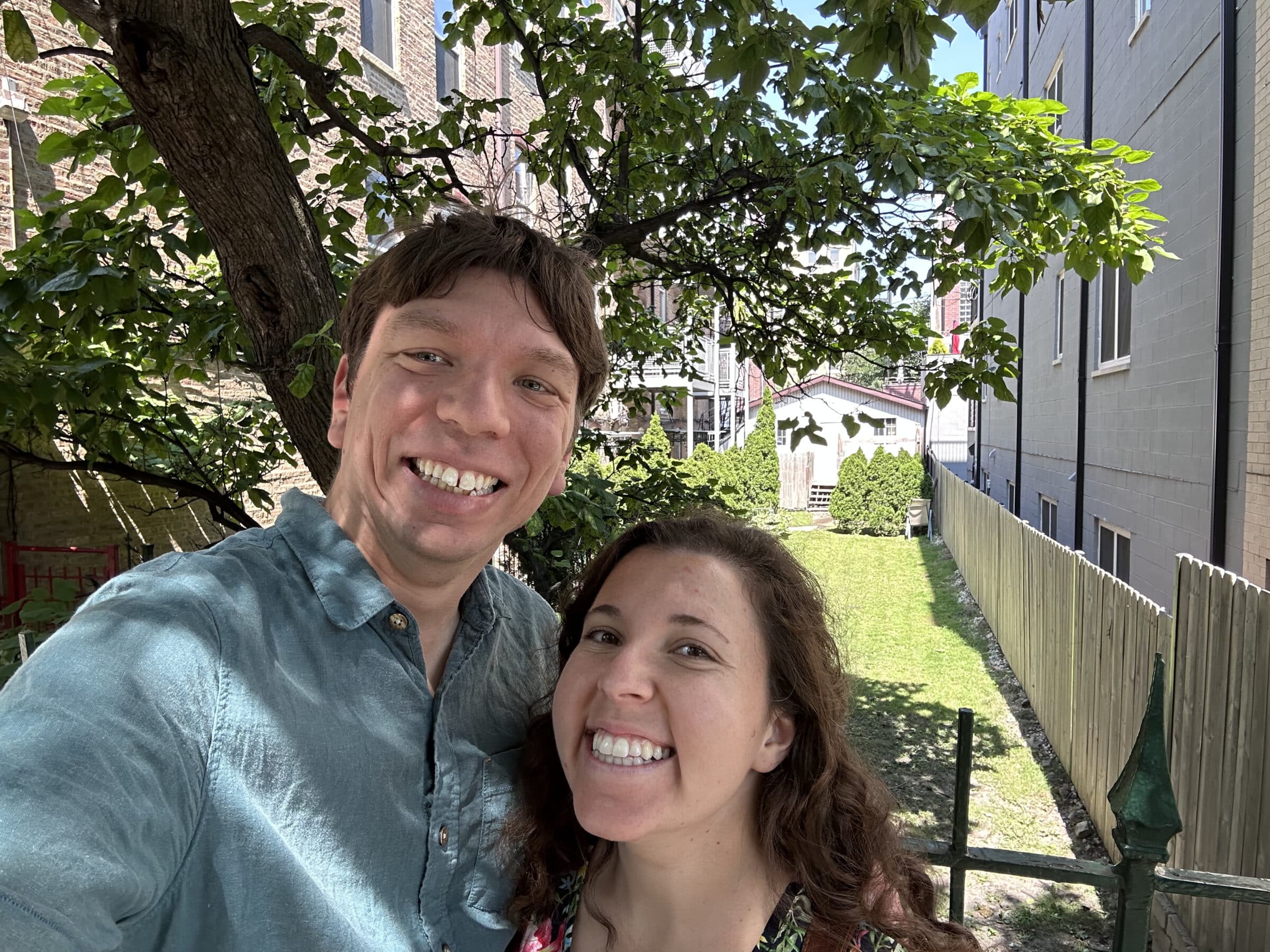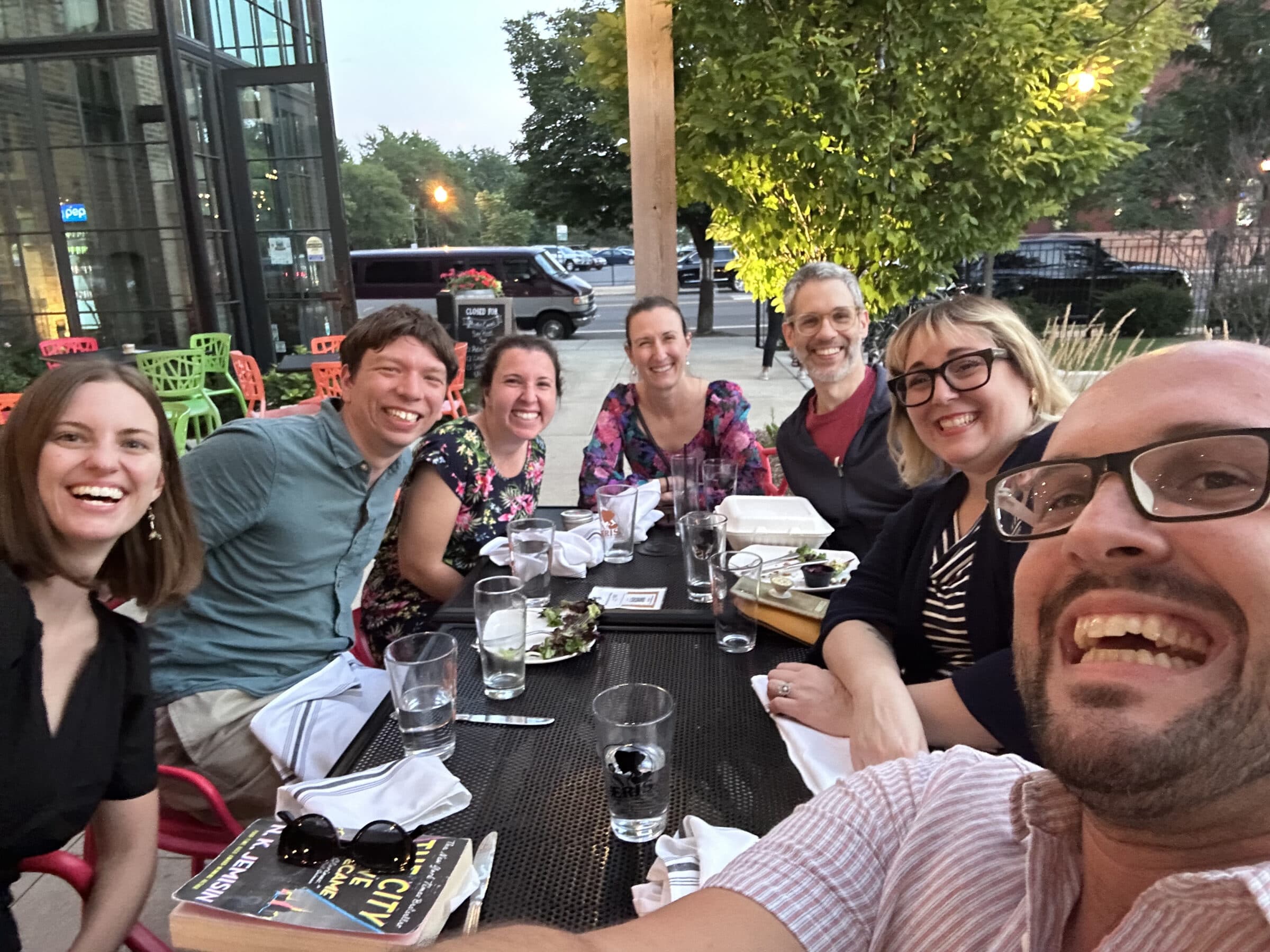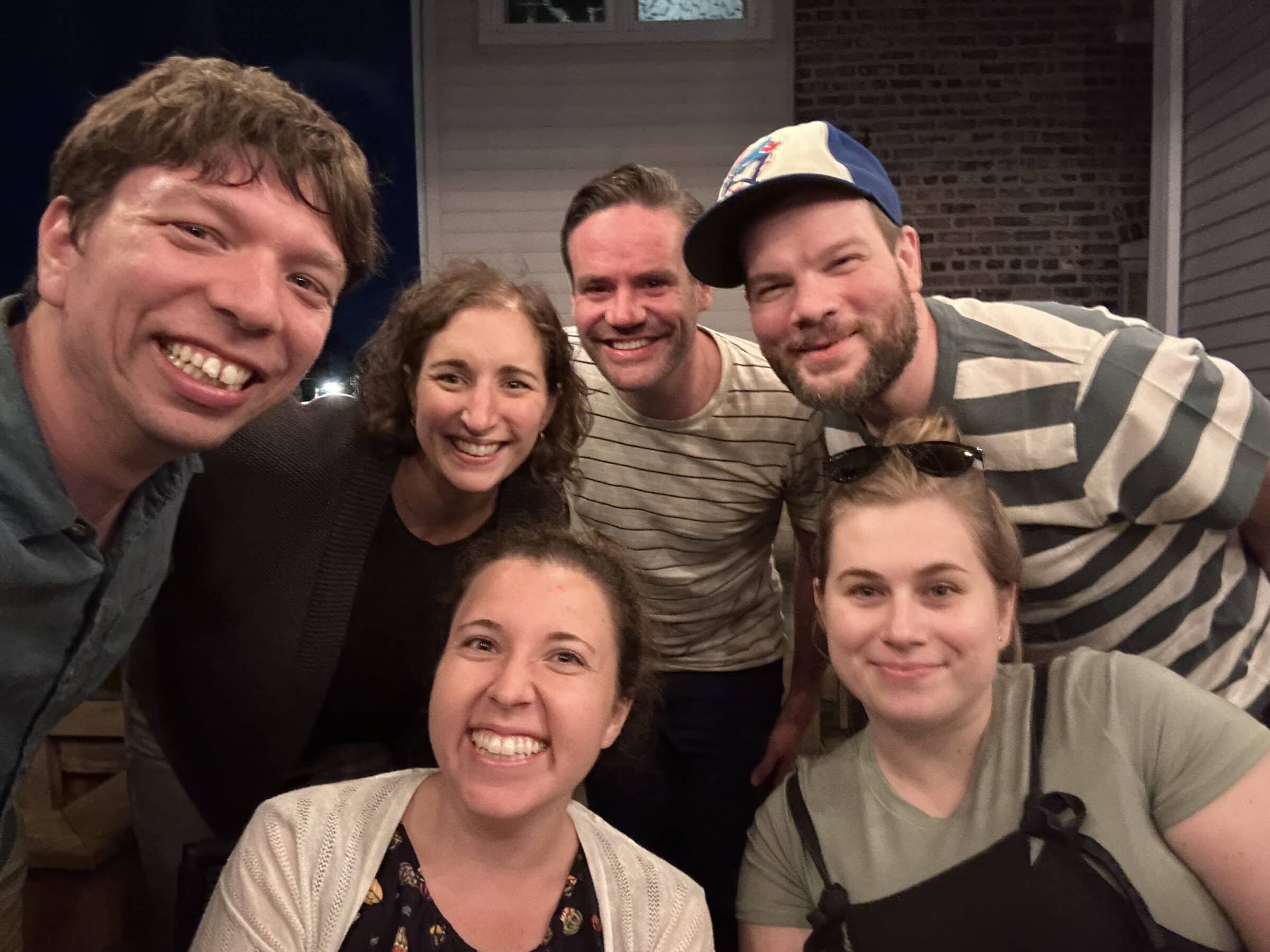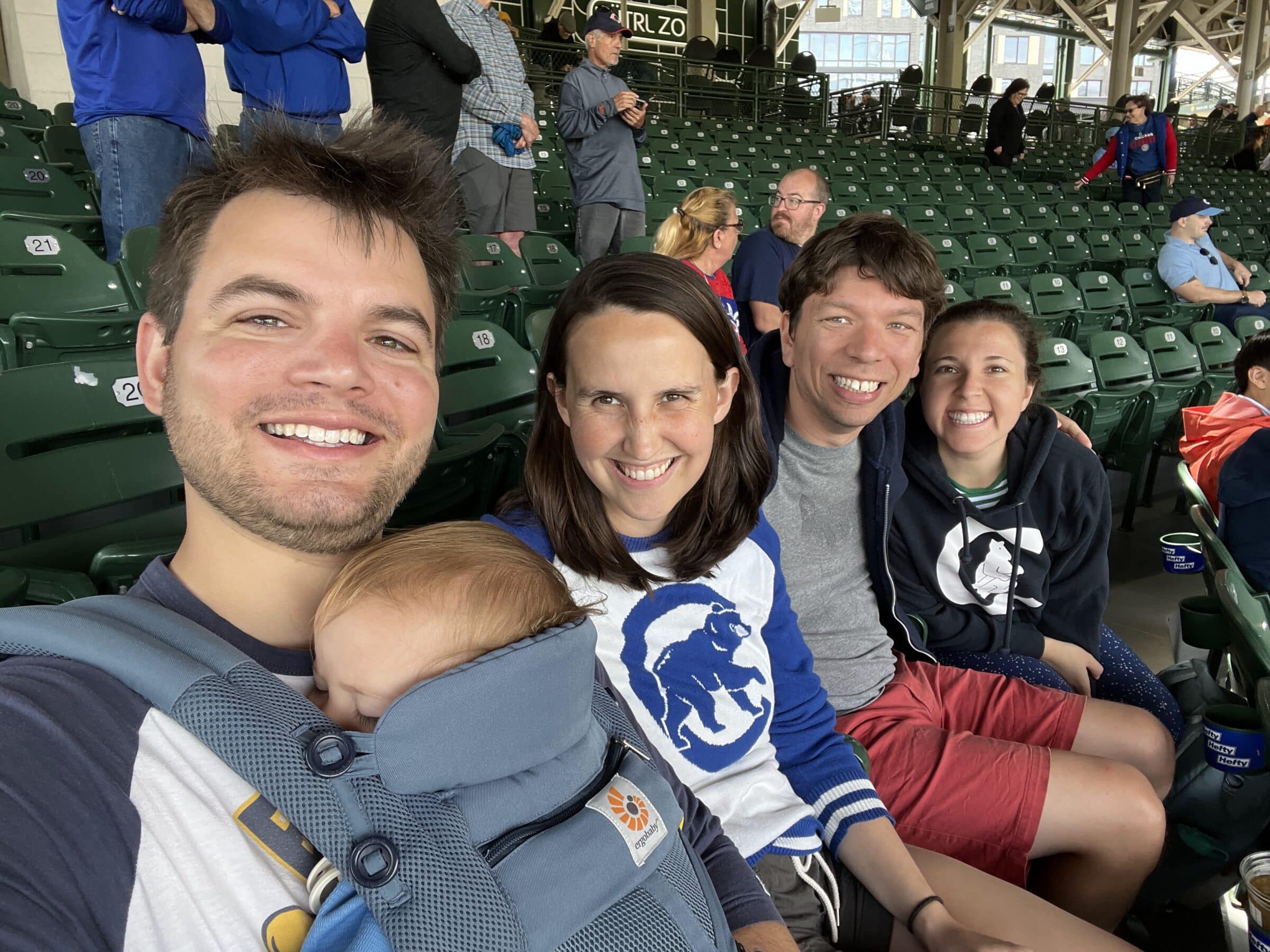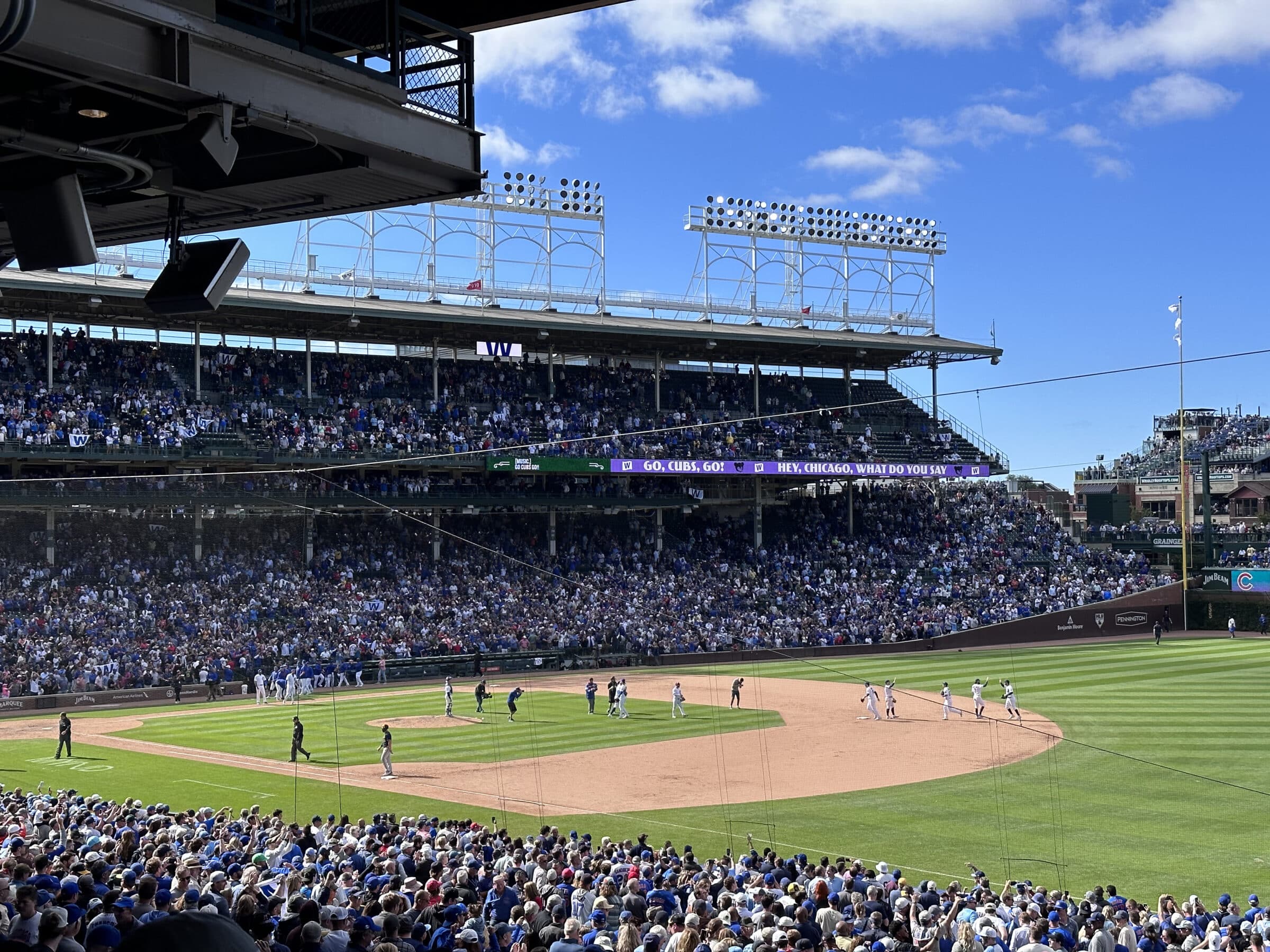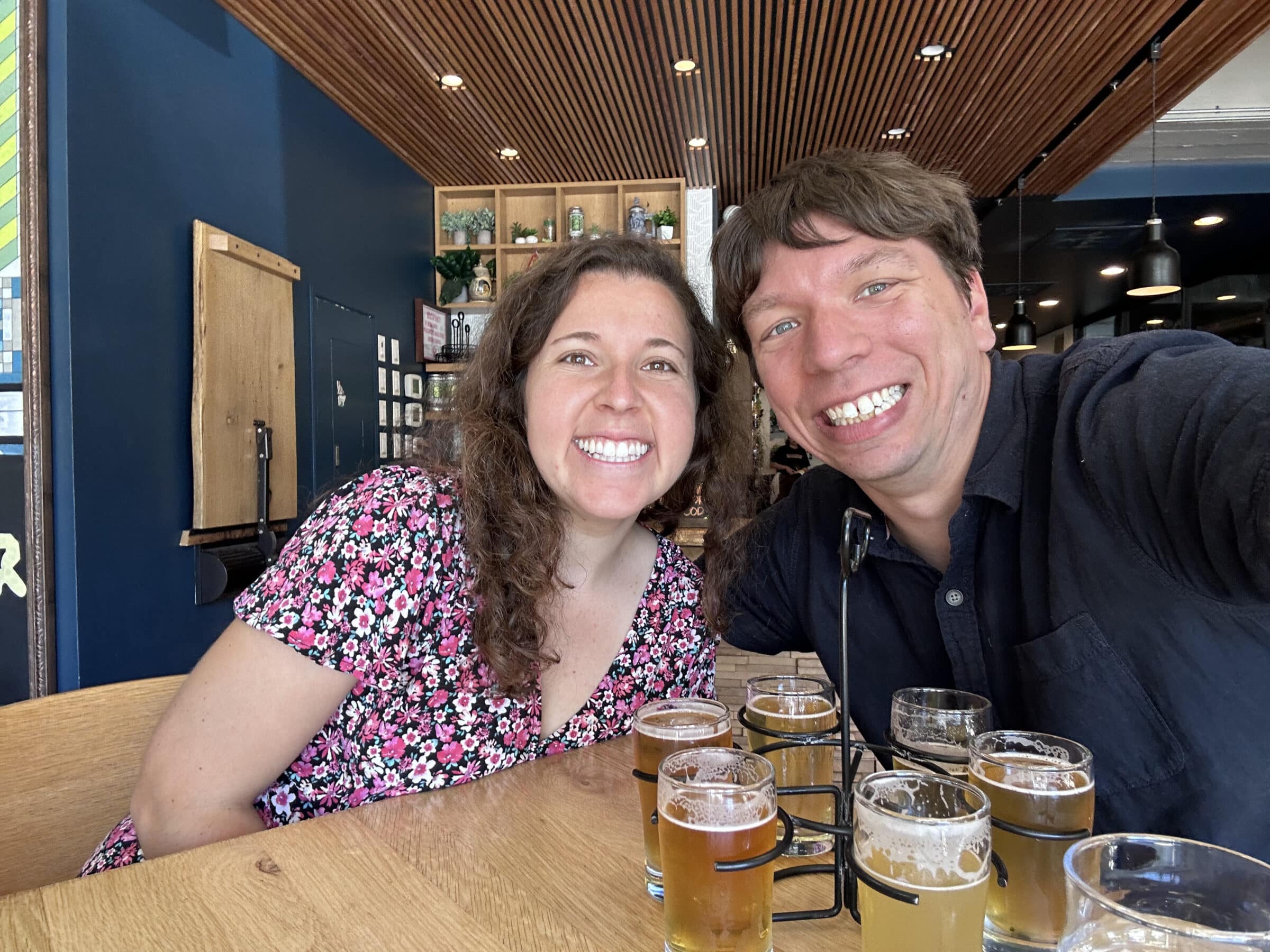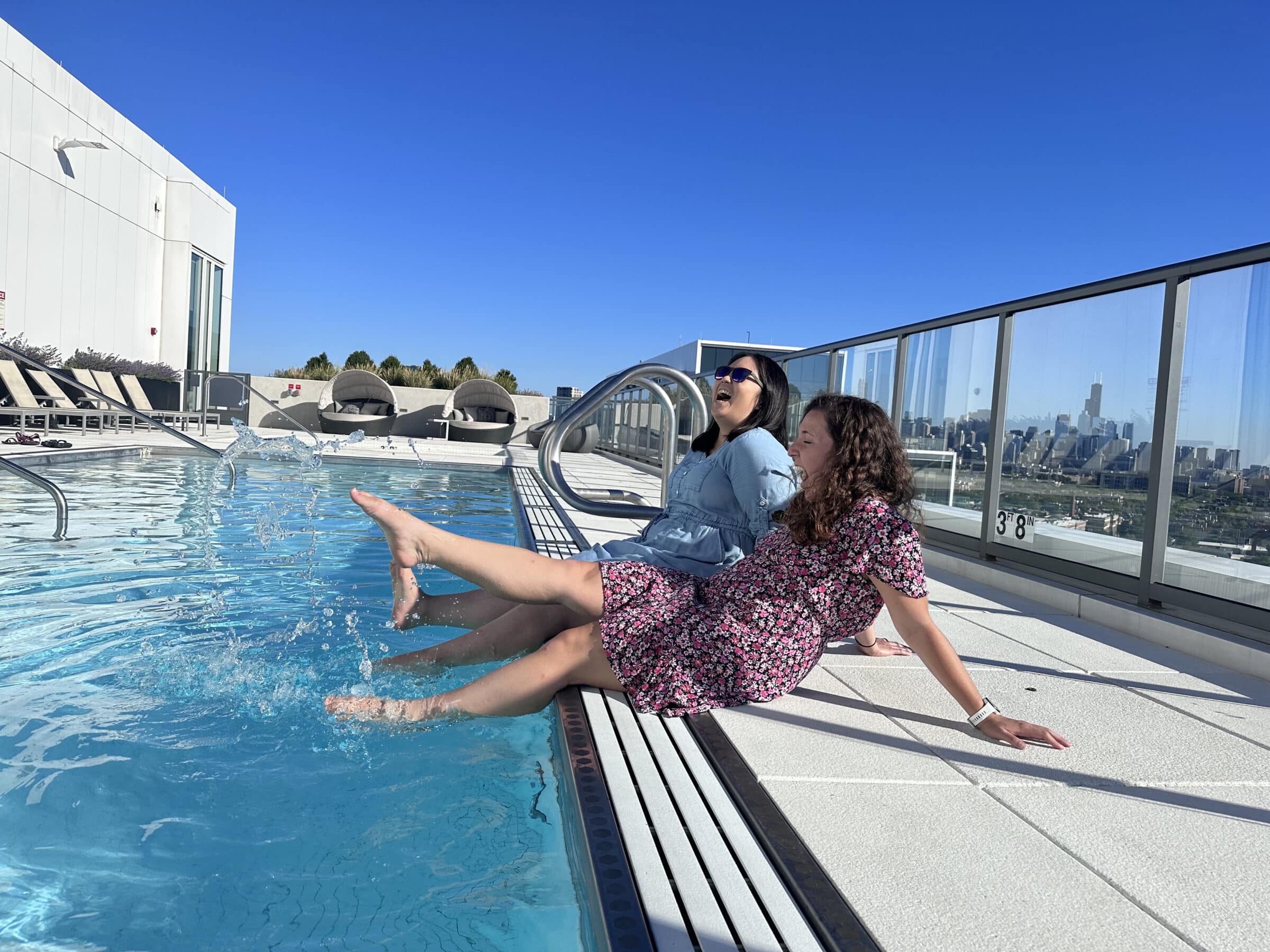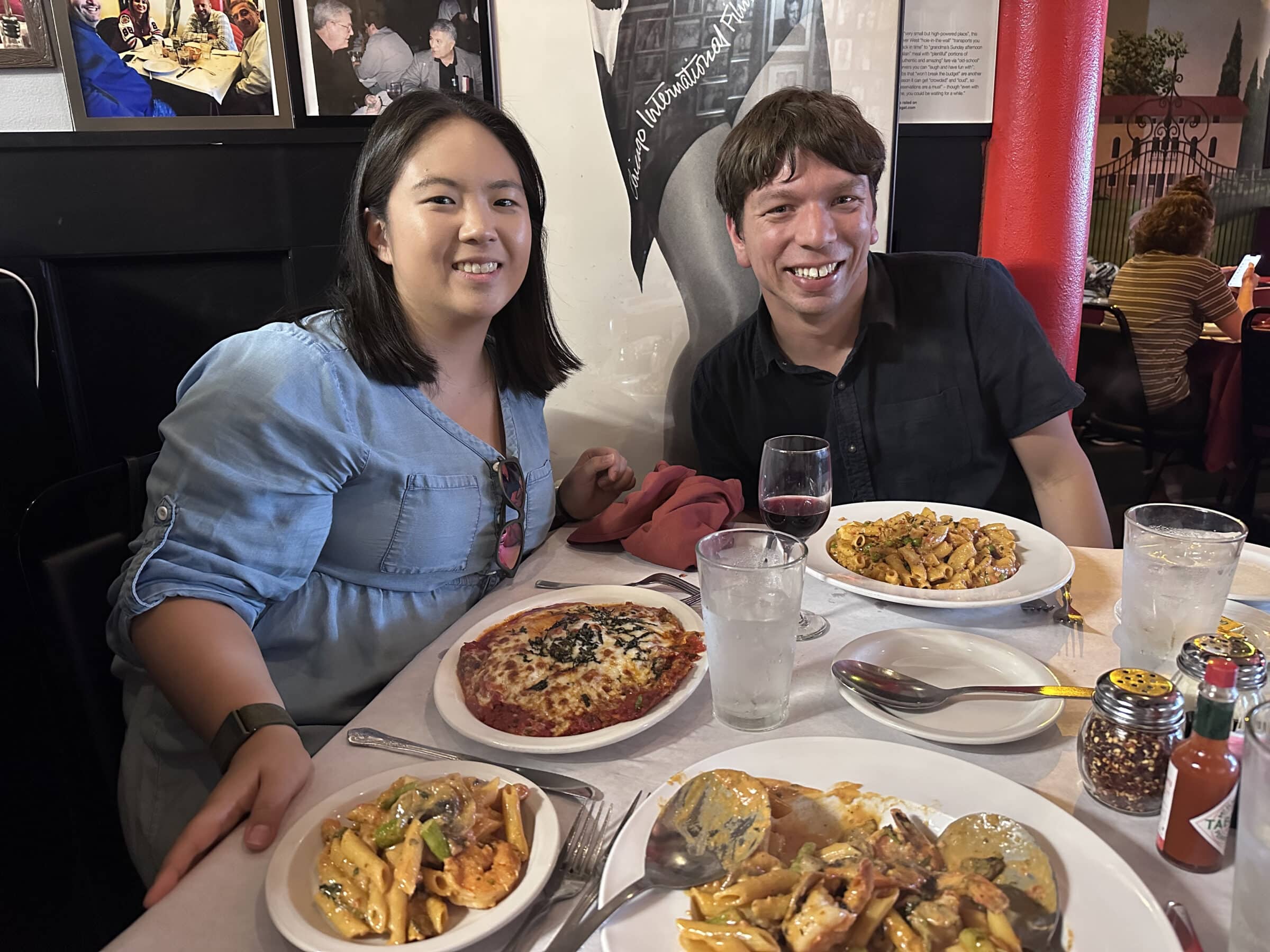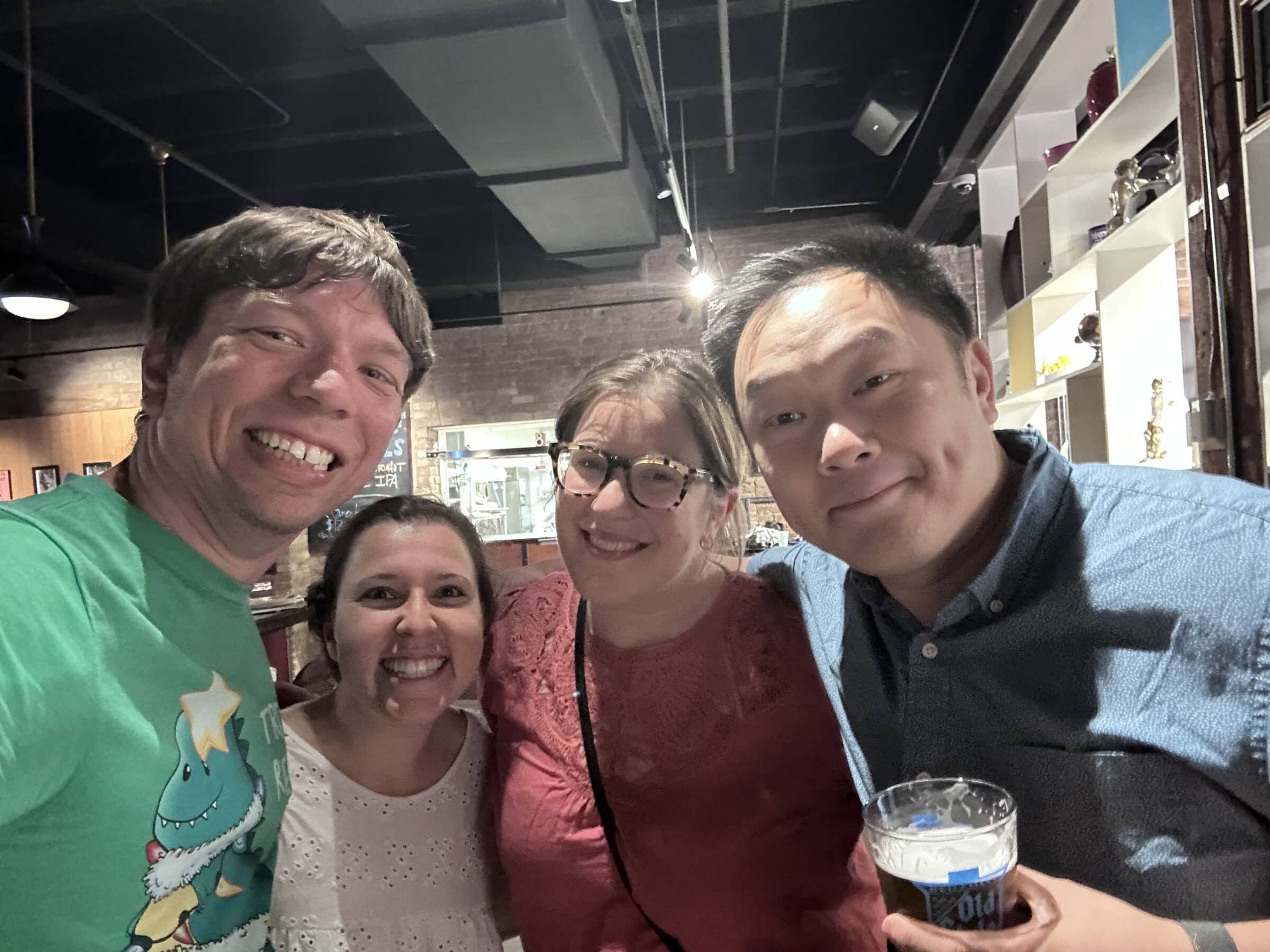 I could probably keep writing forever about how much fun (and weight gain) we had in Chicago, but seeing as it's already a week later and I've had to lock myself away in my old childhood bedroom at my mum's house to finally finish this blog, I'll stop here. Huge thanks, as always, to Catherine and AJ for putting up with us while they were trying to work from home, introducing us to the whimsical doughnut guy at their local farmer's market, taking us to Half Acre for drinks, showing us the best sandwich place in Lincoln Square and generally making us feel like we'll always have a home in the city.
Also, as usual, I want to quickly note all the fun evenings I had in the run-up to this holiday which I never got a chance to blog about! So thank you to my uncle Andrew for drinks at the Waterside, to Angela for our late-night garden party (with improv dinosaur impressions) and Reema for sending us off the night before we flew with some amazing tapas near London Bridge. And our post-Chicago adventures will have to wait until next time…