The new Pope has been announced… and it's Michael Grade!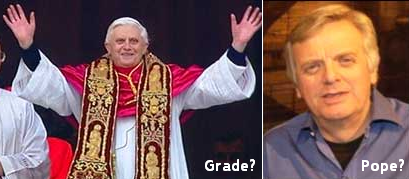 No, not really. It's Cardinal Joseph Ratzinger, or Ratty to his friends. At 78, he'll be sure to project a fresh young face for the Catholic Church. Pope Benedict XVI was once a member of the Hitler Youth, but luckily not an 'enthusiastic' one. He also bravely deserted the German army (towards the end of the war – along with everyone else.)
Like most people alive during the exciting era of the 1960s, Ratzinger has many fascinating stories and anecdotes to tell. For example, some student protesters once disrupted one of his lectures. Well known for his patience and intelligence, he good naturedly responded by joking that they were "tyrannical, brutal and cruel".
A reasoned and "scientific" man, he has denounced homosexuality as evil and other religions as "deficient". He also upholds the Church's sensible practice of banning all contraception and abortions, views that seem to have been spectacularly proven right in this AIDS free, happy smiling world. The last recorded case of sex before marriage was in 1969.
However, Pope Benedict XVI will have a lot in his in-tray. One of the most pressing problems in recent years, as you'll all be aware, is of course – women. Radical demands are now being made from a small minority that women actually be granted similar, if not equal, rights to men. It may sound crazy, but putting down these determined terrorists will be no easy task. Luckily, Ratty comes well prepared. He's already declared ordaining women was 'an infallible teaching' – putting that minority back in their rightful place.
It's great to have a new Pope – and thank goodness he has his priorities sorted out.