I'm afraid it has not been a big month so far for going out and doing interesting, photogenic, blog-worthy things. I have been hatching plans, yes, but they are not ready yet, so in the meantime I feel almost guilty for displacing the nice Yellowstone & Grand Teton post down from its prime position into the slow oblivion of the archives. Oh well, so it goes.
A notable exception to this sad trend was Amanda's boat-based birthday party on Saturday night. I spent most of my time perched at the front of said boat with Randi and our neighbours Joe and Julie – eating Ruffles, searching the horizon for Randi's ghostly circus tents and wondering whether the captain was speeding up just to try and knock us off. Also, I finally understand what a lock is. (It's a lift for boats! What a world.)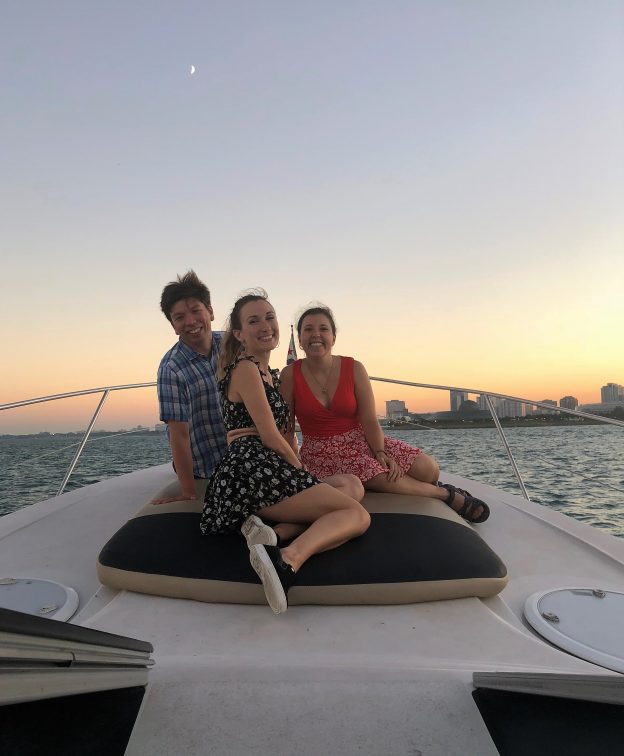 Otherwise I have been catching up with interesting people, like Zak (who took me to a mysterious cocktail bar), Karol (who has officiated more weddings than seems proper) and Zoe (a British friend-of-a-friend who was visiting Chicago and dropped by with wine and book recommendations). Last Friday night we had delicious tacos at Francisco and Carolina's house with Robert, Julie, Poncho and – most importantly – Bernie, who is delightful despite his penchant for stealing phones.
And the weekend before last, while Randi and Amanda were off gallivanting in the cornfields of Ohio, I was delighted to meet some Young People In College at Catherine and AJ's who answered some of my questions about what Young People do these days on the internet. (Certainly blogging is not one of those things, sigh.)
I do really want to recommend that you all go and see The Wife. Why? Well, admittedly the original reason was because my cousin Alix is in it, and you can't really pass up the opportunity to go and see your cousin pretend to be Glenn Close's daughter in a Hollywood film. But the three of us – Randi, Amanda and I – really enjoyed the whole thing! Go see!