After Lima, our next stop was Arequipa via a short flight. (Airport fast food related side-note: the doughnuts from Dunkin' Donuts in Peru are actually delicious. I'm unclear why the same can't be true in the US.) Arequipa is frequently described by guides as Peru's prettiest city, and although I'm not quite sure I agree (Cusco takes some beating) it is true that the main square was almost serenely calm and relaxed on Friday evening.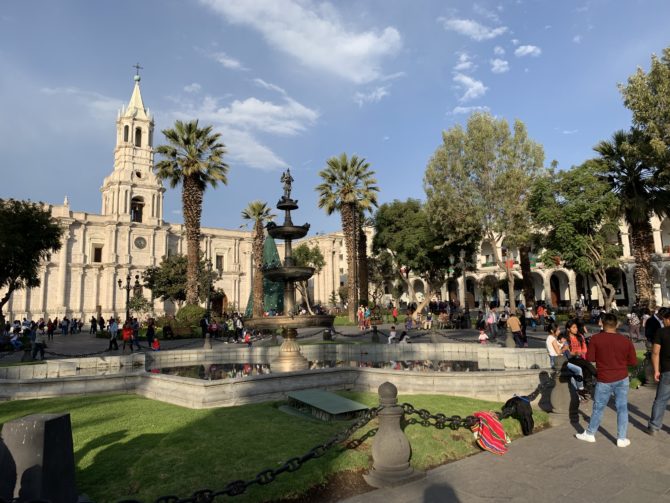 We didn't spend long in Arequipa, but two of my favourite moments were:
Randi taking a quick look inside the church (I had to stay outside as I was wearing shorts) and then immediately being barricaded by two giant sets of closing doors signalling the start of mass. I wasn't sure if I was ever going to see her again, but luckily she found a side exit.
Having breakfast with football on in the background, and hearing the incredibly excited "GOAAAAAAAAAAAAAAAAL" from the commentator after someone scored. I felt like I had scored bingo on Latin American stereotypes right there.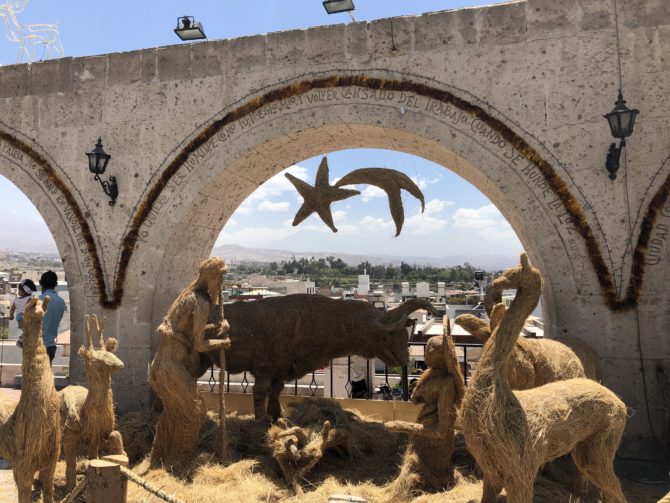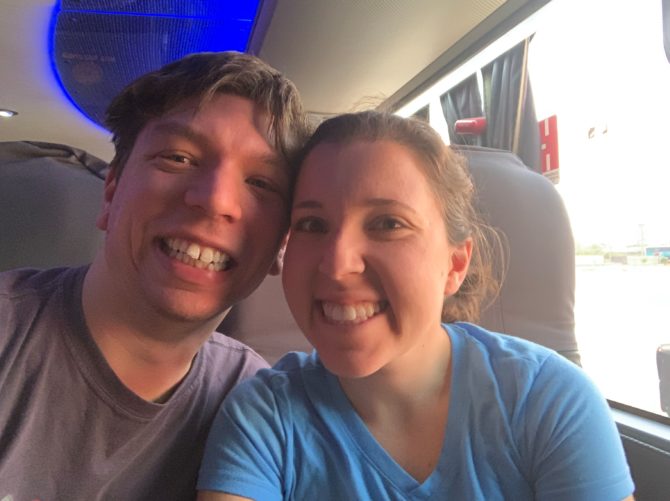 The next afternoon, we set off for Puno and boarded the first of our long distance buses during this trip, after first admiring the very fulsome nativity scene in the Cruz del Sur waiting lounge.
For the bus itself, there's really two ways to look at things. On the one hand, it was easily the most luxurious bus journey I have ever taken. We were in the VIP section (it's really not that much more expensive) which had full reclining seats, giving us plenty of room and comfort to lie back, relax and catch up on some podcasts, Dynasties and Would I Lie To You. On the other hand, it's still a 6-hour bus ride, so I wasn't sad when it was over and we finally arrived in Puno.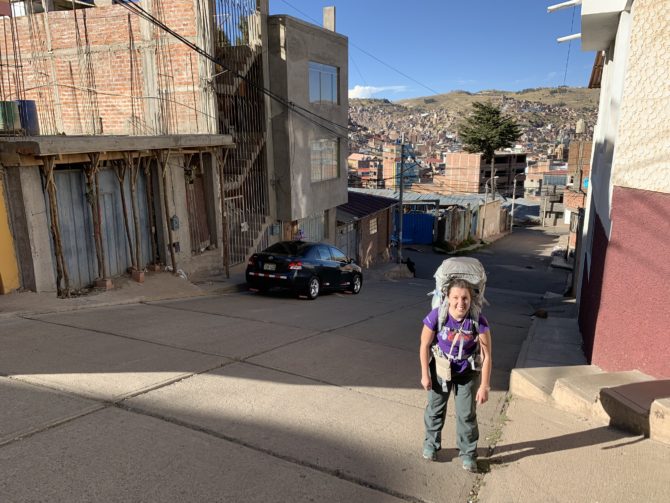 But we need to pause on Puno for a moment, because the next morning we embarked on an overnight tour of Lake Titicaca, the Uros Floating Islands and the islands of Amantani and Taquile. My least favourite part of these tourist tours are the "meet the native people" sections. This was especially problematic on the Uros floating islands, which are very very small, so the whole place is completely enveloped by us tourists taking photos… except these are real people and real people's homes, so it feels artificial and intrusive. That said, these tiny islands on the lake are undeniably cool – and weird – to walk around on.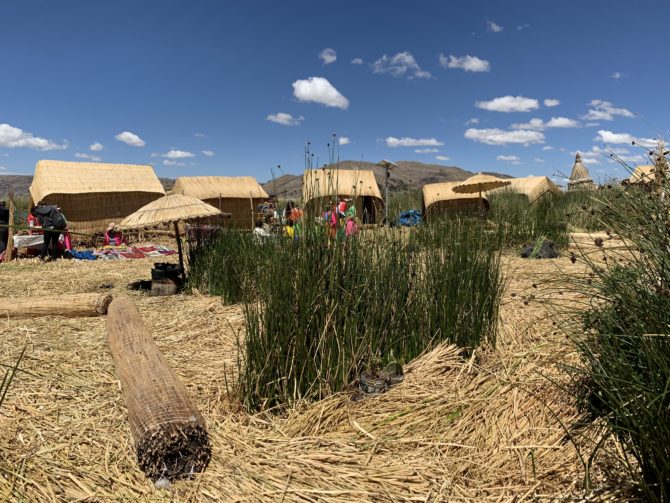 The best part of the tour was our hike on Amantani island up to the peaks of Pachatata and Pachamama, both of which hold the remains of ancient temples and astronomical sites. Prior to this hike our tour group had been divvied up between several host families on the island (which felt a little like getting picked for teams in PE) and had been fed lunch, and as I looked around the table I decided we might be in some sort of reality show preparing for the next elimination round. Well, I didn't want to be eliminated next, so I grimaced through my initial pain at the steep, high-altitude climb (Peruvians don't seem to believe in switchbacks) and was rewarded by amazing views of the sunset at the top.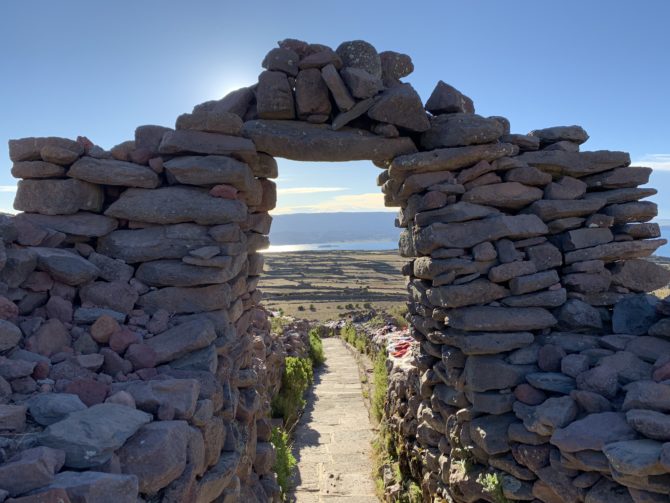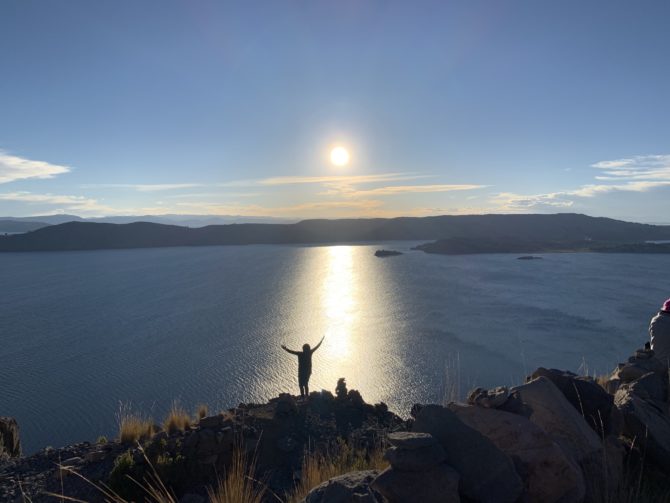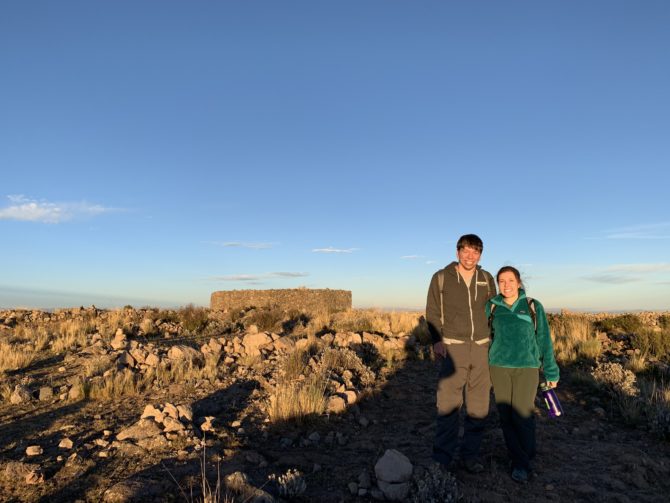 By this point, we were both totally exhausted, and neither feeling 100% in either head or stomach. (Actually, if it hadn't been for Randi's miraculous Spanish in the pharmacy that morning, I would have been feeling a lot worse.) So we both opted-out of the "dress up in traditional clothes and go to a disco in the village hall" event, feeling only a tiny bit smug the next morning when we learnt that none of the locals had turned up and the whole thing had been cancelled.
Our final stop was Taquile Island, before heading back over the lake to Puno in the world's slowest boat. Taquile was certainly beautiful (proof below) although I was increasingly sceptical of the various lifestyle factors which our guide kept claiming resulted in the locals living to "95 to 100 years old". If that's the case, they certainly are doing well to manage their demographic pyramid. We also learnt about their somewhat rigid uniform system (e.g. one colour hat for the married men, another for the unmarried men) and I wished I spoke the local language so I could check how well this actually worked out in practice. There are always rebels in life, even on Taquile.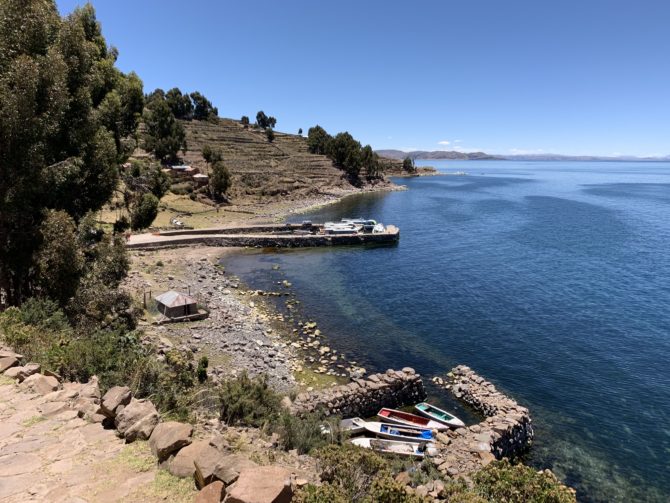 Once we got back to Puno I was incredibly happy to have a hot shower, collapse and cook the pasta and tuna which I'd been carrying around since Lima. (We got told off for trying to use the kitchen in our AirBnb there, and didn't want our supermarket run to go to waste!) Randi was originally a little bit suspicious of the accommodation I had booked, for minor reasons like (a) no-one else seemed to be staying there, (b) we had to change rooms because they couldn't find a key to our original room and (c) the bed slats started to fall out of the bed if we both sat on it. But this was more than made up for by our amazing host and our scenic dinner.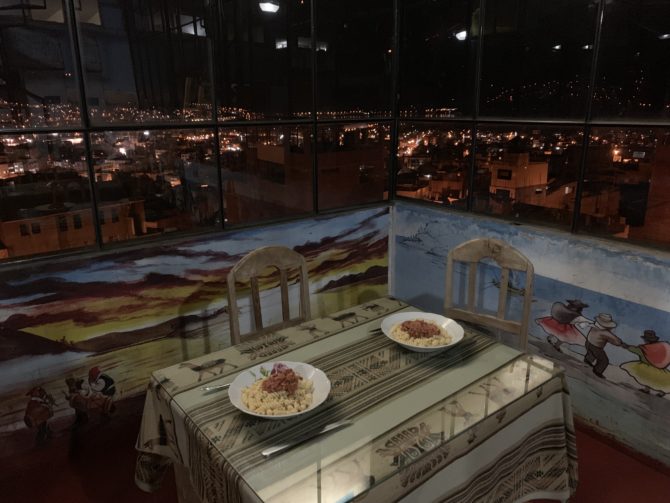 Here's an embarrassing story: I woke up in the middle of the night to the sound of rain and thunder. But I checked my weather app and it didn't seem to be either raining or thunderstorming, so I was really freaked out for a moment before Randi stuck her head out of the window and confirmed that it was actually raining. Millennials are the worst.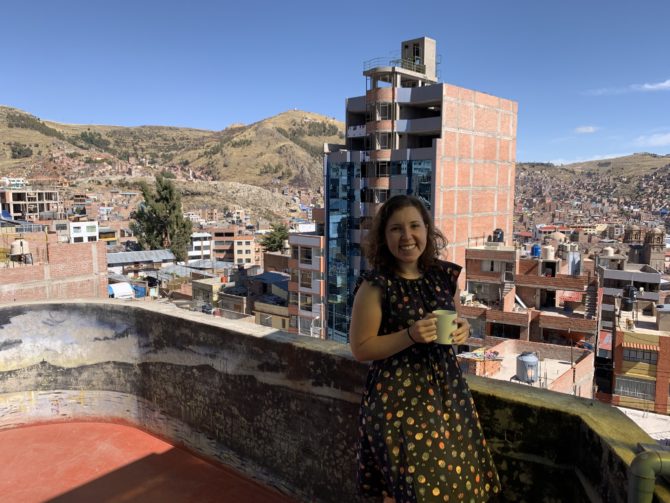 Having not died from perfectly ordinary rain, this morning we bought our next set of bus tickets for tonight's journey to Tacna and then walked to Puno's (pretty and very green) main square before settling down in the corner of a wonderful café to swap photos and write our blogs. Even Lima feels like a long time ago now, and it's good to have a quiet day of recuperation (and WiFi 😉 ) before the next leg.