Since I last wrote, we enjoyed our final night in Puno – I particularly enjoyed the children's choir bedecked in Santa hats and the pizza place playing the video of Moldova's 2017 Eurovision performance – before boarding a bus to Tacna, which is right by the border with Chile. The weirdest part of this bus journey was the surprise entrance of competing bread sellers in the middle of the night… and I could have sworn that one of them was trying to flog a bag of potatoes too.
In Tacna, it was a short taxi hop to the international bus station and then a collectivo (shared cab) across the border to Arica in Chile. I was pretty impressed by the efficiency of the collectivo operation, which runs at a standard tariff and includes a driver to hustle the group through both the Peruvian exit controls and then Chilean immigration controls. These officials sit in the same building, with their backs to each other, at opposite sets of windows. I am really curious what happens if you pass the first but then fail the second.
Ah, Arica. We didn't choose to spend a day here – it was an artefact of bus timetables, and we suspect that's the case for most travellers. There's nothing hugely wrong with it – and indeed I had an excellent breakfast (with a decent cup of tea!) – but we were very happy to be leaving at the end of the day. The real masterstroke (all credit to Randi) was paying for a cheap hostel room so we wouldn't have to drag our stuff around in the sun. The secondary and surprising masterstoke was that after the hostel owner quoted us a price which we couldn't yet pay (as we didn't have any Chilean pesos) she was content simply to take the rest of our Peruvian soles instead.
The overnight bus from Arica to San Pedro de Atacama (operated by Turbus) was my most solid night of sleep on a bus so far, other than our unexpected 3am stop where we were all briefly chucked off so we could take our bags through "customs". (Customs? We're still in Chile, guys!) This was on top of having our passports taken away when we first boarded so they could be presented to a police checkout later. The bus company were very good (and reassuring) about the process and everything was duly returned, but it did smack a little of police-statism to have so many internal controls.
So then, after having set off from Puno on Tuesday night, we finally arrived at San Pedro de Atacama on Thursday morning. Situated in the middle of a desert, San Pedro is completely geared around tourists but also has a calm and relaxed vibe. It felt very chilled-out as everyone strolled down the sandy streets of the town centre, and many of the tourists seemed to be from Chile itself. After walking to our AirBnb from the bus station – and being shepherded the whole way by two dogs – we did what everyone comes here to do and booked a bunch of tours and excursions for the rest of our stay.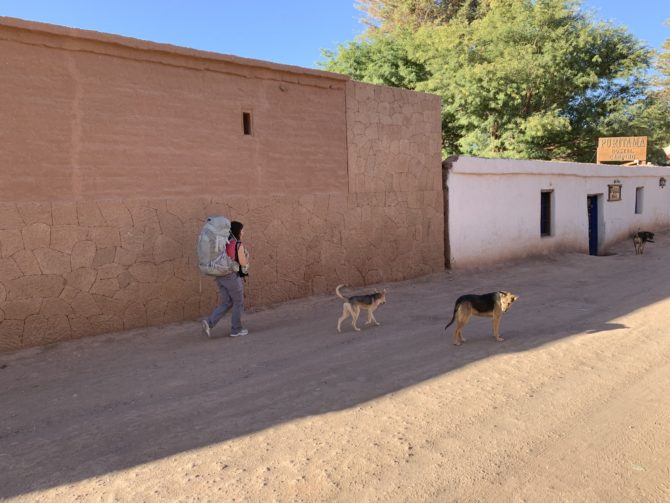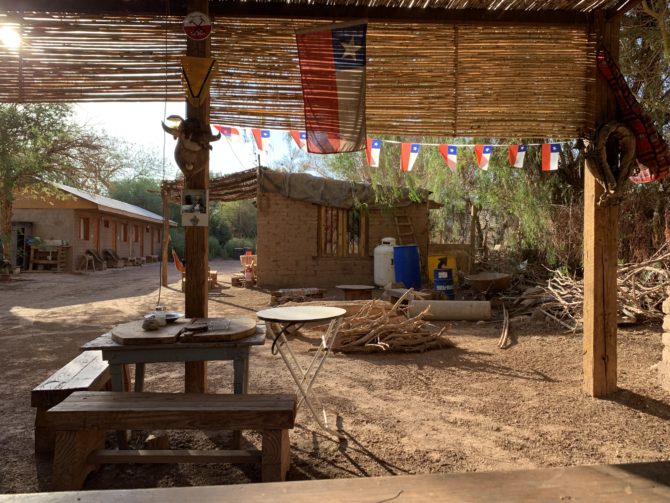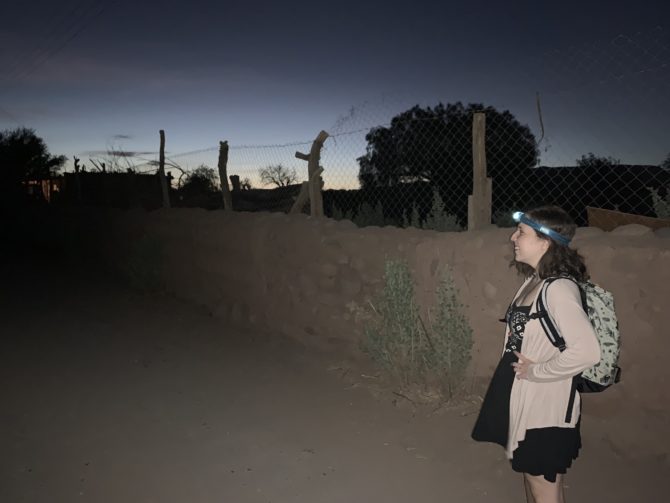 One of the most popular trips is to the Bolivian salt flats (Salar de Uyuni). But Bolivia's visa costs for Randi's American passport were onerous, and neither of us wanted another overnight trip at that point anyway. So instead we opted for three half-day trips, all of which (and here my mum would be very proud) involved getting into bodies of water.
Some added excitement was thrown into the mix when we discovered later that our tourist agency was extremely badly reviewed online. Would the buses turn up? Would they turn up and then throw us off a cliff? We worked up some backup plans but in the end everything ran (relatively) smoothly, and so now I present our three waterworlds of San Pedro de Atacama…
Tour 1: Thermal Baths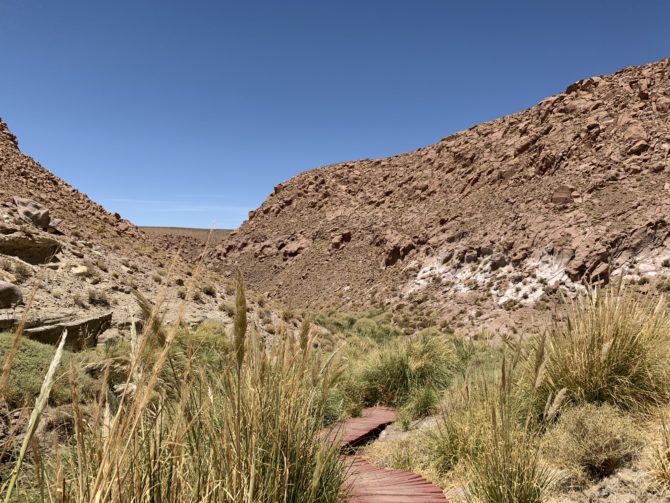 Our first trip was to the Termas Banos de Puritama, an oasis of warm pools and waterfalls in the middle of a desert valley. Aside from getting a little sunburnt we had a very relaxing morning here, testing out each of the seven pools in turn. The water was pleasantly warm but not piping hot as in some other hot springs, making it easy to stay for as long as time permitted.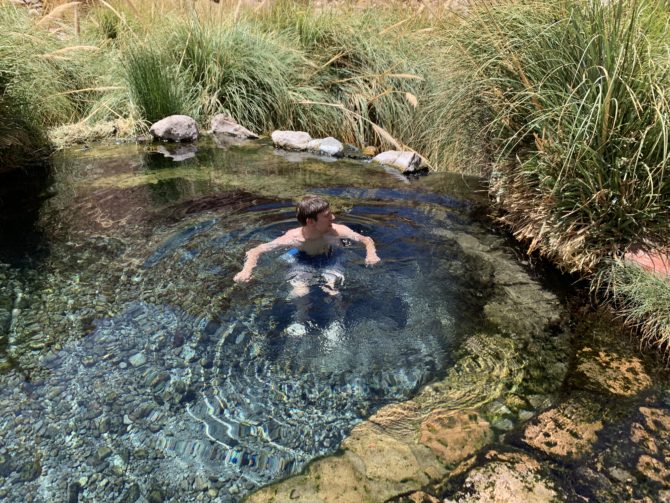 Tour 2: Salt Lagoons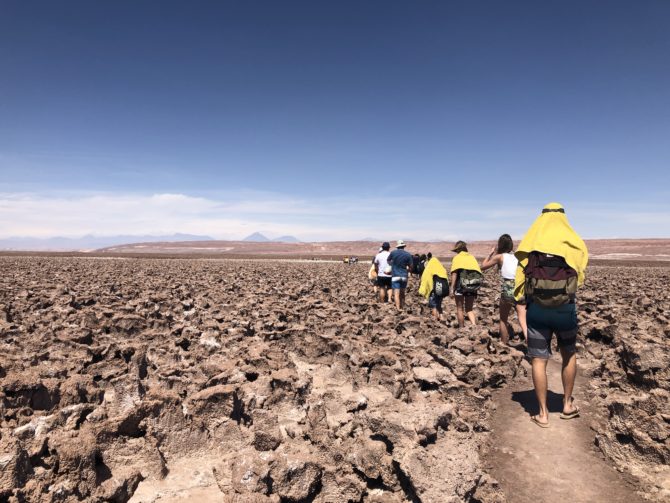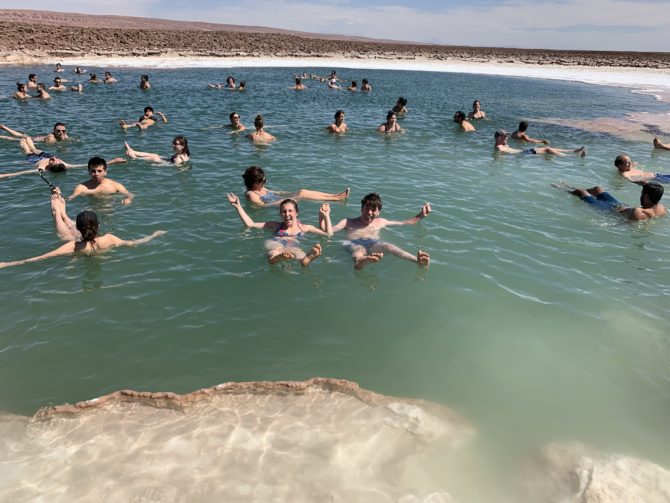 Now this was a totally new – and very cool – experience for me. The Lagunas Baltinache are a series of very salty lagoons, a couple of which are open for swimming. Or, if you prefer, just plain floating… because with so much salt, you are completely buoyant and it is nigh on impossible to sink. I had heard about this phenomenon in the Dead Sea but never felt anything like it before, and it's a weird feeling to realise that you can just completely stop paddling and relax in the water. This was my favourite trip we did while we were here.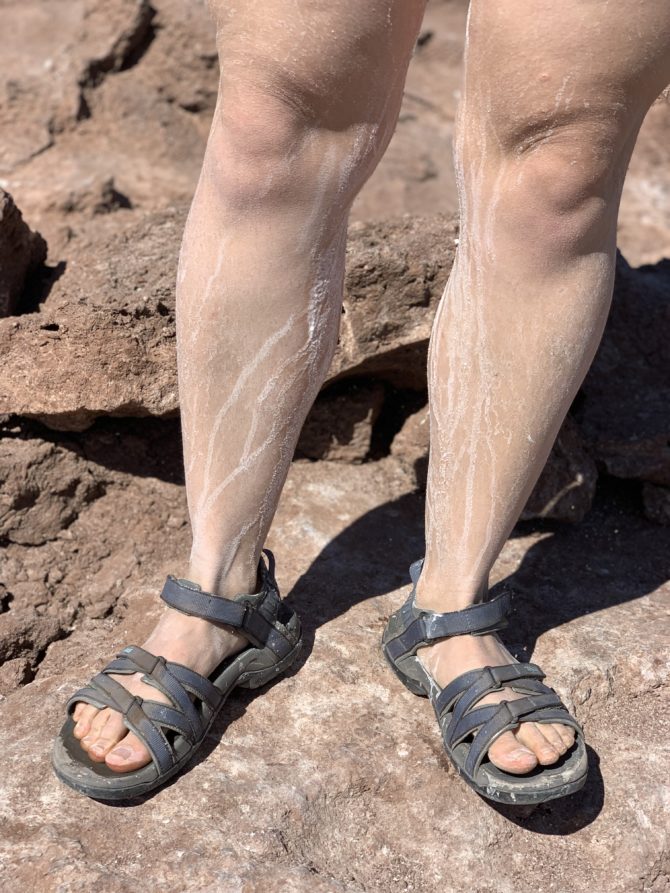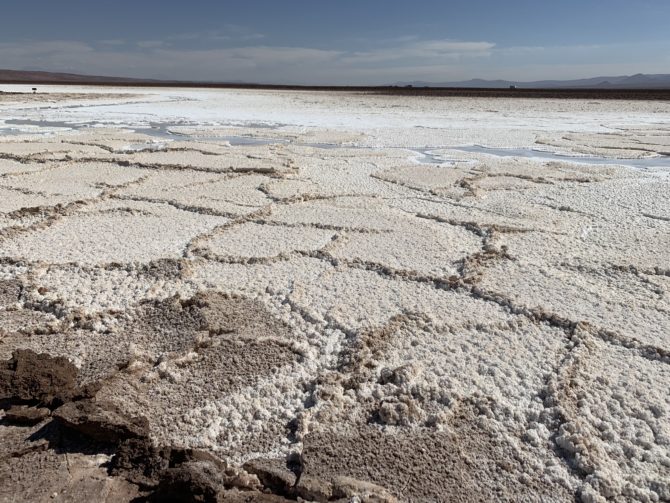 On the way back we had our obligatory vehicle incident when one of the tyres popped and was subsequently chewed up by the unpaved desert road. Cue us waiting in the desert for a while for the type to be swapped out.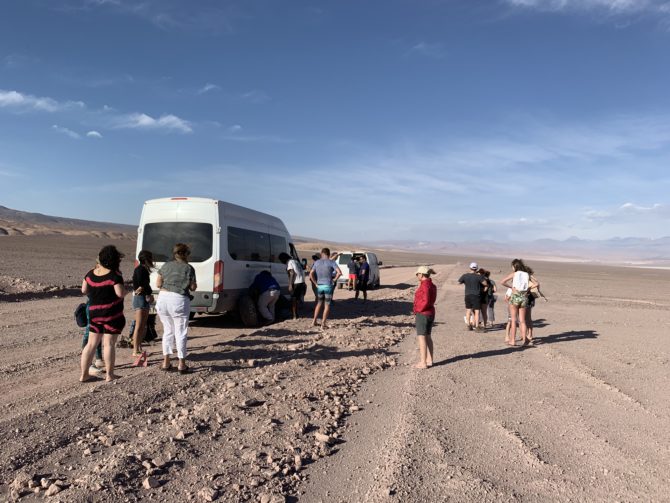 One other disadvantage of these afternoon tours is that you are held hostage to watch the sunset, and out here the sun sets very very slowly…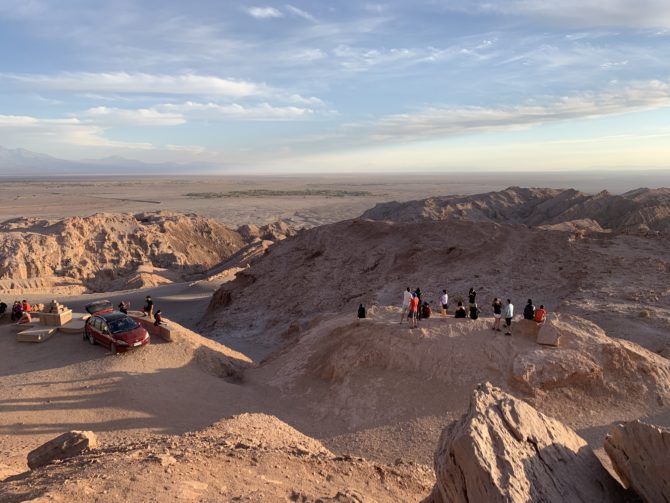 Tour 3: Significantly Colder Salt Lagoons, Plus Some Jumping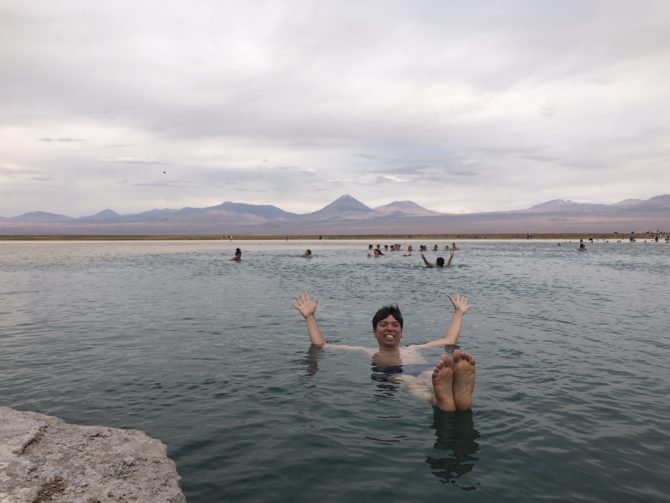 In a slight faux pas, we didn't realise that Laguna Cejar was also salty and buoyant, so the next tour repeated the same "look, I'm floating!" trick, albeit this time in much chillier water thanks to the overcast sky. But later we moved on to the Ojos del Salar (i.e. the pools you're allowed to jump into) which I did after watching some other people go first. Finally, we drove to the beautiful Laguna Tebinquiche for another sunset 😉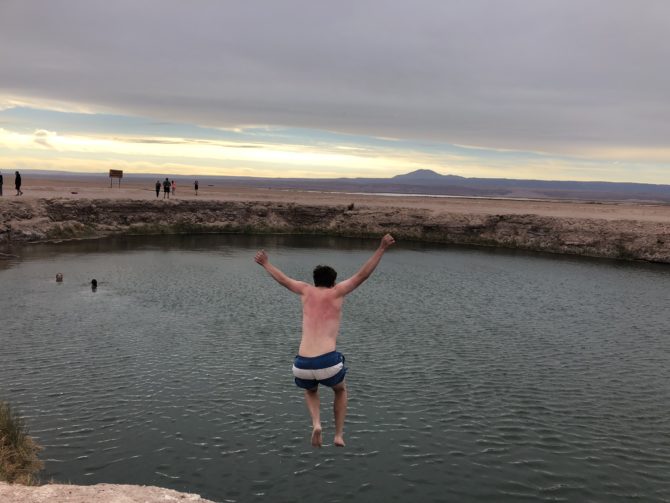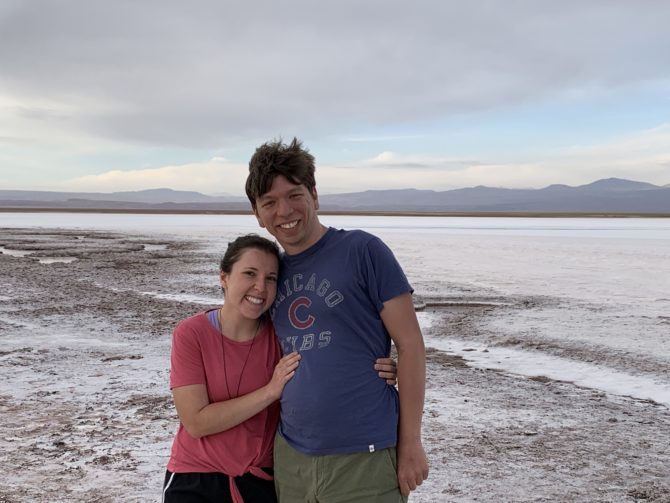 Bonus Tour: Stargazing!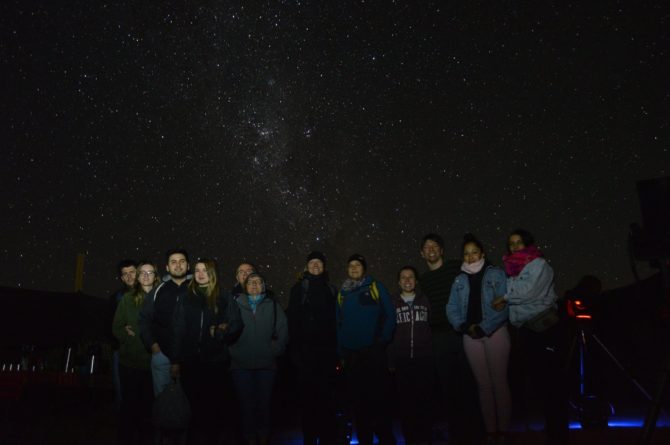 San Pedro de Atacama is also known for its astronomy tours, and even though the only available slot was between midnight and 2am one night we decided we couldn't miss it. And I'm so glad we did, because it was incredible. I have never been able to see the constellations of Orion and his dog so clearly before, even though – being the Southern Hemisphere and all – they were upside down. After looking at the night sky (and shooting stars!) with our naked eyes we were given warming cups of hot chocolate while five telescopes were readied. Through these we saw a variety of objects: stars, clusters of stars, binary systems, nebulae, Mars… although, and I'm sorry to be very parochial here, the best of the lot was the incredible beauty of our own moon and its cratered surface.
I was very impressed with our guides (one of whom answered my question about planets orbiting binary star systems with the latest research) and overall the night was awe inspiring in the real and true sense of the world. It's funny how you do think about our place in the universe just by seeing a little bit more of it.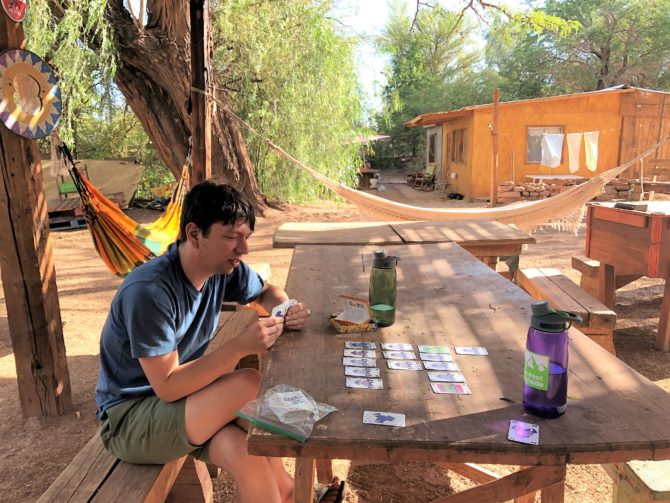 Finally – aside from all of the rushing around on tours, one low-key but equally lovely part of our stop here was the evening where we made dinner and got chatting in Spanish to a Chilean couple staying at our AirBnb. OK, admittedly it was mostly Randi doing the talking but I understood the gist at most points, and it was the first proper in-depth conversation we've had with strangers while travelling. For the record, this couple declared that while Chileans are pretty emotionally reserved ("like the British") we should watch out for Argentinians who are much more emotional. I will bear this in mind for later…