We've just arrived back at our AirBnb on our final night in Lima, so it's time to get comfy on the balcony and reflect on the first stop of our adventures. I arrived on Monday night after a short hop to Madrid and then a much longer flight to Peru, during which I watched King of Thieves – which is basically a much duller version of Ocean's 8 but with geriatric men. Randi was a few hours behind me, although after 24 hours of not sleeping I have to admit that I just failed to stay awake for her arrival.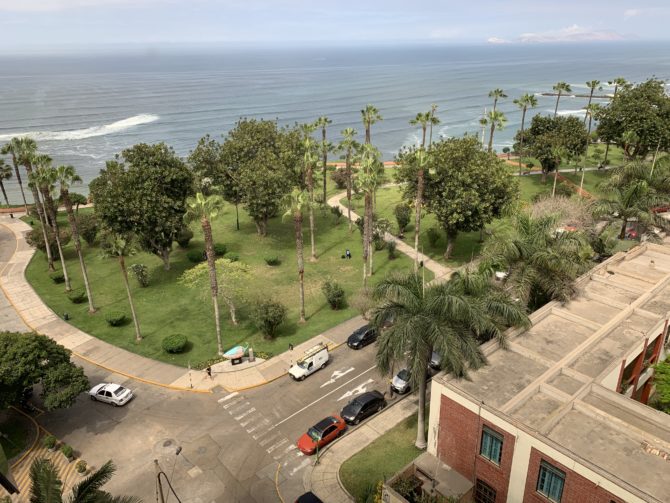 Lima is large, but we confined our explorations to three areas: Miraflores (the swanky and upmarket district where we were staying), the hipster and incredibly photogenic Barranco District and the central, historic core which was about 40 minutes away from us. On our first afternoon, we caught the 'Metropolitano' into the centre for a walking tour. The Metropolitano is basically a bus in disguise as a train. It has train-like stations with line maps and turnstiles and platform doors, but behind those doors it's just a big bus, albeit running in a dedicated bus lane. It's almost like someone took the city's money, promised to build them a subway and then skimped on construction.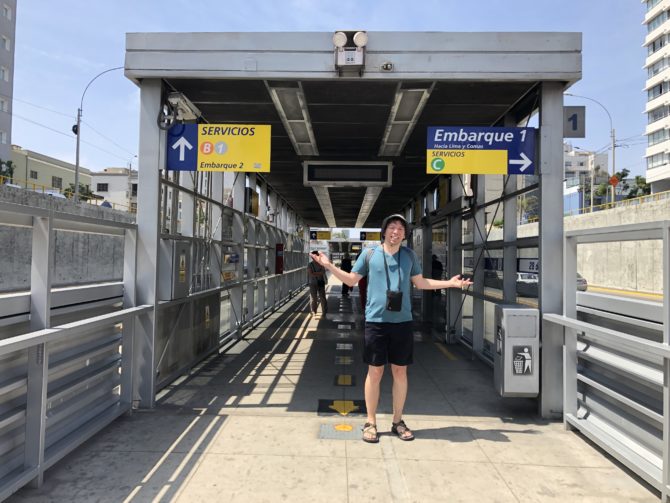 It was only around 2 in the afternoon, but the bus was jam-packed. And in the midst of it all… my phone vanished. Realistically, I was expecting this to happen at some point on our travels – just not on the first day! As soon as I realised it was missing everyone around us on the bus sprung into action, offering their own phones as torches to search the floor and to call my number. But it was definitely gone, and so the plan for our day shifted from "walking tour" to "get a police report for a stolen phone".
Now, obviously I'd prefer not to have had my phone stolen. But I have to say, the resulting couple of hours were fascinating and surreal. A security guard at the station, Ana, was just coming off her shift and offered to take us to the police station. She then stayed with us for hours as our personal translator and support, which was so incredibly generous of her and hard to imagine happening in other places. We love Ana, and wouldn't have gotten anywhere without her. She's still sending us best wishes for our trip over WhatsApp.
The police were friendly enough but somewhat confusing, repeatedly shuffling us between rooms until we manged to explain that we really just needed a report for insurance purposes. They then ushered us into the back of a police car so that two officers could drive us slowly around the centre of Lima, writing – by hand – a lengthy description of the case. We weren't quite sure where we were going (were we being arrested, perhaps?) but then we arrived at the tourism police station (right next to counter-terrorism) so that they could take over and type it all out again. Finally, after some more waiting and wandering, we got our printed report with the magic stamps of officialdom, and were free to go find me a new phone.
There are no Apple stores in Lima, but there is an authorised reseller (iShop) and getting my hands on a replacement device was no problem. Getting a Peruvian SIM card was… slightly more challenging, as all of the mobile companies have arranged their stores like old-fashioned banks with take-a-number-and-wait ticketing systems, clerks behind booths who need your passport at the first opportunity and lots of unnecessary photocopying. In fairness, my wrangling with T-Mobile afterwards was much worse. But after a couple of days of patiently working out loopholes in their systems, I managed to get my phone restored to more-or-less where it was.
I feel a little bad writing so much about this, because it in no way dampened my enjoyment of Lima as a city and we still got to see everything we had planned. We just got the back of a police car thrown in as an unexpected bonus.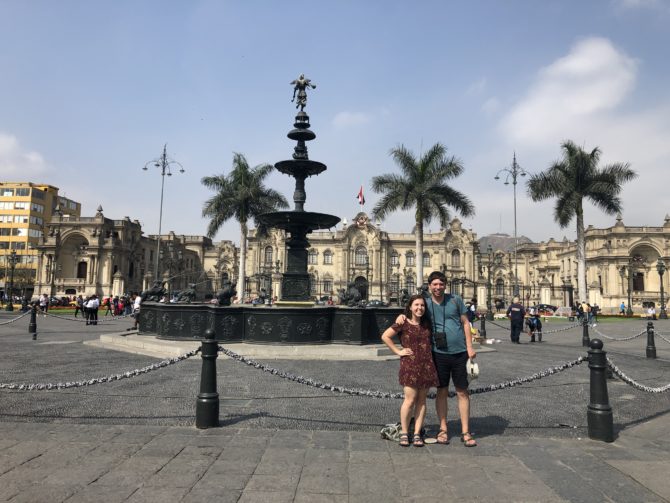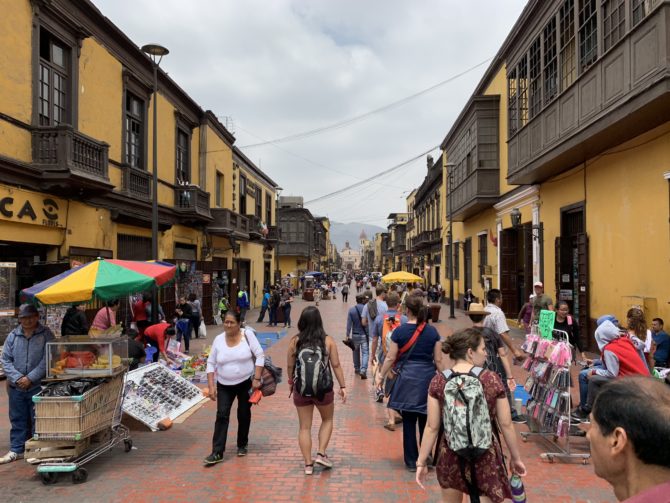 The next day we defiantly took the Metropolitano again (holding our bags a little tighter this time) and finally got to do our walking tour. The central plaza reminded me very much of Quito, and our guide was largely factual although would occasionally spin off down some interesting paths, e.g. "the British are great because they built lots of trains" (sure) and "Peru has a lot of money but we can't just give people money because you need to teach a man to fish" (hmm). He also promised that a real subway is on the way, although it was pushed back a couple of years due to corruption issues.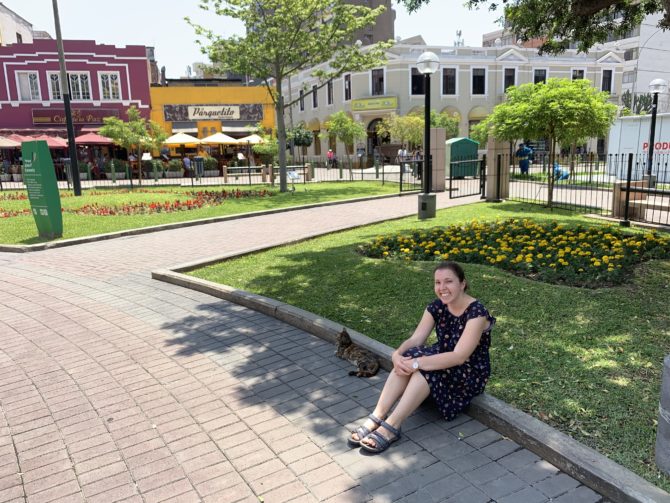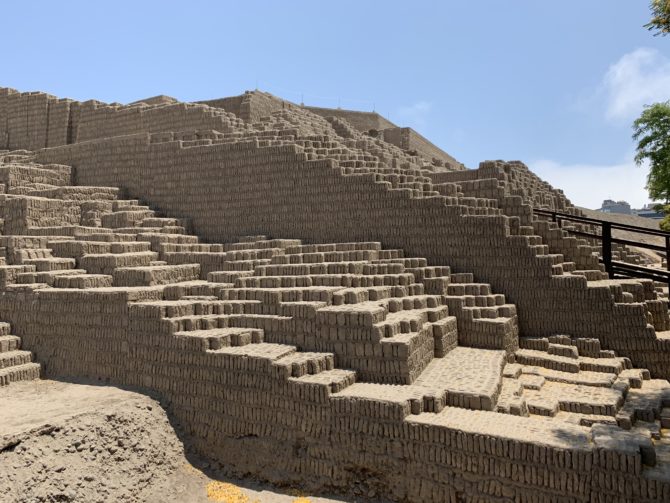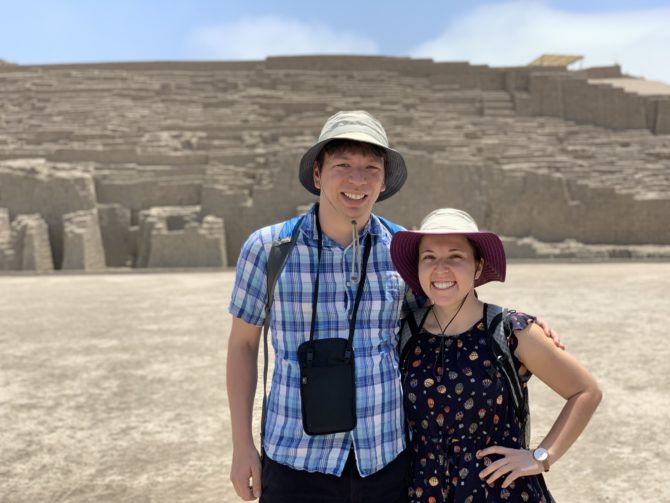 Today we stayed in Miraflores and visited the cats of Kennedy Park (Emily Ray would have an absolute field day) and the Huaca Pucllana, a giant clay and adobe pyramid built between 400 and 700 CE which seems to rise up out of nowhere in the middle of a lovely and well-to-do residential area. It was largely a temple (yes, the kind of temple with human sacrifices) with a large 'administrative area' attached, which I can only assume was necessary for the filing of reports and issuance of proto-SIM cards.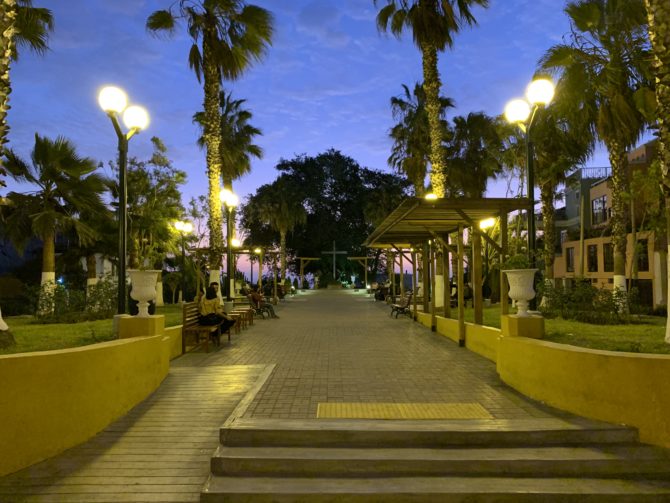 Finally, tonight we walked down the ocean path to dinner in the Barranco District. I know I described it as 'hipster' earlier but it almost had an 'enchanted tree' vibe, especially by the light of the setting sun. Having successfully got my phone back to a good spot this morning I was in an excellent mood, and I'm so glad we were able to start our journeys here in this great city.