One last word of praise for Laos, in case there wasn't enough in the last post: the butter chicken curry at the airport was swiftly made, cheap and delicious. The world has a lot to learn about airport dining from Luang Prabang. From there we spent a mere 38 minutes in the air until we touched down in Hanoi to begin our journeys in Vietnam. After five days we were both really, really impressed by this city and I totally understand why people sing its praises. I've never felt at a loss of things to see or do, even without any organised excursions.
This was definitely helped by staying in the Old Quarter, where the streets are inherently photogenic and almost everywhere is within easy walking distance. As we were warned, the roads are crammed full of motorbikes and crossing the road involves purposefully forgetting everything you ever learnt as a child. Traffic lights mean nothing and the only way to get across is to stride purposefully into the road. Looking left and right as you cross is actively dangerous, since you're more likely to freeze and fail to move forward to where the drivers have already calculated you will be. At one point at a busy crossing a woman just took me by the arm and marched me across, clearly figuring that I wasn't going to get there on my own. This slow-mo video of Randi doesn't capture the vast numbers of bikes, but was the best way I could think to demonstrate the Matrix-esque 'bullet time' experience of becoming as zen as possible and letting the traffic flow around you.
Other than crossing the roads, however, the Old Quarter is very walkable and the area around the nearby lake, Hoàn Kiếm, becomes totally pedestrianised at the weekend, starting on Friday nights. Wandering around here was our favourite part of Hanoi as the city felt so vibrant and alive, with lots of seating areas by the lake itself. The legend of Hoàn Kiếm is that this was where the Emperor had to return his magic sword (which had successfully been wielded against China during a war) after a golden turtle appeared in the lake and asked for it back. Knowing this story in advance of going to a Water Puppet Theatre show was very helpful for understanding what on earth was going on.
No, there is no rapid transit system… yet. But the Hanoi Metro – the first of its kind in Vietnam – is supposed to start operating later this year! I will be quite happy to come back in a couple of years to check on its development.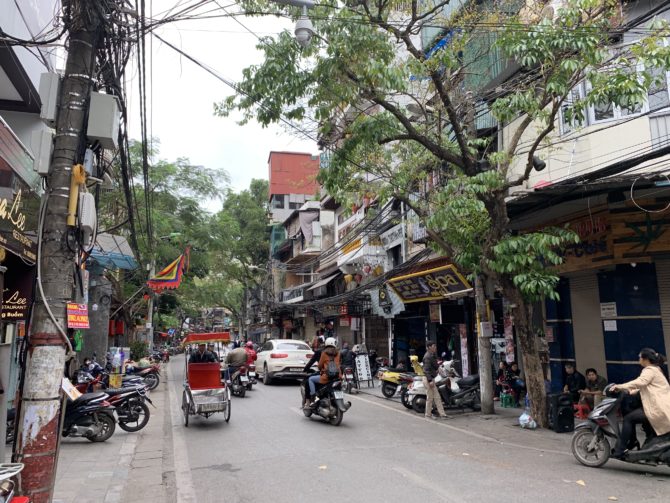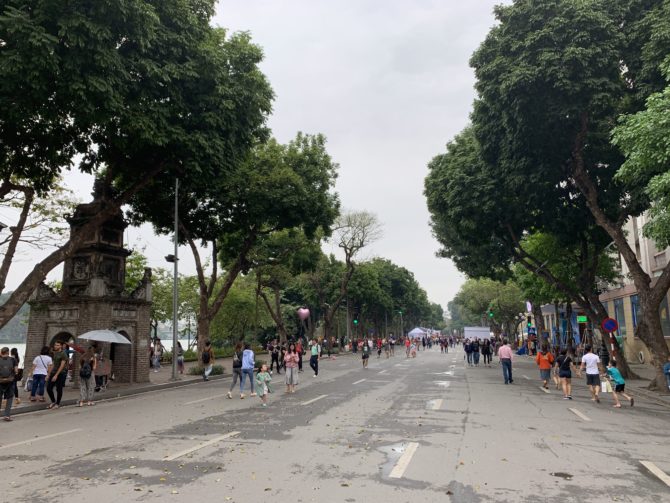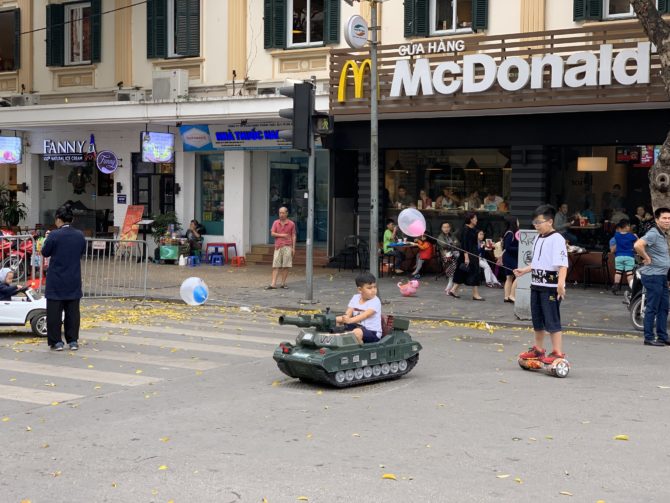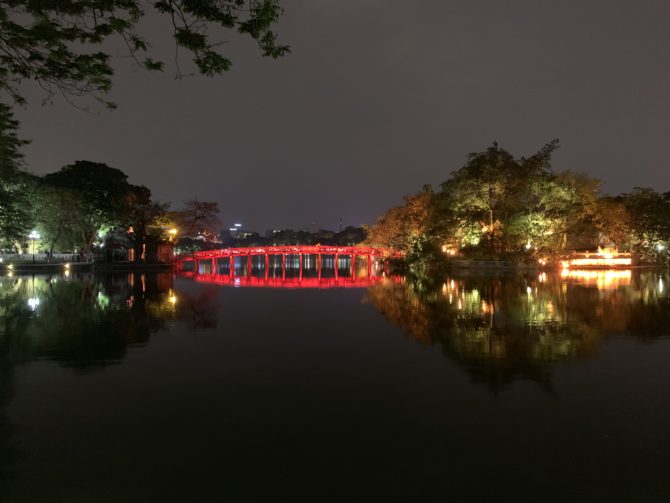 The story of the golden turtle was relayed to us during our student-run walking tour of the Old Quarter. This wasn't exactly the typical walking tour experience: the main purpose seemed to be as an English-language learning exercise for the organisers, who were visibly excited to learn that Randi and I were both native speakers. Together with a German couple we took turns to chat with our guide as we wandered around the streets, not really stopping to talk much about our surroundings but getting a chance for a really interesting conversation about gender roles in Vietnam today. We also walked on some train tracks to take photos having been assured that no trains were scheduled at this time, which shows a surprising faith in railway timetables.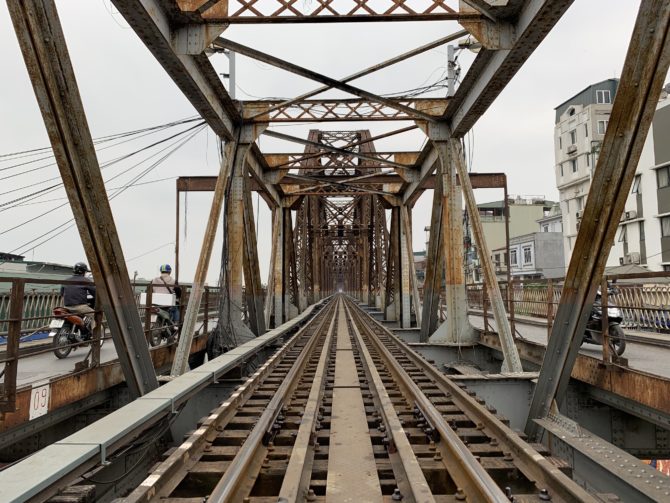 We also visited the Women's Museum, with exhibits on female fighters in war and Vietnamese family life. My favourite game was to compare the different gifts which a bride's family can expect depending on which ethnic group is marrying. It varies a lot. Some are in line for 'hundreds of silver coins', others for a machete and a pick axe, while other groups set the bar a little lower at chicken thighs. We also learnt that parents sometimes give a temporary 'ugly' name to their newborn child to make it undesirable to evil spirits. Examples of these ugly names were not given, but I'd like to think they are all Western ones.
I also enjoyed seeing the Temple of Literature – which was filled with graduating students when we visited – although we didn't spend very long there. Unlike some places (*cough* Bangkok's Grand Palace *cough*) all of the entry fees in Hanoi have been very reasonable so there's no pressure to stay for a long time, and the weather has been mercifully cooler than the rest of our Asian explorations so we could even give the suncream and mosquito spray a break. On our last couple of days the city did descend into a polluted mist which was especially evident on the morning we decided to visit the Ho Chi Minh Mausoleum. Uncle Ho, as he is known here, was keen on a simple cremation but found that it's very easy to be ignored after you're dead and now visitors queue up (mornings only) to shuffle past his embalmed body. There are guards present who would presumably stop anyone who tried to break the rules by taking a photo – and to be honest, I wish there were more tourist spots where photography was so strictly prohibited that you can all look without dodging other people's camera shots.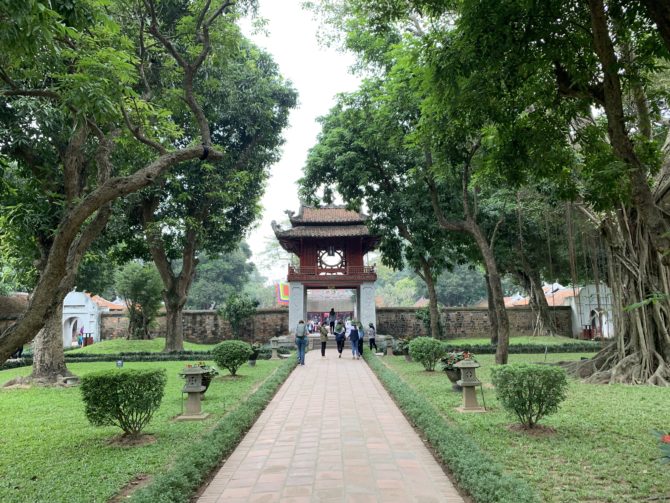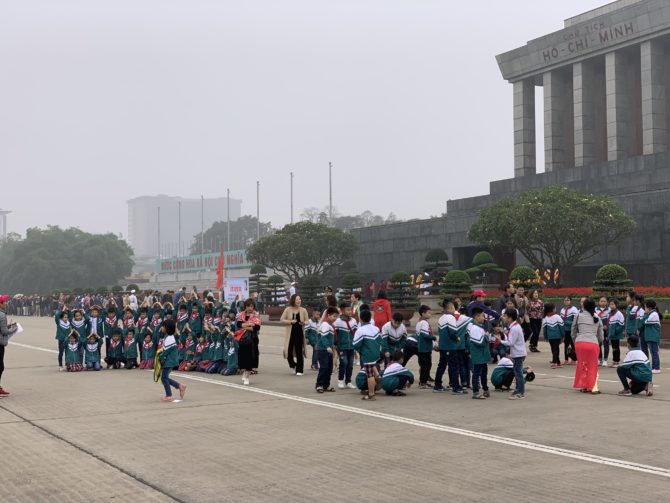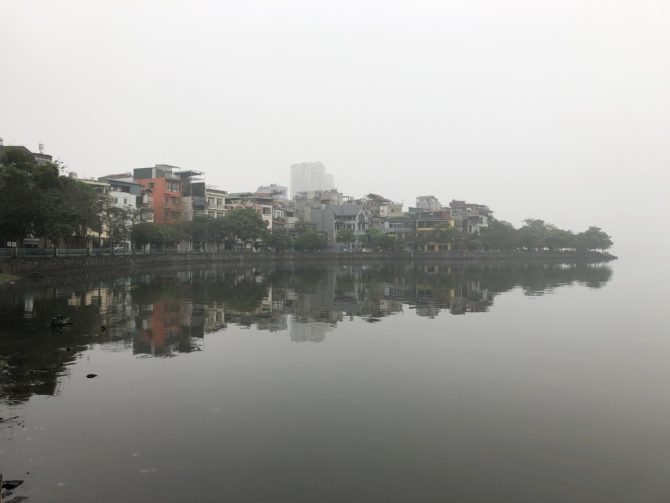 There's an odd quality to the Mausoleum and a couple of the government buildings nearby, decked out in the requisite hammers and sickles and built in a grey Marxist-Leninist style to match the sky. In Russia, the collapse of the USSR provides a sudden historical break point. You can still find the statues of Lenin there, but they belong to a past era to inspire curiosity or nostalgia or indifference or revulsion or whatever. In Vietnam, it still feels obviously anachronistic to see a statue of Lenin in the post-1990s reform era and yet there he is (away from the Old Quarter, towards the more Sovietesque park with the rundown-looking bumper cars) and so too is the same one-party state. Indeed, as a reminder of what lies in the background, the BBC seemed to be blocked on at least one internet connection we used although not on others.
Similar ambiguities are on display at what remains of the Hỏa Lò Prison. The majority of the exhibition is about the use of the prison by the French colonial forces to detain, torture and execute Vietnamese prisoners, although the references to exactly who was doing the detaining are noticeably watered down in the French translations. It then moves on to the use of the prison to hold American prisoners of war during the Vietnam War, most notably John McCain, in what was dubbed the 'Hanoi Hilton'. We learn that for American pilots this was a "serene period of their lives" with plenty of fun group activities and holiday celebrations. Except we all know that this is obviously untrue, and prisoners were tortured here. The tourists know it, and the Vietnamese authorities know that we know it, and it takes a certain mindset to keep insisting on something which is obviously false rather than opt for a subtler approach.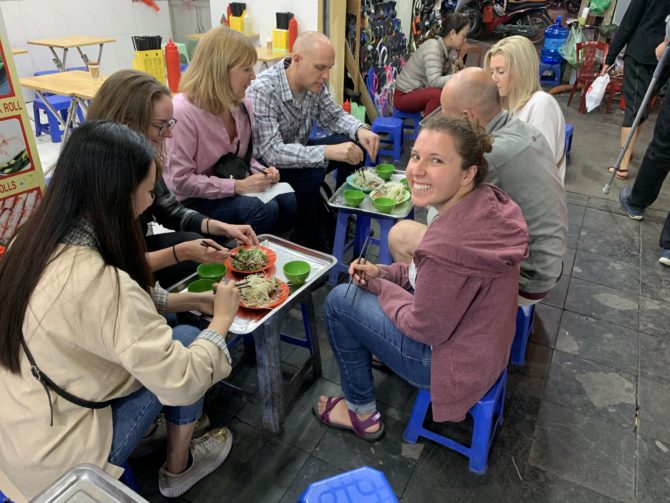 Much more fun than the prison – and one of the very best things we did in Hanoi – was our street food walking tour on Monday evening. In a small group of Brits (and Australians… originally from Britain) we were guided through eight different restaurants to sample everything from bánh mì to glass noodles to the delicious egg coffee which is a speciality of Hanoi. One restaurant was notable for displaying a large topless photo in the corner of its owner when he was in his 20s. We saw him outside (roughly two decades on) and he feigned embarrassment very unconvincingly. Overall, the food tour did not skimp on the portion sizes and by the coconut ice cream finale I was stuffed.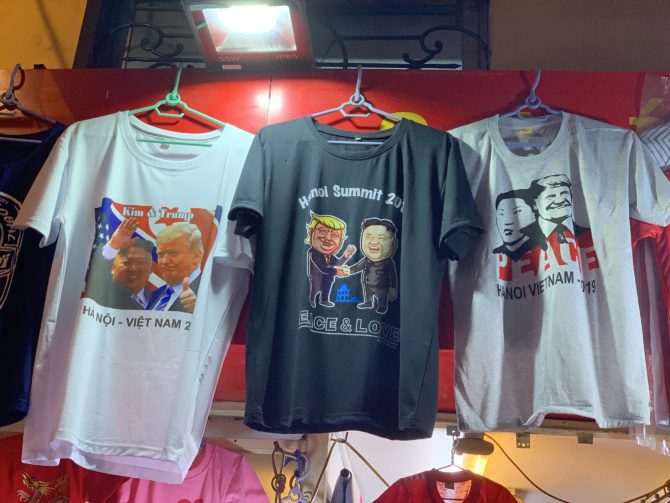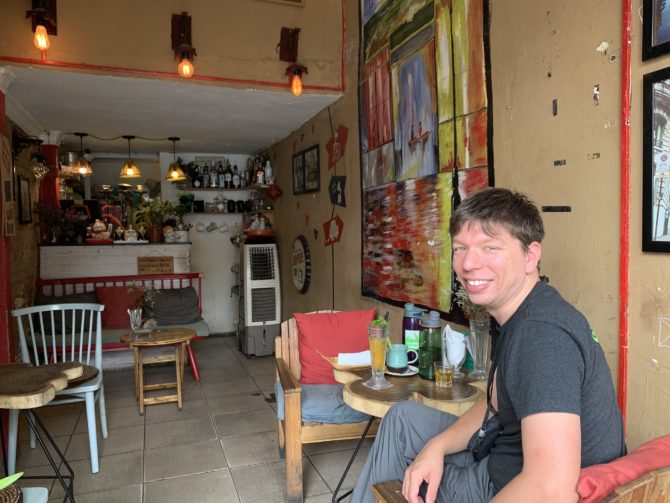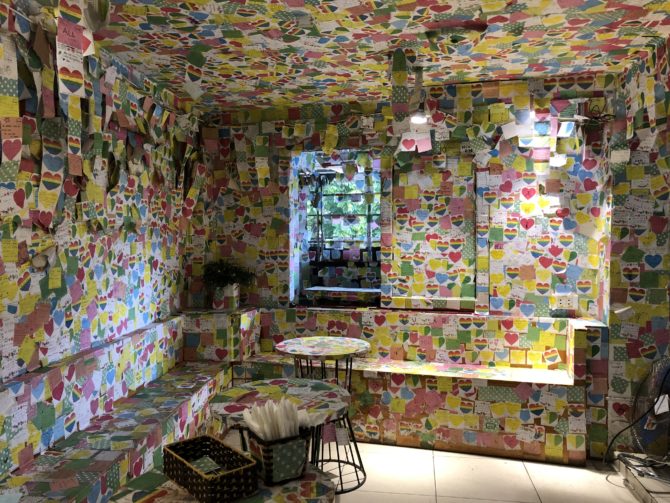 On our last day we headed back to The Note Coffee to blog, a café which (as you can see) is festooned with post-it notes. Here we ran into one of Randi's old school friends who just happened to be in Hanoi, and our blogging was paused for a great conversation about the world. Then, after dinner, we headed for the railway station for our next overnight train to Hue. Unfortunately Randi was in the midst of a sinus infection by this point so it wasn't a perfect journey, but the train was perfectly comfortable and ran on time. The only issue for me was that the ride was pretty bumpy, which left me with a headache when I foolishly tried to read before bed.
I'm struggling to finish this post because it was written in so many fits and starts that I'm worried I've lost the thread of Hanoi and failed to do justice to the city. The streets just have so much character and the city feels like a confident, busy place which is not overwhelmed by tourism but treats its visitors well. Just make sure that you plan any visit here to include a weekend to take full advantage of the lake!
Bonus English Language Time
Here is an English lesson on Vietnamese TV: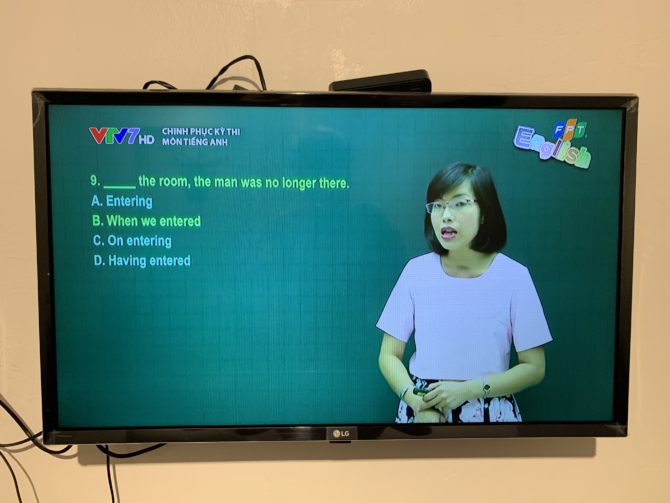 I dispute that this is the only acceptable option. For example:

"We saw the ghostly figure from the window but continued to walk on. On entering the room, the man was no longer there."