With every new series of Would I Lie To You? which aired while I was living in Chicago I got ever more concerned that the show would be cancelled before I'd get a chance to go and see it being recorded in person. So when I saw an e-mail from SRO Audiences during one of our overnight train rides in Asia that the ballot for Series 13 (!) was opening I entered straight away and was lucky enough to get tickets for the opening episodes two nights in a row. Since tickets are free this also doubled as a very inexpensive birthday present for Randi. 😇
The show is recorded at Pinewood Studios out in the middle of nowhere, which means a trip all the way to the Uxbridge end of the Metropolitan line and then a 10-minute Uber costing ten times as much for the final bit. Sadly, once you cross out of the Greater London boundary the buses dwindle to near-nothingness and the quickest route is unwalkable due to a missing pavement. (There was a New York MTA bus lying around the studio lot but this is presumably just a prop.) But we had the time and luck to land seats in the very front row on the first night so we got to be right up close to Richard Osman and Jennifer Saunders on David Mitchell's team, with Joe Sugg and Steph McGovern sitting across on the other side with Lee Mack. (Publishing guest names seems unobjectionable given what already exists on Reddit.)
Being so close to the performers actually made us both feel a little nervous, and in some ways I enjoyed the second night more (with Claudia Winkleman, Guz Khan, Greg Davies and Lucy Worsley) from a safer position nearer the back. From this perspective it also felt more like laughing at a (very extended) TV episode rather than being right in the thick of it, but both nights were incredibly fun and I'm delighted I can now cross live Would I Lie To You? off my bucket list. (Although I don't actually have a bucket list since it's much easier to fill it in retrospectively.)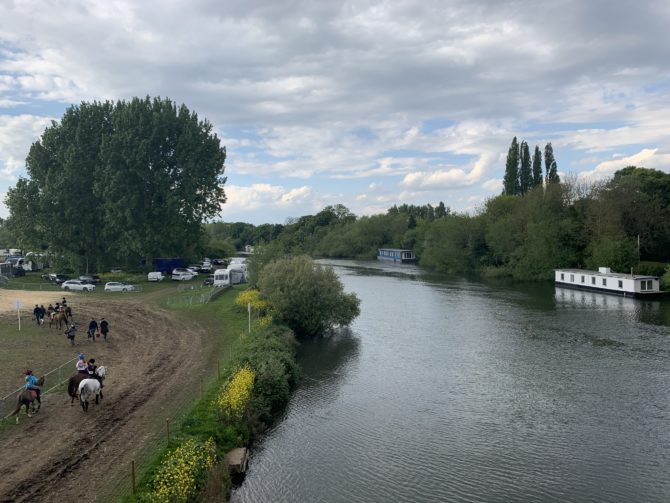 The night afterwards we stayed near the village of Datchet on my aunt Sally's incredible floating home. I say 'floating home' because although this has previously been described to me as a 'houseboat' that term made me picture a cramped space on a canal rather than beautiful and relaxed living on the Thames. We also had a good walk through Windsor – bringing back fond memories of GCSE Humanities coursework – which accidentally ticked off a few British tourism boxes for Randi including Windsor Castle (at least from the outside) and some unanticipated Morris dancing.
Like Diamond Geezer I had never actually been to the Ye Olde Swiss Cottage pub by Swiss Cottage tube station (and encircled by an awful roundabout which Westminster council keep trying to protect) so it was a good spot for us to catch-up in person and swap notes on various nerdy topics. At a much bougier lunch the next week in Exmouth Market I caught up with Cat and Matt during one of Cat's flying visits to the UK since – hilariously – Cat and I have basically swapped places and she is now living in Madison, Wisconsin. At least it sounds as if my advice about Culver's (i.e. to eat there enthusiastically and often) has been heeded.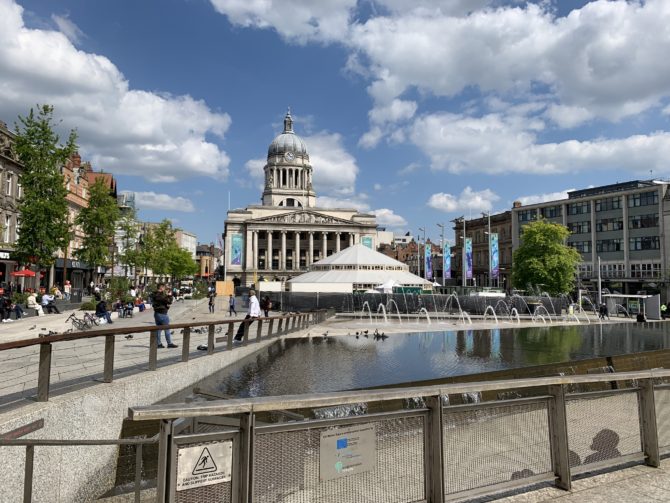 I've been lucky enough to have had job interviews over the past few weeks at a really interesting range of places – from bigger companies to tiny start-ups – including one which required an afternoon visit to Nottingham. Unfortunately the Castle was surrounded by scaffolding when I was there, but I did establish that the city centre is chock-a-block with trams to an impressive degree. Meanwhile, Randi has now fully locked-down a job which (a) is awesome, (b) was another reason to celebrate at her birthday dinner with my mum and (c) brings us a step closer to actually moving to one of the neighbourhoods we have been scouting. Further parts of South London met with great approval yesterday, East London less so. (But hey, I did make my first TfL Rail journey – a brand which was meant to have been and gone before I ever got back to London.)
Saturday night was a low-key (but enjoyable) Eurovision at Josh and Anna's, albeit with a bafflingly unmemorable song from the Netherlands winning. I didn't have a clear stand-out favourite but I did cast a vote for the bouncy Czech Republic boys because I was giddy with the power of being enfranchised again. I also understand those who protested and thought this opinion piece the next day was worth reading on what it says that the Palestinian flag alone elicits such an hostile reaction in Tel Aviv. Having made another opportunistic use of Josh and Anna's spare bedroom in Kingsbury, we then migrated to Andrew and Bonnie's on Sunday for a grand post-10K brunch (other people ran the 10K but I helped to eat the brunch) and undemocratic card games.
Finally – and I know this blog has been a bit all over the place – I wanted to pay my respects to Sanna's dad, Rod, whose funeral was on Friday. I would never claim to have known him well. Parents of school friends are often fleeting figures, but I did meet him quite a few times over the years when Sanna and I were at school together and he was the kind of person you knew immediately was kind, loving and wise. After a long time I was very fortunate to see him again, the Christmas before last, as we all sat around their kitchen table and chatted in the warm family glow. I know he is missed.