I've wanted to visit Amsterdam for a very, very long time and yet the city still exceeded my expectations, even on a grey and somewhat-rainy long weekend in October. So, this is my inevitable fawning blog post about Amsterdam.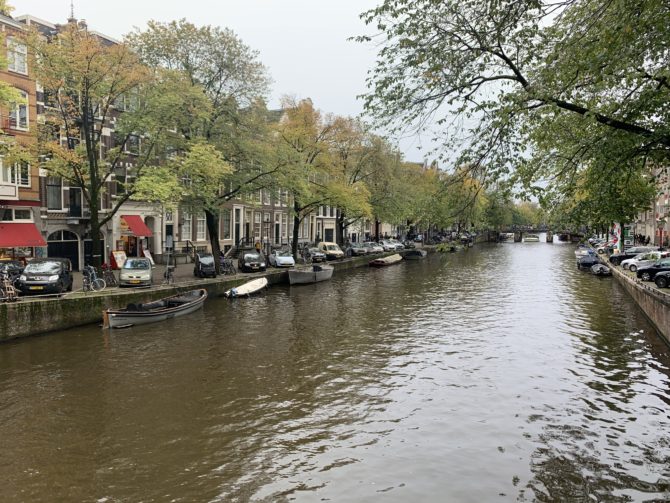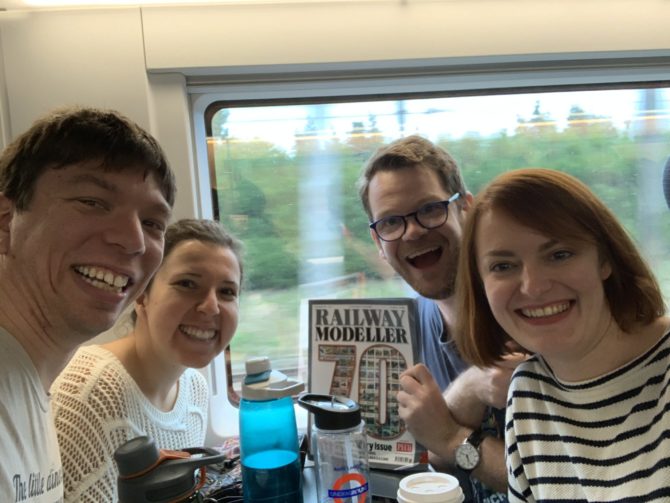 We left London on an early Friday-morning Eurostar train from St Pancras with Simon and Fleur, with Steve following a few hours later. I have gushed about the joy of direct trains from London to Paris before, but direct trains from London to Amsterdam are even more wonderful and engender a feeling of European interconnectedness in a way that flying never can and never will. After a pancake and hot chocolate-based lunch we hopped on a bus to a farm just outside of the city and the one-of-a-kind waggon we had chosen to stay in. Sure, we could have gone for a hostel or something, but that wouldn't have been half as much fun as our beloved waggon.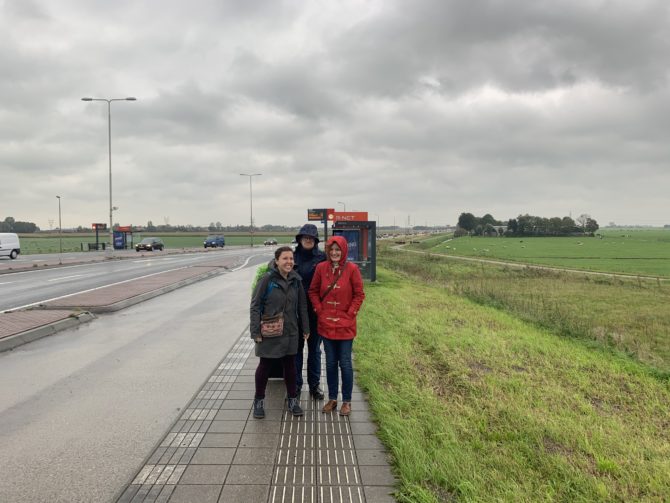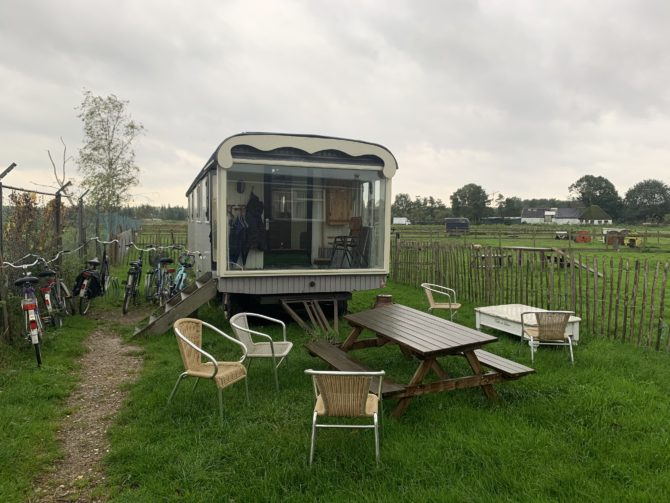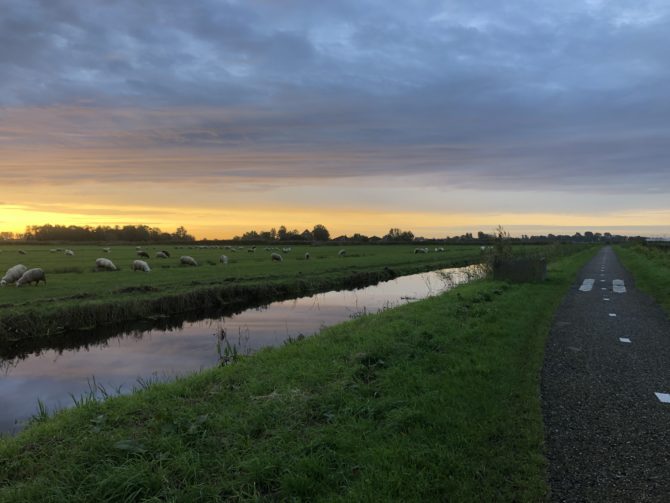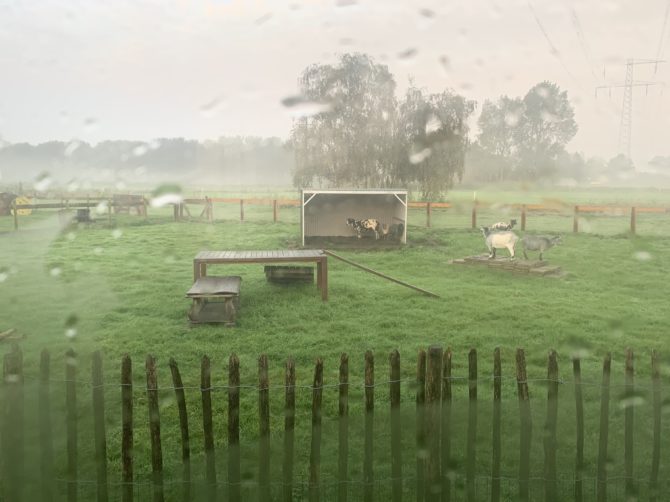 On Saturday we started with art at the Rijksmuseum and in particular its special exhibition Rembrandt-Velázquez – Dutch & Spanish Masters. As a piece of curation this was easily one of the best exhibitions I've ever seen. Rather than my usual feeling of 'wandering through many paintings and feel like I'm not really appreciating it properly', whoever curated this has systematically selected one Spanish and one Dutch painting on a similar theme (headined, as the title suggests, by Velázquez and Rembrandt) and then invited the visitor to compare the works side-by-side. Combined with excellent historical background text, the whole experience of walking through an art gallery suddenly felt meaningful for someone who loves history but doesn't really know much about art. And, if you are childish like me, you can also keep a running score of Catholic vs. Protestant? by picking your favoured painting each time. (I think the Protestants won out in the end, but it was a close-run thing!)
After lunch we headed to our timed tour of the Anne Frank House. (Tip: you have to book this online in advance, so check before you visit.) Having finally read her famous diary last year I was really glad that we got a chance to visit the annexe behind a bookcase where she and her family, along with several others, hid from occupying Nazi forces for two years before being discovered and killed. There is not much I can mieaningfully add here, other than that the museum is very well designed and it is both strange and haunting to walk through the rooms which Anne wrote so much about in her diary.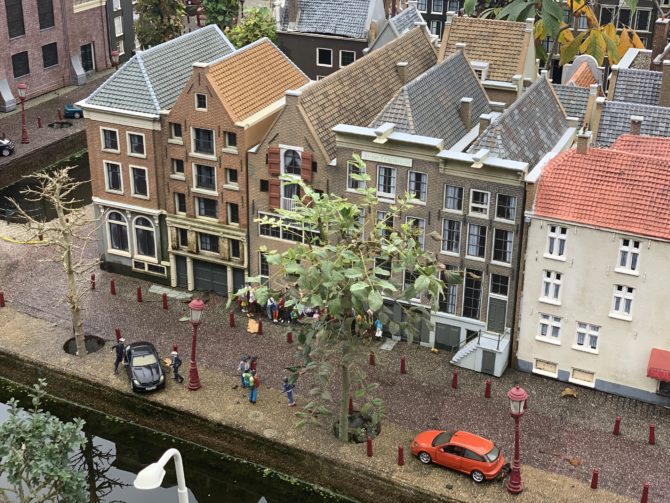 Much of discovering Amsterdam felt like proving that the clichés were true, and not in a bad way. Yes, the homes lining the sides of the canals are incredibly pretty and charming. Yes, there is cannabis everywhere. And yes, cycling has a dominance and a naturalness (no helmets to be seen) which I've not seen in any other city in the world. What was especially exciting was finding this was still true even when we ventured outside of the most touristy areas, or late at night. With many cyclists, and few cars, it's actually possible to have streets which feel calm and quiet without being empty.
Because all other transport modes can flourish together when cars are restricted, all of the other ways to get around Amsterdam were unsurprisingly but uniformly excellent too. The buses to and from our middle-of-nowhere stop by the motorway were astonishingly frequent. The trams across the city were great and – much to our amusement – sometimes contained an entire counter in the middle of the vehicle behind which a member of staff sat and (presumably) dispensed travel advice where needed.
And let's not forget the Amsterdam Metro with its huge, beautiful stations filled with interesting art to admire in the couple of minutes before the next train would arrive. (To be fair, the line we used was only opened last year, so maybe it's only fair that the stations look good.) On two occasions, by the way, random members of the great Dutch public stopped and explained the background to a piece of metro art that we were looking at.
We used one other mode of transport: a train to The Hague and back on Sunday, on which we had a bit of a surreal moment when a member of staff walked down the aisle and stopped to check "if everything was OK". We had assumed she was a ticket inspector and had taken out our tickets to show her… but no, she was just checking if things were good. (On the same train, a young girl was practicing her English by having her mother call out English words and providing the Dutch translation. So we enjoyed a constant and quite adorable stream of pretty advanced vocabulary – "prison!" "pollution!" "pitchfork!")
Anyway. Why did we go to The Hague in the first place? Why, to visit Madurodam of course! This 'war memorial' to a Dutch resistance fighter, George Maduro, is in fact a huge and utterly brilliant miniature park showcasing the best of The Netherlands at 1:25 scale. Although I could easily include hundreds of photos I will try and restrain myself a little, although if you check back in the post so far you may spot several model replicas already. Suffice to say: I loved it, from the intricate historical buildings and streetscapes to the big model industrial areas like Schiphol Airport.
There are so many wonderful little touches here, like the miniature Mars trucks which pick up real mini Mars bars from their mini warehouses, or the stricken cyclist lying by the stopped car. We also had a lot of fun at the immersive 'New Amsterdam' experience, which pits the plucky Dutch colonists against the nasty English pirates and – outnumbered – has them totally surrender as New Amsterdam becomes New York. I don't know how anyone could fail to love Madurodam, and it is definitely worth the extra trip out of Amsterdam to see it.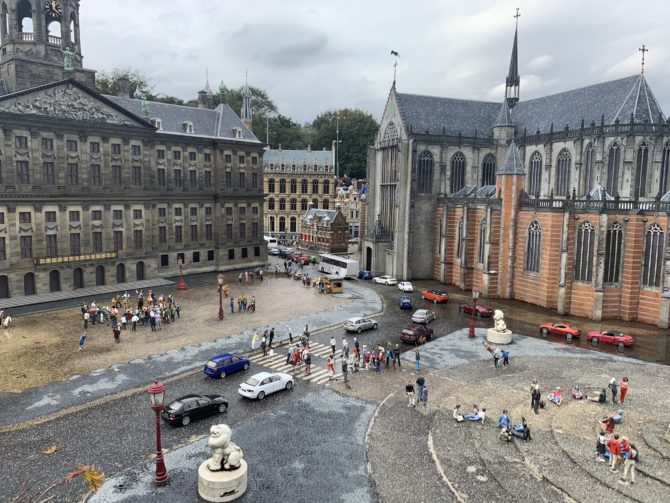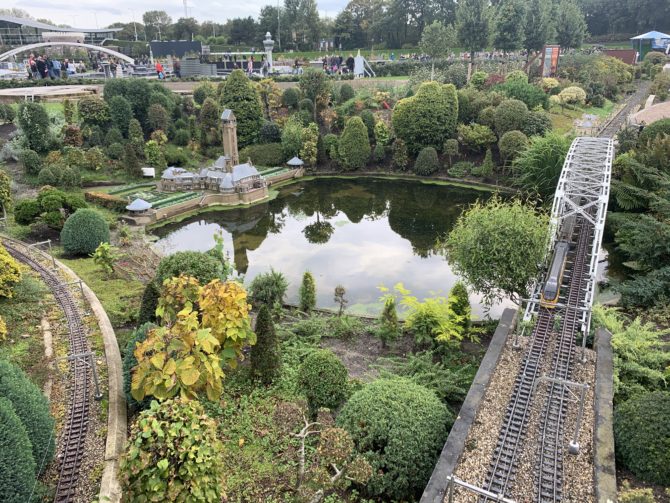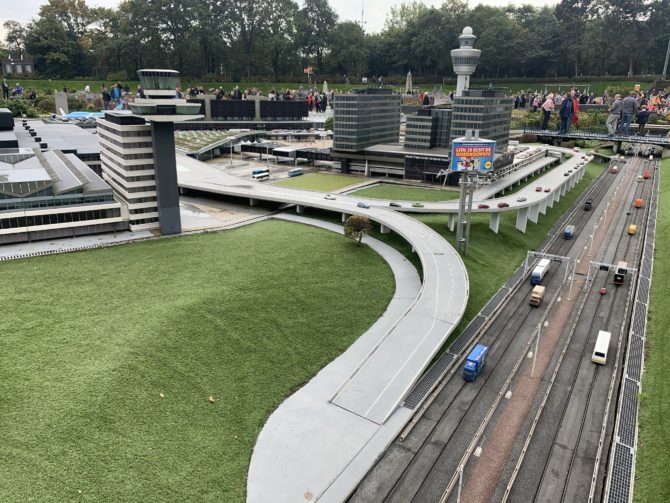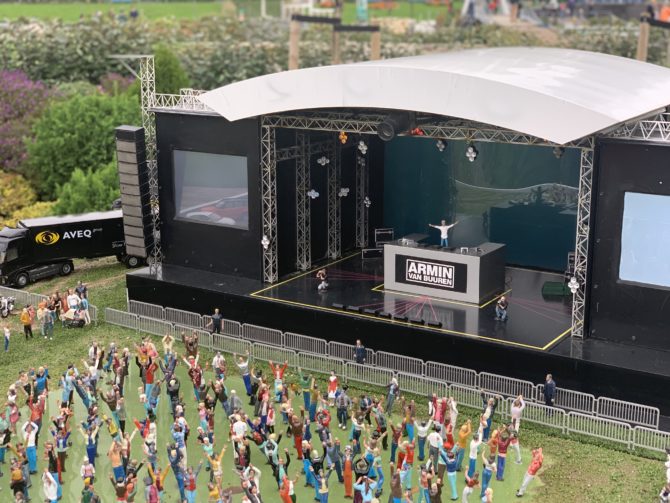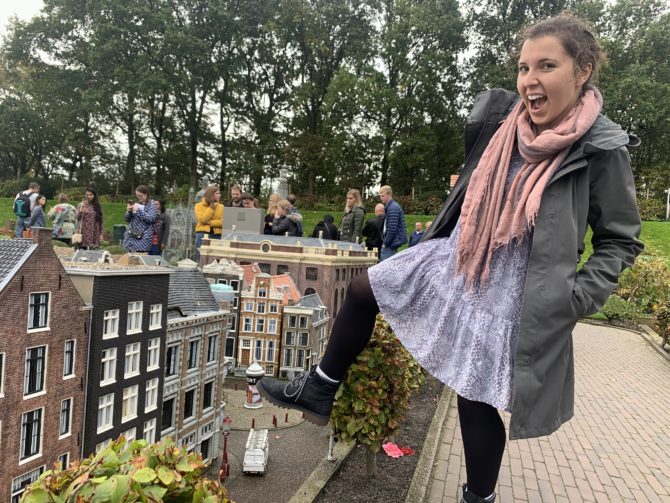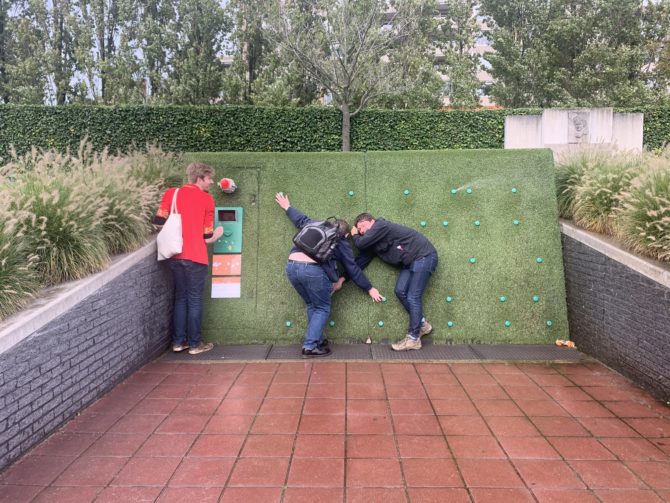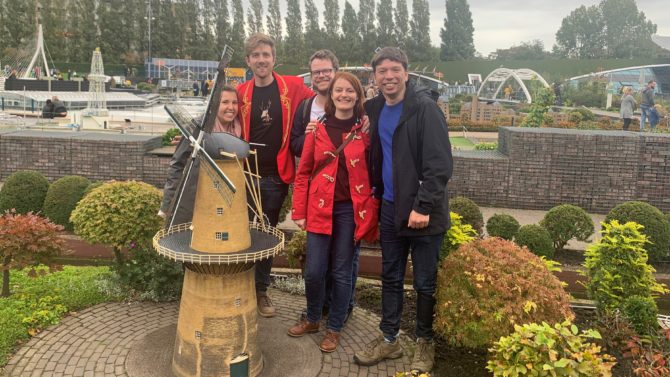 I haven't even mentioned the food yet, but this was yet another highlight of our short trip. From pancakes to poffertjes, stroopwaffles to Surinamese food, we all ate pretty tremendously. My only regret was failing to realise that the Van Gogh Museum also runs exclusively on timed tickets and thus failing to get in before our train back home on Monday afternoon. Still, if there's anywhere I now 'have' to go back to, I'm delighted that it's Amsterdam.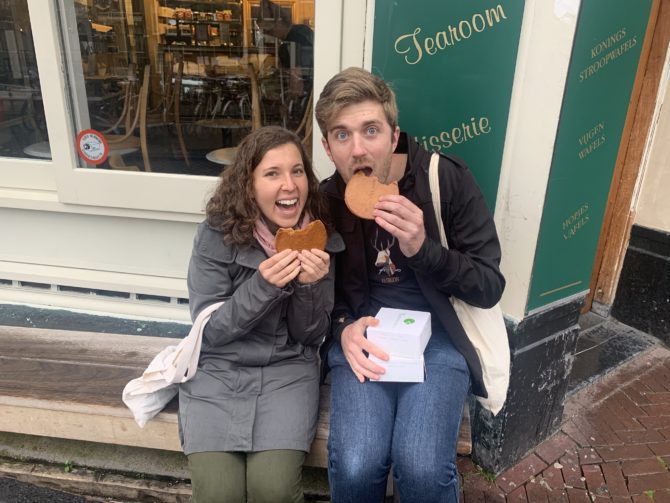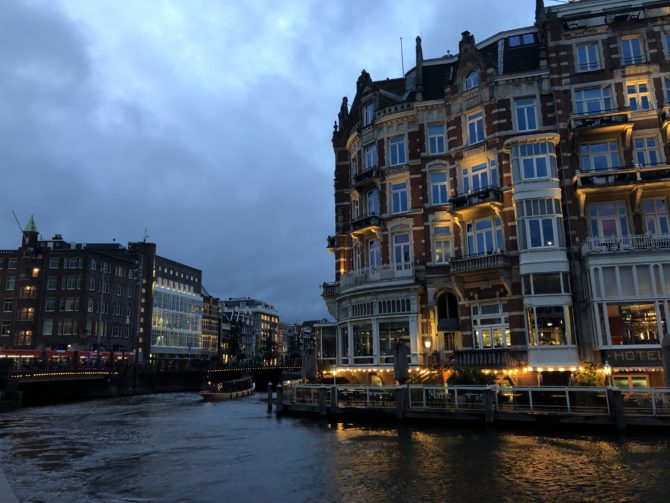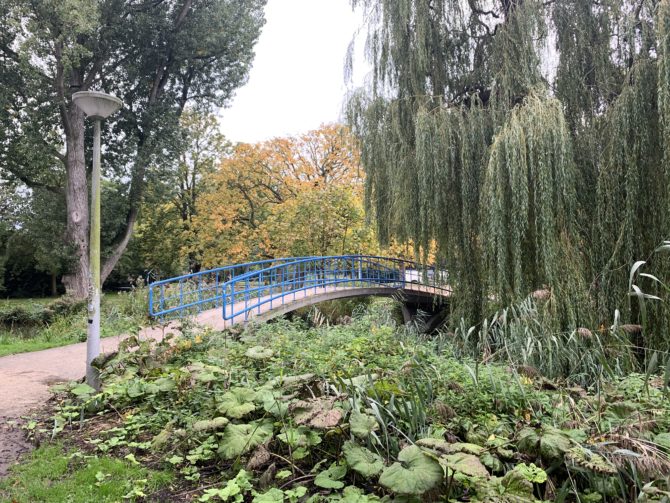 Sadly the train home is not as magical as the way there since there are no passport control facilities (yet) at Amsterdam, meaning that everyone gets chucked off at Brussels, goes through the customary (but absurd) double British/Schengen passport control a few metres from each other and then waits in a too-small waiting area to get on a new train. Not to be outdone, the Home Office then insisted on a third passport check when we came off at St. Pancras. I asked the border agent what on earth this was for, and he responded that it was "only for certain trains". "But… why?" "Because… well, why not?" On this stellar logic I am expecting passport checks at Brixton tube station in the morning. (Not that I want to give them any ideas.) Can't we spend the money on someone to check if people on trains are OK instead?
But enough of the Home Office. I hope I have done enough to prove my newfound love for Amsterdam and the dry-humoured Dutch in general. Send me back any day!