It's time to wish this blog a happy 18th birthday – a little belatedly, because it officially reached adulthood on 27th April 2022. For years I've had an annual tradition of linking to the various stages of child development and later legal rights by age, but 18 really is the big one. dom.blog is now free to get married as it wishes, vote, buy alcohol, sit on a jury, acquire as many tattoos as it wants and be elected to parliament to represent its fellow blogs. Hurray! It's sorta wild to think that this is the equivalent length of time it takes to parent a child…
Anyhow, at the final hurdle I've been a neglectful parent since my last post was about Easter in Malta and there's a lot to catch-up with. After Malta, Randi and her parents continued their holidays in Italy with food-filled trips to Rome and Florence, but I returned home to work and so – since this is my blog – you're going to have to come with me down the less-exciting Choose Your Own Adventure path and skip out on the Colosseum, pasta making classes and wine tasting in Tuscany. Sorry.
Instead, Katie came over and we caught up on the disappointingly flat Doctor Who Easter special (which was a shame, because I really liked the New Year episode) before making up for it with 1966's incredibly entertaining The Gunfighters in which William Hartnell's Doctor blunders into the events leading up to the shootout at the OK Corral in America's Wild West. Most notably, the episodes are tied together by a very-very-very-long and repetitive song, Ballad of the Last Chance Saloon, which forms both an off-screen narration (to confirm that what you've just seen happen has indeed happened) and – even more bizarrely – also performed on-screen in the eponymous saloon by companions Steven and Dodo after the bad guys decide that to threaten them at gunpoint to play the piano and sing. Point being: this is a totally marvellous story and it is my official view that Legend of the Sea Devils would have been greatly improved if Yaz and Dan had been forced to do a musical number midway through for no apparent reason.
The other highlight of my Italyless week was a virtual board game night with my team at work on the (excellent) Board Game Arena – shout out to Kim for first introducing me to this – in which our engineering lead Kira crushed Hanna like a bug, and then crushed me like a bug, and then defeated Maria in a somewhat-more-competitive spirit before we all decided it might be best to try playing a cooperative game instead. In all seriousness: it was really fun, and we're planning on a follow-up soon.
And then on Sunday, before Randi and her parents arrived back in the UK, I nipped up to Golders Green with Josh, Anna and Cora to buy some surprise welcome home challah and play in Golders Hill Park. There is something magical about seeing Cora dance around in the same 'Gazebo' sculpture thing which we all enjoyed as kids ourselves.
A few days later we held the funeral for my great Uncle Leonard at a Jewish cemetary up in Hertfordshire. The service itself was short and impersonal, with men and women separated and lined up on either side of the hall which (given normal actuarial disparities) made me feel like I was on the losing side of a particularly vicious game of dodgeball. On the other hand, the building was much less oppressively 'indoors' than any other funeral I've attended, with doors opened to the outside throughout. "It's beautiful out here" said Leonard's closest friend to me as we walked through the open air to the graveside. "Leonard would have hated it – he never liked walking through the countryside."
This is definitely true: Leonard was a city person – a London person – and while he enjoyed the popular pastime of bemoaning the current state of <insert institution here>, he never showed the slightest inclination to escape to the country. He was much too connected with the family for one thing – at every birthday and Christmas I remember, always bringing the biggest and most exciting gifts when we were young – and when I got older I would visit his flat, close by Pimlico station, to answer his latest computer questions before he took me out for lunch.
In fact, Leonard was always impressively determined to keep up with technology and was specifically a big collector of digital and Internet-connected radios, back in the day when this was all new, because it thrilled him to be able to tune in to some local station from an obscure US town. We enjoyed arguing about most political topics (I once printed out some British Crime Survey data and brought it round to him in person to prove a point) although I'm not sure I was ever very successful at persuasion. But he always indulged all of his nieces and nephews with a lot of time and attention and love, and I'm grateful for that, so thank you.
Back in the semi-present day, after getting back from Italy we enjoyed a couple more weeks in London with Randi's parents, including a trip with my mum to see the much-acclaimed musical Dear Evan Hansen. To be honest, I'm probably the one in our group who enjoyed it the most – the others sounded a little more lukewarm afterwards – but I have been looping through the soundtrack a few times afterwards, which is always a good sign for musicals.
On Sunday night we reunited at my mum's for a scrumptious dinner with an impossibly large number of desserts because everyone decided to bring their own. Not complaining. Indeed, the food situation while Beth and Stewart were here was particularly indulgent because along with taking them to our local favourites (including a return to Two Spoons with Tash and Cormac, and amazing Georgian food at Kartuli!) they also took it upon themselves to become our personal chefs while we were working, cooking up delicious evening dishes in our kitchen. This was a very good deal.
We celebrated Bank Holiday Monday by returning to the Oxleas Wood café – a favourite discovery from the Capital Ring walk – and then walked a fair chunk of Section 2 together. Later in the week we celebrated the thrills of municipal democracy by going to vote together: it was a tight race, but Labour in Lewisham continued to squeak ahead of the opposition by clinching a mere 54 out of the 54 available seats, plus the mayoralty. (I should clarify, in case Priti Patel is reading this, that I was the only person actually voting.) I'm not unhappy, exactly, but it's a reminder that only a relatively small portion of the country really counts for determining who's up and who's down.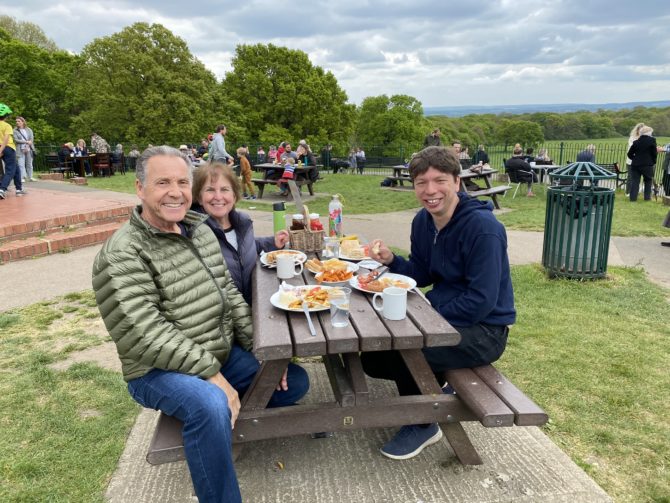 Finally, on Beth and Stewart's final Sunday in London we went down to Richmond and basked in the beautiful sunshine as we walked along the river. Special thanks to the couple sitting opposite us on the District line on the way there for reaffirming my faith in Russell T Davies's impeccable judgement: when everyone on the Tube suddenly got the same BBC News alert that Ncuti Gatwa had been cast as the next Doctor, the woman gave a happy yell of recognition and declared that she was now excited to start watching the programme again.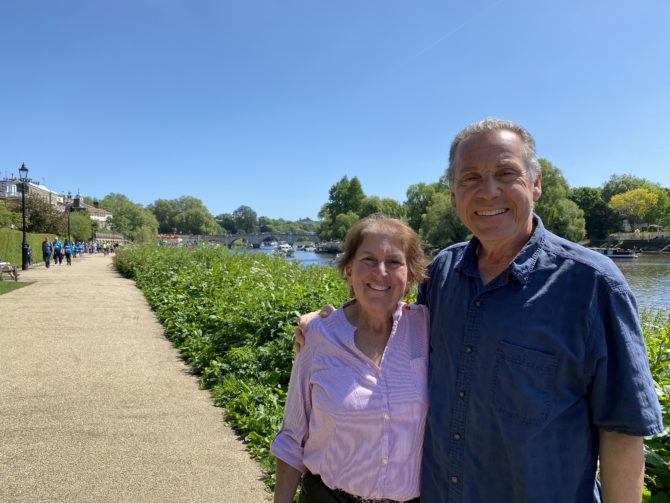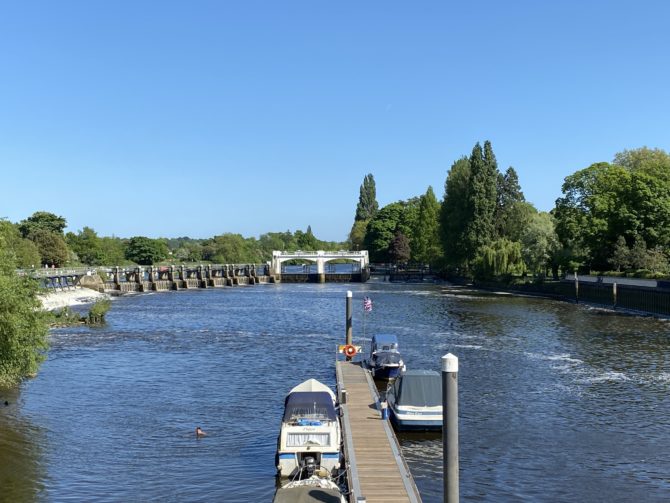 But wait, there's more! On the week that Randi's parents left for home, we were thrown into the joy that is Eurovision week. I know, I know: you don't watch the semi-finals. Why should you watch the semi-finals? The UK is guaranteed a place in the final anyway, so, really, what would even be the point of watching the semi-finals? Well, (a) you're wrong, and (b) you're probably to blame for Brexit. We do watch the semi-finals, and this year we were joined by a very exciting last-minute guest: Cat!
It was so exciting to have Cat stay over at ours, and together we ordered mountains of Indian food and cheered on all the best performances until all of the best performances were eliminated by the terrible, terrible public voting. (Same deal with the second semi-final on Thursday night, too.) Still, not to lose heart, we're readying ourselves for the Grand Final tonight. Actually, as soon as this epic post is over my next task is to start hunting for the peculiar collection of flags I stole from the Groupon office many years ago. Europe: you're good to go!