Greetings from Warsaw airport!
I'm just passing through on a long layover on my way to another adventure, but (naturally) this presents a great opportunity for a blogging catch-up over a pierogi lunch. I last posted in final run-up to the Eurovision Grand Final, for which Randi and I were very excited to be joined by our neighbour Angela, who hadn't seen Eurovision in years and – for UK purposes at least – picked a very good year to dip her toe back into Eurovision waters. (As everyone says, I really don't think it would have been a great idea for anyone to have beaten Ukraine so coming second was the ideal outcome…)
A really lovely thing for us recently has been a resurgence in theatre-going. Over the last few weeks we've seen not one, not two but three things:
For Randi's birthday, I got us tickets for The Book of Mormon. I last saw it in 2013 (my blog from the time reminds me that I had a work trip rescheduled around it!) and it had been a similar gap for Randi, but we've both found ourselves listening to the soundtrack off-and-on over the following decade and it was so much fun to be able to go back and relive it. There's something very relaxing about seeing a musical for the second time – when you already know all the songs – and then of course you've forgotten all the dialogue between the songs so it's a mixture of familiarity and surprise.
At Angela's suggestion, the three of us went down to our small local pub theatre – the Brockley Jack – to see surrealist comedy Flightpath: a play about "things falling out of planes" which begins with the audience being invited to make a paper aeroplane out of the programme and launch it towards the stage… something I did not excel at. Nevertheless, this was an extremely entertaining three-person romp through many interlinked stories (and accents) – and thankfully not so surreal that it put me off. It was also the closest we've come to a really intimate Chicago-style theatre since moving back to London, so I'm excited to come back soon.
Finally, my mum blocked out our diaries long ago for a Friday-night surprise which turned out to be Jez Butterworth's play Jerusalem. This turns out to be a revival of a 2009 smash hit with the original lead stars, Mark Rylance and Mackenzie Crook, but since I had never heard of it I had absolutely no idea what to expect until the curtain went up. And… it was just fantastic. Such a rich, layered play – often hilarious, sometimes chillingly dark – which leaves you with so much to think about (especially, for me, about Englishness and national myth) without being pretentious. I loved it. And, happily, so did my old supervisor Peter Mandler who I spotted in the audience during one of the intervals. If you have a chance to go see this, please take it.
As you've probably guessed already, another May highlight was the long-anticipated opening of the Elizabeth Line, albeit without Bond Street / not on Sundays / not yet connected up at both ends. But none of that matters. It's here, and it's beautiful.
Obviously, Randi and I took some highly unnecessary trips on the opening day – Tuesday 24th May – although we waited until after work rather than joining the 6am morning queues for the first trains with the cool kids. That evening we rode from Whitechapel to Paddington, where we picked up our souvenir purple Oyster cards and – as recompense for having to wait a few minutes for a member of staff to come and link Randi's railcard to her Oyster – some fancy collectible Elizabeth Line pins to boot. But it's genuinely true that I've used it several times since, for mostly-legitimate actual journeys, including to get to Heathrow this morning. (And I do find it highly amusing that by day 3 the 2012 Olympic-style aura of good feelings and wonder had been totally replaced on the train by a sea of hardened commuting faces, whose expressions suggested they had been riding this train every day for the past twenty years.)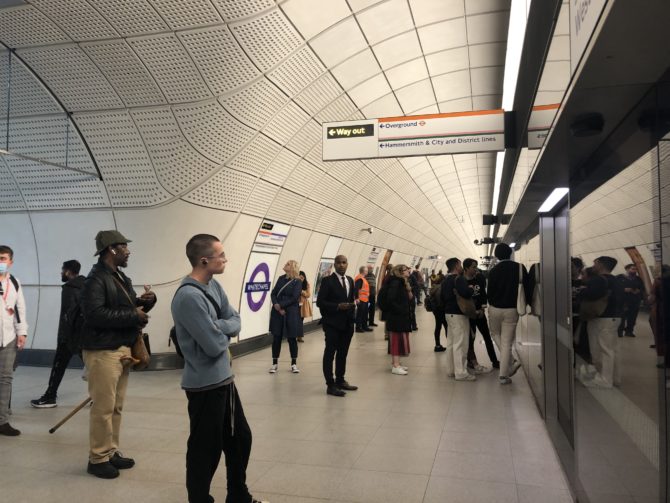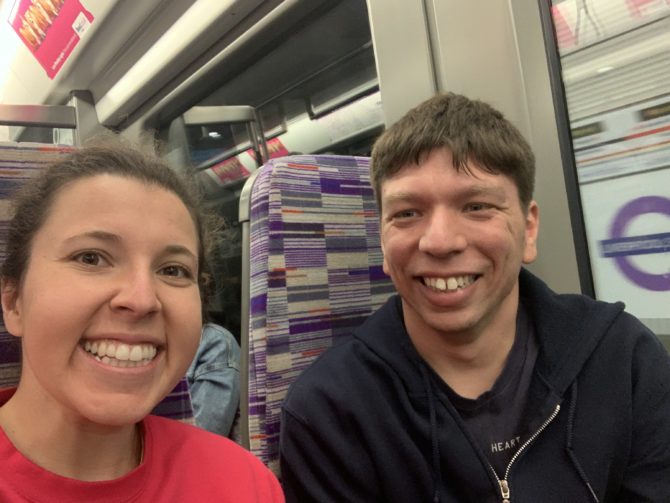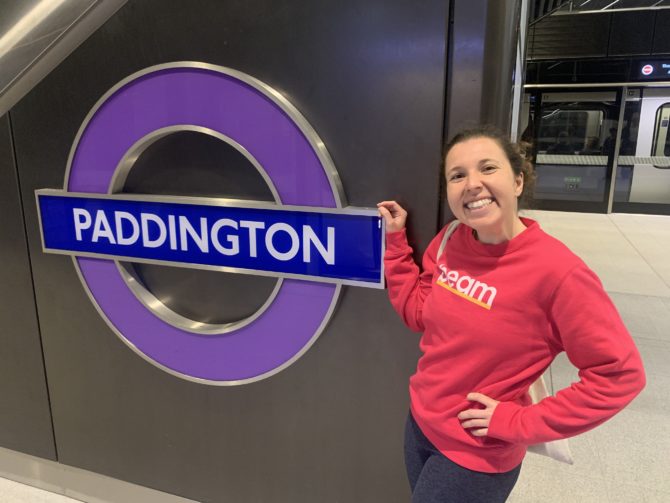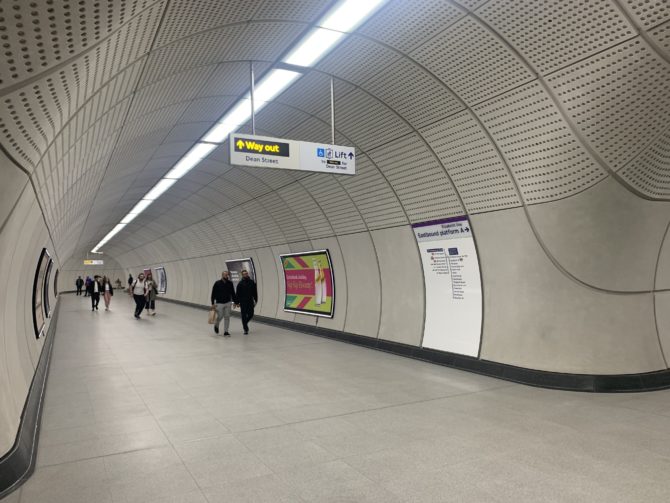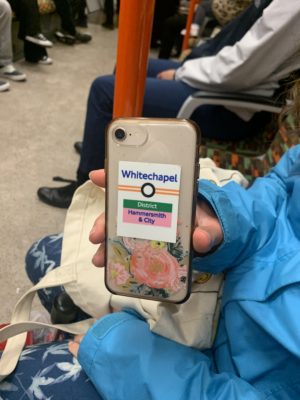 Meanwhile, my team at work enjoyed another virtual board game night in which I forced everyone to learn Carcassonne so that I might have a chance of winning something. (I say 'enjoyed' – I enjoyed it!) I also spent an afternoon going wedding suit shopping with an incredibly kind and patient Adam, who has strong credentials as "somebody who knows about suits" and agreed to translate back-and-forth between me and, y'know, the people who sell suits. I'm genuinely very pleased with the result.
Randi, Erin, Diva (Erin's dog) and I were treated to beautiful, sunny weather last weekend for our latest countryside walk along the River Mole – which included a refreshing beer garden pub lunch near Box Hill along the way. I'm very fond of our tradition with Erin of sitting in exhausted silence together on the train home, all feeling reassuringly worn-out and struggling to stay awake. The next day, suitably recuperated, we headed to Andrew and Bonnie's for lunch (delicious, obviously) and were joined by Frankie, Anya, Lena and family friend Lauren – who I apologise for making sit through my batch of questions about football in which I learnt that Anya has strong feelings about Ipswich.
Recently we also grabbed drinks at the Mayflower with Randi's colleague Dan, while I am delighted to have successfully introduced Randi to The Hitchhiker's Guide to the Galaxy original radio series. I have no idea how it came up in conversation, but I really loved Douglas Adam's classic comedy when I first discovered it (via a Radio 4 repeat in 2001 or thereabouts) and it's amazing how many references and in-jokes have their origin point in this show.
And finally, my sister Tash turned 30 this week – happy birthday! – and I decided to mark this by constructing a GPS -enabled scavenger hunt along our beloved Waterlink Way. (If you are reading this and thinking "ooh, I would also like to construct a GPS-enabled scavenger hunt" then may I recommend Actionbound?) This was a lot of fun to make and came off smoothly, in large part thanks to Randi agreeing to playtest the whole thing after work one evening even though it was chucking it down with rain. Afterwards Cormac joined us at our favourite local restaurant, Sparsh, for their amazing Indian food, and the next day we reunited – along with many, many others – at my mum's house for a big 30th birthday party with friends, family and neighbours. It was so wonderful to see everyone there and a perfect end to the UK half of this very-long bank holiday weekend…