In my job I'm lucky enough to work with a truly awesome development team, based in many different countries, and for a long time I've tried to get a group together for an in-person meetup. For a while this was impossible thanks to the pandemic, and then the war in Ukraine, but last week were able to gather in Georgia's capital, Tbilisi, which meant that I could finally hang out with Kira, Maria and Hanna IRL and (spoiler alert) drink a lot of wine.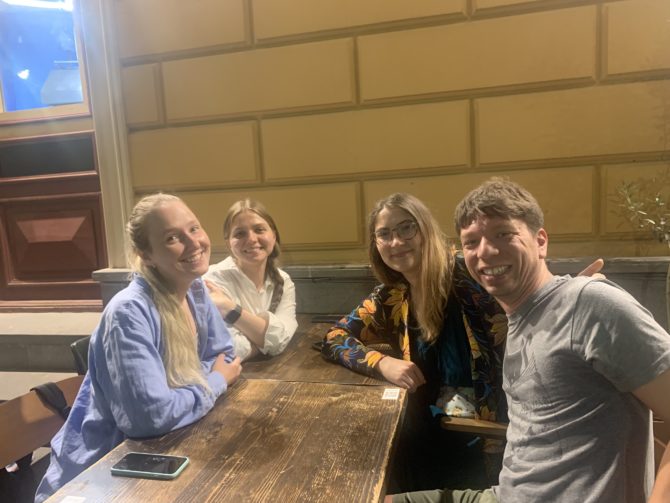 The scheduled options into Tbilisi's airport are not fantastic, so by the time Maria and I had completed our overnight flights, met up at the airport and taken a Bolt back to our Airbnb it was already 5am and the sun was coming up. Thankfully, Kira was waiting for us with our inaugural bottle of sweet Georgian red wine, and we all sat on the terrace pretending that we'd all had more sleep than we'd actually had.
A few hours later Kira took us on a short tour of Tbilisi's Old Town, which at 9am on a Saturday morning felt more like a film set than a real city. The streets are narrow and hilly, with plenty of quirky street art and gorgeous views over the rest of the city, but almost no other people to be seen. It soon became clear what should have already been obvious by looking at a world map: Georgia is pretty far south, hot, and therefore has the same late-rising, late-sleeping culture you'd expect anywhere else at this latitude. Only tourists would wander around in the morning, duh.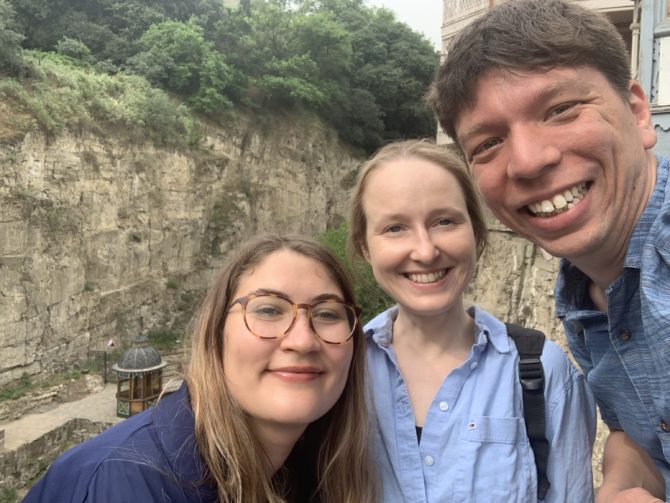 Still, I hadn't brought my hiking boots for nothing, so the next morning we made another early-ish start so we could meet up with Hanna and climb up to the ancient fortress which overlooks the city before it got too impossibly hot to walk around. (Don't worry, we're a good team. Everybody came prepared with hats and sun cream.) After a while on the hills we descended into the National Botanical Garden, which was beautiful, even though I'm sure we only saw a very small portion of it. Shout-out to the large group of children, all dressed up in matching outfits, who were being filmed singing and dancing by the base of the waterfall where we were sitting, and apologies to whoever's job it will be to edit us out of this particular music video.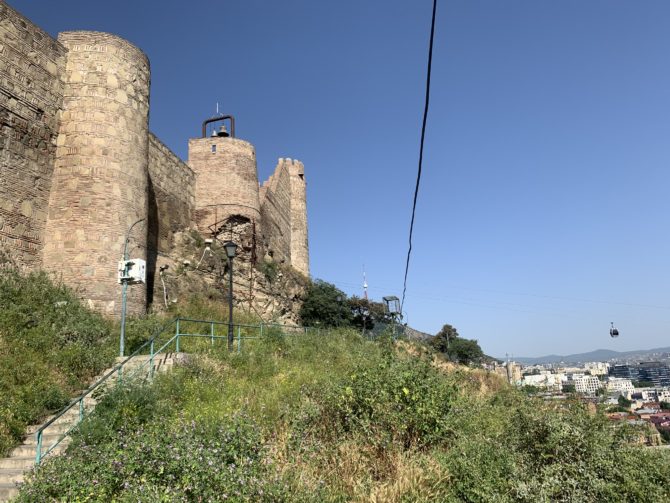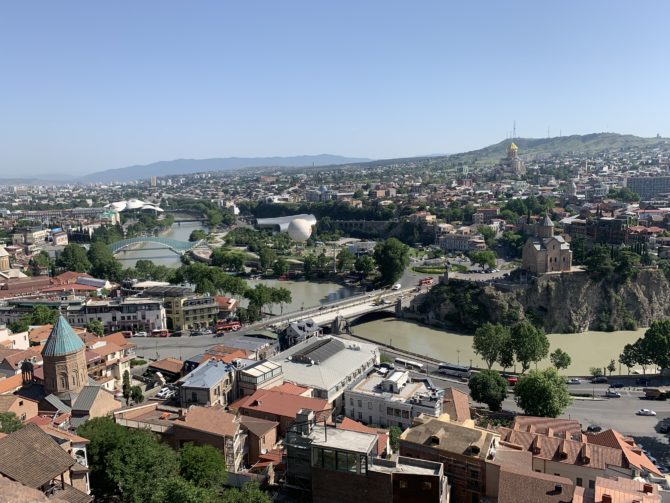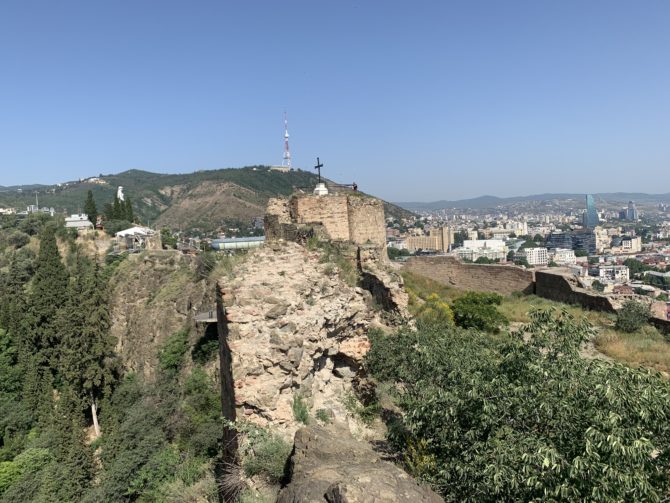 Tbilisi is a fascinating place, and if you're looking for a relaxing balance of nature plus tourist amenities in a friendly atmosphere then I would totally recommend it as a city break option. It very much feels like a place in flux. For example, the streets are lined with Soviet-era apartment buildings which feel a little abandoned on the outside, but also house one or two shops, bars or restaurants inside which are buzzing with energy and life. I was fascinated by the haunted-house foyers of these buildings, and I very much wonder what they will look like in a decade or two.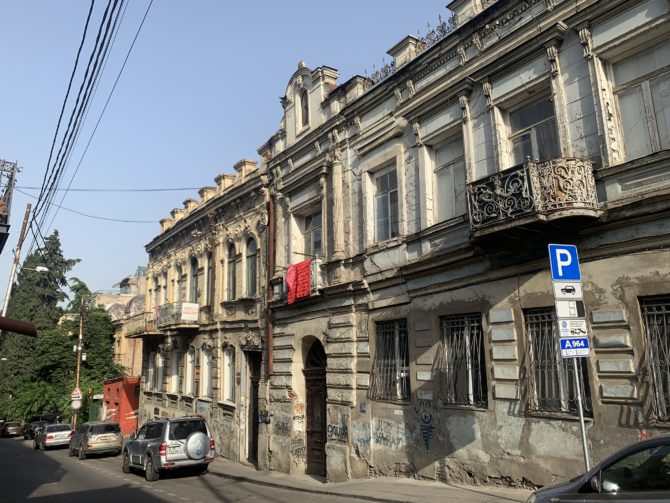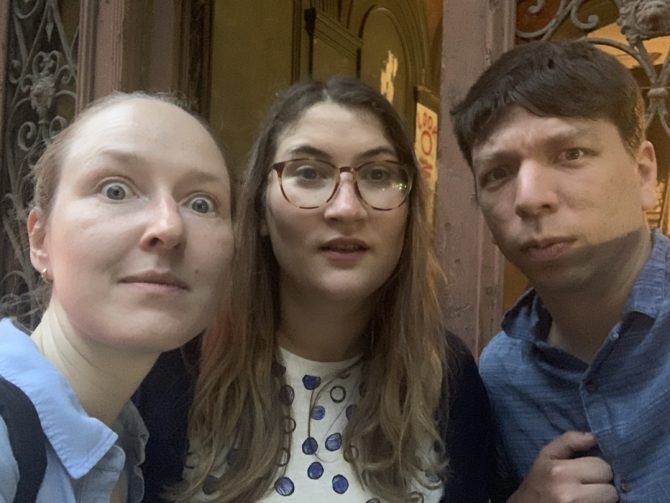 During the week we were, of course, working from our (thankfully air-conditioned) apartment, so we only scratched the surface of things to do in Tbilisi. That said, we did manage to tick off some other items, including a visit to the Gabriadze theatre on Wednesday night to see a marionette performance of Ramona. Ramona is a beautiful locomotive engine who is separated from her lifelong love, and – despite the meddlings of an officious Soviet bureaucrat – joins a travelling circus troupe and learns to walk the trapeze. It was genuinely extraordinary and moving, and although obviously the English surtitles aren't capable of communicating all of the history and nuance of the text, listening to the Georgian voices was also beautiful. My only recommendation, if you decide to visit, is to sit further back than I did so you don't have to crane your neck to combine the text with the puppetry!
We also made it to a jazz club on Friday evening, which I also really enjoyed. And, to make this a fair cultural exchange, I also tried to provide the very best of Britain in return: namely Jelly Babies (which went down very well, albeit with initial qualms that "it seems weird to eat babies"), Dairy Milk, Crunchies, multiple episodes of Would I Like To You? and a rewatch of one of my very favourite films – Four Lions – on the last night with Kira. Oh, and of course everyone thought I was weird to add milk to my tea.
We also watched Encanto together (which was good and all, but I'm not convinced that it's OK for poor Mirabel to be put through intense childhood trauma just because it serves some cosmic bring-the-family-together ends-justify-the-means grand plan!) and I introduced everyone to Dominion. Since Kira is a highly competitive board game expert, this inevitably led to several more games of progressively more drunken Dominion until she could beat me – but I did enjoy my brief winning streak while it lasted.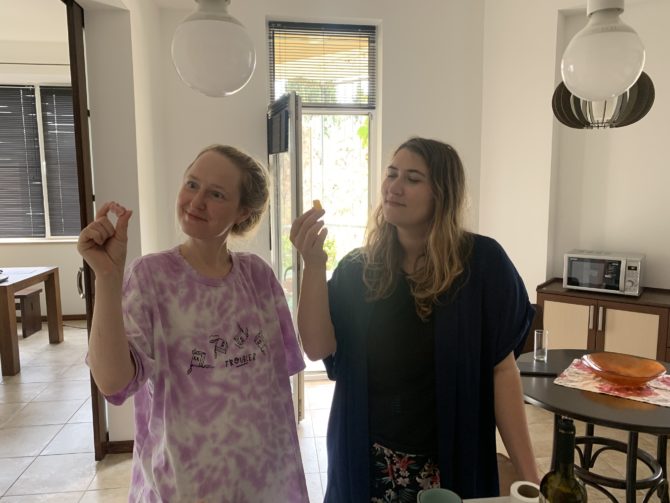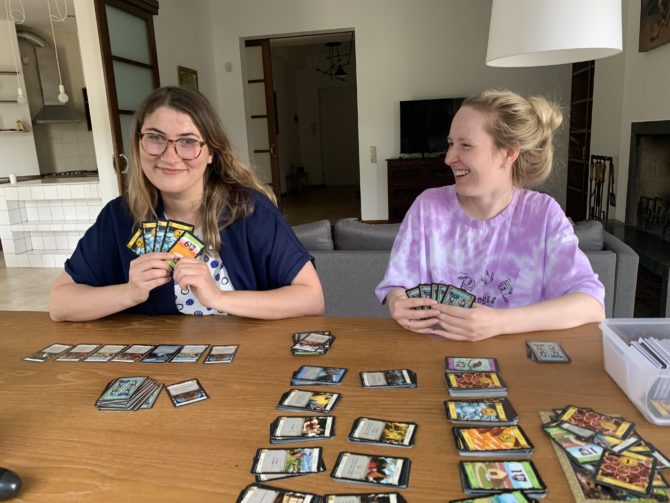 The other obvious reason to visit Georgia is the food, which is both (a) very delicious, and (b) extremely affordable for tourists. We ate very well, including a decent fill of the ubiquitous cheese-filled khachapuri!
Overwhelmingly, though, the purpose of this week-long adventure was to spend time with some of my favourite people beyond the confines of a Zoom call. I'm super-grateful to everyone for making the effort to congregate in Tbilisi, and I hope it won't be too long before we can all play Dominion together again.