Over my adult life I've noticed a gradual maturing of our country's leaders, at least in terms of basic competence and capability. It's still normal to want a refresh every few years, of course, but nowadays the incumbent usually bows out gracefully into a planned retirement – with a seamless transition so that nothing gets dropped in the shuffle – rather than a hasty switch because suddenly everything has broken. It's good. It's nice. It's maybe a little bit boring, but I guess that's the price you pay for stable prosperity.
Here, you can see it in these numbers over the lifetime of this blog:
| | | |
| --- | --- | --- |
| My Mobile Phone | Blog Posts | First Blog Post |
| Nokia 3510i (First Term) | 483 | April 2004 |
| Sony Ericsson T630 | 12 | August 2006 |
| Nokia 3510i (Second Term) | 30 | September 2006 |
| Nokia 6600 | 139 | January 2007 |
| Nokia 6300 | 229 | May 2008 |
| LG E900 Optimus 7 | 44 | June 2011 |
| Nokia Lumia 925 | 116 | August 2013 |
| iPhone 6S | 82 | April 2016 |
| iPhone XS | 117 | September 2018 |
Oh, wait, sorry. Did I say leaders? I meant phones. Here's the right table:
| | | |
| --- | --- | --- |
| Prime Minister | Blog Posts | First Blog Post |
| Blair | 594 | April 2004 |
| Brown | 237 | August 2007 |
| Cameron | 233 | May 2010 |
| May | 116 | July 2016 |
| Johnson | 70 | July 2019 |
| Truss | 2 | September 2022 |
*shakes head sadly*
Anyway. Armed with a shiny new phone and therefore the potential to take slightly better photos than before (based on the table above, it's probably been about a decade since my so-so photo composition became a bigger hindrance than any technology limitations) the main outing of the last few weeks was a family trip in Suffolk over what would have been my dad's birthday weekend. My mum booked us all rooms in Bury St Edmunds – a place we know so well – and on Saturday afternoon we got mildy lost in Knettishall Heath before finding the perfect spot to scatter his ashes. I think he would have approved.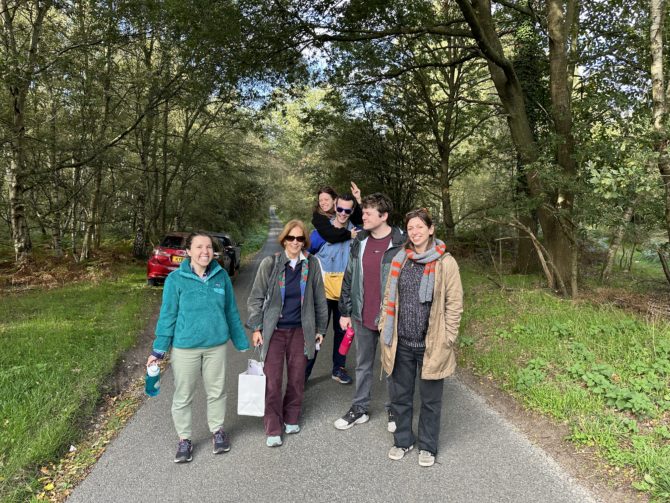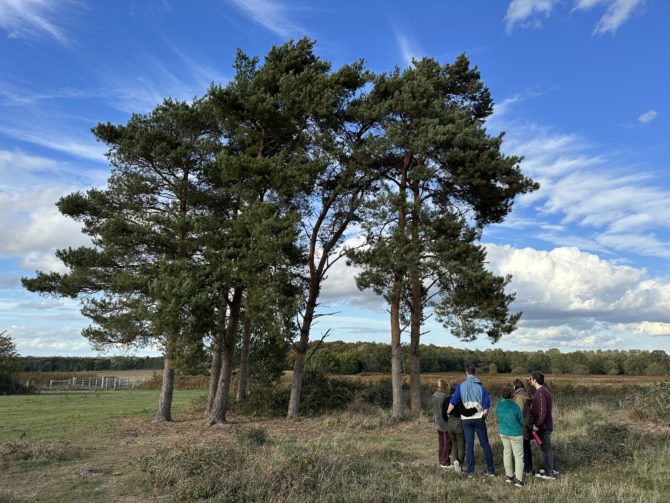 The next morning we played Sardines together in Abbey Gardens, which was an unreasonable amount of fun given that (a) I was stuffed with a breakfast fry-up, so running was a challenge (b) possibly as a consequence of (a) – at least that's what I tell myself – I lost every time. Including the episode when I accidentally left the grounds themselves and ended up in the Premier Inn car park by mistake, which didn't do much for my chances of finding anyone. Everyone else had to start doing louder and louder animal impressions to lure me over to the right place, traumatising several dogs and/or children in the process. Sorry, Bury St Edmunds!
Afterwards, since Randi and I were travelling by train, the two of us took advantage of the route home to hop out at Cambridge and bask in the gorgeous sunshine for the rest of the day. We wandered along the river, talked ourselves into Trinity (I mean, we didn't lie, but the porters seemed to relax when I said I had gone to Caius on the basis that this was too obscure for a tourist to make up on the spot) and revisited the friendly Italian where we'd gone with her parents on our last trip before finally heading home.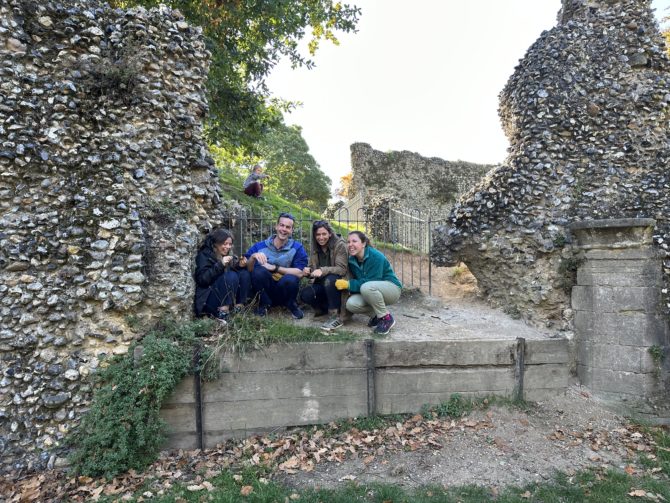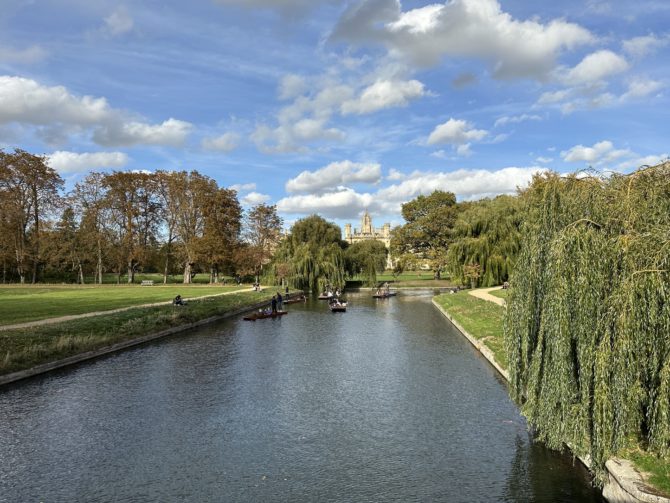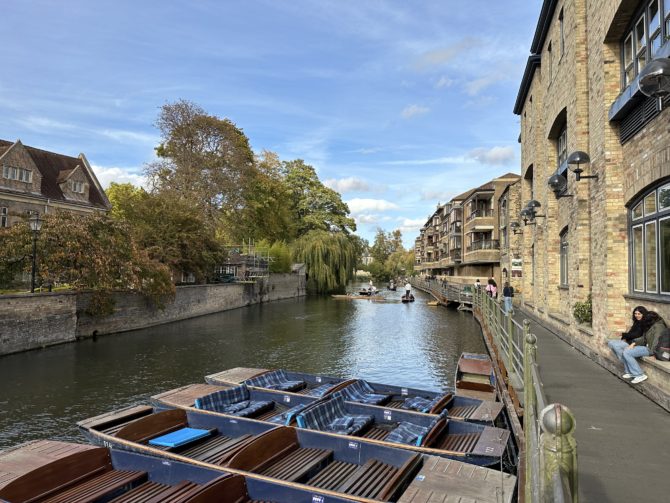 Jumping back in time slightly: a weekend earlier, Randi and I completed our second London Loop rewalk (much prettier than the first, and definitely easier when you have a vague memory of where you are) while in the following days I went on a splurge of actual face-to-face work meetups. Highlight: lunch at the Duck & Waffle, where we shook off the waiter's instructions to share our food and all ordered our own ducks and waffles. Lowlight: probably the moment I ended up throwing two scoops of a collapsing ice-cream cone into Mohammed, like an exploding hand grenade searching for a target. Sorry about that.
We were also thrilled to be able to spend time with Jackie & Jeff on their visit to London – not once, but twice! On Thursday evening they ventured down to our neighbourhood, where I got a little carried away trying to speed march everyone up Blythe Hill but (hopefully) redeemed myself with dinner at Sparsh afterwords. The following night, we headed to my mum's for a big family dinner to celebrate our continuing Glamily bonds.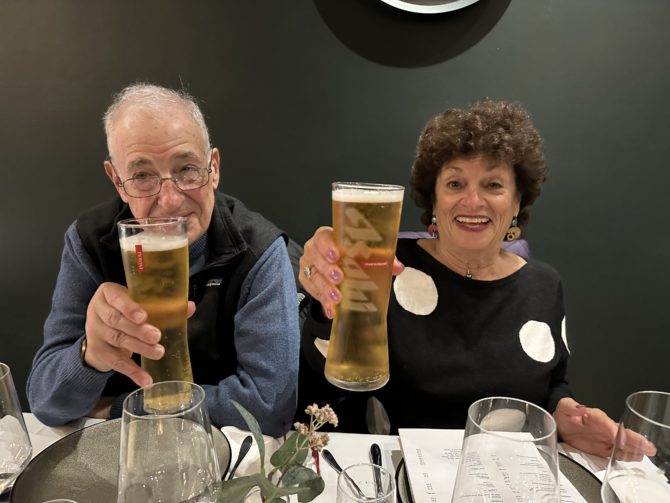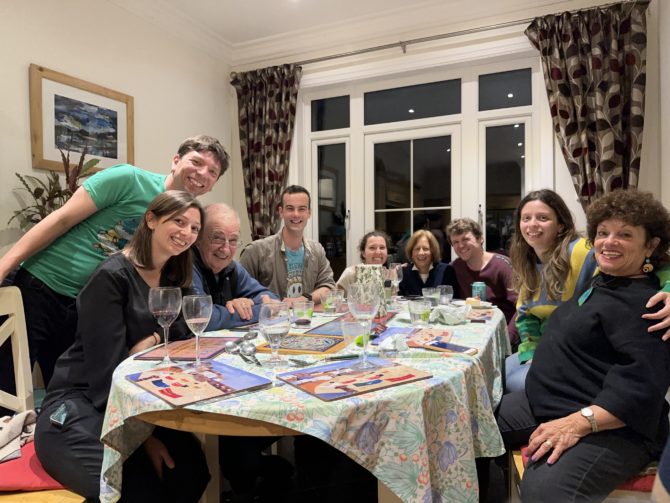 Having successfully persuaded my colleague Patricia and her husband Tarik to move somewhere within walking distance of us back in the summer, last weekend we reaped our reward by being invited over to play boardgames with them and some fellow Brazilians at their (really lovely) new flat. We started with Battlestar Galactica, and although we didn't get very far I was excited to have been made a secret cylon (lifetime ambition achieved) and happy to bathe in nostalgia for the days when Katie and I would binge through season box sets and then stick competing BSG-themed posters on each other's bedroom doors. Later we sped through many rounds of other bluffing games, Avalon and Coup, and I'm very proud of the moment when Randi and I were united in secret badness and successfully took down the group together. It's the surest foundation of any relationship.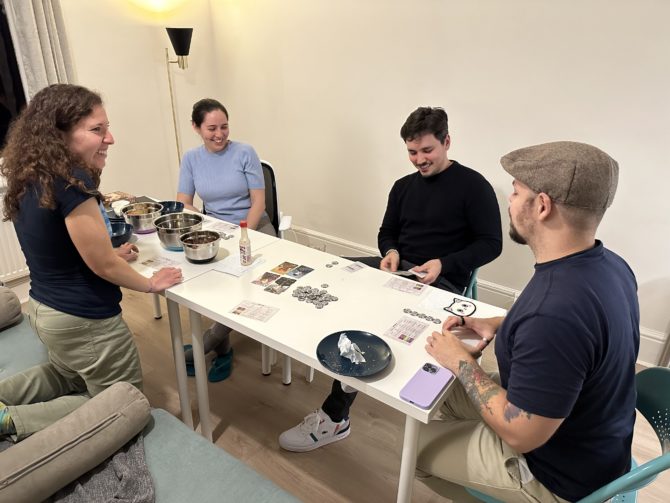 Continuing the nerdy theme, Sunday night was Doctor Who Special night and I thoroughly delighted in Jodie Whittaker's epic swansong. The Power of the Doctor was filled with so much fan-based celebration that I'm not sure whether it really holds up on its own, but since – spoiler alert – we got to see a bunch of past Doctors and the greatest classic Who companion of all time (Ace, obviously!) donning her 80s jacket and dishing out the nitro nine explosives, I am really not complaining. Plus, Sacha Dhawan is just iconically good as the Master. He steals every scene that he's in. This hasn't been my favourite era of the show, writing-wise, but there's always been a lot to like and I'm very, very excited about Russell T Davies coming back as showrunner next year.
(Tell you what though: nothing in this era was ever as bad as 1984's The Twin Dilemma, the notoriously awful Colin Baker debut which Katie and I suffered through in our most recent Zoom-based Doctor Who Night. It's not that it's actually the worst-paced, or the worst-written, or the worst-acted. But, y'know, making the new Doctor a genuinely terrible person who tries to strangle his companion was not a good move.)
And a semi-related Doctor Who note: in an extreme installment of "Randi and I are very late to watch something", we've just started watching the 1996 drama Our Friends in the North – starring Christopher Eccleston – after it was gifted by Randi's former boss. It's good! But intense. I'm not looking forward to the 1980s episodes.
I don't think I've been that fannishly excited about Doctor Who on this blog for a while – because it hasn't been on! – but in the meantime we'll always have railways, and on Thursday night Randi and I made our inaugural trip to the long-awaited Bond Street station on the Elizabeth Line, which finally opened on 24th October. We were already drunk on pasta and wine by the time we got there – having stopped first at Padella to celebrate work things – but it was nice to see. "It's OK… for London" scoffed a random stranger outside the entrance, whose opinion we hadn't asked. "I mean, in comparison to the Northern line. That's terrible." Some real-life random comment trolling!