There's one thing which beats a weekend minibreak, and that's a weekend minibreak where someone else has already done all the planning. A few weeks ago, Caroline and Josh invited us to join a small group for the weekend in Whitstable. Airbnb all sorted, Saturday's pub lunch booked months in advance: all we had to do was hop on the 18.16 from London Bridge on Friday night and relax. So we did!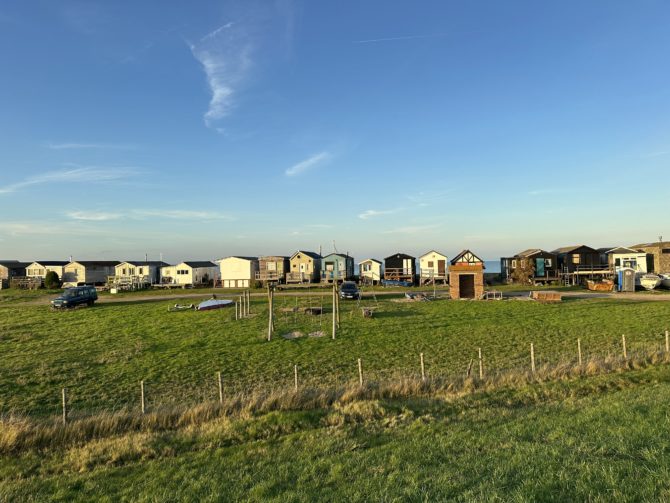 Describing Saturday's meal as a 'pub lunch' is a little misleading since, in fact, the main motivation for going to Whitstable was the five course tasting menu at The Sportsman pub. Not being a foodie – at least, not being the kind of foodie who would gravitate towards a Michelin starred restaurant, or even know how to pronounce girolles from the menu – I was a little nervous that the setting wouldn't be for me. But, at the very least, I was excited to build my appetite with a long morning walk along the beach, with gorgeous (albeit alarming, given that it's November) sunny weather and just the right kind of sea breeze to clear my head after our generous stocks of wine the night before during Articulate.
Happily, once we got to the pub it turned out that the vibe was warm and relaxed, with a delicious set of options (but not too many options!) for each course and some unexpected bonuses, including a series of modestly labelled 'snacks' and the much fabled pre-dessert course, which stretched out over about three and a half hours. It was glorious, and very filling, and not at all what you'd expect if you just passed by what looks like a half-forgotten sports pub on the coast.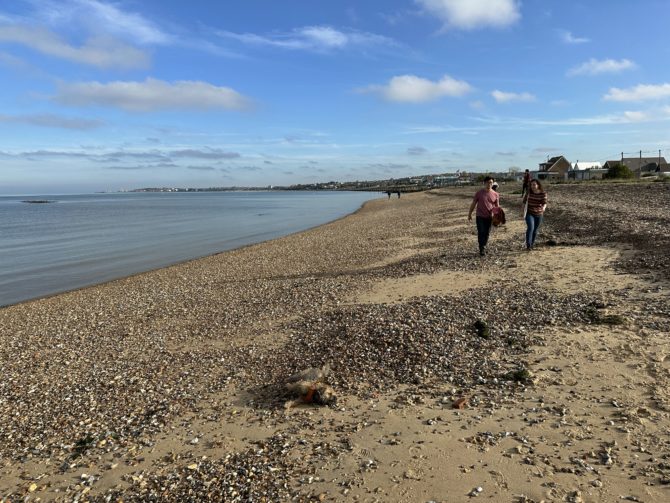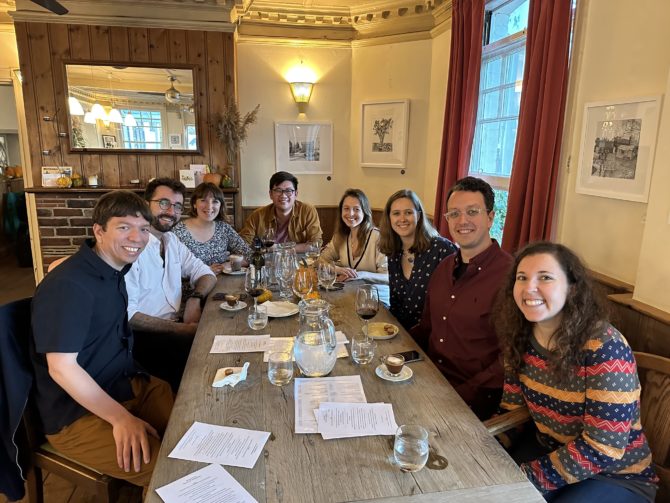 By the time we were done the sun was almost setting, so Randi and I popped back to the beach to watch and ended up chatting to a local photographer who needed a couple of volunteers to wander up and down the jetty and become silhouettes in the distance of his shots. We were happy to oblige. Back at the Airbnb, after learning a lot about the secret lives of architects, we settled down for a tense game of Trivial Pursuit, in which Caroline and I mostly failed to answer any of the history questions but, somehow, I could correctly name Run-DMC as the group which covered Aerosmith's Walk This Way in 1986. (I have no idea how I dragged this out of my brain, but I'm still proud of it. Anyway, we still lost.)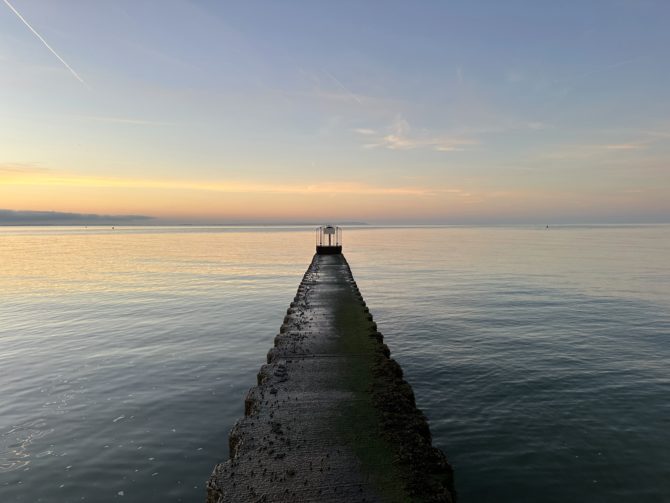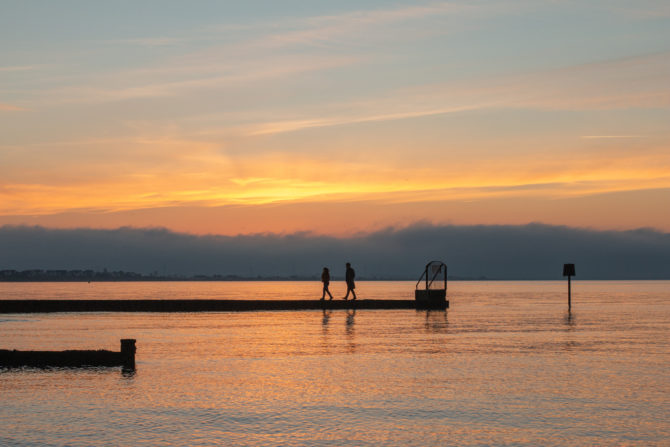 Did you know that seagulls will run on the spot as a sneaky technique to disorient the worms in the earth below, and so luring them to the surface with the vibrations? Probably you already did, but I didn't, and it was part of a long seagull odyssey on Sunday morning which included a pair outside Whitstable Castle devouring the remains of afternoon tea – their beaks covered in clotted cream – with the exception of one of those small jars of jam which they couldn't figure out how to break. After enjoying this performance we all meandered on to a seaside lunch before meandering through Whitstable and making our separate ways home. Whitstable weekend complete!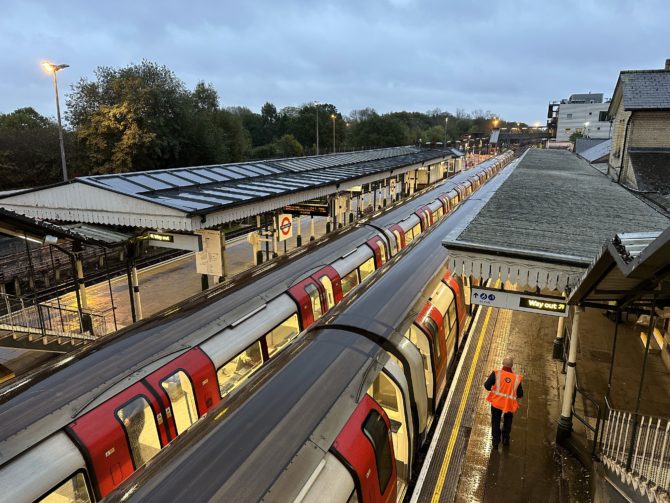 A weekend earlier, although we didn't leave London we did manage to traverse it quite a lot, starting with Friday evening when we made our way all the way up to the Harrow Arts Centre for a 'surprise night out' which Randi had planned, which turned out to be the very funny comedian Chris McCausland. It was an unusual structure (or maybe it wasn't, but I haven't seen many stand-up gigs in person) whereby the first half was what you might call 'normal' standup: a reasonably enjoyable series of jokes and stories which weren't all hits, but contained enough hits to be enjoyable. But he switched gears in the second half, with a very personal monologue on his blindness, and how it impacts his relationship with the world and especially his wife and daughter, which was both moving and thought-provoking. (Also, shout-out to his warm-up act, Jon Long, for gamely singing songs at the beginning about working at a rubbish tip and the running app Strava. I enjoyed them.)
The next night was Bonfire Night, and so once again we headed up north – very, very north, in London terms – to a fireworks display at Abi's parents' house. It was very nostalgic to walk the route from High Barnet station which I remember walking many times during the uni holidays, and equally nostalgic to be back at a real British fireworks party in which everyone huddles in the corner of someone's back garden and watches in nervous anticipation as the rockets explode (or don't), the Catherine wheels spin (or get stuck) and nothing burns down (despite multiple attacks on the trees and hedges) because it's gently raining the whole time. And when we weren't enjoying the spectacle – or running for cover – we were catching up with Oliver, Abi, Kat and baby Robin, who is wonderful.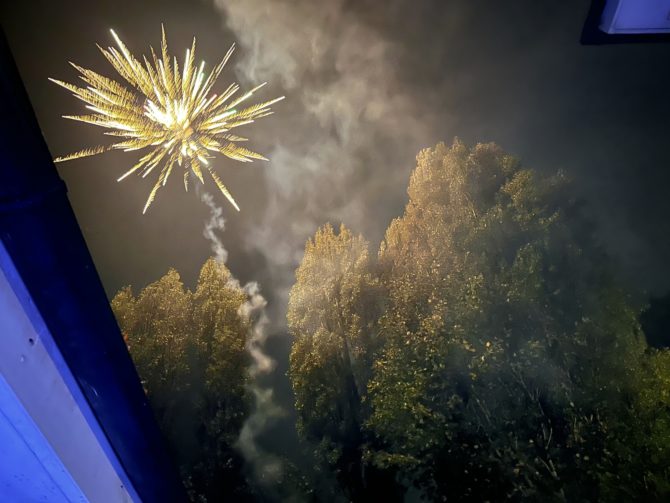 Thankfully on Sunday we didn't have to go anywhere except the Horniman museum – for the very first time! – and then the Honor Oak pub for a Sunday roast with Matt, Laura and Cress. It was the perfect, chilled-out, we-can-just-walk-home-afterwards end to the weekend, made all the better by the live music at the Honor Oak that afternoon which really brought out what's best about the right kind of pub. Where else can you finish off your Yorkshire pudding before migrating over to the comfy sofas, sit back and sleepily relax while the local two year-olds dance together (or, more accurately, cautiously alongside each other) to some American roots music? Not in your typical bar, restaurant or café, that's for sure. Hurray for the pub, whether Michelin starred or not.