Hi!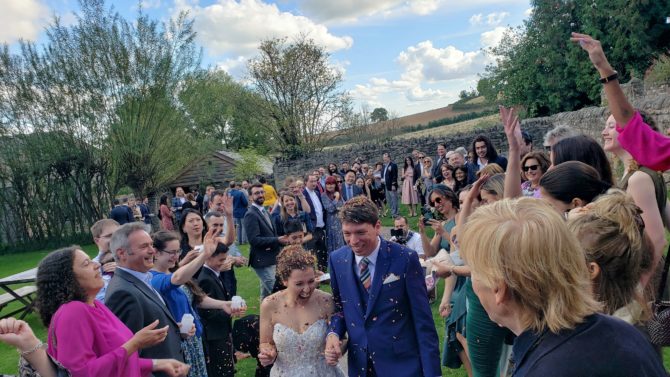 On the off-chance you weren't there last Saturday, Randi & I successfully got married – again! – under a sunny sky.
Which poses a dilemma.
Most of the time, this blog is an exercise in the preservation of memories which would otherwise be lost. I do something fun, and then I hastily throw some words and pictures together before it all slips into a haze. But, quite wonderfully, with a wedding that's somebody else's job – and at some point in the next few months, long after Randi and I have both completely re-entered normal life, our professional photographs and videos will arrive to bring it all back.
So, for this blog, I'm officially taking the day off. I won't try and recreate our morning walk to Lyde Court, hands held, both wearing the same Settlers of Catan t-shirts from our first Chicago marriage and both trying to slow down our natural city walking paces for the benefit of getting a good shot. I'll skip my thanks to Cora for being the best distraction as I hid in my little attic room after getting changed, or won't tell you how shocked I was when Randi's mother got one of the questions about her own daughter wrong during our mid-ceremony audience quiz and held up my face on the voting stick.
You'll have to imagine for yourself the pure mixture of joy and terror which a Hora generates, and maybe you wouldn't even believe that – between the main course and dessert – we snuck out of the venue entirely to go on a mad dash for the sunset with our photographers, speeding up and down the fields of Herefordshire on the back of a tractor buggy until we were high above the spot where, just a few hours earlier, we'd stood before everyone, said our vows and exchanged our mutually owl-themed but entirely surprise gifts.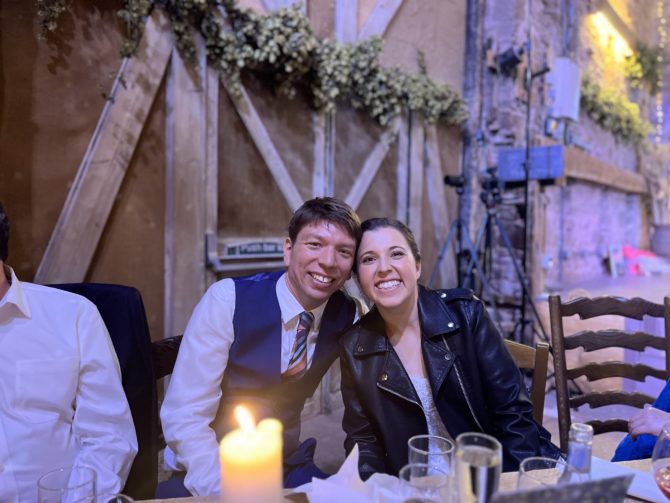 Seriously, it was amazing – and the waves of joy and love and goodwill which keep coming at you during your own wedding are quite overwhelming to even vaguely sketch. So, instead, let's do something which won't make the official wedding album and preserve some memories from the other days of the last few weeks…
Randi had breathed a sigh of relief every time we had word that someone else's flight had successfully landed in the UK, but the first people who made it to us – aside from Randi's parents – were Mark and Linda Moffitt, who emerged incongruously from Forest Hill station and joined us for dinner before venturing up Blythe Hill for the nighttime views. A week later, we hosted a small group of Randi's extended family for a really lovely pre-wedding get-together at our place, after which I'm even more desperate to spend a few hours with her uncle Eric following-up on the genius/flaws of the US Constitution in the corner of a pub. (Or a bar, or a saloon, or whatever they have in Texas.)
The next day we spent the entire day with Catherine and AJ, along with AJ's parents Amy & Scott who – very generously – came along for the ride so there would be extra hands to look after Catherine and AJ's beautiful, globetrotting baby. (Amy & Scott also looked after me by sharing some pints while AJ worked and Catherine and Randi got their nails done, which was also very much appreciated.) In retrospect, this day became even more magical and special to us because – despite making it much, much closer to our wedding than we did to theirs – they were hit by sickness at the last moment and weren't able to make the day itself. If any future generations find our wedding albums and conclude we can't have been good friends: we are! Don't judge us by the wedding day photos, judge us by the quantity of food we ate together at Dishoom two nights before.
One of the best things about the whole wedding process were the things which started as jokes and then became a reality. Exhibit A: let's handle tickets for all the Americans going to Hereford on Friday and form a party train!
I can't tell you how much joy it brought me that we actually made this happen. Apologies to anyone else in carriages B or C on the 11.50 from Paddington to Hereford: you weren't imagining things, it was definitely louder than usual, although I'm told that Beth successfully bought off her carriage with leftover prosecco and sweet treats from Carmelli Bakeries. Special shout-outs to Abbi and Rob – who as non-Americans found themselves in our carriage by coincidence – and to Simon and Fleur, who could have done but ran away to First Class instead.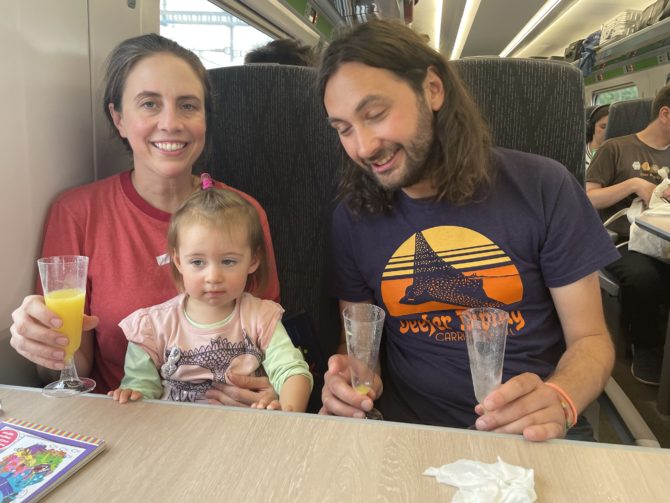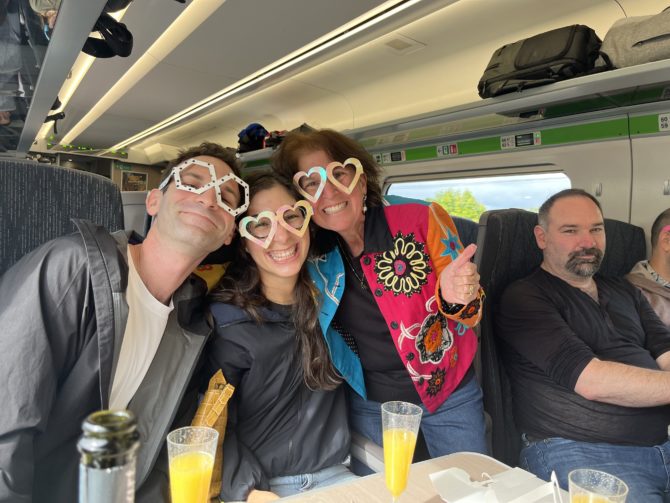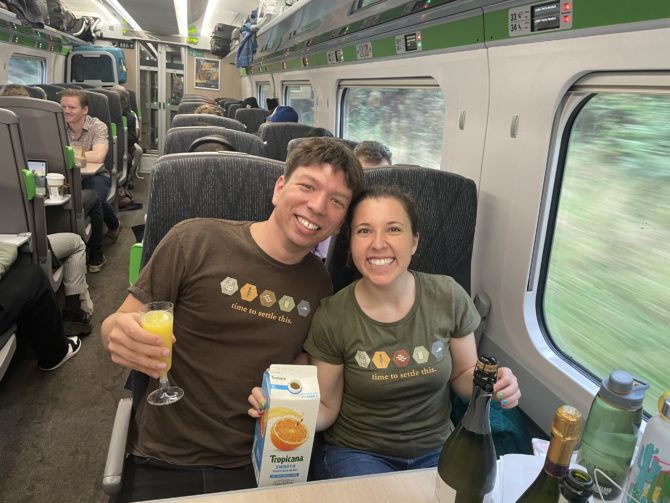 After a few hours of stressful but self-imposed 'rehearsal' time at the venue – hey, at least we got all the stress out the day before? – we made it back to Hereford by the evening for a really, really wonderful party at Gilbies organised jointly by our mothers. Not only was it so joyous to have a chance to relax with our out-of-country guests before the big day, but all of the staff were so kind, cooked so much great food and, in particular, wowed the American crowd with the deliciousness of halloumi sticks. And all because Beth fell in love with the gin when we first took Randi's parents here on last year's Hereford trip!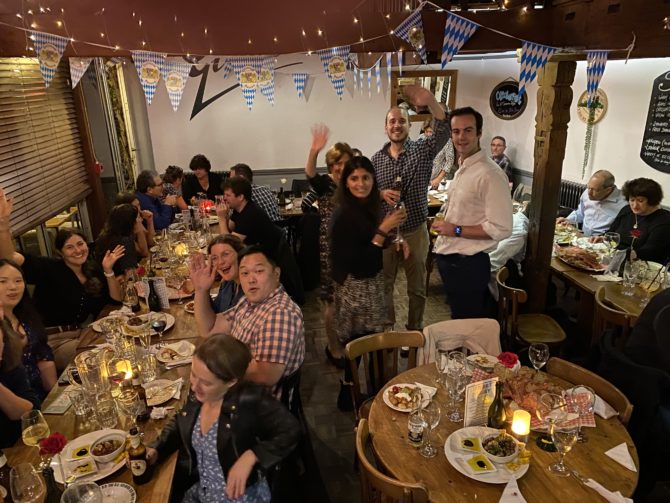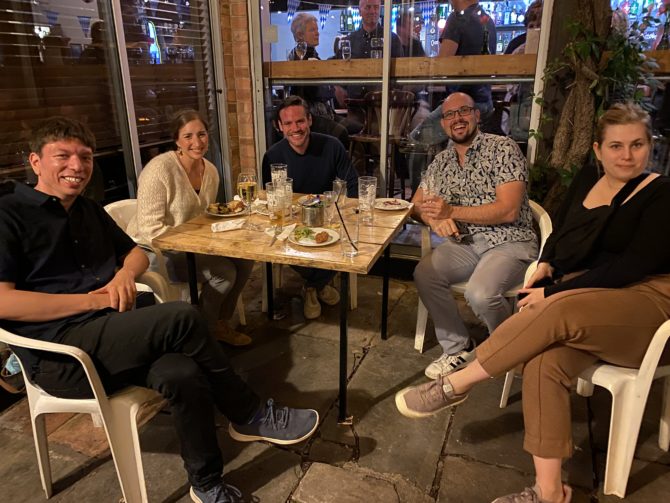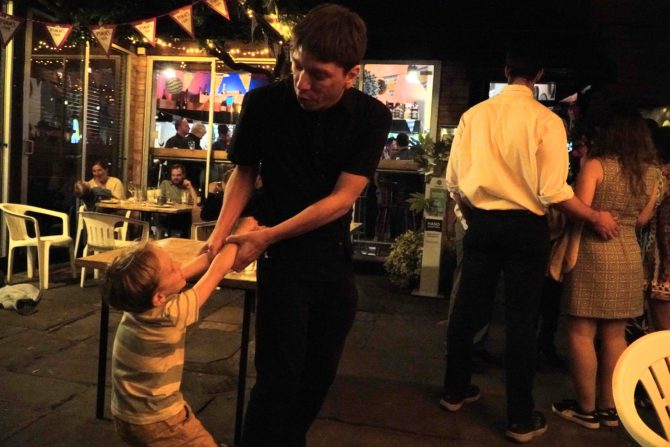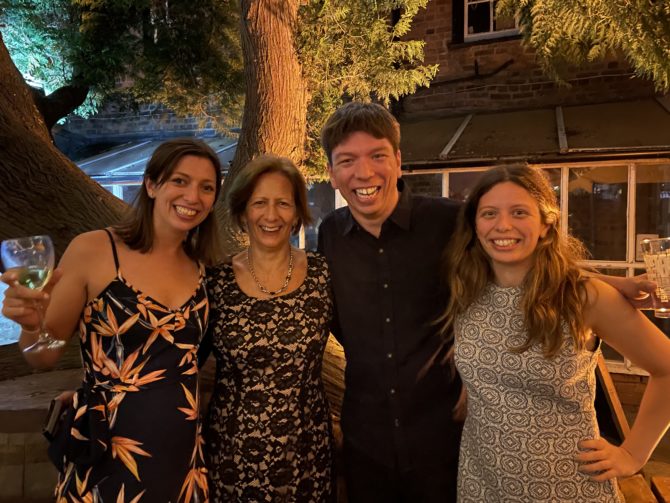 – Insert cinematic skip forward in time –
Somewhere out there there's a photo of me taking my first sip of tea on Sunday morning, shortly before tucking into the cooked breakfast I had always dreamed of when we first found a venue able to host so many of our guests overnight in bunk bed dormitories. Fortunately, Randi was still sleeping by that point – I say fortunately because, after heroically holding off sickness for the entire wedding day – by the next morning it had caught up with her, and she needed lots of rest plus an emergency Premier Inn booking for that night in Hereford because there was zero chance we were going to make it onto a train back to London. (Side-note: we stayed at two Premier Inns on this trip, and everyone working there was insanely nice.)
Obviously getting sick sucks, but there were some positives about getting an extra day in Hereford just the two of us, especially since she had basically fully recovered by Monday morning and we could enjoy a long walk around the city before heading home. I think we were also both exhausted, since I managed to get a mild fever later in the week and spent many daytime hours sleeping at home. Note to past selves: you were very wise not to book a honeymoon for the week immediately after the wedding. Thank you.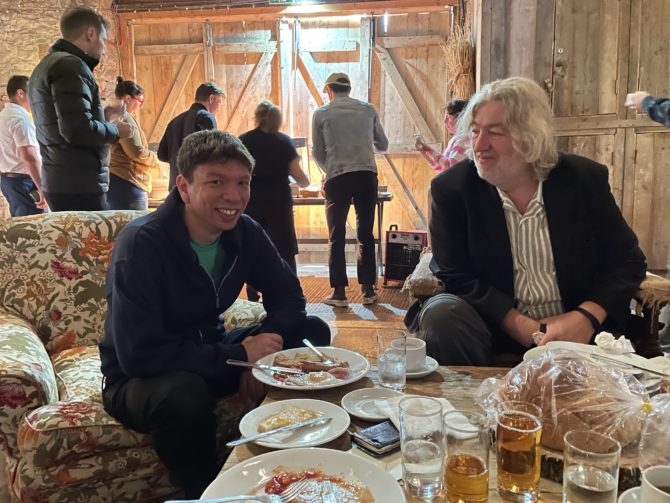 Despite all this, when we weren't sleeping we still managed to do a lot of hanging out with people who were still in London over the next few days! On Monday night we ordered Indian food with the Dietzs, Toggolyn, Jason & Carrie (who don't have a snappy couple name) and Angela, which was really fun. Plus, Bernie and Grant were such big fans of the model 52 bus in our kitchen that they had to take turns. The next evening, we got a chance to show Randi's brother Alex our flat for the first time walking to East Dulwich and enjoying some khachapuri together.
This week was also my Grandma's 90th (!) birthday, which we celebrated not once but twice, and with a very large number of cakes. Beth, Stewart and Alex were still in town for celebration #1 so, although my Grandma wasn't able to make it to the wedding, she did get to spend time with Randi's family before they left for their own European adventures.
Meanwhile, Randi and I spent a touristy morning with Jason and Carrie walking around London on Thursday – including an odd detour into an NFL Super Bowl exhibition – and, finally, were delighted to have the chance to take Todd out for dinner on Friday night as a small thank you for the massive role he played at our wedding. On that rainy night we were the only people in the Ethiopian restaurant, which felt more like the cosy living room of a travellers' inn, and was the the perfect place to relax and reflect. It's been a long few weeks, but I'll remember them for the rest of my life… blog or no blog.