Studies of flashbulb memories – your memories of hearing about major news events – show that even though people remain very confident that their memories are accurate, their actual stories change dramatically as they get further and further from the event. So, as an experiment, I want to put in writing that confirmation of Queen Elizabeth II's death on Thursday came to me as a BBC Breaking News alert – as I was midway through writing a message in one of our family WhatsApp groups – while crossing the car park area between the Waterlink Way and Catford's two railway stations on a post-work evening walk. There – done – and now we can revisit this in a decade and see if I'm still sticking to the same story.
---
Back in March we were thwarted in our attempt to visit Katie in Glasgow, but on the August Bank Holiday weekend we succeeded on our second spin of the Wheel of Fortune (Scottish Cities Edition) and had a lovely long weekend with her and James in Edinburgh. Hurray!
Obviously everyone else visiting Edinburgh that weekend was there for the final days of the Fringe, and we did go see a handful of shows – more on those in a bit. However, given that the weather was so nice, our priority during the daytime was to go on some mini-hikes, admire the city from suitably high-up and (at least for me and Katie) distract ourselves from the climbing with lots of hypothetical would-you-rather-style questions, although I'm not sure that James or Randi were as enthused as we were.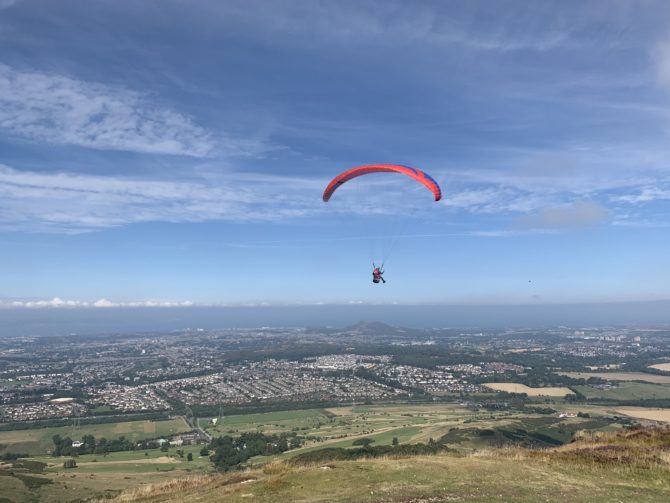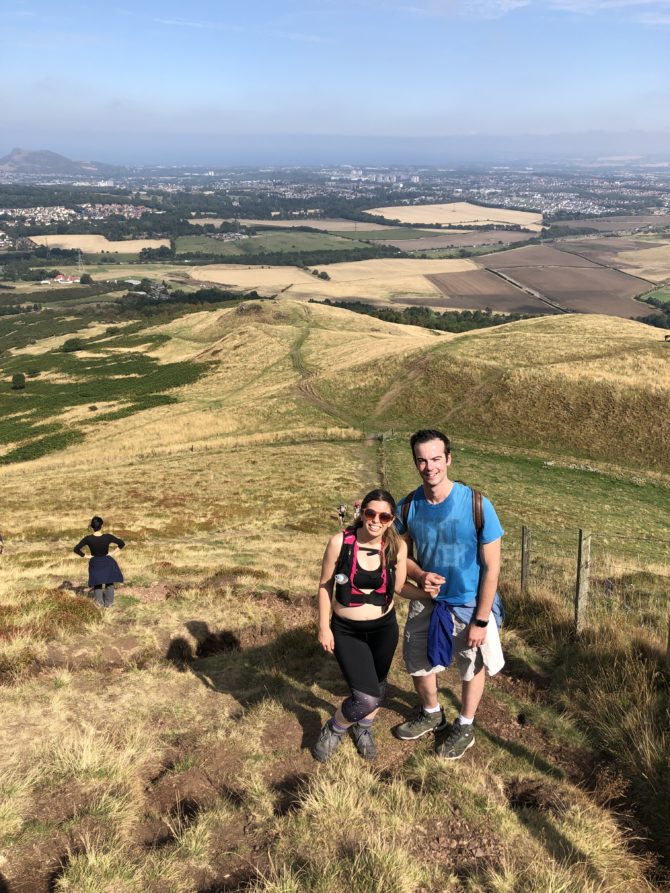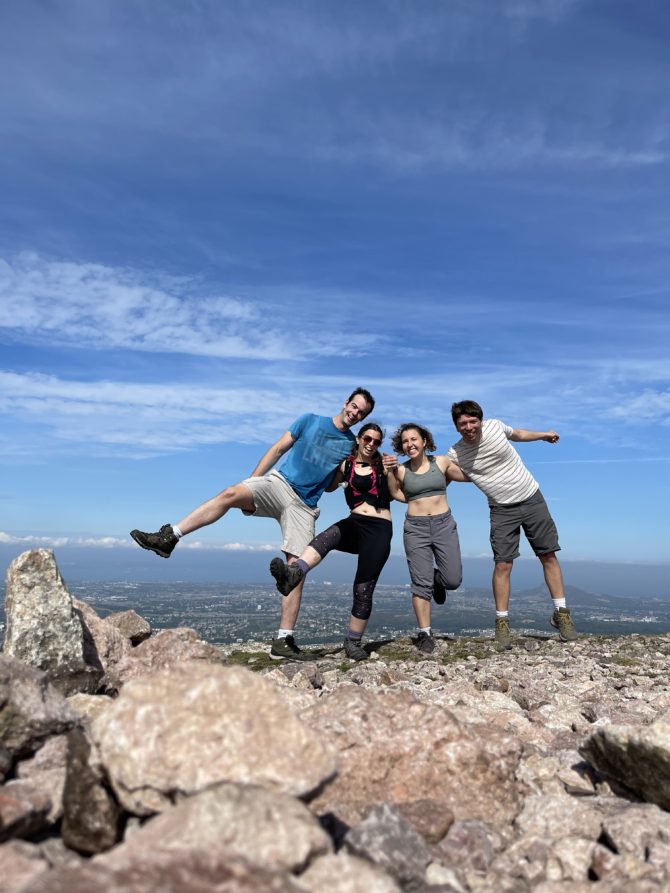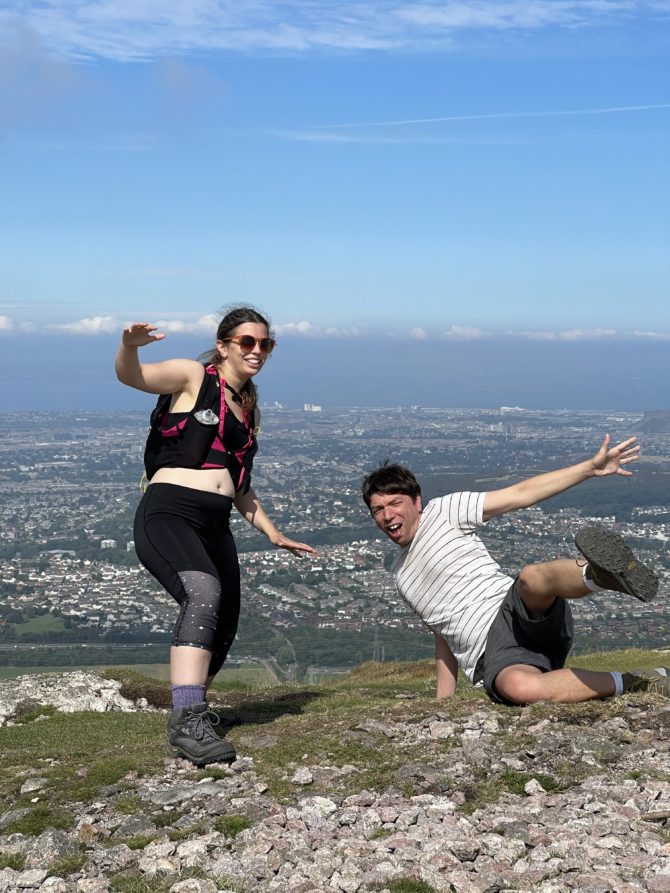 But yes, alongside the hiking, the dodging of uncollected rubbish during the city's bin strike (which, to be honest, only added to a festival atmosphere) and a failed attempt to acquire khachapuri, we loved the atmosphere of the Fringe and we especially loved the first show which Katie had booked tickets for us in advance: Shamilton, an improvised Hamilton-esque hip-hop musical about a public figure nominated by the audience at the start of the show. This was an extremely similar vibe to the Improv Shakespeare which was our favourite thing to take people to in Chicago, and the all-American cast did a superb job after the audience landed them with the life story of Nicola Sturgeon. I felt very sorry for them at the beginning as they tried to read the room, quickly realising that this was potentially dangerous political terrain, and still pulled together an amazing performance which (I think!) everyone enjoyed. As Randi says, it's just so rewarding to watch people on stage being both incredible at what they're doing and clearly enjoying themselves too. I will go see this again whenever I get the chance.
The next day, Randi, Katie and I saw another improvised show – this time with a Doctor Who theme! – which had a more gentle, family-friendly vibe. More silly, less sharp, but still very enjoyable to see the first (and last) performance of The Last Turnip set in the thrilling confines of Killington Lake Services on the M6. Afterwards, the three of us felt we had one last Fringe outing in us and blindly picked Jolly Boat's 10 Songs for Geeks on the basis that it was (a) free, and (b) starting in a few minutes nearby in the basement of a bar. This was the perfect way to wrap up our brief Edinburgh experience and felt very authentically Fringe: a pair of brothers singing about D&D, Game of Thrones and Harry Potter to a happy, drunken crowd of nerds. Bonus laughs came from the unplanned comedy callback of the "battery low" and later "battery critically low" warning messages on the laptop they were using to project until for the final few songs it gave up the ghost altogether.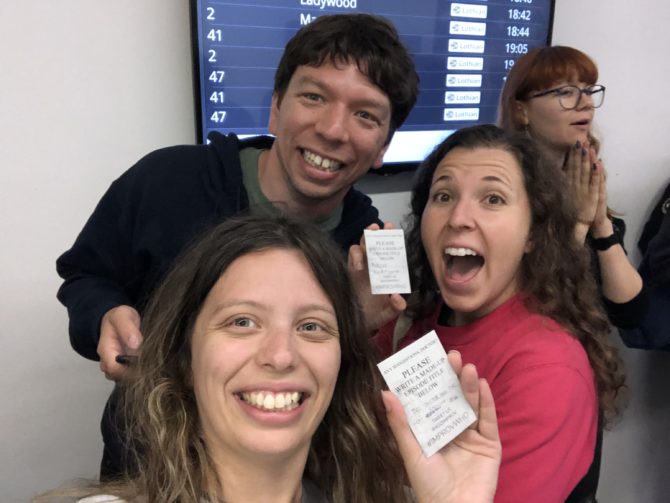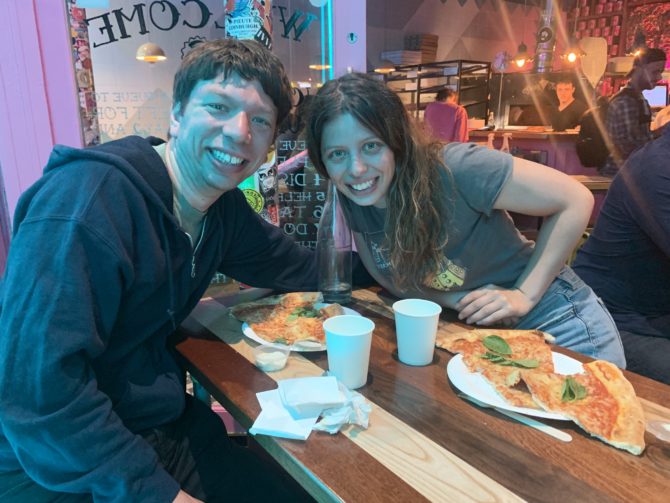 Even though Randi and I are supposed to be planning a wedding in, ooh, less than two weeks, the following weekend we still took time out to travel all the way to Amersham in order to ride part of the way home on a 1938 stock Tube train. (Sadly this sub-genre of nerdiness did not make it into Jolly Boat's Fringe show, but maybe next time.) Promoted by the London Transport Museum as the 'art deco' Tube train, it is just quite charming to ride along in something which is obviously antique (just look at these delightful wooden panels) but also still immediately recognisable as the Tube. We also had a good wander around Amersham beforehand, which boasts many great lunch spots and (unrelatedly) also the world's most aggressive anti dog-fouling signs.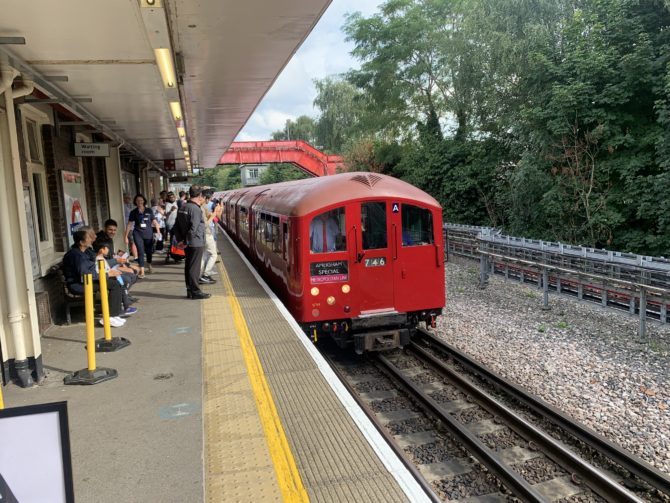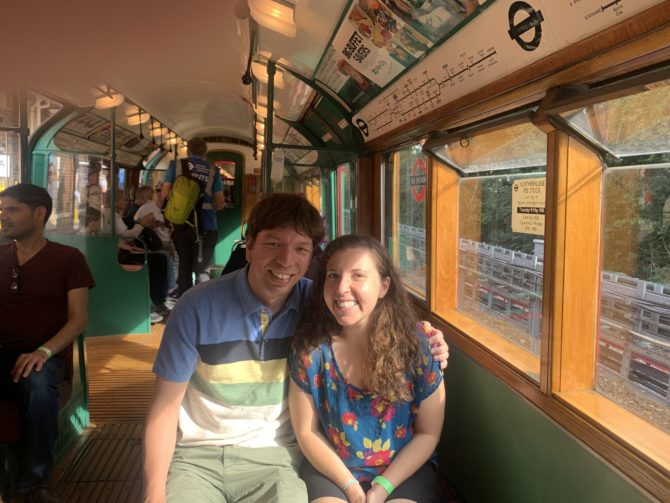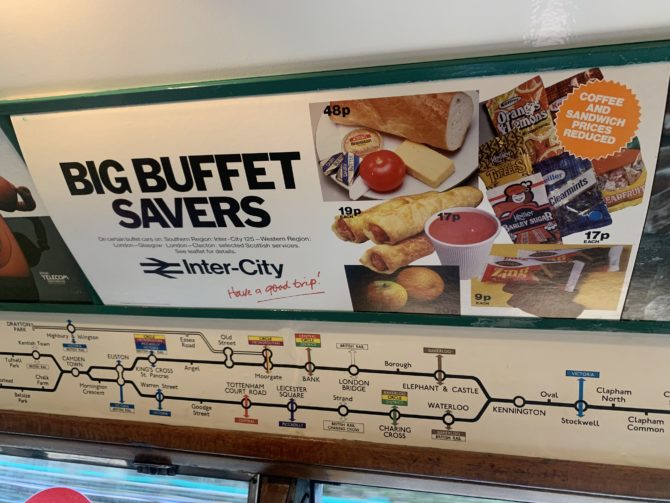 And yes, of course we have also been busy on the final wedding preparations – as Tash knows from having lunch with us amongst the dinosaurs at Crystal Palace Park on Saturday – with perhaps the strangest part being the collection of 38 paper tickets for the train to Hereford. As a reward for our productivity, however, today we treated ourselves to the opening section on a fresh rewalk of the London Loop (carrying a guidebook this time, like real walking pros) followed by the season two finale of Succession once we made it home again from Bexley. The first part of the Loop is certainly not the prettiest, but we've missed our long Zone 6 walks.