As trailed in my last post, we spent last weekend in Valencia to link up with Randi's uni friend, Mike, on his post-Bar exam holiday to Spain. Spoiler alert: it was lovely!
Despite it being a quick trip we managed to pack a lot in, starting (for me at least) with a walking tour of the city centre on Friday morning. Our guide was great, and – in my personal favourite moment – did not seem fazed when Randi decided to clarify whether all of his references to the church's statue of "our virgin" actually referred to the Virgin Mary and not, y'know, some local virgin. Close runner-up favourite walking tour moments included the history of the still-functioning Water Court of Valencia (which is both considerably older than the US Supreme Court and much more sensibly selected) and how the old course of the Turia river came to be turned into a public park. I actually remembered this fact from a Jay Foreman video (thanks, YouTube!) but I wasn't aware of the government's Plan A for the river's replacement: a giant multi-lane motorway. I think Randi and I shuddered in exactly the same way.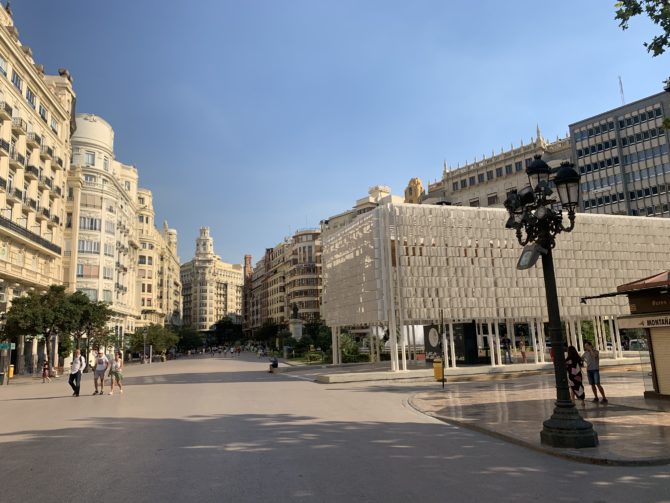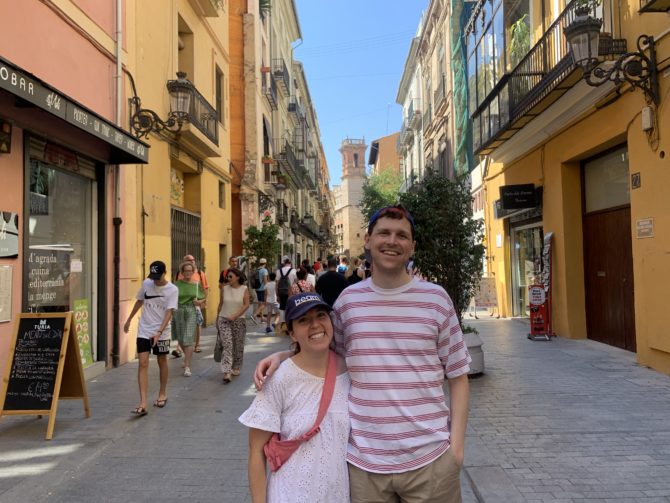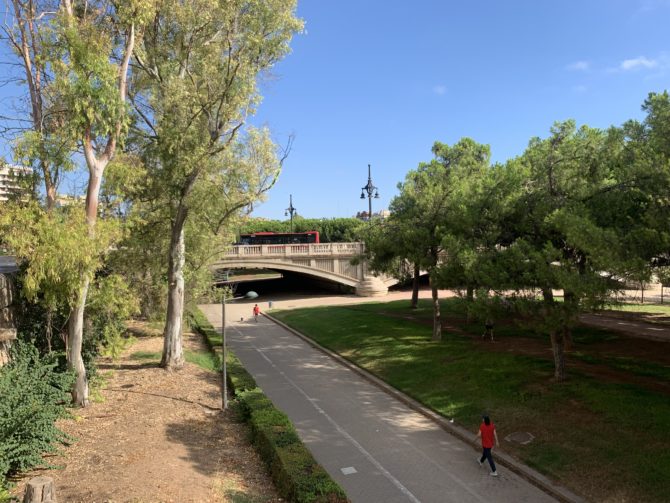 Although it may not feel like we live in the multiverse's best timeline right now, at least we do live in the world where Valencia has a long park rather than a long road, so the next morning we took advantage of this fact and walked through it down to the City of Arts and Sciences. This open-air complex is quite hard to describe – so perhaps just look at the surfeit of photos below – but essentially it's like stumbling across the headquarters of the United Federation of Planets, with a cluster of culturally worthy institutions linked by open walking areas and glistening reflective pools of water. All of the buildings share a stunning modernist architecture, and I really do mean 'stunning' in the sense of 'stunningly good' rather than the stunningly awful 60s British modernist buildings made of concrete. (Dear British architects: why couldn't we have done this instead? Is it the weather?)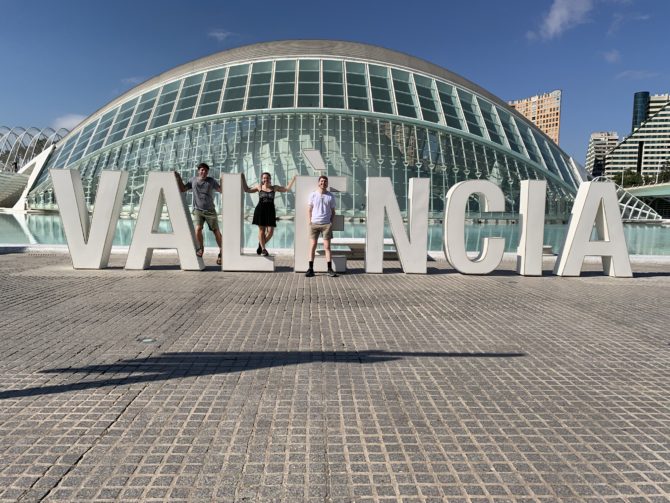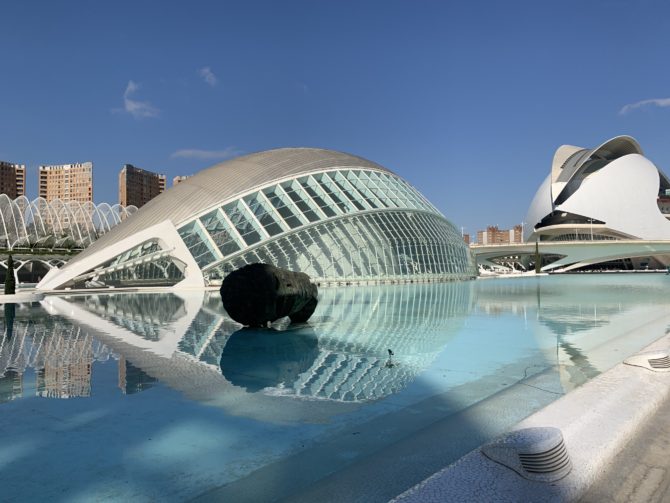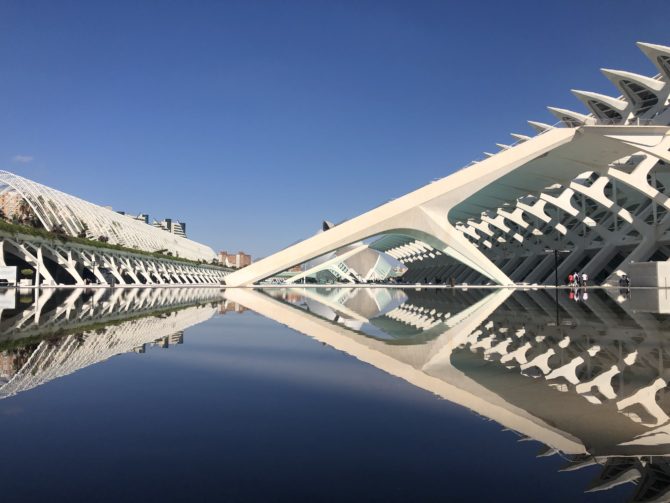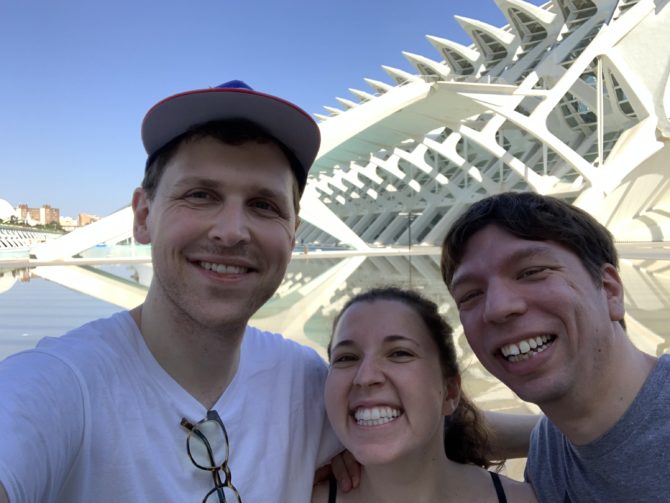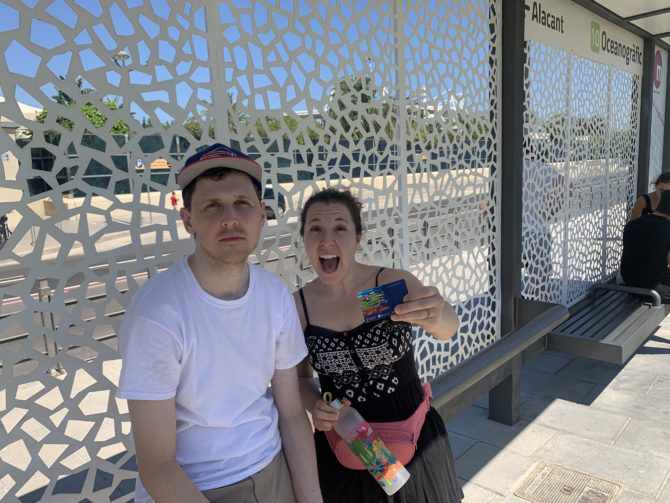 Our ultimate destination in the complex on Saturday morning was the L'Oceanogràfic – Valencia's aquarium – where we dedicated a solid morning to staring at the pretty jellyfish, watching the dolphin show, sadly not coming anywhere close to the top in the pre-show dolphin quiz aimed at 8-12 year olds, holding our hands up against the penguin ice block and, relatedly, regretting holding our hands up against the penguin ice block. Then, in the late afternoon, it was beach time! Reader: the sea was so warm. It's been so long!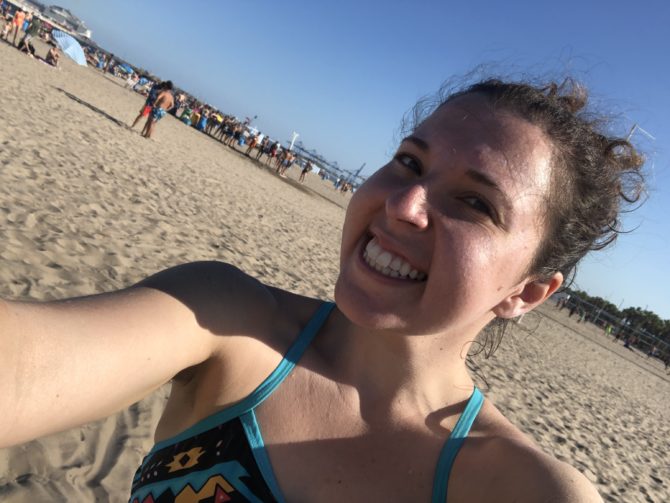 This would have been a great trip in itself, with only minor disappointment at my failing to secure any Agua de Valencia (gin, vodka, cava, orange juice) at our slightly-too-snooty-for-cocktails tapas restaurant on Friday night. Fortunately, help was at hand on Saturday night, because – by fortunate coincidence – Randi's ex-colleague Sam also happened to be holidaying in Valencia with her friends at the same time we were there, and they were extremely on-board with the plan to go for dinner and then touristy drinks together. We all bonded immediately over the challenge of finding a vegan-friendly restaurant – and massive kudos to Randi for having an American's instinct to bail out the indecisive Brits from the first not-vegan place we sat down in by paying our €12 water tab and getting us all out of there again – and then afterwards we finally found a bar willing to provide jugs of promised Agua de Valencia. Hurray!
Oh, and since you asked, Metrovalencia is a very nice transport system. This summer it's also free to ride every Sunday, so many thanks to the man who stopped Randi and I from throwing away money trying to top-up our cards on the way back to the airport. And thank you to Mike for letting us crash your Spanish trip for a long weekend!