When I last left you, it was (almost) my birthday and Randi had baked a giant lemon cake to celebrate. I am now happy to confirm that (a) as expected, I did indeed turn 34 the next day, and (b) we successfully completed the cake-eating challenge over the next few days with assistance from Reema and Kira. Kira also brought Don't Get Got, a paranoia-inducing party game in which secret antisocial missions must be undertaken against your friends while you're supposed to be hanging out and relaxing. (I mention this now because if you happened to be at the Lexi cinema recently and wondered why someone was singing the national anthemn of Belarus behind you, that's why.) For my birthday itself we enjoyed a pizza night out in central London, while on Friday evening we joined our neighbour Angela to try our local area's new Vietnamese restuarant. It quickly became apparent that roughly half of our road had had the same idea… like an impromptu meetup for the street's WhatsApp group.
That weekend we were very excited to head to Tash and Cormac's for brunch with my something-cousin-something-removed Jamie and her daughter Lori, who were visiting from California and had put an impressive level of planning into checking off the entire London family. Lori and I spent much time on the important task of naming all of the different slimes which she had created on her iPad slime app. (Did you know that kids have iPad slime apps these days? In my day, if you wanted a slime app, it would run in MS-DOS.)
Afterwards, Randi and I had some time to kill before dinner so we made the perfectly normal decision to take the Overground out to the new Barking Riverside terminus (opened July 2022, but without the fanfare of the Elizabeth Line) and walk along the river path for a bit. I found it really uplifting to see this new infrastructure opening up more places for people to live, although the development is very much still 'in development' so it's hard to shake the feeling that you're still walking through an artist's impression of a community to come. Definitely a place I'd be curious to revisit in a decade.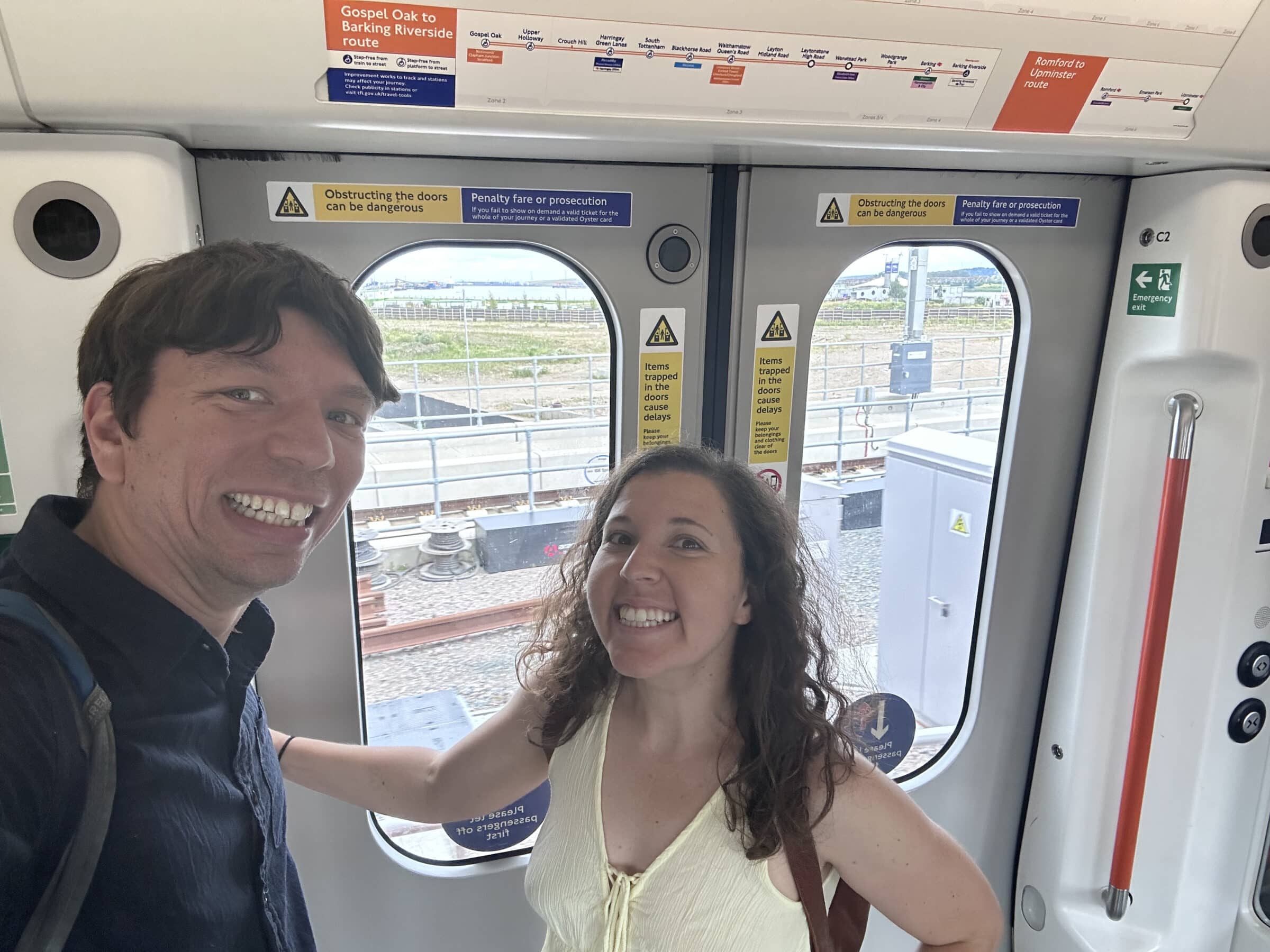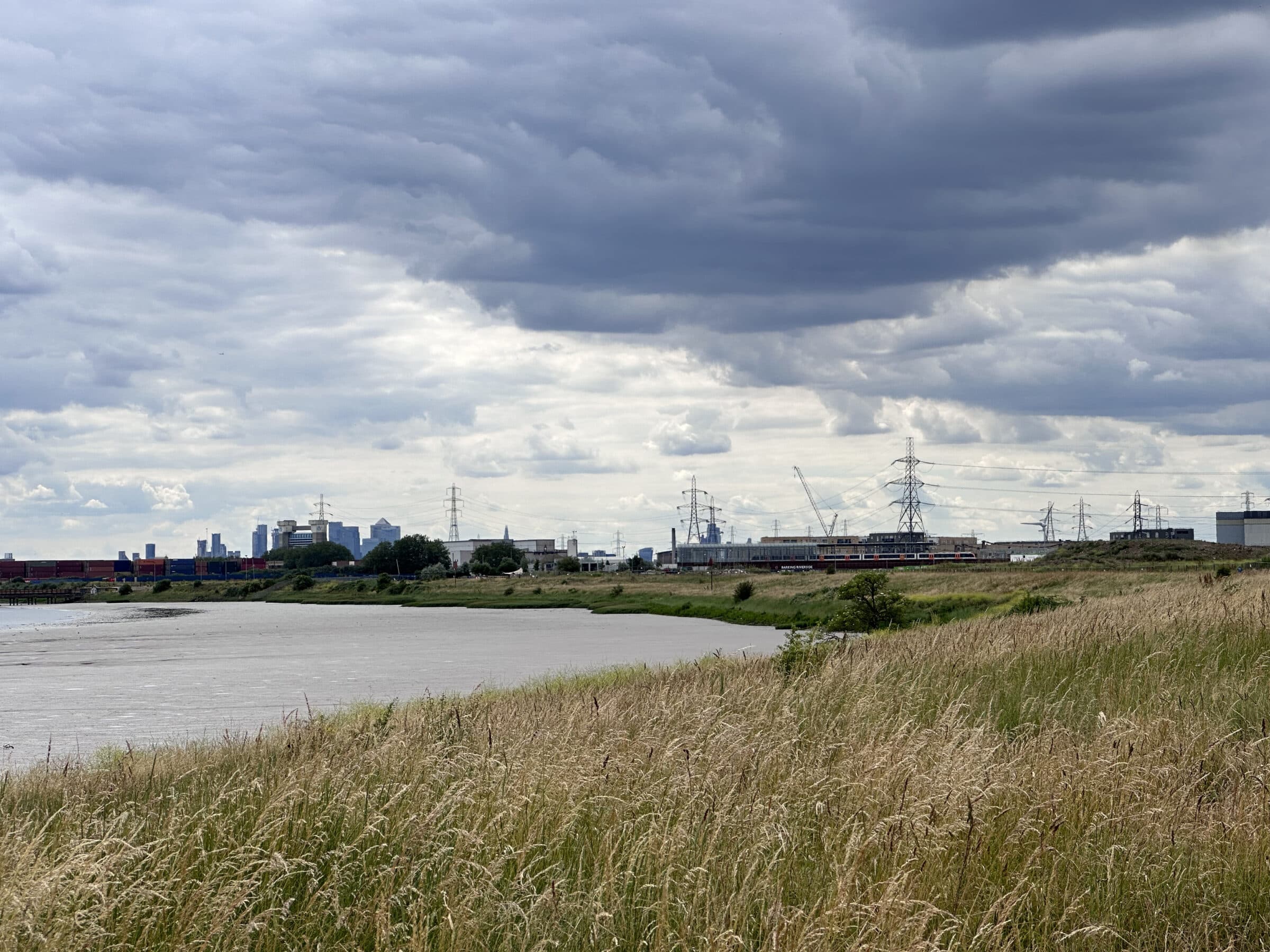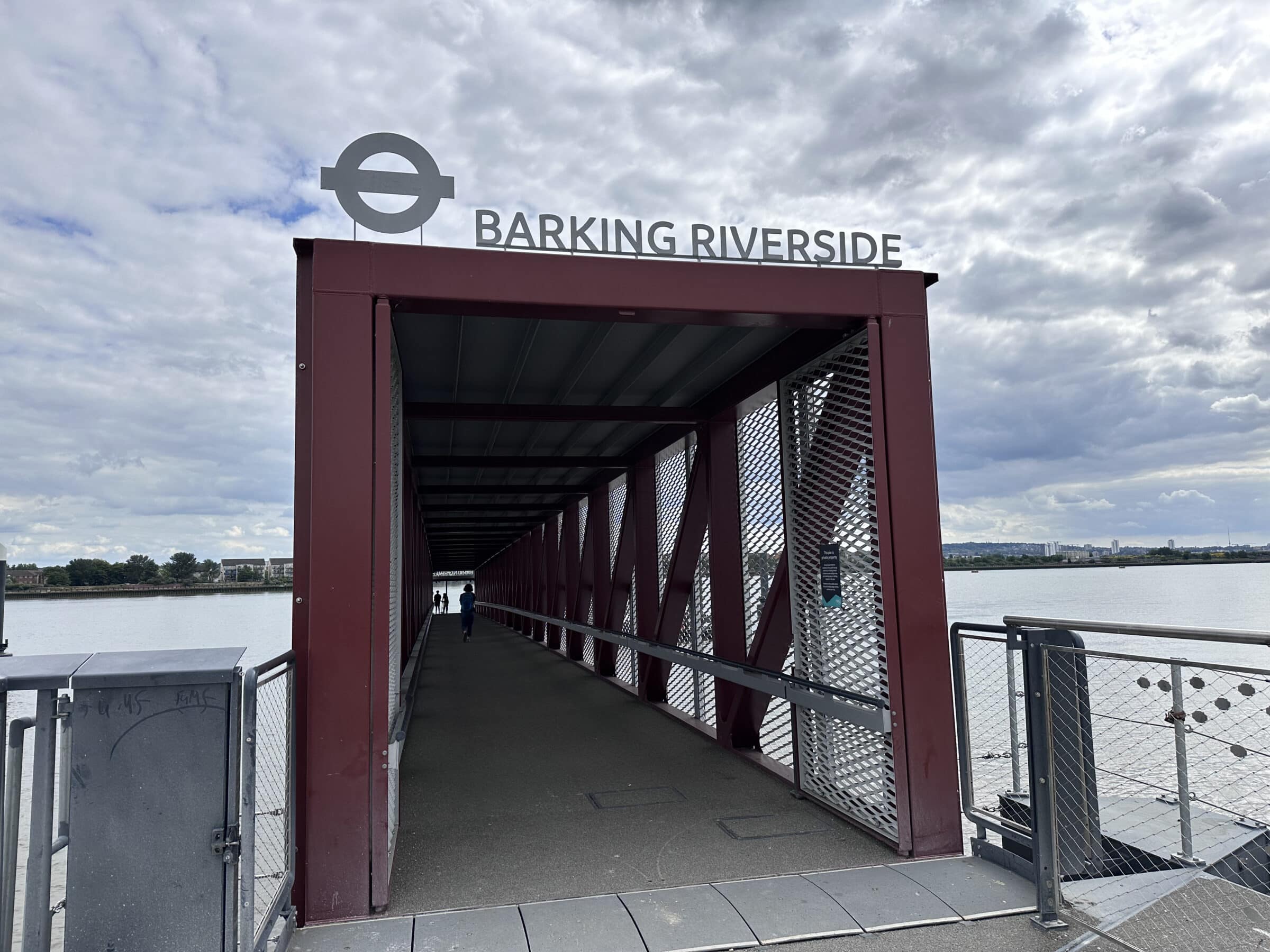 Instead of just going back on the Overground in the opposite direction we decided to take the Thames Clipper boat into central London and let Randi pretend she was still in Stockholm for a bit. This was excellent – especially as we bagged one of the coveted outdoor seats – and a great way to pass the rest of the afternoon before we made our way to Shepherd's Bush for dinner with Kira at a Korean restaurant (very tasty) and then – you guessed it – another play at the Bush Theatre. This time we saw A Playlist for the Revolution, a romantic comedy set in Hong Kong at the time of the 2019/20 protests between a straight-laced economics student and an idealistic visitor from England who tumbles into his life at a wedding. Funny, moving and – as you might expect from the title – it comes with a great soundtrack.
The next day, we rode the Mail Rail! This had been on my obviously-we-have-to-do-this list for a long time, but Katie kindly took the decision out of my hands via birthday gift to ride on the London Post Office Railway and explore the Postal Museum. In case you aren't aware, in 1927 this little underground railway opened to transport letters and parcels underneath London on driverless electric trains. Remember that whenever somebody asserts that we're living in some magical era of rapid technological progress: in 1927 you could send actual letters on an underground network around London, and in 2023 you can't. So, take the next best option and ride it yourself instead.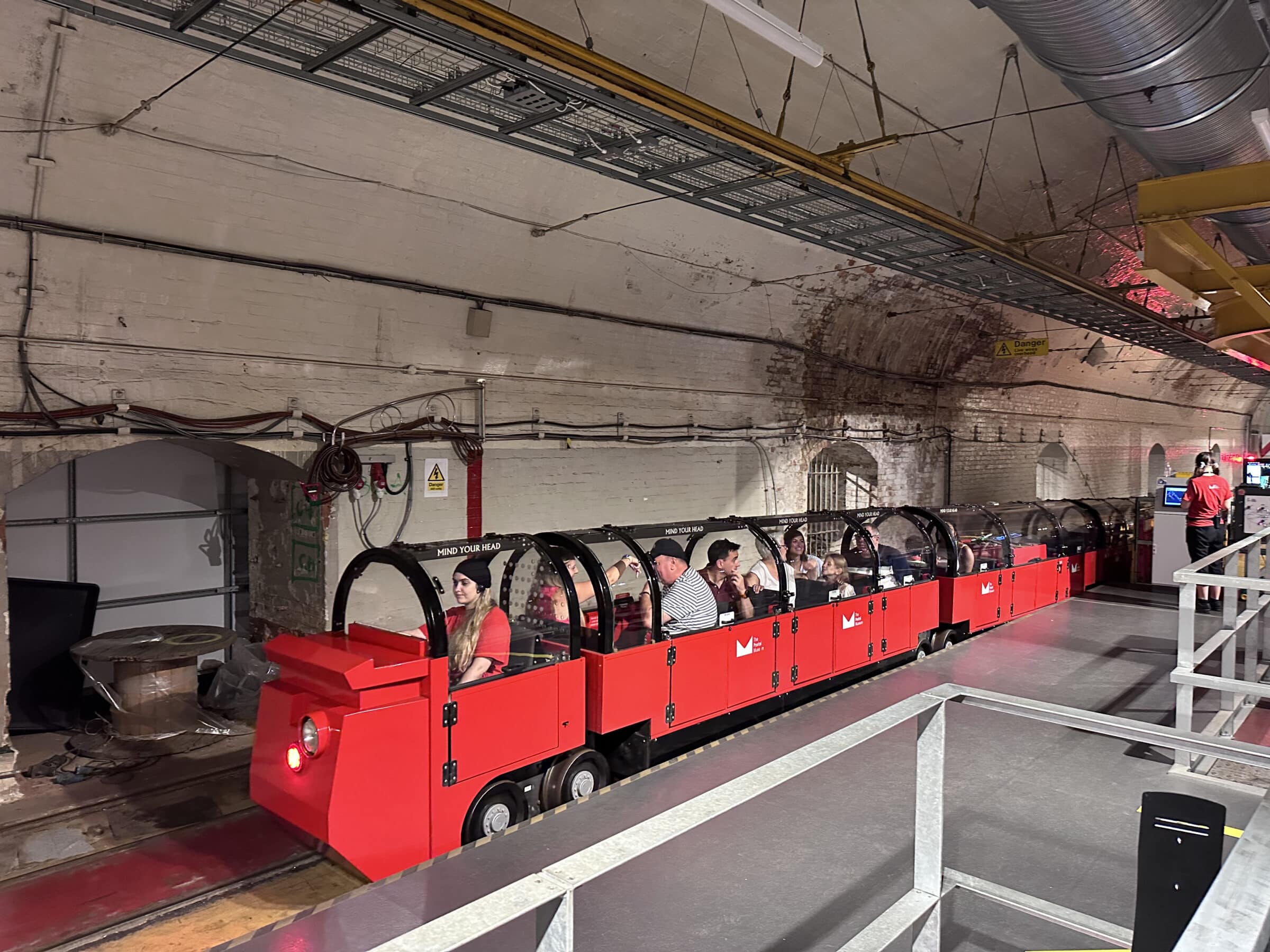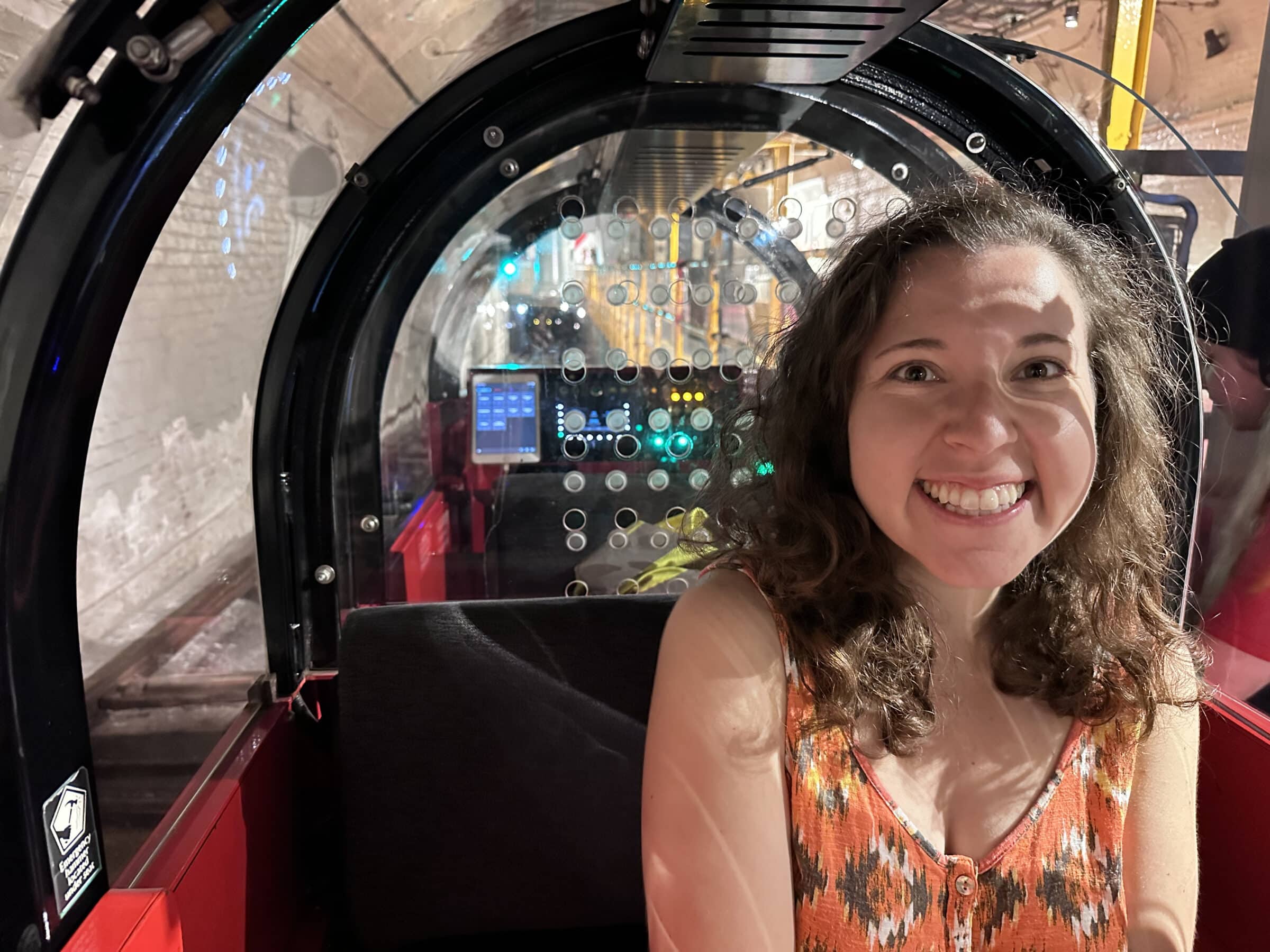 While Randi was up in Scotland for a bit I played charades with Angela and Conor and saw Asteroid City at the Lexi with my mum and Kira, where – as previously discussed – I successfully manipulated Kira into a rendition of the Belarusian national anthemn. As for the film itself, I think we were all a little… perplexed?… about whether we actually enjoyed it or not. After pondering for a bit, I decided that it was genuinely entertaining (and frequently chucklesome, if not laugh-out-loudsome) with incredible style and visual detail, so I'm going to bank it as a fun night out and not worry too hard about whether I am a real Wes Anderson fan or not.
Recently I also had a rare (but lovely!) day in the office, followed by an even-lovlier pub gathering with Steve, Tomas, Kira and Paul. Randi and I also hung out with Sam on the Chandos balcony and (drumroll please) finished watching Succession! Watching the whole show in a year and a half might seem glacial to most people but it was incredibly quick for us, and now I'm sad that there's going to be a Succession-shaped hole in my life where Kendall, Roman and Shiv should be. (Apologies to the other characters, but the three sibling dynamic is special to me.)
Last weekend I was in Scotland myself, and (in return for a place to stay and some morning rolls) on Saturday I joined Kirsty's canvassing team for Labour in Midlothian. It might sound like a cliché, but it genuinely makes me really happy to be able to talk to voters on the doorstep – even when they don't agree! – because people will endlessly surprise you on what they want to talk about. On Sunday, though, I took the day off to hang out with Katie and James and watch 1972's Day of the Daleks. This was James's first classic Doctor Who story so I was a little nervous, but it actually has a cracking plot and pace and was highly enjoyable from start to finish with the one exception of the really, really terrible Dalek voices. C'mon guys. Had you never heard a Dalek speak before?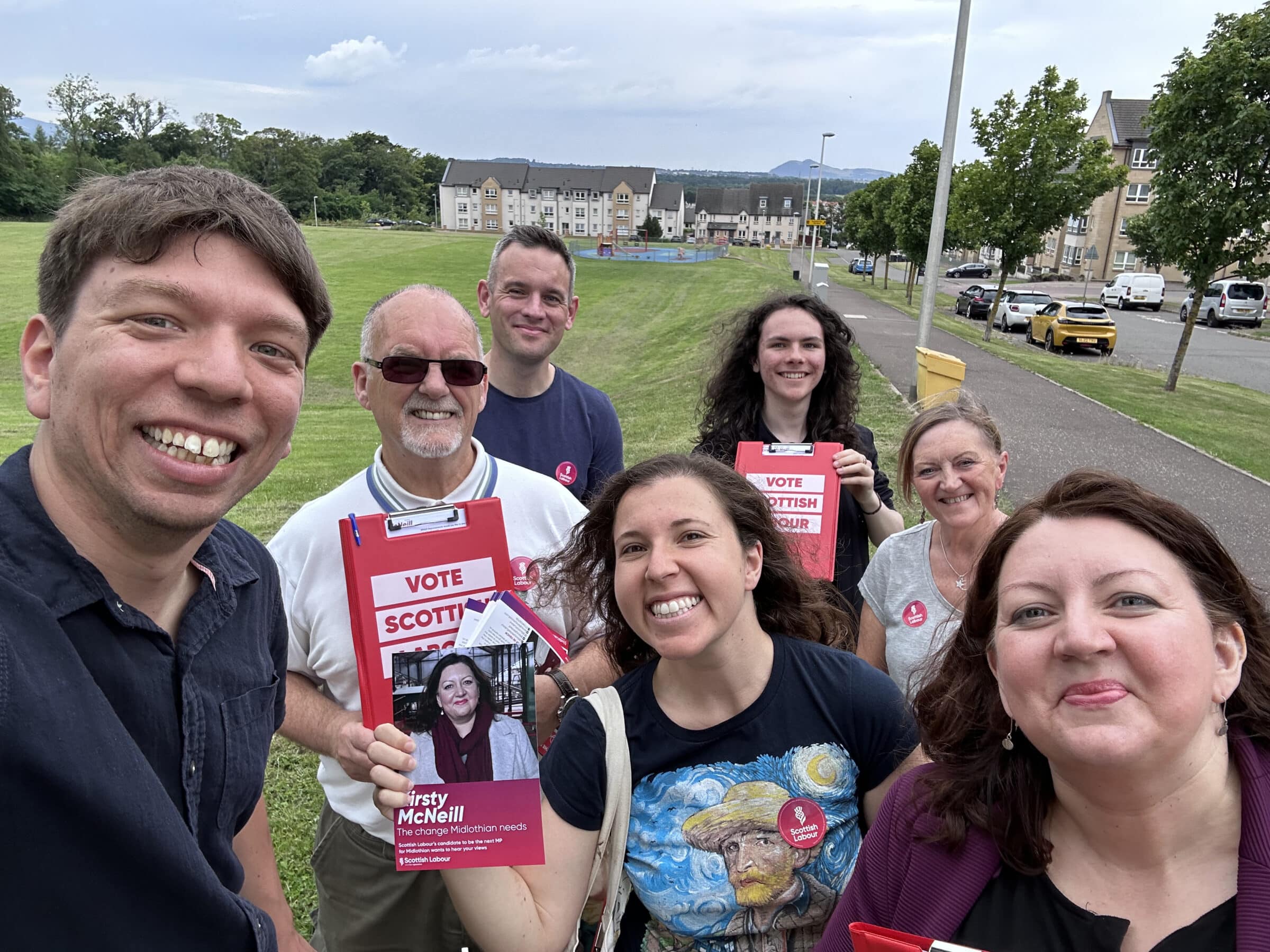 And finally, this weekend a gang of us had the great pleasure of meeting Cat's husband Brian (who I actually remember from a Starbucks in Chicago many years ago!) over a couple of beers in the sun. I hadn't seen Amy and Craig in particular for many years, and the only downside to seeing their wonderful faces again is the short flash of mutual recognition at how young we all used to be back in the heady Groupon days. In a similar vein, I spent the afternoon riding down the Cam today at PuntCon 2023, Bill Thompson's "tax deductable" geek picnic which I first attended in 2010 and was, in fact, celebrating its twentieth anniversary today. Happy birthday PuntCon!
On the way from the station I had bumped into Dr. Melissa Calaresu, my Director of Studies at uni, who was sweet enough to dismount from her bicycle so we could walk and talk and worry about the fate of the world together. (She also slipped in some proper history about medieval child kings which I will definitely work into conversation elsewhere.) Luckily, the the world still looked pretty good down by the river at Grantchester Meadows on a sunny July day. Future historians should note that a punt pole was briefly abandoned to its fate, but then expertedly recovered by Max's professional punting expertise.