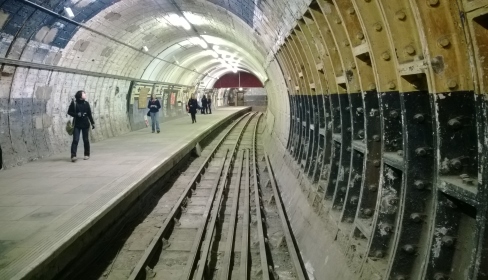 I have form when it comes to dragging my mum along to geeky Tube adventures, whether it be trekking out to the furthest station, nudging cub scouts out of the way at the London Transport Museum or envying up the offices at 55 Broadway. Last Saturday we added Aldwych station to the list, which closed in 1994 but is still open to occasional tours, filming and training. Down on the platforms you'll find posters including, amongst other things, the rules by which reluctant officials agreed to allow Blitz-era sheltering. (Why do I have the feeling there'd be a 30p charge for it today?)
In case you were wondering why Aldwych closed, by the way, it's because it was a stupid station – with platforms only reachable by lift – on a little branch line from Holborn from which it'd be quicker to walk. So that's that.
Also recently: we celebrated Anna's birthday at Big Red, provided a large chunk of the audience up top of a pub for a new pilot comedy show heading (if all goes well) to Dave, and saw Gravity with Josh. I wasn't blown away, I have to say, although it was a cool cinema experience and probably the only time I've felt 3D added much. You don't really see this film for the story, or the characters, or the dialogue – you see it for the moment of terror as you imagine what it might be like to spin uncontrollably in space without being able to stop.
The rest of the last few weeks has been increasingly punctuated by Doctor Who to the extent that I can begin to imagine how normal people feel before an English World Cup final match. (I mean, clearly that's fantasy – I meant how they would hypothetically feel.) Sunday lunch at Abbi and Paul's: whooped at the return of Paul McGann. Stay in with Cat: enjoy Brian Cox's surprisingly dense lecture on the science of time travel. Go home: get emotional at An Adventure in Space and Time. The climax tonight will be watching The Day of the Doctor at the cinema. (Also in 3D, actually.) I'm heading to Chicago for two weeks tomorrow to have my first Thanksgiving experience, and can't think of a higher note to leave the country on. Forget about pilgrims or overly-trusting Native Americans: I give thanks to the Doctor.
The way I see it, every life is a pile of good things and bad things. The good things don't always soften the bad things, but vice versa, the bad things don't always spoil the good things and make them unimportant.