Happy Bank Holiday 3/3 for May 2023! The second one proved to be both productive and nostalgic, as Kira (and her cats) had just moved into a new flat near where we used to live. After completing some IKEA engineering challenges together we went on a big walking tour of our favourite parks before rejoining Randi's parents at our old local pub, Knowles of Norwood, which is thankfully still open for business and – in fact – has recently expanded into a larger space.
This was the last week of Beth and Stu's visit to the UK, so that Friday we celebrated Randi's birthday a few days early with a fancy dinner and lots of delicious sharing plates at Ottolenghi's ROVI restaurant. (Fair warning: there are a lot of restaurants coming up in this post. It's been a very, very good couple of weeks for eating.) The next day we sauntered up to Andrew and Bonnie's for lunch – always a great dining experience in its own right! – plus some explanations of cricket and somewhat competitive tours of Alexandra Palace and its early TV broadcast history. (We got Bonnie, Beth and Stu got Andrew.) Then, appropriately, we sped home for the definitive broadcast event of the modern day: Eurovision!
It seems odd that in all our years of evangelising Eurovision we'd never actually shown it to Randi's parents, and while there was a mixed response to the timeslot ("the voting doesn't end until midnight?!") they were enthusiastic about completing their official Eurovision 2023 scorecards. Personally, I'm not convinced that previous winners should be allowed to compete again, and would rather Finland's catchy Cha Cha Cha, Norway's Queen of Kings or Austria's tribute to Edgar Allan Poe (there aren't enough nineteenth century literary references at Eurovision) had beaten Sweden's (perfectly decent) entry, whose predictable triumph made the whole results section feel less dramatic than usual. Come back next year?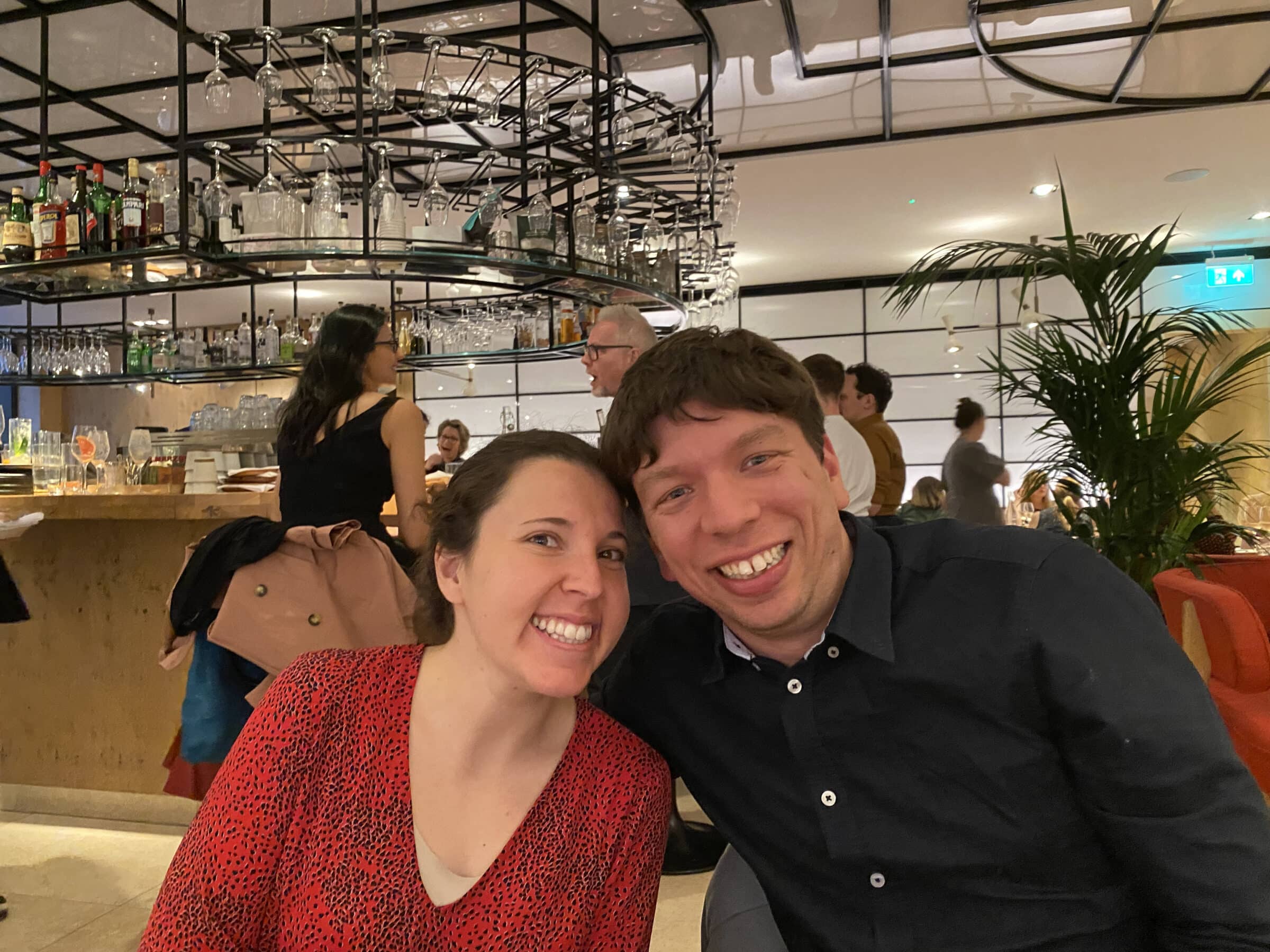 The next day we were treated to an extremely tasty lunch (and more birthday celebrations!) at Tash and Cormac's flat, followed by a tour of Leyton including Leyton Jubilee Park and its jolly pirate ship. And that was (almost) it for Beth and Stu's latest visit to London, aside from the very important business of Stu's homemade hamburgers on their final night with us. (Public service announcement: burgers go better in rolls of challah.) After they had left, Randi's actual birthday night was spent in Dulwich's Megan's in the Hamlet, where (a) the marmalade cocktail is amazing, (b) the staff are super-fun and willing to share inside gossip.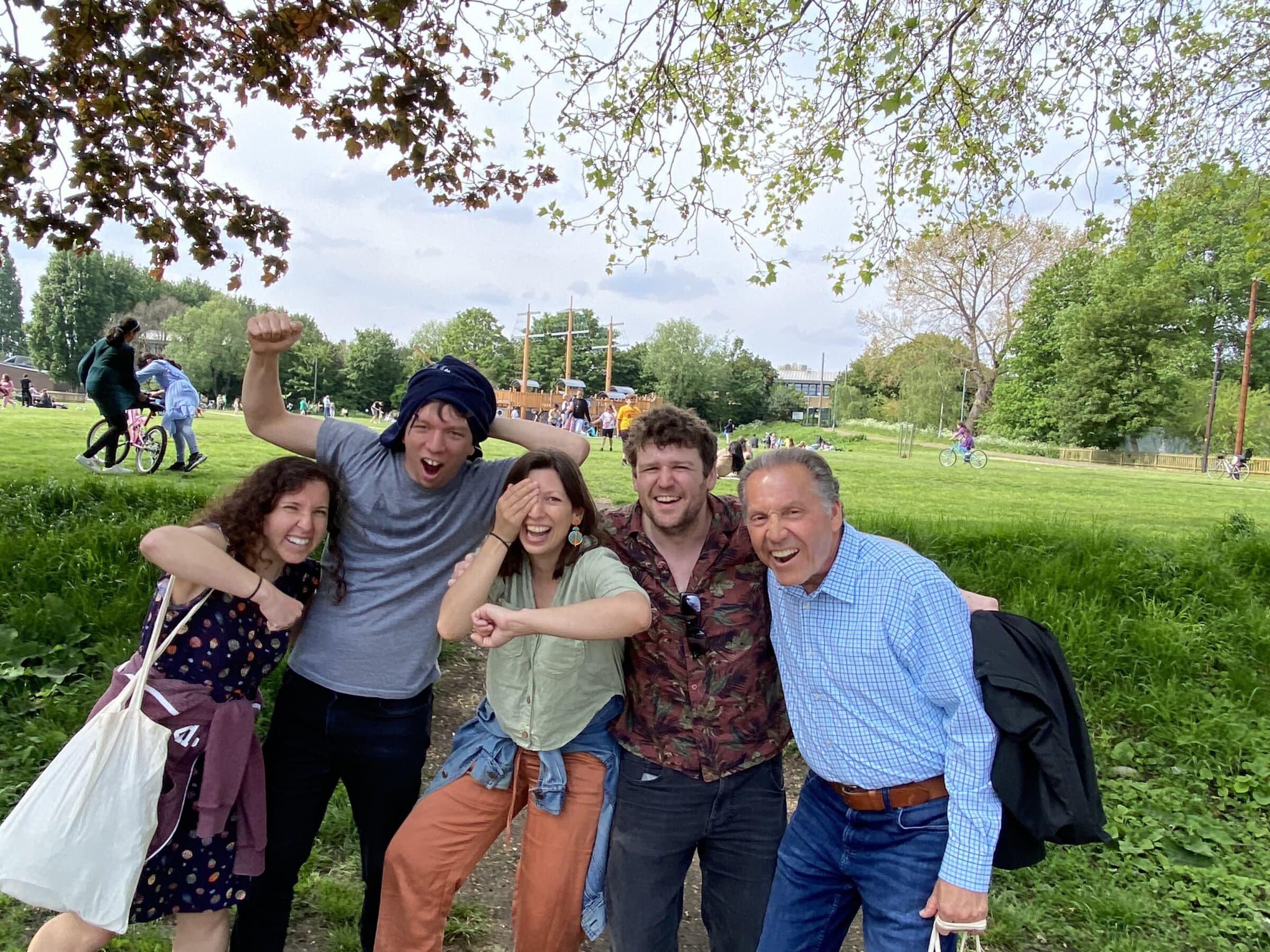 I have been casually saying "Randi's birthday" but- excitingly – it was also her 30th birthday. So, that weekend, we pushed the foodie boat even more and had lunch at three Michelin-starred The Waterside Inn. (One star for each decade, you see.) In case you're wondering, there are only eight restaurants with three Michelin stars in the UK and – weirdly – two of them are just a few minutes' walk from each other in the small Berkshire village of Bray (population: 9110). Assuming you aren't one of those 9110 people, the easiest way to get to Bray is to take the Elizabeth Line to Maidenhead and then (ignoring the nonsensical website instructions to take a taxi) enjoy a delightful 35 minute walk through Braywick Park until you reach the restaurant on the banks of the Thames. Easy peasy.
Since I'm not really a foodie person, I have neither the writing talent nor much photographic evidence of the sevenish-course 'Menu Exceptionnel' we devoured. (And what counts as a 'course', really? There were actually eight lines on the menu if you include the tea & coffee and petit fours, which was brought out to us on the riverside terrace after the afternoon sun came out. But that doesn't include Randi's bonus birthday dessert, or the amazing pre-stater-startery things! So I don't know. It was a lot.) Suffice to say, everything was really, really good, all the way from the mushroom pâté at the beginning to the soufflé with hot rhubarb compote poured through the middle at the end. Would recommend. I would also recommend walking along the river path to Windsor afterwards, especially if the weather was as perfect as it was for us.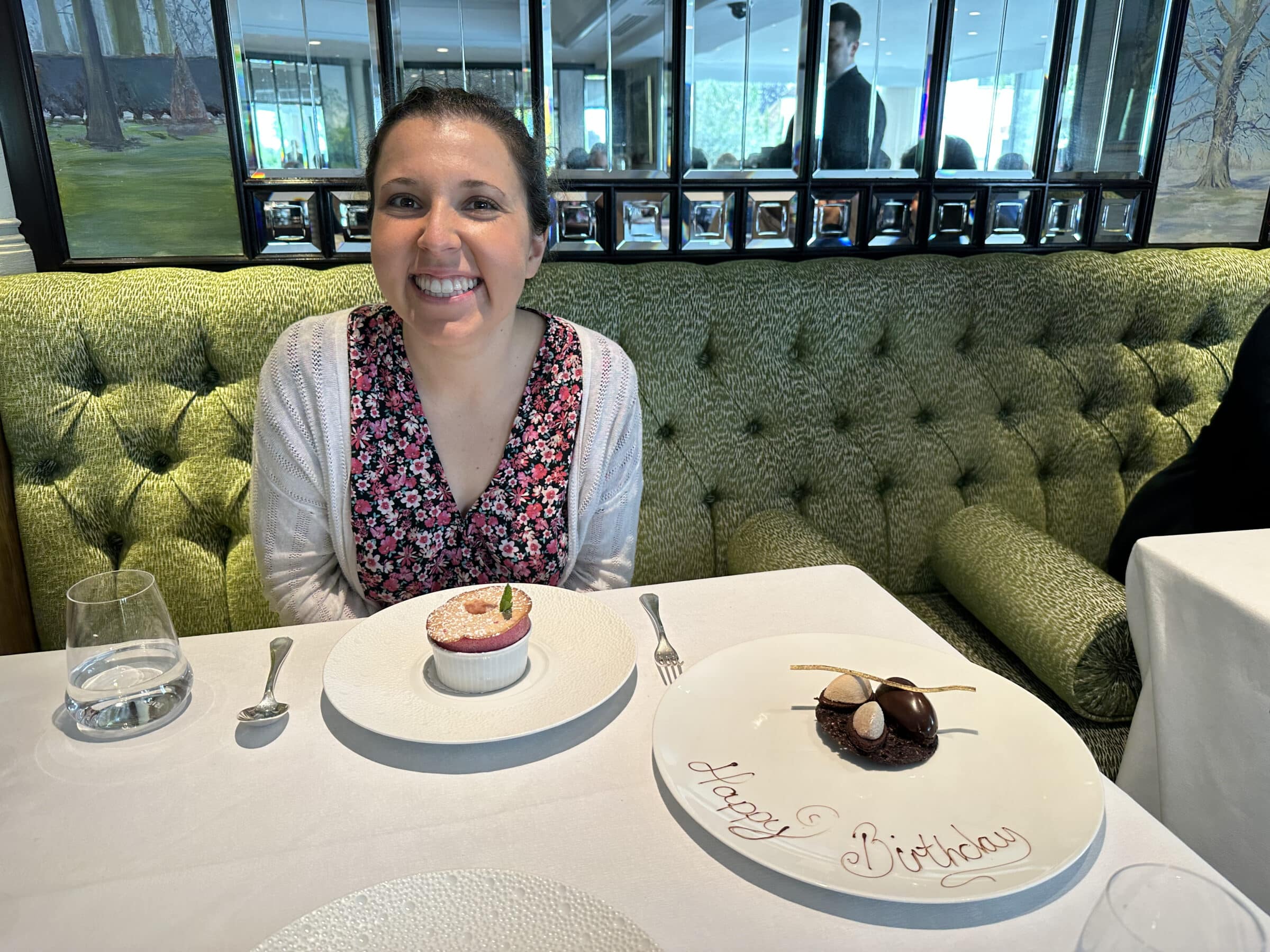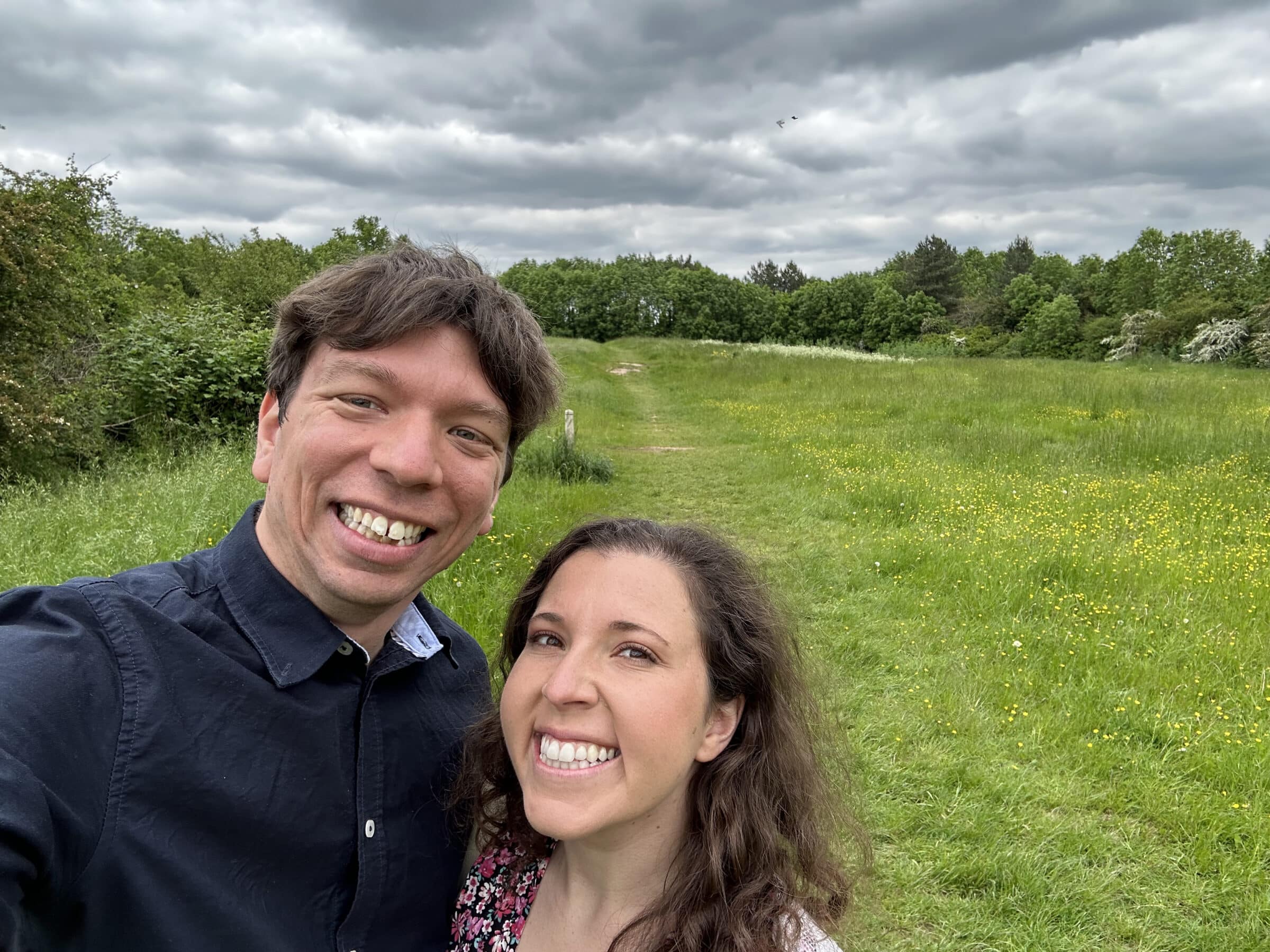 The fine food (and drink) just kept on coming this month, including a work dinner with an incredible Indian tasting menu (in a private room with a huge glass window overlooking the kitchen) and, the following night, gastropub delights with Jill, Lee and some partners we work together with. Clearly on a roll, on Friday night Randi and I took my mum out for her birthday at the Tash-starred restaurant Ayam Zaman in Shepherd's Bush. (I was about to add "…and went overboard on the meze" but, honestly, I don't regret ordering any of it.)
After dinner we went to the Bush to see Invisible, only a mere fortnight after seeing August in England at the same theatre with Randi's parents. (Having now seen three shows there within two months, the Bush Theatre is now hands-down our favourite venue and we already have our next pair of tickets.) August in England premiered last month and stars Lenny Henry as August Henderson, a Windrush-era arrival from Jamaica whose life story is told movingly and beautifully from childhood to being threatened with deportation during the Windrush scandal 52 years later. Of course, it's Lenny Henry so much of the play is also hilarious, but he kept our audience enraptured all the way from boisterous comedy to the most poignant moments.
Similarly, Nikhil Parmar's Invisible is another one-man show performed with electric energy. The story of a struggling actor, failing to be seen beyond the restrictive racial stereotypes in which he is cast, combines great physical comedy with an undercurrent of deep rage and violent fantasy. It's hard to be too specific without giving away the twists, but it's another play which you should definitely catch if you can.
And finally:
I managed to kick-off a fascinating and (hopefully productive) evening of political campaign brainstorming by knocking over Kirsty's vase and emptying close-to-100% of its contents on the floor. This is why I'm not a consultant. But it was a great evening nonetheless!
After Randi, Reema and I finally got ourselves into the same spot and stopped wandering independently around Brockwell Park, we were able to have a lovely evening of pizza and beer together at Bullfinch Brewery (which we've always wanted to go to!).
It's been a while (OK, it's been seven months) but Randi and I walked London Loop Section 3 on Saturday and it was sunny and spectacular. Also, the ice cream van at Keston Ponds is the best.
Kira came round to play Dominion last night, and I have really, really missed being able to play several rounds of Dominion in a group of three. (We still miss you though, Amanda.) Kira also brought ice cream with her.
Today, on Bank Holiday 3/3, Randi used Katie's birthday gift vouchers towards brunch at Dishoom in Canary Wharf (thank you Katie!) before leading us on a walk most of the way home through the Isle of Dogs, the Greenwich Foot Tunnel and then to Lewisham via Greenwich Park and Blackheath. Basically, the perfect encapsulation of all the 'eating + walking' stuff I've just written.